FRONT PAGE
About us


ON OTHER PAGES
COVID-19 divides Brazil
COVID-19 hits African Americans hardest
CoronaVirus comparison: Nations and major cities
COVID-19 cases in London and Berlin: A four-week comparison
Mayors fighting the CoronaVirus COVID-19
The strengths and weaknesses of US cities during a pandemic

SOUTH AMERICA / Brazil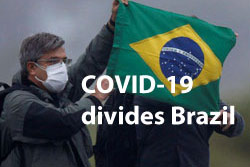 Brazil's political authorities divided
over right approach to COVID-19
22 May 2020: A little over month after Brazilian President Jair Bolsonaro described the CoronaVirus pandemic as a "little flu", the country recorded more than 310,000 cases of COVID-19 infections and some 20,000 related deaths. Since Brazil carries out fewer tests than many other countries, the true numbers of infections and deaths are thought to be considerably higher. Brazil has now more known CoronaVirus cases than Italy, Spain and the UK and only ranks behind the US and Russia. Hardest hit are the states and cities in the north and northeast of the country as well as big metropolitan areas like São Paulo and Rio de Janeiro. During the first three weeks of May 2020, the daily numbers of new infections and deaths have been on a steep upward curve.

Political rivalries hinder fight against COVID-19
Brazil's response to the CoronaVirus pandemic has been dogged by political infighting. Infighting within President Jair Bolsonaro's own government – two health ministers have resigned in the past six weeks – and rivalry between, city mayors, state governors and the federal President.

Jair Bolsonaro favours a laissez-faire approach to dealing with the epidemic, claiming that a strict lockdown would severely damage the economy. But the majority of state governors and many city mayors have urged their citizens to pay no heed to the President and stay at home.

Faced with overwhelmed hospitals and surging CoronaVirus deaths, Brazilian state and local governments are moving towards mandatory lockdowns against the will of the President, who says job losses are more damaging than COVID-19. On Sunday, 17 May, the Mayor of São Paulo told reporters that the medical infrastructure of Brazil's largest city was on the verge of collapse. "Public hospitals have reached 90 per cent of capacity and there is a strong likelihood they will run out of space within the next two weeks," Bruno Covas said.

In Manaus, the capital city of Amazonas, Mayor Arthur Virgilio Neto announced ten days ago that five times as many burials were taking place than normal. Like many other cities, Manaus has set up makeshift field hospitals to care for the ill. Still, many sick people did not dare come to the overcrowded facilities for help. The number of Brazilians dying at home has jumped by 20 per cent since March. In the state of Amazonas that number is more than 2.5 times higher than average.

One of President Bolsonaro's most outspoken opponents has been Joao Doria, the governor of São Paulo state. Although he supported Bolsonaro in the last election, he recently said we have two viruses to combat, the CoronaVirus and the Bolsonaro virus. "This is not the moment for politics, it is the moment to protect people."

As the leader of Brazil's most populous and economically powerful state, Joao Doria is thought of as a challenger to Bolsonaro in the 2022 presidential election, The Governor has taken an entirely different approach to dealing with the virus than has the President. "Doria has introduced strict social-distancing measures, pointing to international practices and scientific advice. He is doing so to distinguish himself from other governors and position himself against Bolsonaro," Guilherme Casaroes a fellow of the Fundacao Getulio Vargas think tank explained.

But despite recognising the severity of the CoronaVirus crisis, few states or cities have introduces mandatory restrictions. Social-distancing rules and curfews have yet to be imposed in São Paulo. Only a few cities, such as Fortaleza in the north-eastern state of Ceara, or the port city of Recife in Pernambuco on the Atlantic coast, have begun implementing such rules. Rio de Janeiro Mayor Marcelo Crivella prohibited non-residents from entering 11 neighbourhoods and ordered the closure of all businesses except supermarkets and pharmacies in some of the city's favelas.

Rio de Janeiro State Governor Wilson Witzel has decreed non-binding quarantine recommendations and commerce restrictions until the end of May. He pledged to make police available so the state's 92 mayors can enact lockdowns, but stopped short of imposing them himself.

Many scientists believe that the real number of infections is much higher than those given in official statistics. A 40-member team of researchers from the University of São Paulo Medical School say that based on their scientific models the true number of infections could be at least 16 times higher than official figures suggest. According to the model, some 2.1 million Brazilians may have been infected by 9 May, a total higher than that in the US. Brazil's former Health Minister Luiz Henrique Mandetta, who last month was forced to resign by President Bolsonaro, admitted that the real number of infections was far higher than those published by his own ministry.

On 15 May, Brazil lost its second health minister in a month after President Bolsonaro demanded wider use of unproven anti-malarial drugs to fight the CoronaVirus outbreak. The President had demanded that Minister Nelson Teich issue federal guidelines for the early use of hydroxychloroquine to treat infected patients, despite studies that cast doubt on the effectiveness of the malaria drug for COVID-19 and even raised concerns it may cause heart problems. FULL RESEARCH


NORTH AMERICA / USA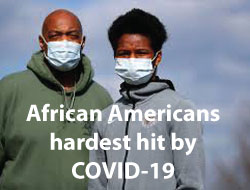 Inequality exposes black Americans
to greater risk of COVID-19 infection
12 May 2020: America's black communities are among the hardest hit by the CoronaVirus pandemic. The numbers are stark. The impact of COVID-19 on African Americans has been extraordinary and disproportionate. Almost one-third of infections nationwide have affected black Americans, according to data from the Centers for Disease Control, though Blacks represent only 13 per cent of the US population. Associated Press adds that nearly one-third of those who have died across the country are black.

Systemic racial inequality continues to exist in the US. The neighbourhoods where most African Americans live, the jobs they have, the prevalence of health conditions such as high blood pressure and diabetes and the way they are treated by the medical professions have all contributed to the disproportionate numbers of infections and deaths among Blacks.

There is broad agreement among America's health professionals that poverty, inadequate access to health services, poor housing and residential segregation as well as hazardous working conditions have all contributed towards the higher number of CoronaVirus cases and related fatalities among the country's black population. Below, City Mayors Research provides an overview of how Blacks continue to be disadvantaged in today's America and thus be more vulnerable to a pandemic outbreak. FULL RESEARCH REPORT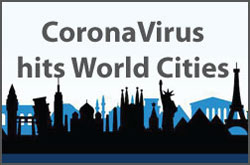 CoronaVirus: How cities from
around the world are affected
4 May 2020: New York, Tokyo, Moscow, Madrid, but also Dublin, are some of the cities that have become epicentres of COVID-19 infections in their respective countries. In those cities, the number of people infected by the virus is considerably above the national average. The number of recorded cases often accounts for 30, 40 and even 50 per cent of national totals. For example, the population of Dublin and its surrounding county make up 28.6 per cent of Ireland's total population, but Dublin's share of the countrywide number CoronaVirus cases is almost 50 per cent.

Across the US, less than 0.36 per cent of all Americans have tested positive for COVID-19, however in New York City almost 2.1 per cent of residents have been infected. In Canada, the difference between the eastern provinces of Ontario and Quebec, with their large metropolitan conurbations, and the rest of the country is even greater. Together, Ontario and Quebec account for more than 80 per cent of all CoronaVirus cases recorded in Canada, while their combined share of the country's population is around 60 per cent.

In Russia, more than half of the country's CoronaVirus cases were confirmed in Moscow. While the Russian capital only accounts for 8.3 per cent of the country's population, its share of virus infections amounts to 51 per cent. Other European cities and regions with a high concentration of COVID-19 cases include Dublin (population share 29%, infections share 49%), Madrid (population 14%, infections 29%), Lombardy with Milan (population 17%, infections 37%), Geneva (population 6%, infections 16%) and Stockholm (population 23%, Infections 37%). In contrast, in cities like Berlin, Hamburg and Rome the number of CoronaVirus cases was low considering their population. London's share of national COVID-19 cases corresponds almost exactly to its size of population.

Latin America's largest metropolitan areas, Mexico City, Rio de Janeiro and Sao Paulo, have all recorded above average numbers of CoronaVirus cases. More than a quarter of Mexico's total number of cases have been registered in the country's capital, while in Brazil, almost one third of the national total of cases has been due to infections in Sao Paulo City and .

In Asia, Jakarta's 10,800 COVID-19 cases account for more than 40 per of the Indonesian total, while in Japan almost 29 per cent of infections occurred in Tokyo. Some 11 per cent India's CoronaVirus cases are in Delhi. FULL RESEARCH REPORT



ASIA / India
India's most populous states
to extend COVID-19 lockdown
Delhi, 27 April 2020: Yesterday, 26 April, the total number of CoronaVirus cases in India reached 27,000, with the number of casualties exceeding 800. Maharashtra was the worst affected state with 7,628 confirmed cases, followed by Gujarat with 3,071 cases. India's capital city Delhi recorded 2,625 cases. Commenting the latest statistics, Maharashtra's Chief Minister claimed that 80 per cent of cases were asymptomatic, while 20 per cent of those infected showed only mild symptoms. Meanwhile, Delhi Chief Minister Arvind Kejriwal told a gathering of reporters that the latest figures showed an improvement in the Indian capital compared to a week earlier. Nevertheless, he said, the lockdown was most likely to be extended beyond 3 May. A review with experts would be held on 27 April. Five other states, including Odisha, Maharashtra, Madhya Pradesh, West Bengal and Punjab have reportedly said they were also ready to extend the lockdown beyond 3 May, at least in major hotspot areas. Since the outbreak of the national epidemic, Mumbai, India's largest city, recorded 5,200 cases of COVID-19 infections, with more than 200 fatalities.

Indian states with most COVID-19 cases

| | | | |
| --- | --- | --- | --- |
| State | Capital city | COVID-19 cases | Deaths |
| Maharashtra | Mumbai | 7,628 | 323 |
| Gujarat | Gandhinagar | 3,071 | 133 |
| Delhi | Delhi | 2,625 | 54 |
| Madhya Pradesh | Bhopal | 2,096 | 99 |
| Rajasthan | Jaipur | 2,083 | 33 |
| Uttar Pradesh | Lucknow | 1,843 | 29 |
| Tamil Nadu | Chennai | 1,821 | 23 |
| Andra Pradesh | Hyderabad, Amaravati | 1,097 | 31 |
| Telengana | Hyderabad | 991 | 26 |
| West Bengal | Kolkata | 611 | 18 |
| Karnataka | Bangalore | 501 | 18 |
| Jammu and Kashmir | Srinagar and Jammu | 494 | 6 |
| Kerala | Thiruvananthapuram | 458 | 4 |
| Punjab | Chandigarh | 298 | 17 |
| Haryana | Chandigarh | 289 | 3 |
| Bihar | Patna | 251 | 2 |
| Odisha | Bhubaneshwar | 102 | 1 |
| Jharkhand | Ranchi | 67 | 3 |
| Uttaranchal | Dehradun | 50 | n/a |
| Himachal Pradesh | Shimla | 40 | 1 |
| Chhattisgarh | Raipur | 37 | n/a |
| Assam | Dispur | 36 | 1 |
| Andaman and Nicobar Islands | Port Blair | 33 | n/a |
| Chandigarh | Chandigarh | 30 | n/a |
| Meghalaya | Shillong | 12 | 1 |
| Goa | Panaji | 7 | n/a |
| Pondicherry | Pondicherry | 7 | n/a |
| Manipur | Imphal | 2 | n/a |
| Tripura | Agartala | 2 | n/a |
| Arunachal Pradesh | Itangar | 1 | n/a |
| Mizoram | Aizawi | 1 | n/a |
Source: India's Ministry of Health & Family Welfare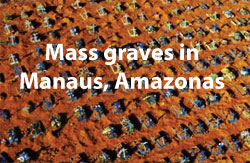 SOUTH AMERICA / Brazil
Mass graves in Amazonas capital
and threat to indigenous tribes
Manaus (Amazonas), 25 April 2020: Manaus, the capital of Brazil's Amazonas region, is accustomed to violent death - homicides are a daily occurrence – but the sight of several dozens of coffins buried in mass graves every day has shocked local people. With more than 53,000 CoronaVirus cases and 3,600 deaths, Brazil is the worst affected country in South America. Thursday, 23 April, saw a record number of new confirmed COVID-19 infections. The curve of new cases is still pointing steeply upward. Together with Rio de Janeiro and Sao Paulo, Manaus is one of the worst affected Brazilian cities. It has the highest death rate of any state capital in Brazil.

A spokesman for the regional association of funeral businesses said the city's daily average number of deaths had risen from 30 to more than 100. Undertakers have begun using backhoes to dig mass graves. "This has become the only option because it is humanly impossible to dig the required number of graves."

Manaus Mayor Arthur Virgílio Neto, who warned two weeks ago, that his city was heading towards an unprecedented disaster, is now calling for help from the federal government and the international community. The Mayor told a group of foreign reporters that with more than 100 burials a day, three times the normal average, the city's health system was overwhelmed. "Doctors have to decide whether to save young or old patients."

Earlier this week, the Mayor burst into tears as he criticised Brazil's President Jair Bolsonaro's handling of the COVID-19 pandemic. The Mayor added that city was no longer in a state of emergency but in a state of calamity. Over 90 per cent of Manaus' intensive care beds are occupied and in order to deal with the increased number of deaths city authorities are forced to store bodies in refrigerated containers.

Mayor Neto also warned of the great danger to indigenous communities. "Manaus is a gateway to the Amazon, a vast region that is still home to more than 300 tribes, whose way of life has remained largely unchanged for centuries." Amazonas has more indigenous people than any other state in Brazil. They are extremely vulnerable to imported diseases because their immune systems have never been exposed to them.

Officially, some 300 people in Manaus have died of COVID-19, but there are likely to be many more. "The dead cannot be tested for the virus. People who die at home, often due to respitorary failure, do not enter the statistics," a health official said.

Manaus, a city of some 2.2 million people, is located in the middle of the Amazon region and can only be reached by ship or plane. It is therefore difficult to bring supplies of material or equipment to Manaus. It is the only large city in Amazonas, a state which is four times the size of Germany.

As of yesterday (24 April), Brazil had 53,000 COVID-19 cases, with 3,670 related deaths. On Thursday, 23 April, the country experienced its worst day since the beginning of the pandemic, recording 3,735 new infections and 407 deaths.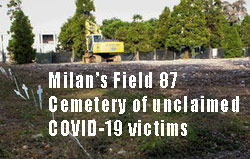 EUROPE / Italy
Milan's last resting place for
unclaimed COVID-19 victims
Milan (Lombardy), 22 April 2020: A field in a far corner of Milan's Maggiore cemetery is the last resting place of some 61 victims of COVID-19. They are the dead whose identities are unknown, the dead who have not been claimed by relatives or friends, the dead of the poorest in society. On Field 87 there are no grave stones, no plagues, only a few identical white crosses. Mayor Giuseppe Sala referred to those buried in mass graves as Sons and daughters of Milan. In a tribute to the victims, the Mayor said CoronaVirus had killed many of the dearest citizens of Milan. "Some of them are buried in Field 87. Identical white crosses, like those in war cemeteries, mark each dead." Some crosses bear the name of the dead and the day they died, others just give a date.

More COVID-19 victims are being buried every day day. Field 87 has room for another 500 white crosses. Giuseppe Sala uses words not heard since World War II. He speaks of the fallen, victims of an enemy, war graves. "All died far away from their loved ones."

Field 87 became a necessity after Milan's morgues were overwhelmed with CoronaVirus victims. Relatives can now only claim their loved ones after two years from the date of the burial. But the Mayor pledged that in the meantime the dead would be tended with respect.

Up to 21 April 2020, the Lombardy regions, with Milan as its capital, had more than 68,000 cases of COVID-19, with some 12,600 resulting in death.



ASIA / China
African nationals in China falsely
accused of importing COVID-19
Beijing, 20 April: With the USA blaming China for the outbreak of the CoronaVirus pandemic, the Chinese authorities are making strenuous efforts to convince the world that the epidemic has been brought under control. Beijing's greatest fear is a second wave of infections brought to the country from abroad. While Chinese nationals returning home are responsible for the vast majority of 'imported' COVID-19 cases - estimates range from 75 to 90 per cent - many Chinese prefer to point the finger at foreigners, in particular Africans. European journalists reporting from China speak of a barrage of xenophobia and racism. The sentiments are particularly pronounced in the southern city of Guangzhou (Guangdong Province), home to a large African community.

The Washington-based Brooking Institution reported that by 11 April, only 25 of 119 imported cases of COVID-19 were foreign nationals. While the majority of the 25 infected non-Chinese is from African countries, the figure also includes arrivals from France, Australia, the UK and Russia.

Nevertheless, many in Guangzhou, including local authority officials, scapegoat the entire African community. African residents have reported that hotels and restaurants are refusing them entry. Some have been forced out of their apartments, while were others subjected to forced quarantine measures, even though they were not high-risk.

Brookings says that in Chinese society implicit racism and discrimination against Africans is not new and had been observed long before the COVID-19 crisis. "However, COVID-19 has brought this tension to new levels, and, in the case of Guangzhou, (falsely) presents Africans as a direct threat to the safety and security of the local Chinese."

Frank Sieren, a journalist who has lived in China for more than 20 years, commented that it would not be so easy to fight the racism that is deeply rooted in China. "What would be necessary are state and media campaigns to fight xenophobia and racism, but the Chinese Communist Party is torn on this issue. For many party members, there is an idea that racism is a Western problem, a consequence of imperialist colonialism, of which China was also a victim."

The racism persists, even though according to Guangzhou's vice mayor own admission of the more than 4,000 Africans tested for COVID-19, only some 100 carried the virus and only 19 cases were imported.

Not wanting to unduly strain Africa's close economic relationships with China, African governments have officially acted with restrain in their criticism of the Chinese authorities. Opposition parties have been more outspoken. In South Africa, a group of five regional opposition leaders wrote to President Cyril Ramaphosa, who is also the current Chairman of the African Union, and asked for an investigation into the poor treatment of African nationals residing in China. "As Africans we are appalled by the reports of poor treatment of African nationals who are residing in China. We call for all Africans to be treated with dignity and as equal to all other residents of China."

The Chinese Foreign Ministry said in a statement last week that it acknowledged the concerns of African countries and stressed that the reported cases will be probed by authorities in the Guangzhou. Beijing also added that the government had a zero tolerance towards discrimination and treated all persons equal.

According to official statistics, some 4,500 people from countries in Africa live in Guangzhou, the capital of the province of Guangdong. Unofficially, the figure is probably closer to 10,000 because some immigrants do not return to their countries of origin when their visas expire. Also, in the past, the authorities have been reportedly more lenient with undocumented migrants in Guangzhou than elsewhere in China because they contribute to the local economy.



EUROPE / London & Berlin
COVID-19 cases in
London and Berlin:
A four-week comparison
18 April 2020: During February and early March 2020, COVID-19 infections in the UK and German capitals, London and Berlin, progressed slowly. In London, the first case was confirmed on 12 February but it was regarded as not significant. The infected individual had arrived from China and it was not thought that any human-to-human transmission had occurred. At the time, a senior health researcher from the University of Southampton was quoted as saying that it was not surprising that London had seen its first case of the CoronaVirus. "It's a city of over 10 million people with several major international airports. Both London and the rest of the UK can expect to see more cases, though hopefully these will continue to be isolated cases and seen in small numbers."

Throughout the second half of February and into early March, the number of new COVID-19 infections in London remained low. During the first week of March, the total number of cases had not reached double figures. The first substantial increase in cases occurred on 8 March. By 11 March there were 104 confirmed cases.

In Berlin, the CoronaVirus emerged relatively late. The first case was only reported on 2 March. At that time there were already more than a dozen confirmed infections in Bavaria, southern Germany. In Berlin, as in London, after a hesitant start, the number of COVID-19 cases rose rapidly. On 5 March, some 12 infections were confirmed in the German capital. A week later, with a total number 157 cases, the authorities knew that Berlin faced a serious epidemic. Both capital cities reported their first treble-figure daily increases on 14 March. Throughout the second half of March, the average daily number of new CoronaVirus cases stood at 393 in London and 158 in Berlin.

While the actual number of new cases in London was considerable higher than in Berlin, the speed with which the virus spread was very similar. From 15 to 31 March 2020, the average daily Per Capita Index (PCI) for London was 44.2, while Berlin had a PCI of 41.6. The PCI indicates the number of new COVID-19 cases per population. For example, while on 14 March London recorded 146 new cases compared to Berlin's 105, the German city's PCI, due to its smaller size, was above that of London. The higher the PCI, the faster the spread.

Up to 26 March, the PCIs of London and Berlin showed similar daily readings, meaning COVID-19 infections were spreading in both cities largely at the same pace. The similarities changed on 27 March, when London's PCI rose to 80.7, while Berlin saw a decline to 56.6.

During the period 28 March to 12 April, London's highest PCI was 137.1, while Berlin's PCI never went above 69.2. FULL RESEARCH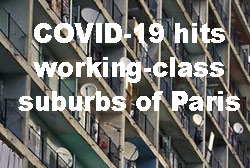 EUROPE / France
Paris working-class suburbs suffer
the most from COVID-19 outbreak
Paris, 13 April 2020: Seine-Saint-Denis, the working-class département to the north and northeast of Paris, has been particularly hard hit by the CoronaVirus outbreak. In the last week of March, the number of people dying with the COVID-19 virus increased by 63 per cent compared to a week earlier. That was almost 30 per cent above the national average. Jérôme Salomon, the French national health inspector, spoke of an astonishing mortality rate in a department with a very young population – almost a third of residents are under 20 years old. But to those living in the many high-rise concrete apartment blocks, the rapid spread of the CoronaVirus came as no surprise. The combination of cramped living spaces – a family of six living in a 50-sqm apartment is not unusual – and poverty made it easy for the virus to spread. A spokesman for the Seine-Saint-Denis emergency services said "The real danger comes not from people congregating outside, but from the cramped apartments where extended families are packed together."

Seine-Saint-Denis also has one of the lowest numbers of doctors in France, as well as a high rate of chronic diseases (diabetes, cardiovascular and respiratory diseases) which greatly increase vulnerability to viral infections. The director of a local health authority warned that if vulnerable people no longer came to the health centres because they feared contamination they were in real danger of dying at home. "We are also trying to limit infections in the homes of both legal and illegal migrant workers. Last week, in an overcrowded 200-person squat, we tested 70. We found eight people with the virus whom we managed to transfer and isolate in a number of hotels."

In towns like Bondy or Bobigny or the department's other 38 communities, the town halls have drawn up lists of the most fragile, disabled or elderly and isolated people, and contact them every day. Bobigny's chief executive explained that his authroity has arranged for them to receive deliveries of groceries, their medicines and their social benefits. Sylvine Thomassin, the Mayor of Bondy, said: "We have noticed a 211 per cent increase in the number of deaths between the second half of March and that of 2019, i.e. 28 deaths compared to nine last year.

Bondy is a town of 54,000 people. The French footballer Kylian Mbappé, who plays for the French national team and the club Paris Saint-Germain, was born here. The local authority explained that at first it was difficult to get across to the town's many young people what the curfew meant. "Try telling young people, who are used to spending their free time outside with friends, that they should stay in their cramped apartments with their parents and little siblings. But now everyone was following the rules."

Mayor Thomassin also tried to explain why so many people were dying of COVID-19 infections in the department. "On the one hand, it is because of the extremely cramped living situation. With many people living in a few square meters, the risk of the virus spreading is great. On the other hand, for most of our residents, working from home is not an option. They are cashiers in supermarkets, cleaners, delivery drivers or nurses; people who cannot afford to live in Paris. And they all have to travel to work on crowded trains."

Meanwhile, in a national television address, French President Emmanuel Macron has called all those who squeeze every day into the crowded RER B trains to travel to work from the working-class banlieues to Paris "heroes behind the front line".