FRONT PAGE
About us


ON OTHER PAGES
Mayors in Europe: Politics & Powers (2019)
E-scooters in Europe
Mayors weigh up pros and cons as drones take off across America
The ups and downs of Amazon's search for a second headquarter
Spatial Planning in the USA: Economic growth is of paramount importance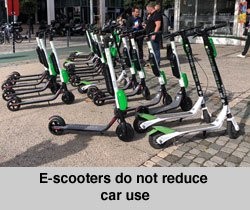 E-scooters do not reduce car use
October 2019: Two years ago, electric scooters - the step-on types - were predicted to offer an additional mode of clean, cheap transport for inner urban areas. Now cities across Europe are not so sure. Instead of persuading car users to switch to a combination of public transport and e-scooters, they are mostly used by tourists and young people for short walkable distances. And they are not cheap. Hiring an e-scooter for 20 minutes can easily cost five euros (US$5.50). While it was originally thought that commuters arriving at rail or bus terminals would pick up an e-scooter for the last mile to the office, it has not worked out like that. E-scooters are not seen as a serious mode of transport.

A survey by French research consultants 6-T came to the conclusion that e-scooters had so far made no impact on car ownership. The authors wrote that the scooters diverted users from other forms of 'green' transport. "44 per cent of respondents said their e-scooter ride substituted a walk and another 30 per cent said they would have used public transport had e-scooters not been available." In Brussels, a similar survey reported that out of 150 e-scooter users 59 per cent said they would have walked, while another 31 per cent would have biked or taken public transport.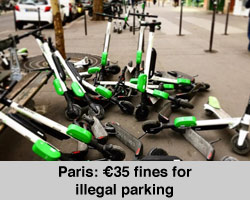 Popular cities flooded
with e-scooters
Start-up companies, flush with cash, have flooded Europe's most popular tourist destinations with their brands of e-scooters, without giving much thought to their use in densely populated areas. A French study, published this summer, said that in Paris alone 12 operators had deposited some 20,000 vehicles in the city. Often they were not collected at night, were badly maintained and thoughtlessly dumped by their riders after use. In Germany's capital Berlin, five rental companies are offering almost 10,000 e-scooters for hire. The municipal authorities of Hamburg and Munich estimate that the number of scooters for hire amount to some 3,000, while the police in Stockholm has counted 1,500 of the vehicles at any given time.

In Spain, where the government is in the process of drafting legal guidelines for the use of e-scooters, some cities have imposed their own rules. Valencia, where a license is required from anyone who carries out a commercial activity on public roads, has banned e-scooters. In August, Lime the world's largest operator of scooters-for-rent, deployed a fleet of scooters on the city's streets. Within days, the municipal authorities removed all Lime scooters and fined the US company. In Barcelona rental scooters are banned. When a German company launched a scooter sharing programme, its vehicles were confiscated within hours. Private and rental e-scooters are currently illegal on public roads in the United Kingdom.



Safety concerns
after serious accidents
Since the widespread availability and use of e-scooters in urban areas, there has been much discussion about their safety. The quality of vehicles varies considerably from provider to provider. While top-of-the-range models are designed to have a life span of 18 months and more, some cheaper products are often beyond repair after only a few weeks' use. Scooters with small wheels, poor brakes, lack of lights cause a real danger to novice riders. Hundreds of accidents, some serious and even fatal, have been reported from across Europe. In Berlin, a month after e-scooters became legal, the police counted 21 traffic accidents involving scooters with four riders suffering serious injuries. During the two-months period July to September, the police in Cologne reported 55 scooter accidents, while there were 40 similar incidents in Munich. A Cologne police spokesman said in 51 out 55 cases the accidents were caused by scooter riders, often under the influence of alcohol.

In Belgium, where the first fatal accident involving an e-scooter occurred in May 2019, a consultant working in a hospital emergency department said that the majority of accidents involved traumas to the head and spine as well as fractured noses and injuries to the knees, wrists and elbows. The Brussels-based European Transport Safety Council issued a warning: "The rapid rise of e-scooters, especially through sharing schemes, has taken policymakers and city authorities by surprise. Right now there is precious little data about the safety of these vehicles, but ad hoc evidence of a rise in serious injuries and even deaths is giving us cause for concern. Young, inexperienced riders, hopping on unstable, self-propelled vehicles in amongst cars and lorries is potentially a lethal combination of risk factors. We think a precautionary approach is needed and national authorities should be considering a full range of regulatory options."

In early 2019, Lime, the US firm, removed all of its electric scooters from the streets of the Swiss cities of Zurich and Basel following a number of accidents, possibly caused by defective brakes. It was reported that the front brakes were automatically activated at maximum speed. In September, the company re-introduced a new model, which is already available in Germany, to Switzerland.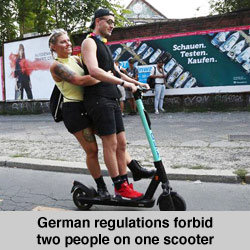 Governments introduce tough
regulations and hefty fines
Countries that have implemented e-scooter safety regulations include France, Germany, Austria, Belgium, Finland, Norway, Portugal and Sweden. Some of the strictest rules were introduced in Germany in June 2019.

The German regulations require riders to be at least 14 years of age. They must also have accident insurance. The wearing of helmets is recommended but not mandatory. E-scooters must be fitted with front and rear brakes, front and rear lights and a bell. They can only be ridden on cycle paths and roads. They are not allowed on pavements or in pedestrian areas like shopping malls. Riders must also observe all other traffic regulations, including stopping at red lights as well as alcohol limits. The maximum allowed speed is 20 km/h. Even slight breaches of the regulations can be expensive. In Berlin, riding an e-scooter without insurance attracts a fine of €40. Breaches of the alcohol limits - zero for riders under 21 - can attract penalties of up to €500.

In France, where the speed limit for e-scooters is set at 25 km/h, Paris has introduced its own tougher rules. In the French capital the speed limit is set at 20 km/h and at 8 km/h in areas with heavy pedestrian traffic. The city issues fines of €135 for riding on pavements and €35 for illegal parking. Fines of up to €1,500 for speeding offences are planned.

Unconsidered parking or dumping of e-scooters has become a major headache for many cities. Not only are disregarded scooters unsightly, they also pose a real danger to pedestrians, in particular to the elderly, disabled and partially sighted. Paris now insists that parking is only allowed in designated areas. The city authorities will also reduce the number of operators from 12 to three and put a limit on the number of available scooters.

As from next year, the parking of e-scooters and e-bikes in Berlin will only be allowed in specially reserved areas, while in Düsseldorf, also from 2020, e-vehicles left in pedestrian zones, parks or playgrounds will be confiscated. Brussels has defined off-limit zones for e-scooter parking and created assigned parking places.


Rental charges are high
E-scooters for rent are not made to be used for longer distances and longer periods of time. Most models are designed to be driven on smooth and flat surfaces. Due to their small wheels they become unstable even on cobbled streets. They are also not cheap to run. In Berlin, most operators charge one euro to unlock and then between 15 and 20 cents per minute. The charges in Paris are similar to those in Berlin: €1 to unlock and then 15 cents per minute. Hiring a bicycle is considerably cheaper. Vélib, which was introduced to the streets of Paris some ten years ago, charges 1 euro per 30 minutes for normal bikes and 2 euros / 30 minutes for electric bikes.

In Stockholm, e-scooter riders pay an initial fee of 10 krona (€1) and then between 1.5 and 3 krona per minute. For comparison, hiring an electric Renault Cleo from 'aimo', seating four people, costs 6 krona / minute, with no sign-on fee.


Operators attract millions in funding but lose money
While the rental charges for electric step-on scooters are relatively high, it is not thought that any of the main operators are profitable yet or ever will be. They, in particular the US companies Lime and Bird, have however attracted considerable amount of venture capital. Lime, founded in January 2017, received funding of US$335 million in 2018 and is valued at more than one billion dollars. It is estimated that worldwide e-scooter start-ups have attracted more than 1.5 billion dollars in funding, including from companies like Uber and Alphabet, Google's parent company.

Bird, another US company and also founded in 2017, is said to be valued at $2.5 billion. But questions have been asked whether the scooter companies' business model is sustainable. At the end of 2018 it was reported that the cost for Bird to purchase, maintain and place each scooter was as high as $550, with the goal of reducing the overheads to $360 for each vehicle. The cost meant that the company required five rides a day, for five months to break even on each scooter. Unfortunately, e-scooters for public hire don't last five months. If used every day, they become obsolete after little more than one month. American research has calculated that a company like Bird only recoups $67 per scooter, although the company disputes that figure. But Bird's chief executive admitted in an interview earlier this year, that, in order to break even, the scooters will need to increase their lifespan to six months. Both, Lime and Bird, have recently introduced more rugged scooters, which may last longer but invariably also cost more to purchase.

There are now thought to be 19 e-scooter rental companies operating across Europe. Major players, in addition to Lime and Bird, include Sweden's Voi, Germany's Circ and the Dutch company Dott.


Cities seek ways to cash in
With so much money sloshing around, it is not surprising that some cities are looking at ways to benefit financially. Marseille, France's second-largest city, has completed a tender process in October 2019. Three companies have been awarded with licenses to supply 2,000 scooters each to the city. Eight companies applied for licenses, with Voi (Swedish), Bird (US) and Circ (German) emerging successful from the process. They will be required to pay around €22,000 each per year. The three selected operators will also have to local teams in place to co-ordinate operations with the authorities.


* Research was carried out in September and early October 2019


© Copyright: City Mayors Foundation. All rights reserved