FRONT PAGE
About us





ON OTHER PAGES
Local government in The Americas:
| Argentina | Bolivia | Brazil | Canada | Caribbean | Chile | Mexico | Peru | USA | Venezuela |

Local government in Europe:
Albania | Cyprus | France | Germany | Gibralta | Greece | Iceland | Ireland | Italy | Kosovo | Malta | Portugal | Russia | Spain | UK1 | UK2 |

Local government in Asia and Australia
| Australia | China | India | Indonesia | Japan | Malaysia | Philippines | Singapore | South East Asia | South Korea | Thailand | Turkey |

Local government in Africa
| South Africa |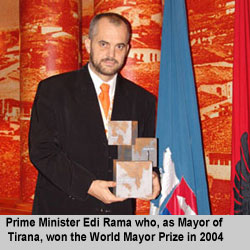 Albania strengthens
democracy by reforming
local government
By Tony Favro

12 April 2016: Less than a year ago, Albania had one of the most centralized governments in the world. Now, local governments are the most important service providers. The intergovernmental system has been upended by design, and momentous political, financial, institutional, and territorial changes are being managed simultaneously by new mayors, new city councils, and new laws governing municipal administration. From now on, the performance of Albania's entire public sector likely will be determined by what happens at the local level.


Territorial reform and decentralization
Few countries have taken a more fundamental approach to reforming their governmental systems than Albania. In July 2014, the Albanian Parliament approved the merger of 273 local governments into 61 municipalities, after extensive studies and public consultations. As a result, the land area, population, and diversity increased in the newly-consolidated municipalities. The city of Korça, for example, expanded from 14 to 806 square kilometers when seven suburban and rural local governments were merged with the core city. Similarly, the land area of Tirana, the capital and largest city, increased twenty-five fold and the population doubled.

Albania is a relatively small nation of about 29,000 square kilometers, and the territorial reform will allow more economic, social, and environmental issues to be addressed at the scale in which they occur. The reforms also increased the complexity of governance. Many former urban areas gained rural agricultural lands and historic natural landscapes, and many former self-contained inland communities now have sea coasts and tourist destinations. Local elected officials must address the needs of much broader constituencies. In June 2015, voters elected mayors and council persons for the new municipalities. The new administrations assumed office in January 2016, marking a significant passage to local control and local democracy.

Territorial reform has been accompanied by administrative and financial decentralization. Albania's new Law on Local Self-Governance, which took effect in January 2016, transfers responsibilities for the services most vital to people lives from the national government to local governments and gives local elected officials more power in public decision making. The law also sets principles for minimum national standards of performance for local services, and outlines requirements for citizen involvement in local governance. Efforts to ensure that local governments have adequate resources to fulfill their service delivery mandates are an ongoing challenge, and financial decentralization reforms are underway.

Albania is a candidate for European Union membership and must comply with the norms of the European Charter of Local Self-Government. The European Commission, World Bank, United Nations, United States Agency for International Development and other international organizations strongly supported decentralization in Albania, often helping to craft national polices. These organizations view decentralization as more than a redistribution of functions and resources between national and local governments. Decentralization potentially sets up a fundamental new system of checks and balances between the national and local governments. It offers new possibilities for participation in public affairs by community based organizations and citizens. And it provides incentives for local governments to innovate to improve performance.

Decentralization also transforms the relationship between local governments and international organizations from policy support to practical capacity building. International donors are providing technical training to municipal mayors, councilors, and professional staff on how to comply with the new laws and meet their new service delivery mandates. They are helping the new municipalities meet governance challenges like the need for transparency, accountability, and own-source revenue generation. In essence, they are helping local and national officials manage complexity in the new intergovernmental system.

Mayoral leadership
City mayors are keys to the success of the new intergovernmental system. According to Albania's National Crosscutting Strategy for Decentralization and Local Governance 2015-2020, the national government's vision for strengthening local democracy and advancing the decentralization process according to European Union standards, "The efficient operation of local administration and public services is directly linked to the quality of directly-elected mayoral leadership." To successfully implement the recommendations of the Strategy, mayors will have to recognize, harness, and deploy in a nondiscriminatory and transparent way all municipal assets. They cannot disregard the important role of all private or private sectors, including individuals, in creating public value.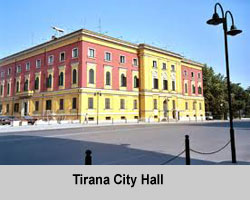 Local democracy
Good governance - indeed, the entire rationale for decentralization - is based on the primacy of local democracy. It's the idea that government has a unique role in society, which no other entity has, given that it is the only entity which has democratic accountability to everyone. It's also the idea that, despite the need for regional, national, and global scales, the local agenda is just as important. It is at the local level that people live their everyday lives and can most readily see how they can contribute to a common good and how government can impact their lives and businesses. People need well-functioning local democracy to live peaceful and prosperous lives. Businesses need well-functioning local democracy to ensure a stable investment and growth environment. In other words, it's through democracy at the local level that significant public value is created.

The relationship between local democracy and local government may take many valid forms. For example, the United States' version of local self-government is the product of three hundred years of history. The frontier mentality, the ability of the United States to disengage from international affairs for long periods of its history, the necessity of assimilating many racial and ethnic groups, the need for a sense of local community to tame the worst excesses of individualism and capitalism, and the Christian background of most Americans, among other factors, shaped and continues to shape Americans' understanding of history, progress, and authority. These essential characteristics of American thought are embodied in an intergovernmental structure which privileges the local. In England and Switzerland, by contrast, countries with the longest experience with democracy, local government is subservient to national and regional governments, respectively.

It may take many years for Albania to find the most appropriate form of local self-government, given its history and geography. The final form will be a direct result of how mayors—the most powerful local elected officials—support local democracy and defend it from internal and external threats.

Planning and governance
An important governance tool for mayors and citizens is the General Local Territorial Plan, or comprehensive master plan. All 61 local governments in Albania are embarking on the creation of such plans, as required by law. Each plan will serve as the strategic development framework for a municipality. The plans must include an inventory of municipal assets, documentation of needs, vision for the future, and objectives and actions to achieve the vision. The comprehensive plans also include an economic development plan, capital investment plan, current and future land use plans, public participation agenda, development regulations, and implementation timetable.

Comprehensive planning in Albania constitutes a powerful decision making mechanism. Technically, it involves land use and capital planning and budgeting. Politically, it must address competing interests and create a shared vision and overall development strategy for the sustainable future of a municipality.

The development of the General Local Territorial Plans is likely to be one of the most significant events in the short history of the newly-consolidated local governments. The plans will have far-reaching implications for the growth and development of municipalities over the next decade or more. Each plan will help create a cohesive and robust blueprint for public sector policies relating to environmental protection, economic growth, sustainable development, social equity, and infrastructure provision, as well as provide accurate information about what is going on in local governments in order for national and local officials to assess decentralization policies.

By serving as guides for operational efficiency and quality service delivery, as well as mechanisms for the involvement of local communities, the plans also make municipalities good contexts where government can take some risks through public sector innovation and public policy experimentation. Already, mayors and other government officials are exploring public-private partnerships, regional developments, and other creative options to improve the quality and economic prospects of municipal life.

There probably will be no return to centralized government in Albania. The challenge facing mayors, national officials, citizens, and their partners is to make local government an institution that ensures continuity, stability, and sustainability for the nation.