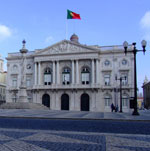 Lisbon City Halll, called the Paços do Conselho, stands on the east side of the Praça do Municipio. A building, whose east wing accommodated the city council, was built on this site in 1774 but was completely burned down in 1863. In 1875 the current building was completed.





FRONT PAGE
Site Search
About us | Quiénes somos |
A propos de nous | Über uns |
Mayor Monitor
Directories
Events
Debate




Mayors in Europe

Local government in The Americas:
| Argentina | Bolivia | Brazil | Canada | Caribbean | Chile | Mexico | Peru | USA | Venezuela |

Local government in Europe:
| Albania | Cyprus | France | Germany | Gibralta | Greece | Iceland | Ireland | Italy | Kosovo | Malta | Portugal | Russia | Spain | UK1 | UK2 |

Local government in Asia and Australia
| Australia | China | India | Indonesia | Japan | Malaysia | Philippines | Singapore | South East Asia | South Korea | Thailand | Turkey |

Local government in Africa
| South Africa |




City Mayors reports news from towns and cities around the world. Worldwide | Elections | North America | Latin America | Europe | Asia | Africa | Events |




Mayors from The Americas, Europe. Asia, Australia and Africa are competing for the annual World Mayor Award. More




City Mayors ranks the world's largest as well as richest cities and urban areas. It also ranks the cities in individual countries, and provides a list of the capital cities of some 200 sovereign countries. More




City Mayors reports political events, analyses the issues and depicts the main players. More




City Mayors describes and explains the structures and workings of local government in Europe, The Americas, Asia, Australia and Africa. More




City Mayors profiles city leaders from around the world and questions them about their achievements, policies and aims. More




City Mayors deals with economic and investment issues affecting towns and cities. More




City Mayors reports on how business developments impact on cities and examines cooperation between cities and the private sector. More




City Mayors describes and explains financial issues affecting local government. More




City Mayors lists and features urban events, conferences and conventions aimed at urban decision makers and those with an interst in cities worldwide. More




City Mayors reports urban environmental developments and examines the challenges faced by cities worldwide. More




City Mayors reports on and discusses urban development issues in developed and developing countries. More




City Mayors reports on developments in urban society and behaviour and reviews relevant research. More




City Mayors deals with urban transport issues in developed and developing countries and features the world's greatest metro systems. More




City Mayors examines education issues and policies affecting children and adults in urban areas. More




City Mayors investigates health issues affecting urban areas with an emphasis on health in cities in developing countries. More




City Mayors examines the importance of urban tourism to city economies. More




City Mayors examines the contributions history and culture make to urban society and environment. More




City Mayors describes the history, architecture and politics of the greatest city halls in the world. More




City Mayors invites readers to write short stories about people in cities around the world. More




City Mayors questions those who govern the world's cities and talks to men and women who contribute to urban society and environment. More




City Mayors profiles national and international organisations representing cities as well as those dealing with urban issues. More




City Mayors reports on major national and international sporting events and their impact on cities. More




City Mayors lists cities and city organisations, profiles individual mayors and provides information on hundreds of urban events. More


Local government in Portugal: Settled
system of parishes and municipalities
By Andrew Stevens, Deputy Editor
21 January 2008: Having emerged from half a century of dictatorship under the Estado Novo of António de Oliveira Salazar in 1974, Portugal has undergone a series of constitutional revisions aimed at restoring some level of regional autonomy in the past decade. Its local government system of parishes and municipalities is settled however, with experimentation and economies of scale sought through local associations of neighbouring local authorities.

As a relatively small country (one of the smallest in the EU), the Portuguese territorial entity is cohesive (especially when compared to its Iberian neighbour Spain) and there are no regional tensions below the nation state level or substantial demands for any political settlement. In fact the recent reforms (2006) to allow for more regional autonomy to the Atlantic island groups of the Azores and Madeira as autonomous elected regions, each with their own legislature and government, have been achieved without any major political upheaval or upset, with the downgrading of the central government's prefect (from minister to representative) in each.

Under the corporatist constitution of the Estado Novo (New State) of Salazar's dictatorship (1926-1970), Portugal was divided into 13 regions (including the two island groups) between 1936 and 1976. The death of Salazar in 1970 and the loss of most of its colonial possessions saw a left-wing military coup overthrow the Estado Novo in 1974, with 12 years of constitutional wrangling between the dominant socialists and Christian democrats before the country entered the European Community in 1986. The 1976 constitution has been revised six times, moving from a socialist-penned secularist document to a more European free market state.

Recent attempts to reintroduce regional devolution to the Portuguese mainland have not yet come to fruition, with 60 per cent of voters rejecting a proposal to create new statutory regional authorities in a 1998 referendum. The five regions (plus two island groups) denoted under the most recent constitution are currently used by the government for regional coordination within the civil service, as well as by the EU for its programmes.

The most basic local government unit in Portugal is the parish (or freguesia), of which there are currently 4240. The parish elects a local assembly, via proportional representation on four yearly terms, which then elects an executive and president from their number (as head of the winning party list). The parishes are largely concerned with education, health and the local environment.

The immediate tier above the parish is the municipality (or município), of which there are currently 308. Though elected on the same basis as the parishes (with a municipal assembly electing a municipal council and mayor), the municipalities cover more than one town or city and enjoy competence mainly in planning and local public services.

A further tier of non-elected local government exists above both the parishes and municipalities in the form of the district (distrito), which draws its members from nominated local councillors from both the parishes and municipalities and is headed by a centrally-appointed district governor from the Ministry of the Interior. Each assembly and its appointed council play a coordination role in the district's jurisdiction, for instance in education provision. However, the emergence of the regional commissions and demands for more municipal autonomy has signaled the death knell for the districts. There are of course exceptions to these arrangements, principally for the urban centres of capital Lisbon and second city Porto.

While political regions have been eschewed, the tendency towards devolution via associational arrangements for municipalities continues, permitting economies of scale through joint service arrangements, with a law passed to this effect in 2003. As well as the two metro areas for Lisbon and Porto, there are five Greater Metropolitan Areas (for Algarve, Aveiro, Coimbra, Minho and Viseu), each an association of legally at least nine municipalities (actually varies between 12 and 21) spread over several sub-regions with an executive consisting of the mayors of each. There are also 12 urban communities of smaller groups of municipalities and two intermunicipal communities of even smaller councils. Two areas of Portugal have currently elected to not have an associational arrangement between their municipalities.

The current mayor of Lisbon is former Member of the European Parliament António Costa, a Socialist. He was elected in July 2007 having resigned his post as Justice Minister in the government of José Sócrates.

The last local elections in Portugal were held in 2005, with the nationally governing Socialists sustaining some losses at the local level, with the centre-right Social Democrats securing the most mayors and the red-green coalition of communists and ecologists (CDU) ranking third. The next scheduled local polls will take place in 2009.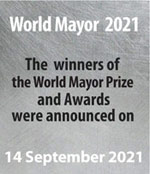 The best Mayors for Stronger | Fairer | Greener cities. Elect your candidate for the 20/21 World Mayor Prize and Honours. The Prize has been awarded since 2004.