City Mayors reports news from and for towns and cities in Latin America




FRONT PAGE
About us




Worldwide | Elections | North America | Latin America | Europe | Asia | Africa |




























News from cities in Latin America
NEWS SECTIONS: World news | Election news | News from Europe | News from North America | News from Latin America | News from Asia and Australia | News from Africa | Urban events | NEWS SPECIALS: The 2011 London riots | The 2010 Love Parade tragedy | Latest news story |


Bogota mayor sacked
by political opponent
Bogota, 10 December 2013: Thousands of people took to the streets in Bogota in protest against the ousting of the city's mayor. Yesterday morning Colombia's Inspector General Alejandro Ordoñez announced that Mayor Gustavo Petro should be removed from office over the alleged mismanagement of public services. The mayor called the decision a politically motivated coup d'état and vowed not to step down. He has also launched an appeal. The leftist mayor has been a thorn in the side of the conservative government since he took office in January 2012.

Under the order, Gustavo Petro will not only have to vacate Bogota City Hall but be banned from holding any public office for the next 15 years. The Inspector General, who under the Colombian constitution is charged with overseeing the proper conduct of public officials, claimed the mayor was not a fit person to run a mega-city like Bogota. Last January, Alejandro Ordoñez launched an investigation into the mayor's decision to transfer the city's rubbish collection from private contractors to a city-owned service. The Inspector's office claimed the transfer was mismanaged with tons of rubbish being left uncollected. City Hall alleged that the private contractors were overcharging the city.

Alejandro Ordoñez has never made any secrets of his politically conservative views. He was an ardent supporter of former President Alvaro Uribe and, in 2010, ordered the removal from office of left-wing Senator Piedad Cordoba and banned her from holding public office for 18 years. The Inspector General accused her of promoting the cause of leftist rebels.

Gustavo Petro, who assumed office on 1 January 2012, fought as a young man with the now defunct leftist M-19 rebel movement and later, as Colombian senator, became the most outspoken opponent of right-wing president Alvaro Uribe. Gustavo Petro's hefty plurality in the Bogotá mayoral race represented a severe setback for US Latin American policies promoted by presidents Clinton, Bush and Obama. But ironically while a senator, Petro backed the inspector general candidacy of Alejandro Ordoñez, a decision, which at that time alienated him from other left-wing politicians.


Mexican mayor killed for
stand against drug cartels
Mexico City, 13 November 2013: A small-town Mexican mayor, who had the courage to speak out against the drug cartels operating in his state, was found murdered after he had been abducted and allegedly tortured. Ygnacio Lopez Mendoza, the mayor of Santa Ana Maya in the western Mexican state of Michoacan, had just ended a 18-day hunger strike in front of Mexico's federal senate building in Mexico City. Speaking to journalists, he complained about complicity between local police and members of drug gangs. He also said that mayors in his state were routinely forced to give 10 per cent of building works budgets to the Knights Templar (Caballeros Templarios) drug cartel.

Former Mexican president Felipe Calderon demanded in a Twitter message an explanation of the death of Mayor Lopez. ''The mayor was on a hunger strike in front of the Senate complaining of complicity between local police and criminals. Today he's dead. How did it happen?'' Calderon asked. In 2009 President Calderon ordered the arrest of 35 mayors, public prosecutors and other officials, who were accused of taking bribes but the cases never made it to court. More recently, Mexican media reported that some mayors with links to drug cartels were forced to leave town by newly formed citizens vigilante groups.

Last week the director of the Association of local authorities in Mexico said that during the past eight years 47 mayors were killed by suspected members of drug cartels.


Gunmen out to disrupt
Mexican local elections
Mexico City, 3 July 2013: A mayoral candidate in Mexico's forthcoming local elections has been shot dead. Ricardo Reyes Zamudio, a member of the leftist Citizens Movement, was kidnapped during a funeral and his bullet-riddled body was found Monday in the town of Tayoltita, the Durango state Attorney General's Office said yesterday. Ricardo Reyes, who served as mayor of San Dimas from 2007 to 2010, was running for a second term. A spokesman for the Citizens Movement called the shooting cowardly. "The killing of Reyes is part of an alarming climate of violence and impunity, which seems to be aimed at inspiring terror among left-wing candidates before the elections this Sunday," he said.

The killing comes one week after a government candidate for the state legislature in the southern of Oaxaca was shot several times and the body of a top official of the opposition Party of the Democratic Revolution (PRD) was found. The police has yet to establish who is behind the attacks and whether they are linked.

Meanwhile in the State of Sinalo, two mayoral candidates have withdrawn from the elections after a member of their coalition 'Together You Win' was killed by gunmen. A spokesman for the coalition has asked the state authorities to postpone Sunday's elections because the safety of candidates could not be ensured.

In the southern state of Chiapas, police has arrested a mayoral candidate for murdering of a rival party member last year and a candidate in the southern state of Guerrero was killed outside his home.

Some 30 million Mexicans are eligible to vote in Sunday's elections, with 1,348 mayoralties and more than 400 state legislative seats up for grabs in 14 states.

Brazil government and cities offer
reforms in response to protests
Sao Paulo, 22 June 2013: Following the wave of protests against higher public transport fares and wasteful spending on projects connected to next year's Football World Cup, mayors in several Brazilian cities have started to establish dialogues with the protesters. In some cities, including Recife, Porto Alegre, Joao Pessoa and Cuiaba, fare rises were reversed. A number of mayors also said they would review or curb expenditure on World Cup schemes.

In Sao Paulo, where the troubles started some two weeks ago, Mayor Fernando Haddad, a political ally of socialist President Dilma Rousseff, announced a reversal of the fare rises. But he also warned that lower ticket prices meant that the city had to make spending cuts in other areas.

Mayor Haddad met with members of the protest movement Passe Livre (Free Access) to explore changes to the financing structure of public transport. He hinted that business might be asked to increase their contributions. Currently, users pay 70 per cent of travel costs, business contributes 10 per cent and the city provides a 20 per cent subsidy. "Profitable businesses might be able to afford a higher share," the mayor said.

In Sao Paulo, only the bus routes come under the jurisdiction of the city. Subway and suburban commuter trains are run by the State government of Sao Paulo.

José Fortunati, mayor of Porto Alegre and another socialist ally of President Rousseff, announced that the city will lower fares in the capital of Rio Grande do Sul, while the governor of the state of Pernambuco confirmed that fares on public buses of Greater Recife will be reduced by 10 cents.

The demonstrations and protests, which began two weeks ago in Sao Paulo and were triggered by fare rises, quickly spread to other large cities in Brazil. Protesters are using the Football Confederation Cup, a dress rehearsal for next year's World Cup, which is being played in several cities, to claim that expenditure on large-scale sporting events was wasteful. The money would pay for hundreds of hospitals and schools, they claim. Some left-wing commentators even suggested that the government could use the money to subsidise basic food. While Brazil's economy is growing sluggishly at the moment (+0.6%), food inflation is running at more than 13 per cent.

In an attempt to pacify the protesters, Brasil's President Dilma Rousseff outlined a number of proposals in a televised address yesterday. She said her government would shortly publish reforms to public transport and that all oil royalties would be used to improve educations. She added that doctors from Portugal and other countries would be invited to work in Brazil to help to improve the country's health system.

Brazilian mayors climb down
but protests set to continue
Belo Horizonte, 19 June 2013: Despite the attempts by President Dilma Rousseff to defuse the protest which have raged across urban Brazil and promises by several mayors to listen to the grievances of protesters, demonstrations continued today in a number of cities. A day after more than 250,000 people took to the streets of major cities in mostly peaceful rallies, Brazil's President publicly vowed on Tuesday to listen to the complaints. While she was in Sao Paulo, the president discussed the fare rises, which sparked off the protests, with Mayor Fernando Haddad.

The protests began earlier this month, with marches in Sao Paulo against the rise in the price of bus fares, from 3.00 reals (US$1.40) to 3.20. Local media reported that they were largely organised by young people through social media. Their movement is called Passe Livre (Free Access). Monday night saw the biggest demonstrations since the movement began. About 65,000 people took to the streets in Sao Paulo, Brazil's largest city. The largest march was in Rio de Janeiro, where 100,000 people marched peacefully through the city centre. Yesterday, the protests spread to Brasilia, Belo Horizonte, Rio de Janeiro, Curitiba and Porto Alegre.

While the original demonstrations were about fares on buses and subway trains, later protest were directed against high taxation, the lack of public services and the soaring costs of hosting next year's football World Cup. According to some reports, the 2014 World Cup will cost in excess of 30 billion dollars, more than the previous three World Cups combined.

Brazil suffers also from endemic corruption. The President of the Brazilian Supreme Court recently said Brazil was the only case of a democracy in the world where those convicted for corruption legislate against those that convicted them. "We are the only democracy where decisions made by he Supreme Court may be changed by convicts."

More demonstrations are planned for tomorrow, Thursday, the protests will go ahead despite several mayors, including those of Curitiba, Recife and Sao Paulo, having said that all fare rises would be reversed.

Mexican mayor
hands city to God
Monterrey, 13 June 2013: The mayor of Mexico's third-largest and wealthiest city symbolically handed the keys to her city to God and Jesus Christ. At a religious ceremony, organised by an alliance of pastors, Mayor Margarita Arellanes announced that she opened the doors to Monterrey to God as the maximum authority on earth. "I recognise that without his presence and his help, we cannot have real success," she told her audience. But, while she may have pleased her religious listeners, the mayor was swiftly ridiculed and criticised by politicians from left to right. One newspaper commentator called her Mexico's Sarah Palin, alluding to the former Alaskan governor who tried to capture the religious vote in her failed bid for the US vice-presidency in 2008.

Mayor Arellanes was also criticise by senior members of her own conservative PAN party (Partido Acción Nacional). Senator Luisa Maria Calderon, sister of the former President Felipe Calderon, advised her to be more careful and reminded her that according to the 1917 Constitution Mexico was a secular country. Several constitutional lawyers listed articles of the Constitution, which the mayor may have violated. Monterrey's leading independent human rights organisation said turning the city over to Jesus was undemocratic and un-republican.

To appease her critics, the mayor has now said that she broke no laws because she acted in a private capacity, a claim rejected by people who attended the event or watched her speech on YouTube.

Margarita Arellanes is not the first Mexican mayor who believes God would do a better job running cities than elected politicians. The mayors of Guadalupe and Juarez had made similar pledges in the past.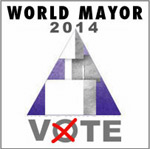 If you think your mayor is among the best in the world, nominate him or her now for the 2014 World Mayor Prize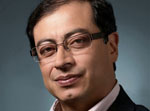 Bogota mayor sacked by political opponent (Photo: Bogota Mayor Gustavo Petro)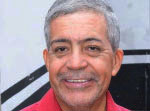 Mexican mayor killed for
stand against drug cartels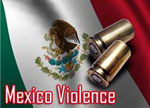 Gunmen out to disrupt Mexican local elections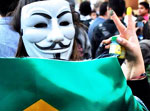 Brazil government and cities offer reforms in response to protests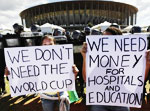 Brazilian mayors climb down but protests set to continue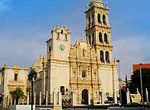 Mexican mayor hands city to God (Photo: Monterrey Cathedral)