FRONT PAGE
About us





METRO NEWS
• Worldwide
• Elections
• Italian elections 2016
• UK elections 2016
• North America
• Latin America
• Europe
• Asia
• Africa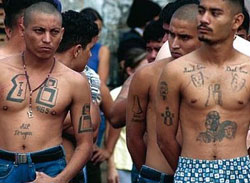 Killing of Mexican mayor
believed to be warning
by organised crime
Mexico City, 4 January 2016: The governor of the Mexican state of Morelos has ordered special protection for all mayors after the Mayor of Temixco was shot dead one day after her inauguration on New Years Day. Mayor Gisela Mota, a former member of Mexico's Congress, was gunned down as she was leaving her house on Saturday. After the arrest of three people, police blame organised crime for the killing and believe it was meant to serve as a warning to other mayors: "If you don't cooperate with organised crime, look at what will happen to you."

Yesterday, on Sunday, the police shot dead two known criminals and arrested a further three suspects in a targeted operation. Officials said those taken into custody were a 32-year-old woman, an 18-year-old man and a minor. They gave few other details, though a spokesman for the state attorney general said the suspects had been tied to other crimes.

Temixco, with about 100,000 people, is a suburb of Cuernavaca, a city famed among tourists for its colonial centre and gardens. "The city of eternal spring" has long been long a favourite weekend getaway for people from nearby Mexico City but hotels have been complaining that drug gangs have been keeping visitors away. According to newspaper reports, drugs, kidnappings and extortion in the area were once under the control of the Beltran Leyva cartel, but that group's collapse a few years ago unleashed fierce competition among its progeny and rivals in Morelos and neighbouring Guerrero and Mexico states.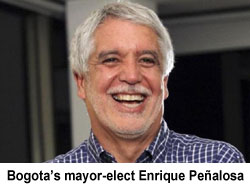 Pro-peace candidates
win mayoral elections
in Bogota and Medellin
Bogota, 27 October 2015: Voters in Colombia's two largest cities have returned peace candidates in last Sunday's local and regional elections. In Bogota, Enrique Peñalosa, a previous mayor, beat, in a closely fought contest, Rafael Pardo. In Medellin, Colombia's second-largest city, Juan Carlos Velez, an ally of the hawkish former president Alvaro Uribe, who opposes peace talks with the country's guerrilla movement, had been favoured to win. But he was edged out 36 to 34 per cent by centrist Federico Gutierrez.

Sunday's elections were the Colombia's first regional and local ballots since President Juan Manuel Santos started peace talks with the revolutionary FARC (Revolutionary Armed Forces of Colombia) rebels in Havanna, Cuba. The government hopes to sign a peace agreement early next year to end South America's oldest guerrilla war. Prior to the election, the Colombian President urged Colombians to vote, saying that the local and regional elected officials would have to implement the peace deal. "If we manage to end the armed conflict in the coming months, they will be held responsible for putting into practice the measures that will allow us a successful transition towards peace," the President added.

The country's most closely watched contest was the mayoral election in the capital city Bogota. Enrique Peñalosa, who stood as an independent, was previously mayor of Bogota between 1998 and 2001. During that term, he launched the city's rapid-bus transportation system TransMilenio and 250 kilometers of cycle lanes. He now promises to enhance the city's shared public spaces such as parks and libraries as well as discourage the use of private cars. He also said Uber drivers should operate on an equal footing with traditional taxis, who require a license, which in a secondary market can be worth some US$30,000.

Enrique Peñalosa studied economics at Duke University, North Carolina, and served as a congressman and economics minister before being first elected Mayor of Bogota in 1998. In addition to promoting public transport over private car use, he encouraged the use of public libraries and opened up schools to children from poorer neighbourhoods. He will take over from the current mayor on 1 January 2016.

Federico Gutierrez, Medellin's mayor-elect, is a civil engineer by profession. He served as a city councillor from 2003 to 2011, when he unsuccessfully stood for mayor. His unexpected victory, last Sunday, will give the peace process a significant boost.

Colombians elected 32 provincial governors and legislative bodies, more than 1,100 mayors and municipal councils and other local leadership posts.