LOCAL GOVERNMENT

English city and
regional mayors
By Andrew Stevens, City Mayors Fellow*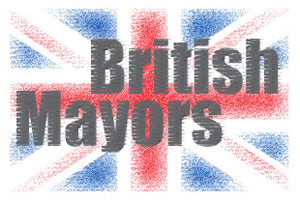 ON THIS PAGE: Local government in England ||| Elected regional mayors in England ||| Elected city mayors in England |||

ON OTHER PAGES: Local government in the UK ||| London Boroughs | City of London | Mayors, parties, politics

WORLD MAYOR 2023: The 2023 World Mayor Prize is dedicated to Friendship between Cities. The Honours will be awarded to mayors and cities that have made outstanding contributions to friendship, partnership and cooperation between towns and cities at home and across borders. PLEASE ELECT YOUR CANDIDATES


Local government in England
May 2023: In London and several metropolitan areas, England's cities are led by elected Mayors, while all but 14 of the 296 local councils in England are run by a Council Leader elected by their fellow councillors. Since 2002 a number have been led by mayors elected directly by local voters. Most of the local authority elected mayors in England have responsibility for all local services, with two district council mayors responsible for only environment, planning and housing. In London and the metro area Combined Authorities, the Mayor is responsible for transport, economic development, skills and spatial planning, as well as other fields as devolved. All of England's elected mayors were previously elected for four-year terms by the instant run-off Supplementary Vote, from 2023 this has been by a simple majority ('First Past the Post'). There are no elected mayors in Scotland, Wales or Northern Ireland.

There are 296 municipal units in England, consisting of all-purpose single-tier London Boroughs (32, as well as the City of London Corporation), metropolitan boroughs (36) and unitary authorities (63), and 164 non-metropolitan districts existing below 21 upper-tier county councils. In some cases, non-metropolitan districts can be known as borough or city councils, while some London Borough, metropolitan borough and unitary councils can also be known as 'city' councils. The single-tier councils all have the same responsibilities, but their designation reflects particular waves of reorganisation: London Boroughs (1965), metropolitan boroughs (1986) and unitary authorities (1995-1998, 2009 and 2019-23). Non-metropolitan districts perform mainly environmental, planning and housing functions in contrast to the all-purpose authorities that also provide education and social services.

In the majority of these 296 councils, all but 14 are currently headed by a Council Leader elected from among the council (previously annually, since 2010 for four-year terms). All councils are elected on four-year cycles but the type of elections (all out, half of seats or third of seats) is determined by each council, leading to a variety of election types across England (except in London and most Metropolitan Boroughs, which work on a single fixed all-out cycle).

The directly elected Mayor of London (since 2000) is included among England's elected mayors, but as the Greater London Authority (GLA) is a strategic regional body that does not provide local authority services, he is considered separately for most other purposes. Since 2011, Combined Authorities (CAs) consisting of council leaders of constituent local authorities have been introduced to mostly metropolitan areas of England. Among their core responsibilities are transport, economic development, skills, housing investment and spatial planning, with other fields devolved as agreed with central government (e.g. social care, criminal justice). Under the Cities and Local Government Devolution Act 2016, 'Metro Mayors' were elected for the first time in 2017 to lead several of these Combined Authorities, in areas covering Birmingham, Bristol, Liverpool and Manchester, as well as Cambridge/Peterborough and Middlesbrough. In May 2018, a metro mayor election was held for the Sheffield City Region CA, followed by North of Tyne (Newcastle and surrounds) a year later and most recently West Yorkshire (Leeds) in 2021.

Under the Local Government Act 2000, any local council in England could hold a referendum on the introduction of a directly elected mayor, either by citizen petition or council decision. Since the Local Government and Public Involvement in Health Act 2007, councils have been allowed to introduce the system without a referendum, so far only two, Leicester and Liverpool, have done so. Stoke on Trent, which was the only council to introduce the Mayor and Council Manager system in 2002, abolished it by local referendum in 2008, as it was attributed to the poor governance in the city (alongside other issues). In 2012 Hartlepool followed suit as a result of a referendum initiated by citizen petition, with the council being run under the previous committee system from May 2013. A similar referendum in neighbouring Middlesbrough in 2013 saw the mayoral system retained however (as per Doncaster the year before). During the 2016 local elections, voters in North Tyneside also voted to retain their mayoralty, while in Torbay a similar poll saw a vote to end the mayoral system from 2019. Newham and Tower Hamlets electors respectively voted to retain the system in May 2021, with Croydon also voting to introduce an elected mayoralty from May 2022. Liverpool City Council, having previously used its power to introduce an elected mayoralty without a referendum in 2012, voted in 2022 to scrap the post from May 2023.

The former Conservative-led coalition government legislated for referendums to be held in 2012 on the introduction of elected mayor posts in England's 10 largest cities, with only Bristol assenting to the proposal (a city referendum that backed abolishing the office was held in May 2022). It also introduced directly elected Police and Crime Commissioners to replace England's police authorities (previously appointed boards) from November 2012. In London, Greater Manchester and West Yorkshire this is a mayoral function, however.

There are no directly elected mayors in Scotland, Wales or Northern Ireland. The devolved governments of Scotland and Northern Ireland have chosen not to introduce the system, while in Wales only one local referendum on introducing an elected mayor has been held to date.


Elected regional (metro) mayors in England
Parties:
Labour – centre-left;
Liberal Democrats – centrist;
Conservative – centre-right;


Combined authority

Mayor

Previous jobs

Allowance p/a
(2022/2023)**

Cambridgeshire and Peterborough
Popl: 807,000
Internet
Nik Johnson (Mr)
Party: Labour; Elected 2021, Next elections 2025
Hospital doctor and councillor


£86,121

Greater Manchester
Popl: 2,733,000
Internet
Andy Burnham (Mr)
Party: Labour; Elected 2017; Re-elected 2021; Next elections 2024
Political adviser, Cabinet Minister, Member of Parliament (2001-2017); Shortlisted for the 2021 World Mayor Prize

£110,000

Liverpool City Region
Popl: 1,517,000
Internet
Steve Rotheram (Mr)
Party: Labour; Elected 2017; Re-elected 2021; Next elections 2024
Builder, councillor and Lord Mayor, Member of Parliament (2010-2017)

£84,298

London
Popl: 8,547,000
Internet
Sadiq Khan (Mr)
Party: Labour; Elected 2016; Re-elected 2021; Next elections 2024
Lawyer, councillor, minister, Member of Parliament (2005-2016)

£154,963

North of Tyne
Popl: 816,000
Internet

Jamie Driscoll (Mr)
Party: Labour; Elected 2019; Next elections 2024
Engineer, software company director and councillor

£65,000

South Yorkshire
Popl: 1,820,000
Internet
Oliver Coppard (Mr)
Party: Labour; Elected May 2022; Next elections 2026
Parliamentary researcher, local government officer, communications adviser

£79,000

Tees Valley
Popl: 702,000
Internet
Ben Houchen (Mr)
Party: Conservative; Elected 2017; Re-elected 2021; Next elections 2024
Lawyer, business owner and councillor


£65,000

West Midlands
Popl: 2,808,000
Internet
Andy Street (Mr)
Party: Conservative; Elected 2017; Re-elected 2021; Next elections 2024
Business leader

£95,000

West of England
Popl: 1,104,000
Internet
Dan Norris (Mr)
Party: Labour; Elected 2021; Next elections 2025
Teacher, social worker, councillor and Member of Parliament (1997-2010)


£77,000

West Yorkshire
Popl: 2,320,000
Internet

Tracy Brabin (Ms)
Party: Labour; Elected 2021; Next elections 2024
Actress, screenwriter, Member of Parliament (2016-2021)


£106,837


Elected city mayors in England
Parties:
Labour – centre-left;
Liberal Democrats – centrist;
Conservative – centre-right;
Aspire - populist


Council

Mayor

Previous jobs

Allowance p/a
(2022/2023)**

Bedford
(Popl: 155,700)
Internet
(Unitary Authority - Borough)
Tom Wootton (Mr)
Party: Conservative Elected 2023; Next elections 2027
Local councillor and farmer


£63,803

Bristol
(Popl: 428,200)
Internet
(Unitary Authority - City)

Marvin Rees (Mr)
Party: Labour; Elected 2016; Re-elected 2021, Post to be abolished in 2024
Journalist and public official


£86,439

Croydon
Popl: (385,000)
Internet
(London Borough)

Jason Perry (Mr)
Party: Conservative: Elected 2022; Next elections 2026

Local councillor and cabinet member for regeneration, small business owner

£84,123

Doncaster
(Popl: 291,600)
Internet
(Metropolitan Borough)
Ros Jones (Ms)
Party: Labour; Elected 2013; Re-elected 2017 and 2021; Next elections 2025
Local councillor and public accountant;
Winner of 2018 World Mayor Commendation


£67,236

Hackney
(Popl: 212,200)
Internet
(London Borough)
Philip Glanville (Mr)
Party: Labour; Elected 2016; Re-elected 2018 and 2022; Next elections 2026
Local councillor and housing adviser, Parliamentary researcher


£86,869

Leicester
(Popl: 294,700)
Internet
(Unitary Authority - City)
Peter Soulsby (Mr)
Party: Labour; Elected 2011; Re-elected 2015, 2019 and 2023; Next elections 2027
Teacher, Council Leader and Member of Parliament (2005-11)


£78,411

Lewisham
(Popl: 261,600)
Internet
(London Borough)
Damien Egan (Mr)
Party: Labour; Elected 2018; Re-elected 2022; Next elections 2026
Training manager for charity, councillor and cabinet member for housing


£80,759

Mansfield
(Popl: 100,600)
Internet
(District Council)
Andy Abrahams (Mr)
Party: Labour; Elected 2019; Re-elected 2023; Next elections 2027
Engineer, teacher, civil servant


£49,377

Middlesbrough
(Popl: 139,000
Internet
(Unitary Authority - Borough)
Chris Cooke (Mr)
Party: Labour; Elected 2023; Next elections 2027
Councillor and charity worker


£63,560

Newham
(Popl: 249,500)
Internet
(London Borough)
Rokhsana Fiaz (Ms)
Party: Labour; Elected 2018; Re-elected 2022; Next elections 2026
Media adviser and charity CEO, councillor


£87,997

North Tyneside
(Popl: 196,000)
Internet
(Metropolitan Borough)
Norma Redfearn (Mrs)
Party: Labour; Elected 2013; Re-elected 2017 and 2021; Next elections 2024
Teacher


£68,499

Salford
(Popl: 229,000)
Internet
(Metropolitan Borough - City)

Paul Dennett (Mr)
Party: Labour; Elected 2016; Re-elected 2021; Next elections 2024
Call centre worker, Assistant Mayor

£69,903

Tower Hamlets
(Popl: 220,500)
Internet
(London Borough)
Lutfur Rahman (Mr)
Party: Aspire; Elected 2022; Next elections 2026
Lawyer (disbarred), council leader, Elected Mayor (suspended 2015)

£80,579

Watford
(Popl: 80,000)
Internet
(District Council)
Peter Taylor (Mr)
Party: Liberal Democrats; Elected 2018: Re-elected 2022; Next elections 2026
Teacher, Parliamentary researcher, councillor and Deputy Mayor


£73,607

*The research was original carried out in 2021 and updated in May 2022.

** All salary data shown has been cross-referenced across a range of sources and is to the best of our knowledge accurate at the time of writing in December 2021. FULL SURVEY

© Copyright: All content of the City Mayors and World Mayor websites are protected by worldwide copyright. Please contact the editor if you wish to use any material from the City Mayors, World Mayor or Women Mayors websites.