City Mayors features the most influential mayors from around the world as Mayors of the Month




FRONT PAGE
About us




Worldwide | Elections | North America | Latin America | Europe | Asia | Africa |






















Mayors of the Month
In a range of profiles of and intervews with mayors from Asia, Africa, Europe and The Americas, City Mayors portraits its Mayors of the Month. The chosen mayors have all initiated policies and actions that could be emulated by other cities.

Mayors of the Month
In 2014
Mayor of Lampedusa, Italy (07/2014)
Mayor of Ghent, Belgium (06/2014)
Mayor of Montería, Colombia (05/2014)
Mayor of Liverpool, UK (04/2014)
Mayor of Pittsford Village, NY, USA (03/2014)
Mayor of Surabaya, Indonesia (02/2014)
Mayor of Santiago, Chile (01/2014)

In 2013
Mayor of Soda, India (12/2013)
Mayor of Zaragoza, Spain (11/2013)
Mayor of Marseille, France (10/2013)
Mayor of Schwäbisch Gmünd, Germany (09/2013)
Mayor of Detroit, USA (08/2013)
Mayor of Moore, USA (07/2013)
Mayor of Mexico City, Mexico (06/2013)
Mayor of Cape Town, South Africa (05/2013)
Mayor of Lima, Peru (04/2013)
Mayor of Salerno, Italy (03/2013)
Governor of Jakarta, Inbdonesia (02/2013)
Mayor of Rio de Janeiro, Brazil (01/2013)

In 2012
Mayor of Izmir, Turkey (12/2012)
Mayor of San Antonio, USA (11/2012)
Mayor of Thessaloniki, Greece (10/2012)
Mayor of London, UK (09/2012)
Mayor of New York, USA (08/2012)
Mayor of Bilbao, Spain (07/2012)
Mayor of Bogotá, Columbia (06/2012)
Mayor of Perth, Australia (05/2012)
Mayor of Mazatlán, Mexico (04/2012)
Mayor of Tel Aviv, Israel (03/2012)
Mayor of Surrey, Canada (02/2012)
Mayor of Osaka, Japan (01/2012)

In 2011
Mayor of Ljubljana, Slovenia (12/2011)


Country sections
Argentine Mayors
Belgian Mayors
Brazilian Mayors
British Mayors
Canadian Mayors
Chilean Mayors
Colombian Mayors
Czech Mayors
French Mayors
German Mayors
Italian Mayors
Japanese Mayors
Mexican Mayors
South African Mayors
Spanish Mayors
US Mayors

THE LARGEST CITIES IN THE WORLD AND THEIR MAYORS 2010
Introduction
Cities by size: 1 to 150 | 151 to 300 | 301 to 450 | 451 to 550 |Cities in alphabetical order: A to D | E to L | M to R | S to Z |
Cities by countries: A to D | E to L | M to R | S to Z |


Japanese Mayors
14 November 2013: Japan, the world's third-largest economy by GDP and 10th largest population, is a unitary state, governed at national level by a Prime Minister and Cabinet largely chosen from the bicameral National Diet. The two-tier local government system in Japan is composed of 47 prefectural governments (roughly akin to a county), each headed by a directly-elected Governor (elected on a four-year term) and 1,719 municipalities, each headed by a directly-elected Mayor More.

US Mayors
14 November 2013: More than eighty per cent of American citizens now live in large cities, suburbs of cities, or towns. People's needs – from police to sanitation, education to fire protection, housing and public transportation – are seen to, most directly, by city governments. There are, broadly speaking, three forms of it: the mayor-council form the commission form and the city or council-manager form. Almost all large US cities have strong mayor systems. More

Colombian mayors
12 August 2012: Colombia is divided into 32 departments (states) and the Bogotá federal district and subdivided into 1,011 municipalities. Departments control their own finances, as well as administration, within the limits set by the constitution. Governors of departments, once appointed by the president, are now elected. Each departmental assembly meets yearly for a session of two months. Assembly members are elected by universal suffrage, one for each 40,000 inhabitants. More

Czech mayors
18 January 2012: In the Czech Republic members of municipal councils are directly elected using a proportional electoral system. Every citizen of the Czech Republic over eighteen years of age has the right to vote and to run for municipal office. The term of a municipal council is four years. Mayors are elected by and responsible to their councils. More

Mexican Mayors
12 December 2011: The Mexican Republic consists of 31 states and a Federal District, the country's capital Mexico City. Within the 31 states there are 2,377 municipalities with 145,712 local communities of varying sizes. Local government elections are held every three years. Mayors in Mexico - with the exception of the Mayor of Mexico City, who has a six-year term - are elected for one three-year term and cannot be re-elected. Mexican mayors share power with municipal councils, who are indirectly elected, also for three years. 'Mayors' in Mexico are actually called 'municipal presidents' (presidente municipal). A different official represents the city legally. More

German Mayors
3 November 2011: Germany is a country of thousands of medium-sized towns and cities. The mayors' terms of office vary between five and nine years, depending on the state. Only four cities, Berlin, Hamburg, München (Munich) and Köln (Cologne), are Millionenstädte - cities with a population of more than one million. Another nine German cities have a population of more than 500,000 people. Each municipal council is headed by an elected mayor, known as the Bürgermeister - or Oberbürgermeister in larger cities. More

Chilean Mayors
27 September 2011: Chile is a unitary and relatively centralised state consisting of 15 regions, 51 provinces and around 346 municipalities or communes in descending order of geographic scale. Mayors and local councilors are elected every four years from the same roster of candidates, with the mayoral seat going to the candidate with the highest number of votes. Chile's current institutional structure was developed under the military dictatorship of General Augusto Pinochet. More

Argentine Mayors
30 August 2011: Argentina is a federal state, made up of 23 provinces, a federal district and more than 1,000 municipalities. The country is predominantly urban, with around 83 per cent of the population living in cities. Municipalities generally have few powers and little financial muscle. They are usually responsible for defining land use, zoning, regulating pollution, waste collection, urban hygiene, lighting, street conservation and sewage. More

Canadian Mayors
28 August 2011: In Canada cities and towns are considered creatures of provincial and territorial governments, existing by provincial and territorial legislation. Provinces and territories can create, modify, or eliminate a municipality as they see fit such as amalgamations and the creation of regional governments. They also dictate the limits of the powers of municipal governments including mayors. More

Brazilian Mayors
26 August 2011: Brazil is a federal republic consisting of 26 states and a federal district.The country also has almost 5,000 self-governing municipalities.Government in Brazil's municipalities is structured with a separation maintained between the executive in the form of a mayor, and the unicameral legislative city council. Elections for mayor require a victor with more than 50 per cent of the vote, with the exception of cities with less than 200,000 inhabitants. More

British Mayors
17 November 2012: All but 16 of the 326 councils in England are led by a Council Leader elected by their fellow councillors. Since 2002 a small number, as well as Greater London, have been led by mayors elected directly by local voters. Most of the elected mayors in England have responsibility for all local services, with two district council mayors responsible for only environment, planning and housing. All 17 elected mayors are elected on four year terms by the instant run-off Supplementary Vote. There are no elected mayors in Scotland, Wales or Northern Ireland. More

Spanish Mayors
20 August 2011: Spain consists of 8,109 municipalities in 17 regions. Local council elections are held every four years. The last one took place in May 2011. The president of the city council is the mayor, who is elected by and from the councillors. Mayors' responsibilities include: Environment, roads, urban planning and water. Mayors of larger municipalities are also responsible for culture, environment, fire services, social services, transport and waste. More

French Mayors
19 August 2011: Mainland France consists of 36,569 municipalities (communes) in 22 regions. In addition there are 212 communes in French overseas territories. Council elections are held every six years. The last one was held in March 2008. The first task of a newly constituted council is to elect a mayor, whose term of office is six years. If a mayor is appointed to another post in government, a deputy performs his/her duties. A mayor's responsibilities include: Civil registration, culture, economy, education, environment, public order, roads, social welfare, urban planning. More

Mayors and their
political parties
11 January 2010: We are living in the so-called century of the city and most cities are governed by elected mayors. Over the past decade conservatives have scored a number of electoral successes across the world, with many citizens identifying with their messages on security, leaner government and lower taxes. However, research by City Mayors shows that many of the world's largest and most prominent cities are still governed by mayors from the left or centre-left. More

Mayors from Africa, Asia
The Americas and Europe
1 October 2009: While urban settlements have been around for millennia, increasingly cities are beginning to acquire their own narratives and political importance, not only as places to live but also as drivers of national social values and economies with their own global networks. Though the agglomerative effects of cities as part of globalisation is widely understood and universal, city leadership models remain as diverse as ever, but with common trends on each continent: Africa, Asia, The Americas and Europe.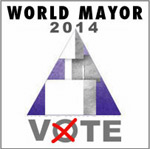 Mayors compete for the 2014 World Mayor Prize


World Mayor 2014:
Best mayors sought
The City Mayors Foundation has now opened the shortlist of candidates for the 2014 World Mayor Prize. The Prize is awarded every two years to a mayor who has made outstanding contributions to his / her community and has developed a vision for urban living and working that is relevant to towns and cities across the world.





Previous winners and runners-up include the mayors of Bilbao, Perth, Mexico City, Oklahoma City, Cape Town, Zurich, Melbourne, Amsterdam, Athens, Mississauga and Tirana. The World Mayor Project aims to show what outstanding mayors can achieve and raise their profiles nationally and internationally.

Voting takes place until the middle of October