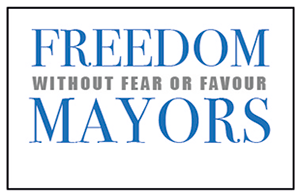 Freedom Mayors
Without Fear or Favour
- Mayors must act at all times in the interest of their citizens. They must do so without Fear or Favour.
- Mayors must not be intimidated, directly or by implication, in the conduct of their duties.
- Mayors must not be offered incentives that contravene their oath of office.

The Freedom Mayors Project is being launched to support the independence, integrity and public accountability of mayors worldwide. The campaign will celebrate mayors who stand up to intimidation whether the threats originate from authoritarian regimes, criminal organisations, powerful corporations or political interest groups. We will side with mayors who have become victims of coercion and violence.

The Freedom Mayors Project encourages and will rely on public participation. Please suggest mayors who, in your opinion, are or have been obstructed in carrying out their public duties without fear or favour. Freedom.Mayors@gmail.com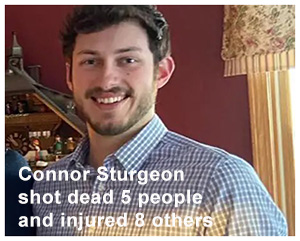 Louisville shooting
Mayor's response
It almost always requires a killing spree for politicians to speak out. Louisville Mayor Craig Greenberg did so after the bank shooting. He called for and proposed immediate action to end the gun violence epidemic. In a speech, he highlighted the ludicrousness of some of the current state and federal laws including a law that makes it possible for a gun used in a deadly shooting to be sold off to the public. "Under current Kentucky law, the assault rifle that was used to murder five of our neighbors and shoot at rescuing police officers will one day be auctioned off. Think about that. That murder weapon will be back on the streets one day under Kentucky's current law." IN GREATER DETAIL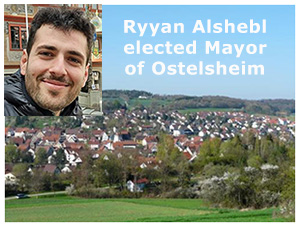 Syrian refugee elected
mayor of German town
April 2023: It is not often that a German small-town mayor makes the national and international news. But Ryyan Alshebl, the newly elected mayor of Ostelsheim, near Stuttgart in southern Germany, did. The US broadcaster CNN led with the headline "Syrian refugee elected mayor of German town, years after fleeing war", while The Guardian in London wrote "Syrian refugee celebrates 'sensational' win in German mayoral race." Der Spiegel, Germany's most influential news magazine, described Ryyan Alshebl's journey from Sweida, in southern Syria, to his new home in Baden-Württemberg. London-based German Brief quoted the newly elected mayor as saying "Today Ostelsheim has set a sign of tolerance and openness for all of Germany." IN GREATER DETAIL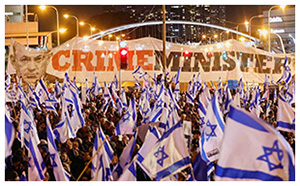 Israeli mayors join forces
Former NYC mayor condemns
attacks on Israel's judiciary
March 2023: Former New York City Mayor, Michael Bloomberg, has warned that with its plans to make the Israel's judiciary answerable to parliament (the Knesset) the country's new, right-wing government was courting disaster. The former mayor, who is a long-time supporter of and investor in Israel, wrote in an article for the New York Times that he sympathised with those who are already cancelling investments in Israel. "Prime Minister Benjamin Netanyahu's government is courting disaster" by trying to claim powers that are above review and is "imperilling Israel's alliances around the world, its security in the region, its economy at home and the very democracy upon which the country was built," Bloomberg wrote. IN GREATER DETAIL

RELATED PAGES: Freedom Mayors | Mayor of Tel Aviv ||| Mayor of Istanbul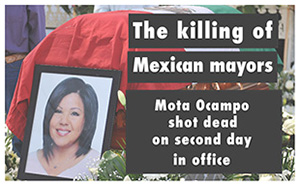 The killing of Mexican mayors
January 2023: Since 2005, when Fernando Chávez López, municipal president of Buenavista Tomatlán, Michoacán was shot dead by three hitmen, the killings of mayors, other local government officers and politicians as well as journalist and business people in Mexico have been relentless. According to City Mayors Research, during the course of four presidencies, some 102 mayors, substitute mayors and mayors-elect were killed. In separate research, Nexos Magazine recorded some 200 mayoral killings between 2005 and the end of 2018, a figure that includes former mayors. Most killings are carried out by criminal gangs and drug cartels who often seek to eliminate honest public servants. IN GREATER DETAIL

RELATED PAGES: Freedom Mayors ||| The murdered mayors of the Philippines ||| Mayor of Tel Aviv ||| Mayor of Istanbul ||| Women mayors ||| Mayors' Code of Ethics |||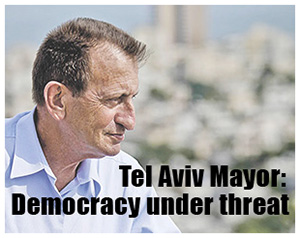 Tel Aviv Mayor Huldai fears
threat to Israel's democracy
December 2022: In an outspoken interview, Tel Aviv Mayor Ron Huldai warned that Israel's new government was on the verge of transforming the country into a fascist-style theocracy. The mayor condemned Prime Minister- Benjamin Netanyahu's decision to put Avi Maoz from the far-right religious Noam party in charge of key education programmes. Avi Maoz, a member of the Israeli parliament (Knesset), is known for his strident anti-LGBT and misogynistic views. IN GREATER DETAIL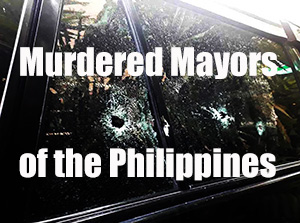 Murdered mayors
of the Philippines
December 2022: Rodrigo Duterte, the former Mayor of Davao and Philippine President from 2016 to 2022, began his "war on drugs" virtually as soon as he was sworn into office in June 2016. By the end of his presidency, his campaign, which was largely modelled on his approach to illegal narcotics as Mayor of Davao, claimed tens of thousands of lives. Among the victims were 28 mayors and vice mayors, most of them killed by unidentified gunmen. Others were shot dead by police officers, some even while in police custody. The country's Catholic leaders called the campaign a "reign of terror". IN GREATER DETAIL

RELATED PAGES: Freedom Mayors ||| The Mayor of Istanbul ||| Women mayors ||| Mayors' Code of Ethics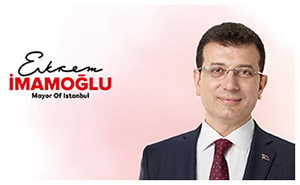 Turkish court sentences
Istanbul mayor to prison
December 2022: In a political trial, Istanbul's Mayor Ekrem Imamoglu was sentenced to prison and banned from politics for a period of two years and seven months. The prosecution accused the popular mayor, who is seen as the strongest possible challenger to Turkey President Tayyip Erdogan in next year's presidential elections, of insulting election officials after they overturned his narrow victory in mayoral elections in 2019. In a re-run, three months later, Ekrem Imamoglu defeated Erdogan's handpicked candidate for Istanbul mayor by several hundred thousand votes. IN GREATER DETAIL


© Copyright: All content of the City Mayors and World Mayor websites are protected by worldwide copyright. Please contact the editor if you wish to use any material from the City Mayors, World Mayor, Freedom Mayors or Women Mayors websites.