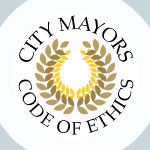 The City Mayors Code of Ethics




FRONT PAGE
About us




Worldwide | Elections | North America | Latin America | Europe | Asia | Africa |






















CITY MAYORS
Code of Ethics
2 January 2014: The City Mayors Foundation was established in 2003 to promote, encourage and facilitate good local government. To strengthen local government further, City Mayors has instituted a Code of Ethics for city leaders who wish to perform their duties beyond all reproach

---

Code of Ethics
Preamble
Good and honest local government is the foundation of any nation that strives to provide its citizens with happiness, security and prosperity. Incompetence, corruption and misconduct in local government threaten fundamental decency in a society.

Article 1
Mayors shall execute the office of mayor for the common good of their communities while refraining from actions that may harm other communities or the wider world. They shall take full responsibility for any acts performed by themselves or by members of their administrations.

Article 2
Mayors shall not discriminate against individuals or groups because of their race, religion, gender, disability or sexual orientation.

Article 3
Mayors shall support and uphold the letter and intent of the laws of their cities and nations as well as relevant international laws. They shall demand the same degree of respect for the law from all members of their administrations.

Article 4
Mayors shall be free to oppose any laws of their cities and nations where such laws contravene the United Nations Universal Declaration of Human Rights.

Article 5
Mayors shall administer public resources for the public benefit of their communities while considering whether such use could cause unreasonable harm to other communities and the wider world.

Article 6
Mayors shall never use their official positions to secure unwarranted privileges or advantages for themselves, members of their families, friends, colleagues or others.

Article 7
Mayors shall not perform any official actions where a direct or indirect financial or personal involvement might reasonably be expected to prejudice their objectivity or independence of judgment. They shall demand the same degree of impartiality from all members of their administrations.

Article 8
Mayors shall accept no gifts or offers based upon an understanding, stated or implied, that they were given to influence them in the discharge of their public duties. They shall demand the same degree of honesty from all members of their administrations.

Article 9
Mayors shall be open to public scrutiny of their official actions and those of their staff, including their relationships, contractual and otherwise, with vendors, consultants, and business associates. Mayors shall report any improper actions they witness, such as bribes, kickbacks, and gift offers.

Article 10
Mayors shall work to strengthen civil society by raising public awareness of, and confidence in, their city government's activities.

Article 11
Mayors shall use their influence to promote co-operation and good will between cities, nationally and internationally.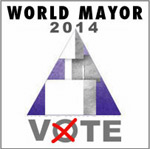 If you think your mayor is among the best in the world, nominate him or her now for the 2014 World Mayor Prize


World Mayor 2014:
Best mayors sought
The City Mayors Foundation invites you to nominate a candidate for the 2014 World Mayor Prize. The Prize is awarded every two years to a mayor who has made outstanding contributions to his / her community and has developed a vision for urban living and working that is relevant to towns and cities across the world.

Previous winners and runners-up include the mayors of Bilbao, Perth, Mexico City, Oklahoma City, Cape Town, Zurich, Melbourne, Amsterdam, Athens, Mississauga and Tirana. The World Mayor Project aims to show what outstanding mayors can achieve and raise their profiles nationally and internationally.

During the first round, suitable candidates may be suggested until the middle of May 2014. A shortlist of 25 nominees will be announced in June.

Please nominate your candidate for World Mayor 2014 now.