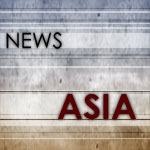 City Mayors reports news from and for towns and cities in Asia and Australia




FRONT PAGE
About us




Worldwide | Elections | North America | Latin America | Europe | Asia | Africa |




























News from cities in Asia and Australia
NEWS SECTIONS: World news | Election news | News from Europe | News from North America | News from Latin America | News from Asia and Australia | News from Africa | Urban events | NEWS SPECIALS: The 2011 London riots | The 2010 Love Parade tragedy | Latest news story |


Anti-Putin candidate
elected mayor in
Siberia's largest city
Novosibirsk, 7 April 2014: Russia's ruling party, United Russia, suffered an unexpected defeat in Novosibirsk, Siberia's largest city, when its incumbent mayor lost to the candidate from the Communist party. Anatoly Lokot, who was supported by all major opposition parties, won 44 per cent of the vote against just under 40 per cent for his government-backed rival, Vladimir Znatkov. Znatkov was appointed acting mayor in January when his predecessor was promoted to deputy governor for the Oblast Nowosibirsk region.

After the popular annexation of the Crimean peninsula by Russia, political observers expected President Putin's United Russia party to win in Siberia, but they clearly under-estimated the impact a united opposition candidate would have. The government candidate Vladimir Znatkov had the advantage of being acting mayor, which allowed him to promote himself on government TV channels to such an extent that he faced charges of abuse of power.

But the main reason for the incumbent's defeat was the decision by the opposition to field a unity candidate, a very rare event in Russia. The initial number of mayoral candidates in the Novosibirsk poll was 17. In the middle of the race, five contenders, including the Duma member Ilya Ponomaryov and former senator Ivan Starikov, made a pact and withdrew their candidacies in favour of Anatoly Lokot.

In a post-election press conference, the mayor-elect dismissed rumours that he would conduct a purge in City Hall. He said officers would be appointed based on their skills not their political affiliations. Anatoly Lokot also promised to conduct a very transparent administration. As a first step he has allowed free entry to City Hall for all citizens. "We should remove all curbs. What is there to be afraid of? Protest actions? Hard work will do away with such fears," Lokot told a local newspaper.

With a population of 1.5 million, Novosibirsk is Siberia's largest and Russia' third-largest city.


Kurdish minority party
emerges as champion
of women mayors
Ankara, 5 April 2014: While Turkey's main political parties only pay lip service to women's aspiration in local politics, the Kurdish party BDP emerged as a real champion of women from last Sunday's municipal elections. Out of 63 mayoral candidates the party fielded, mainly in south-eastern Turkey, 32 were women. The party, whose national share of the vote was just over four per cent, now has 21 elected female mayors. In contrast, only six female mayors belong to the country's ruling Islamist AKP party, which won 45.6 per cent of the national vote. The secular opposition CHP party did hardly any better. It increased its number of women mayors from six to seven. Turkey now has 35 female mayors, while all the other 1,360 mayors are men.

Kader, a leading women's organisation, accused the big political parties of running scared of women. "Increasing the level of women's participation would be an important step in addressing the still significant gender-based inequality in Turkey."

Nevertheless, Turkey has now 30 per cent more female mayors than prior to the 30-March elections and, for the first time, women will be running a number of large cities. Gültan Kıs¸anak in Diyarbakir (popl. 843,000); Fatma Sahin in Gaziantep (popl. 1,4 million) and Özlem Çerçioglu in Aydin (popl. 196,000) and Leyla Imret in Cizre (popl. 107,000).

Leyla Imret (26), left Turkey as a child after her father, a Kurdish nationalist, was killed in an exchange of fire by the Turkish army. She spent most of her life in Bremen, northern Germany and describes German as her mother tongue. Last August, she returned to Cizre for the first time in her childhood and admits much has changed in Kurdish region of Turkey. Even though a former mayor of the city is still in prison for his participation in a pro-Kurdish demonstration, Leyla Imret says at least Kurds will no longer be arrested for speaking their own language rather than Turkish.

Turkey's most prominent female politician, and now Mayor of Gaziantep, is Fatma Sahin. Until last December, when she decided to run for mayor, she was the only female cabinet minister in Recep Erdoğan's government. A chemical engineer by profession, she is one of the founders of the AKP party.

The Kurdish BDP party (Peace and Democracy Party) supports a number of issues which are highly controversial in Turkey, including gay rights and recognition of Turkey's involvement in the Armenian Genocide.


Jakarta Governor urged
to run for President
Jakarta, 18 February 2014: Indonesia's largest opposition party is coming under increasing pressure to name the Governor of Jakarta as its candidate for July's presidential elections. Joko Widodo, or Jokowi as he is commonly known, is, according to opinion polls, the most popular politician in the country. Officially his party, the Indonesian Democratic Party-Struggle (PDI-P), has said it would wait until after April's parliamentary elections before choosing candidates for President and Vice President. But supporters of Joko Widodo have recently formed a group within the party, called PDI-P Pro-Jokowi (Pro-Jo), that openly lobbies for the Jakarta governor and claims to represent the silent majority of members.

However, senior figures close the party's formidable leader Megawati Sukarnoputri hope that she will once more throw her hat in the ring, despite having lost the 2004 and 2009 presidential elections to the current incumbent Susilo Bambang Yudhoyono, who has to stand down after two terms in office.

Megawati was President between 2001 and 2004 after President Gus Dur was impeached. She is the daughter of Indonesia's founding president Sukarno. Megawati's supporters claim that Widodo lacks the necessary experience to run the fourth-largest country in the world - before being elected Governor of Jakarta in 2012, he was for seven years Mayor of Surakarta – and suggest that he should consider running for vice president on a Megawati ticket and then contest the 2019 elections as the party's presidential candidate.

As appealing as a 'Mega/Jokowi' ticket may be for the PDI-P party establishment, Widodo's young supporters will have none of it. They say it would be disastrous for the party and claim that if the Jakarta Governor was nominated before the April parliamentary elections, the party was likely to emerge with most seats. At the moment the PDI-P is only the third-strongest party in parliament.

In a recent report, Malaysia's Largest Bank Maybank and America's Morgan Stanley bank say that a Joko Widodo victory in July would make Indonesia considerably more attractive to foreign investors. Right now many multinationals from Asia, America and Europe regard the country as too much of a risk after a number of high-profile corruption scandals. "Rudi Rubiandini, former head of Indonesia's oil and gas regulator, was charged with bribery last month, following the October arrest of the country's top judge, who was found with the equivalent of more than 2 billion rupiah ($164,000) in cash at his Jakarta residence." The report claims that Indonesia's current President Yudhoyono had done too little to stem corruption. In Transparent International's corruption index, Indonesia is ranked 114 out of 177 countries.

In 2012, Joko Widodo was awarded third place in the World Mayor Project for his campaign against corruption.


Pro-nuclear candidate
wins Tokyo election
Tokyo, 10 February 2014: Japan's former health minister was elected governor of Tokyo in a race, which saw turnout fall to 46 per cent. Yoichi Masuzoe, backed by the ruling Liberal Democratic Party of prime minister Shinzo Abe, was elected city chief of the Japanese capital in an unusual election triggered by December's resignation of scandal-hit Naoki Inose after just one year in office.

The 65-year old new governor declared in his victory speech "I will make Tokyo the best city in the world. I will deal with welfare, protection against disasters, the economy and make a successful Olympics in 2020." Masuzoe also pledged to use his experience as health and welfare minister to achieve "zero waiting lists" for childcare in the capital, mirroring the acclaimed policies of the neighbouring city of Yokohama's mayor Fumiko Hayashi, Japan's most prominent female politician.

The campaign, though at times lively on account of the drama provided by the personalities involved, failed to capture voters' imaginations, reflected by the low turnout. Despite Prime Minister Shinzo Abe's frequent declarations that the race should not be a referendum on the issue of nuclear power, not least as Tokyo's governor has no responsibility for power generation, voters frequently cited the issue as a major concern. Both candidates running on anti-nuclear platforms, former prime minister Morihiro Hosokawa (running with the support of the opposition Democratic Party of Japan) and 2012 race runner-up Kenji Utsunomiya (backed by left parties), refused to unite their campaigns behind one viable candidate. Former prime minister Junichiro Koizumi, regarded as Hosokawa's big gun and 'draw' on the campaign trail failed to rally voters, despite the duo's frequent media appearances.

The campaign's final week also saw controversy and drama following comments made on the stump in support of hard right candidate the former air force general Toshio Tamogami, by a writer and governor of Japan's state broadcaster NHK, who denied that the Nanking Massacre of 1937 ever happened. Tamogami was sacked from his post in 2008 following similarly revisionist views on the Second World War and the row comes at a time of heightened regional tension between Japan and neighbours China and South Korea over territorial spats and historical revisionism, which has even stretched the patience of Japan's ally the US.

Not to be outdone however, the eventual winning candidate (from a field of 16 men) was singled out for quite specific and surreal criticism in the final week of the campaign by a group by the name of the 'Association of Women who will not have sex with men who vote for Masuzoe'. The group called for a 'sex strike' against male voters of Masuzoe on account of comments made by the former political pundit in 1989 when he remarked that women make unsuitable politicians on account of their menstrual cycle and that a rising number of female elected officials that year (the so-called 'Madonna Boom') were merely "middle-aged hags". The racehorse-owning new governor also suggested more recently that pensioners should pay higher sales taxes, while the three-times married father of five was also revealed to have attempted to cut child support payments for a severely disabled son.


Chinese Communists
replace corrupt mayor
Nanjing, 3 February 2014: China's Communist Party confirmed last week the election of Miao Ruilin as new Mayor of Nanjing at the same time as it expelled the city's former mayor Ji Jianye from the party. Ji was removed from his post last October when the government announced that he was investigated over corruption allegations. A party spokesman said that Ji was morally corrupt. Nanjing's new mayor, who joined the Communist Party in 1984, was vice governor of the Jiangsu Provincial Government before being appointed acting mayor of Nanjing at the end of last year.

According to Chinese sources, Ji Jianye has been the highest ranked official to be investigated for corruption since President Xi Jinping took office in November 2012. The President has made the fight against corruption a focus of his administration, saying that the government and the Party would pursue both high-flying 'tigers' (senior officials) as well as lower-ranking 'flies'. A spokesman for the Communist Party told reporters that former mayor Ji Jianye took advantage of his position to seek benefits for himself and others and received huge amounts of money and gifts either by himself or through family members. Last October the newspaper People's Daily reported that the total value of bribes and gifts could amount to more than 20 million yuan (US$3.3m).

Nanjing's new mayor, Miao Ruilin, was born in 1964 and has a degree in agronomy. He was appointed acting mayor of Suqian in 2006 and elected to the post in 2007. In January 2013 he was appointed vice governor of the Jiangsu Province.

Nanjing, with a population of more than eight million, is the provincial capital of Jiangsu and the city where, during the second Sino-Japanese war in 1937, Imperial Japan carried out its worst single atrocity. Following the occupation of the city by Japan, the Japanese military killed between 200 and 300,000 people, many of whom were civilians. The massacre, known as the Rape of Naking, occurred during a six-week period following 13 December 1937.


Hong Kong risks becoming
a second-tier Chinese city
Hong Kong, 27 January 2014: A leading international academic claimed this week that Hong Kong was risking becoming a second-tier city if it didn't invest heavily in education. Writing in the China Daily, Darryl Jarvis*, who is a professor at the Hong Kong Institute of Education, warns that in the absence of reform of the higher education sector and recognition of the larger challenges ahead, Hong Kong's brightest days may well be behind it and its future as a second-tier Chinese city simply a matter of time. Prof Jarvis says that Mainland China, South Korea, Singapore and even Malaysia are now investing more in their universities than the former British crown colony.

The professor said that as recently as 15 years ago, Hong Kong's investment in its future, specifically in education, research and development as well as the city's pool of human capital, made it an object of policy emulation in the region and beyond. "However, while Hong Kong still likes to think of itself as a leading global city, the evidence that it can continue to do so for too much longer grows less convincing," he warns.

The paper, authored by Darryl Jarvis, lists several indicators that point to Hong Kong's relative decline. He says that historically the city's universities were envied around Asia and the world. But the assumption that Hong Kong still enjoyed continuing advantages in terms of educational quality, world-class facilities, an internationalised professoriate and competitive research funding increasingly no longer holds true. "Capital injections by South Korea, China, Singapore and Malaysia are fast transforming university capacity and quality. A trip to any university in Shanghai, Beijing, Guangzhou, Korea or Singapore, for example, cannot but impress."

Prof Jarvis describes Hong Kong's universities as increasingly shabby, offering less impressive information and communications technology, facilities and research funding. He says that in Hong Kong, only about 20 per cent of high-school graduates enter universities, compared with 60 per cent in Korea, 40 per cent in the US and about 34 per cent in Britain. "Hong Kong provides insufficient university places relative to demand, driving large numbers of students offshore." In 2011-12, Hong Kong sent 11,335 students to British universities, ranking sixth among non-EU economies as a source of students, after mainland China, India, Nigeria, the US and Malaysia, all of which have considerably larger populations."

Add in enrolments in Australian, Canadian, US and European universities, it becomes apparent that Hong Kong exports a great number of its brightest talents overseas. In other words. some of the best students are lost to Hong Kong. They graduate and remain overseas or spend some of their most productive years contributing to competitor economies.

*Professor Darryl S.L. Jarvis is Associate Dean (Research and Postgraduate Studies) and Professor of Global Studies, Faculty of Liberal Arts and Social Sciences at the Hong Kong Institute of Education. Prior to his current appointment he was Vice Dean (Academic Affairs) and Associate Professor at the Lee Kuan Yew School of Public Policy at the National University of Singapore. From 1996 to 2006 he was Lecturer and Senior Lecturer in the Department of Government and International Relations, Faculty of Economics and Business at the University of Sydney, Australia. His research and teaching interests focus on international and political risk, comparative public policy, regulation, infrastructure, and the political economy of investment into Asia.


Mayor defeats Japanese
government and US military
Okinawa, 21 January 2014: Voters in the city of Nago have backed their mayor against the combined might of the provincial governor, the Japanese government and the US military. Sunday's mayoral election, which the incumbent Mayor Susumu Inamine won convincingly against his government-backed opponent, became a referendum over the future of a US military base on Okinawa Island. The Tokyo and Washington governments want to close the existing airbase at Futenma and build a new one in Henoko, Nago City.

Since first elected four years ago, Mayor Inamine has become a vocal opponent of the plan. Following Sunday's victory, the mayor said the election was about one issue and one issue only, the US base, and the people of Nago had spoken. He added that he would use all tools available to him to prevent its relocation. "The governments of Japan and the US must now consider other sites for the base. The political climate and other conditions will only worsen, with persistent local opposition," the mayor warned the US military.

But a spokesman for the Japanese government was dismissive of the mayor's claims explaining that the mayor's powers were limited. "The government will proceed step by step with the plan in a very transparent manner. Every detail will be explained to local people," the spokesman said. He also pointed out the Governor of Okinawa was now supporting the relocation.

Neutral observers agree that the mayor has no veto over the relocation project but point out that he has several spanners at his disposal, which he could throw into the works. "The development of the site and the building of the base requires the use of roads and port facilities, which must be approved by the mayor."

One week before Sunday's election, the government tried to swing the election by promising to spend heavily in the city. Some reports spoke of investments to the tune of half a billion US dollars, the equivalent of $8,000 for each of Nago's 61,000 citizens. Some analysts believe the government might now slow the whole project down, hoping for a more acquiescent mayor in four years' time, rather than risk waves of protest. Okinawa residents will have another opportunity to express their feelings for or against the US base, when the term of the current governor expires this coming November.

The Futenma base was constructed by the US military following its victory in the Battle of Okinawa in 1945. It currently houses some 4,000 military personnel. There are 31 other US bases on the island. Together the US military facilities occupy 20 per cent of the island's area. At one time the US bases contributed almost 50 per cent to Okinawa's economy but, according to research by the Japan Times, that figure has now declined to less than five per cent.


No young blood among
favourites for Tokyo job
Tokyo, 16 January 2014: The race to become Tokyo's next city leader is shaping up following the resignation of Naoki Inose after just one year in office in December on account of a loan scandal. Although the election campaign will not kick off until 23 January, the field of candidates is now in place and already making waves against the policies of the Japanese government of Prime Minister Shinzo Abe. The election will take place on 9 February.

The main declared candidates are:
Yoichi Masuzoe (65) – former health minister (2007-2009) and member of the upper house of the Japanese parliament (2001-2013), as well as TV pundit and author once dubbed by The Economist as "Japan's most popular politician". Long regarded as the frontrunner, despite having only came third in the 1999 gubernatorial race, the English and French-speaking former leader of the 'New Renaissance Party' is backed by the ruling Liberal Democratic Party (LDP) nationally and locally, as well as their New Komeito coalition allies, in addition to sections of the opposition Democratic Party of Japan (DPJ), which had earlier approached him to stand.

Morihiro Hosokawa (76) – former prime minister (1993-1994) is running with the support of the senior leadership of the DPJ and former LDP prime minister Junichiro Koizumi (2001-2006) on an explicitly anti-nuclear power platform. Twice a member of Japan's upper house (1971-83 and 1992-98), he also served as governor of Kumamoto prefecture (1983-91). Born a marquis (Japan's peerage was scrapped in 1947) of a samurai clan, doubts have been raised over his age and the circumstances behind his resignation as prime minister (a financial loan scandal similar to that of Inose), as well as lack of city administration policies.

Kenji Utsunomiya (67) – former head of the Japanese bar association of lawyers and runner-up of the 2012 race, standing with the support of the leftist Social Democratic Party, Japanese Communist Party and Greens Japan on an anti-nuclear platform, as well as seeking to restrict spending on the Tokyo Olympics in 2020.

Toshio Tamogami (65) – retired air force general, controversially dismissed from his post as chief of air defence staff in 2008 over an essay in which he argued that Japan had no case to answer for its conduct in World War Two and that occupied countries had benefited from Japanese rule. Since retirement he has headed the nationalist group 'Ganbare Nippon' and is backed by sections of the right-wing Japan Restoration Party led by former Tokyo Governor Shintaro Ishihara (1999-2012).

Other candidates include pro-casino legalisation Masaichi Igarashi, architect Tomaharu Nakagawa, former ambassador to Nepal Shigenobu Yoshida and the perennial candidate celebrity inventor Dr Nakamatsu (his seventh attempt). All candidates will contest the election as independents, with qualified support offered from the main parties. The presence of two anti-nuclear candidates has become something of a headache for the left parties, while the ruling centre-right LDP camp is split on backing Masuzoe due to his quitting the party in 2010 to form his short-lived New Renaissance grouping in the upper house.

In late December the LDP national executive set out its pre-conditions for endorsement in the race as candidates having: an international outlook, showing leadership of Tokyo's hosting the 2020 Olympics and ability to enjoy a constructive relationship with the Tokyo metropolitan assembly; regarded as a coded warning to less mainstream figures looking to enter the race. Prime Minister Abe has complained of the race becoming a referendum on his administration's energy policies at the expense of city issues, but some observers have welcomed Hosokawa's entrance into a race that looked likely to shoehorn Masuzoe into city hall.


Progressive Seoul Mayor
to run for second term
Seoul, 8 January 2014: Seoul Mayor Park Won-soon has announced that he will be a candidate in mayoral elections scheduled for 4 June. Park, who is a member of South Korea's centre-left opposition Democratic Party (DP), was first elected in October 2011. The latest opinion polls indicate that the mayor is well positioned to defeat all potential candidates from the country's ruling conservative Saenuri Party – formerly known as the Grand National Party. The polls also put Park ahead of the multi-millionaire businessman Ahn Cheol-soo, who is rumoured to be interested in Seoul's top job after his failed presidential campaign in 2012.

Park Won-soon first attracted national attention, when, as a student in the 1970s, he imprisoned for four months for protesting against Park Chung-hee, who after a coup had declared himself 'president for life'. In the 1990s, the mayor co-founded the organisation People's Solidarity for Participatory Democracy (PSPD), which monitors government and business for human rights abuses.

As mayor, he has been more conciliatory towards North Korea than the government, even suggesting football matches between teams from the North and the South. Last year he forced the operators of the Seoul Metropolitan Subway to withdraw a fare increase, warning that if they didn't comply, the city would take over the running of the word's second-largest underground rail network.


Financial scandal forces
Tokyo governor to resign
Tokyo, 19 December 2013: Twelve months after he was elected with a record number of votes and three months after he won international praise for securing the 2020 Summer Olympics, Tokyo's Governor Naoki Inose was forced to resign over a financial scandal. In November 2012, Inose received a 'loan' of 50 million yen (US$485,000) from a major hospital operator, which the Governor claimed was for private use but which the media asserted amounted to an illegal election campaign contribution. Since the scandal broke, some three weeks ago, Inose has revised his side of the story several times until even his political allies, including former Tokyo Governor Shintaro Ishihara, thought his position had become untenable.

In a television address, Naoki Inose said he resigned because he didn't want the scandal to affect Tokyo's preparation for the Olympic Games. "We should not let metropolitan government work stop over my personal issues, especially at this time when Japan has just about come out of a long tunnel of darkness and is about to make a running dash toward the 2020 Games," Inose explained. He described himself as naive, saying he was an amateur politician and was not aware of all the procedures to which he was supposed to adhere.

The loan to Governor Inose came to light when police raided the offices of the Tokushukai Corporation, one of Japan's largest operator of medical facilities, on allegations of election violations. The son of the company's founder Torao Tokuda is a member of Japan's lower house of parliament. Inose repaid the loan shortly after the police raid.

Naoki Inose, a successful author, entered politics late in life. When his predecessor, Ishihara Shintaro, offered him the job of Vice Governor of Tokyo in 2007, Inose was critical of the Japanese government and the ruling conservative Liberal Democratic Party. He claimed that politicians and bureaucrats were withholding vital information from the public. Shintaro said at the time, that he invited Inose to serve to bring new ideas to his administration.

Although Inose was instrumental in winning the Olympics for Tokyo, he caused controversy when, in April, he claimed the only thing Islamic countries shared was Allah and that they were continuously fighting each other. Istanbul, one of the contenders for the 2020 Olympic,s reported the remarks to the IOC, pointing out that criticising rival bids was against Olympic rules. The Governor later apologised for his comments and promised to adhere to IOC regulation.

Elections for a new governor will be held in February 2014.


Delhi leader suffers
humiliating defeat
New Delhi, 9 December 2013: Delhi's three-term chief minister suffered a humiliating defeat at the hands of a party that was only formed a little over a year ago. Sheila Dikshit's Congress party was pushed into third place by the nationalist Bharatiya Janata Party (BJP) and the new anti-corruption Aam Aadmi Party (AAP). The AAP party leader Arvind Kejriwal defeated the out-going chief minister in her own constituency by 25,000 votes while his party won more than 30 per cent of the popular vote. Congress saw its share of the vote reduced from 40 to 25 per cent, while the BJP, on 33 per cent, is now the strongest party in India's capital region but without an overall majority in the regional assembly.

Although yesterday's elections resulted in a hung assembly – the BJP is likely to end up with 31 seats, the AAP with 28 and Congress with 8 –the three parties are unwilling to consider a consider a coalition. Indeed, none of the party leaders appeared particularly keen to form an administration. The BJP thought the AAP and Congress should join forces; Congress said it would not support an AAP administration and the AAP pledged it would play the role of a constructive opposition. "We don't have the mandate to form the government. It is a strange situation where the single largest party is asking the number two party to form the government," the AAP leader told reporters. With no compromise in sight, commentators are already predicting new elections.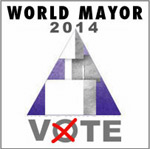 If you think your mayor is among the best in the world, nominate him or her now for the 2014 World Mayor Prize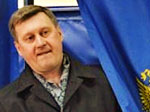 Anti-Putin candidate elected mayor in Siberia's largest city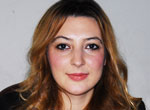 Kurdish minority party emerges as champion of women mayors (Photo: Leyla Imret, Cizre's newly elected mayor)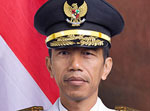 Jakarta Governor urged to run for President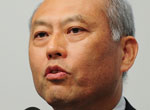 Pro-nuclear candidate
wins Tokyo election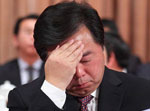 Chinese Communists replace corrupt mayor (Photo: Nanjing's former disgraced mayor Ji Jianye)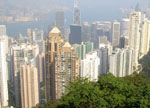 Hong Kong risks becoming a second-tier Chinese city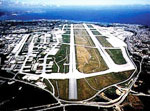 Mayor defeats Japanese government and US military (Photo: US base on Okinawa Island)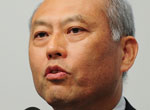 No young blood among favourites for Tokyo job (Photo: Tokyo front-runner Yoichi Masuzoe)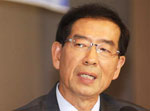 Progressive Seoul Mayor
to run for second term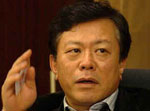 Financial scandal forces Tokyo governor to resign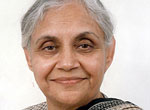 Delhi leader suffers humiliating defeat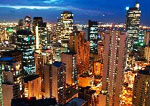 Manila not yet ready to compete in the world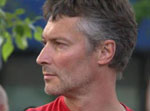 Maverick anti-Kremlin politician elected mayor of Yekaterinburg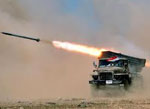 Israeli mayors prepare for rocket attacks from Syria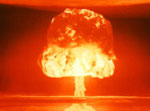 Nagasaki mayor criticises own country over nuclear weapons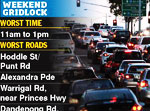 Australia's booming cities
face major challenges (Photo by Sun Herald)