FRONT PAGE
About us





ON OTHER PAGES
Economics
• Guide to richest and most expensive cities
• Most expensive cities
• Richest cities
• Most powerful cities
• Big Mac Guide

Statistics
• Largest cities in the world (1 to 150)
• Largest cities in the world (151 to 300)
• A to Z to largest cities in the world
• Countries with the largest cities in the world
• Introduction to largest cities in the world

Government
• Women in US local government
• World Mayors and politics
• Voter turnout - an international comparison
• Mayors in Europe and their powers (2018)

Politics
• Largest cities in the world and their mayors (2017)
• Largest cities with women mayors (2017)
• Capital cities and their mayors (2017)

Finance
• Salaries of German mayors
• Salaries of British mayors
• Salaries of Japanese mayors

Mayors
• Belgian Mayors (2018)
• British Mayors (2019)
• Canadian Mayors (2018)
• French Mayors (2017)
• German mayors (2018)
• Italian mayors (2018)
• Japanese mayors (2019)
• Polish mayors (2017)
• Spanish mayors (2018)
• US mayors (2019)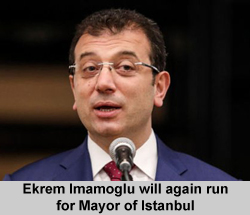 Opposition parties unite
in fight for Istanbul
Istanbul, 9 May 2019: Following the widely criticised cancellation of last month's mayoral elections in Istanbul, Turkey's main opposition parties will unite behind one candidate in the re-scheduled contest. The country's electoral authority (YSK) has ordered that the vote for Mayor of Istanbul to be rerun after the 31 March vote was narrowly won by Ekrem Imamoglu from the opposition Republican People's Party (CHP). Turkish President Recep Erdogan argued that the margin of votes was too small for the opposition party win to be valid. The President's Justice and Development Party (AKP) filed a motion to nullify the elections, claiming irregularities. A party spokesman said that a margin of only 13,000 votes in a city as large as Istanbul (population 15m, electorate 8m) was too close to be fair. The electoral authority had initially confirmed the victory of the CHP candidate but then came under 'extraordinary' pressure from the AKP to reverse its decision.

The decision to cancel the original elections was sharply condemned by European politicians. Guy Verhofstadt, the liberal leader in the European Parliament, said Turkey was drifting towards dictatorship. Even some senior members of Erdogan's own party criticised the decision. Abdullah Gul, the current President's predecessor, and Ahmet Davutoglu, a former prime minister, said that the election board's decision harmed fundamental values such as the will of the people. "Elections, that are fair and based on rules, are a reference point for democracy as much as for our joint consciousness. The election board's decision, however, contradicts the universal rule of law and established practices, and harms this consciousness," Davutoglu posted on social media. Both Gul and Davutoglu are rumoured to consider founding a new conservative political party in competition of the AKP.

Ekrem Imamoglu has confirmed that he will be the CHP candidate in the re-run election, scheduled for 23 June. The Kurdish opposition party HDP said it would not field its own candidate but support Imamoglu. The secular conservative Iyi Party, the Islamist Saadet Party and the Communist Party (TKF) have all pledged to throw their weight behind Imamoglu. The defeated candidate of the ruling AKP Binali Yildirim is also likely to stand again.

While in the 31 March local elections, the AKP won some 51 per cent of the vote across the country, its candidates lost in several big cities including in Izmir and the capital Ankara. But the loss of his home city Istanbul was a particular embarrassment for the President. Erdogan, who was the city's mayor from 1994 to 1998, has ambitious plans to develop Istanbul to rival cities like Paris and London. His government has provided huge sums of money for new mega infrastructure projects, including a new airport and a double-decker tunnel linking the European and Asian parts of the city.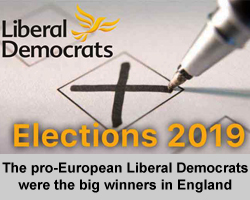 Pro-European parties make big
gains in English local elections
London, 6 May 2019: Local elections in England and Northern Ireland were held on 2 May 2019, at a time when Britain's future relationship with the European Union (EU) was anything but clear. Three years after Britain narrowly decided to exit the EU (Brexit), both of the country's two principal political parties, the Conservatives and Labour, were internally divided about how to proceed. After several indecisive and sometimes contradictory votes in the House of Commons (UK parliament), voters in Britain were left bewildered about the perceived cluelessness of Conservatives and Labour politicians. Their vented anger resulted in heavy losses for the Conservatives and dashed hopes for Labour in the elections. While the Conservatives expected poor results, they were still shocked by the loss of 44 local councils and more than 1,300 councillors. Labour had hopes of picking up votes but instead suffered a net loss of 82 councillors and six councils. The beneficiaries of voters' disgust with the big two were the Liberal Democrats and the Greens, both pro-European parties.

England
Local elections on 2 May 2019: Results for principal parties

| | | | |
| --- | --- | --- | --- |
| Party | Views on Europe | No of councillors and gains / losses | Control of councils and gains / losses |
| Conservatives | MPs split on Europe; membership anti | 3,564; down by 1,334 | 93; down by 44 |
| Greens | Pro-European | 265; up by 194 | none |
| Labour | MPs mostly pro-European; party leadership sceptical | 2,021, down by 82 | 60; down by 6 |
| Liberal-Democrats | Pro-European | 1,351; up by 703 | 18; up by 10 |
| UKIP | Anti-European | 31; down by 145 | none |

Northern Ireland
Local elections on 2 May 2019: Results for principal parties

| | | |
| --- | --- | --- |
| Party | Community support | Total no of councillors and gains / losses |
| Democratic Unionist Party (DUP) | Supports Protestant / Unionist community | 122; down by 8 |
| Ulster Unionist Party (UUP) | Supports Protestant / Unionist community | 75; down by 13 |
| Sinn Féin | Supports Catholic / Irish National community | 105; no change |
| Social Democratic & Labour Party (SDLP) | Supports Catholic / Irish National community | 59; down by 7 |
| Alliance Party | Non-sectarian | 53; up by 21 |
| Green Party | Non-sectarian | 8; up by 4 |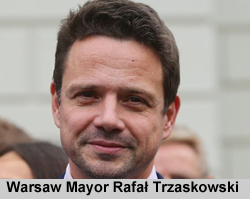 Warsaw Mayor Trzaskowski
stands up to homophobia
Warsaw, 23 April 2019: Ahead of this year's European and national elections, Poland's ruling right-wing party has discovered a new enemy – gays. Four years ago, when the Law and Justice Party (PiS) won the parliamentary elections, it rallied its supporters by portraying refugees and asylum seekers as a threat to the country's national identity and security. This year, the Party is trying to halt its declining popularity by warning that the LGBT community poses a threat to Polish traditional family values. The PiS leader, Jaraslow Kaczynski, has criticised Warsaw's new mayor Rafal Trzaskowski for pledging to make the Polish capital a place where gay people can live in safety and fulfil their aspirations. Following on from the promises he made during the election campaign, Mayor Trzaskowski signed a 12-point charter, which aims to create an atmosphere of mutual tolerance and respect between gay and straight citizens.

The charter, which was written in co-operation with LGBT organisations, says in its preamble that Warsaw was the city in Poland where gays and lesbians feel safest. But, it adds, that, nevertheless, they encounter discrimination as well as physical and verbal violence. "There are still far too many LBGT people who, for social and professional reasons, hide their sexual orientation and gender identity." It is estimated that Warsaw is home to some 200,000 gays and lesbians.

Warsaw's municipal government plans to provide vulnerable members of the LGBT communities with sheltered accommodation. Of particular importance is a hostel for young people who have been forced out by their families.

Opponents of the charter are particularly incensed that the document includes proposals to include sex education in school curriculums. The text borrows from World Health Organisation (WHO) guidelines, which proposes that students should be taught about all aspects of sexuality and sexual behaviour. While Polish attitudes towards homosexuality have become more tolerant in the country's urban centres, there is still considerable ignorance and hostility in rural areas.

In parts of Poland, where the Catholic Church is still influential, many ordinary people believe that homosexuality poses a threat to Polish family life. Jaroslaw Kaczynski, the leader of the ruling PiS party, has talked of a war-like situation. At the party's annual convention in March 2019, he said that the country needed to fight LGBT. "We need to defend the Polish family. We need to defend it furiously because LGBT is a threat to civilisation, not just for Poland but for the whole of Europe, for the entire civilization that is based on Christianity." Elzbieta Kruk, a PiS candidate for the European Parliament, said she hoped that Poland would become a country free from LGBT.

Independent commentators don't believe that the PiS' scare campaign will work. While, immigration was an important issue four years ago, they don't think that attacking gays will prove as effective as campaigning against refugees. "The majority of the Polish people will not buy the idea that homosexuals endanger our culture or values,"

Observers also point to the success of Poland's new liberal party 'Spring' (Wiosna). Its leader, Robert Biedron, is openly gay and was Mayor of Slupsk from December 2014 to November 2018. The party is strongly pro-European, promotes green issues and equality for women. It also advocates the legalisation of same-sex marriage. Wiosna, which was launched in February 2019, is currently running third in opinion polls behind the ruling PiS Party and the main opposition party Civic Platform (PO).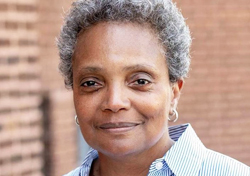 Chicago's new Mayor inherits a city
marred by gun violence and with
a reputation of public corruption
Chicago, 4 April 2019: Voters in Chicago elected an outsider as their new Mayor and gave her the strongest possible mandate to tackle the city's many problems. Lori Lightfoot, a lawyer and former federal prosecutor, won in all of Chicago's 50 wards and, citywide, took almost 74 per cent of the total vote. She is the first African-American woman and the first openly lesbian to be elected Mayor of America's third-largest city. In the run-off election on 2 April 2019, Lori Lightfoot defeated Toni Preckwinkle, a seasoned politician, who served on the Chicago board of aldermen and, for the last ten years, has been President of the Cook County Board. In sharp contrast, Mayor-elect Lightfoot had never been elected to a political office. On 20 May, she succeeds Rahm Emanuel, who chose not to run for a third term.

Chicago's new Mayor will take over a city where in recent years gun violence has spiralled out of control. In 2018, there were a reported 28 mass shootings, making the city more dangerous than Philadelphia (9 mass shootings), Memphis (8 mass shootings) or Saint Louis (8 mass shootings). Los Angeles, America's second-largest city, suffered 'only' five mass shootings, while New York City had none.

In addition to gun violence, Mayor Lightfoot will, almost from day one of her reign, have to deal with major issues such as police reform, the alarming exodus of black resident and the cases of alleged public corruption. It is indeed the latter issue that helped Lori Lightfoot, as a political outsider, to win in a landslide. Many voters believed that only a person untainted by Chicago politics would be able to clean up the city. The Mayor-elect acknowledged as much in her victory address: "We can and we will break this city's endless cycle of corruption and never gain - never ever – allow politicians to profit from elected office."

Lori Lightfoot, born in 1962, received a law degree from the University of Chicago in 1989. In the late 1990s, she worked as a federal prosecutor in Chicago before she was appointed to the Chicago Police Department Office of Professional Standards. After some years in private practice, she returned to public office when, in 2015, Chicago Mayor Rahm Emanuel appointed her President of the Chicago Police Board. She resigned from that post in May 2018, before announcing her decision to run for mayor.

When Lori Lightfoot assumes office in May, Chicago will be the largest US city with a black female mayor. Other US cities with black women mayors include Atlanta and New Orleans.

Since World War II, all Chicago Mayors belonged to the Democratic Party.
• Martin Kennelly, 1947-1955
• Richard J Daley, 1955-1976
• Michael Bilandic, 1976-1979
• Jane Byrne, 1979-1983
• Harol Washington, 1983-1987
• David Duvall (interim mayor), 1987
• Eugene Sawyer, 1987-1989
• Richard M Daley, 1989-2011
• Rahm Emanuel, 2011-2019
• Lori Lightfoot, 2019-to date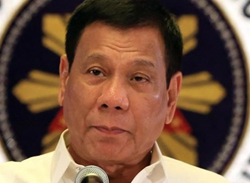 Philippines' President Duterte
accused of endangering lives
of opposition mayors
Manila, 25 March 2019: Two months before Filipino voters go to the polls in local and mid-term parliamentary elections, President Rodrigo Duterte has publically named 33 mayors and eight deputy mayors accusing them of being linked the drug trade. Most of those politicians named by the President belong to opposition parties and are running for office. Critics have accused Duterte of trying to frighten his political opponents. When he read out the list of names in Davao City, where he was mayor for many years and which is now run by his daughter Sara Duterte, the President added comments like "you are on the narcotics list every year" or "why aren't you dead yet…". The New York Times reported that in the past many of those accused by the President or his agencies were killed by police officers or vigilantes."

The Philippine's Commission on Human Rights warned against releasing the list, believing it could lead to violence ahead of the elections in May. City Mayors has seen the full list but will not publish it.

President Duterte maintained that his list had been validated by the country's drug agencies. But a number of those politicians included have said they would sue the government for defamation. One member of Congress, who was named by the President, accused him of playing a deadly game of politics. Shortly after Duterte took office in June 2016, he released his first narcotics list. Many on those originally listed, including judges, members of the military and local government officers, were shot down by pro-government vigilantes. Among those killed were more than a dozen mayors and vice mayors.

Answering his critics, President Duterte said "Since my assumption in 2016, I have been committed to eradicate the drug problem. I have done that. My decision to unmask these drug personalities was anchored on my trust in the government agencies, who have vetted and validated the narco-list."

Mayors accused of links to the drug trade are not the only ones who are facing the wrath of the Philippine government. The Department of the Interior and Local Government warned candidates in the south of the country against any contacts to Muslim and 'communist' rebels. The Interior Minister said some 350 local government officials were being watched. Among those on the watch list are 55 mayors and at least eleven governors. They are accused of paying guerrillas for permits, allowing them to campaign in rebel areas. Last November, President Duterte gave the interior minister the power to replace local government officials who were found to be 'temporarily incapacitated.'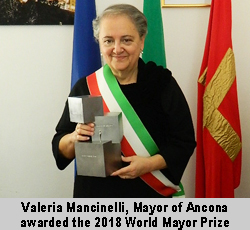 The World Mayor Project honours
women mayors from around the world
London / Berlin, 13 March 2019: The 2018 World Mayor Project was dedicated to women in local government. It featured the achievements of women mayors from across the world and honours the best of them. The all-women long- and shortlists included mayors from towns and cities of all sizes who have served with integrity, determination and imagination. The 2018 World Mayor Prize and Commendations as well as the title Mayors of Distinction were conferred on female mayors who have instigated outstanding and long-lasting improvements to their communities and contributed new thinking to local government. The mayors' achievements are recognised beyond their cities and even countries. Winner of the 2018 World Mayor Prize: Valeria Mancinelli, Mayor of Ancona, Italy. World Mayor Commendations awarded to: Ros Jones, Mayor of Doncaster, UK; Nathalie Appéré, Mayor of Rennes, France; Charlotte Britz, Mayor of Saarbrücken, Germany; Beng Climaco, Mayor of Zamboanga City, Philippines. 2018 Mayors of Distinction: Henriette Reker, Mayor of Cologne, Germany; Betsy Prize, Mayor of Fort Worth, USA; Martine Aubry, Mayor of Lille, France; Anne Hidalgo, Mayor of Paris, France; Jasna Gabric, Mayor of Trbovlje, Slovenia; Souad Abderrahim, Mayor of Tunis, Tunesia. FULL RESULTS