FRONT PAGE
About us





ON OTHER PAGES
• Guide to richest and most expensive cities
• Most expensive cities
• Richest cities
• Most powerful cities
• Big Mac Guide

• Largest cities in the world (1 to 150)
• Largest cities in the world (151 to 300)
• A to Z to largest cities in the world
• Countries with the largest cities in the world
• Introduction to largest cities in the world

Women in US local government
World Mayors and politics
Voter turnout - an international comparison

Largest cities in the world and their mayors (2017)
Largest cities with women mayors (2017)
Capital cities and their mayors (2017)

Salaries of German mayors
Salaries of British mayors
Salaries of Japanese mayors

Mayors in Europe and their powers (2018)

Belgian Mayors (2018)
British Mayors (2018)
Canadian Mayors (2018)
French Mayors (2017)
German mayors (2018)
Italian mayors (2017)
Japanese mayors (2018)
Polish mayors (2017)
Spanish mayors (2018)
US mayors (2018)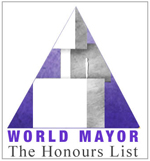 WORLD MAYOR
PRIZE 2018
Nominate exceptional women mayors for the World Mayor Prize

The 2018 World Mayor Project is dedicated to women in local government. It features the achievements of women mayors from across the world and will honour the best of them.

Please nominate your candidate now

Women have fought prejudice and struggled for equal rights and opportunities for hundreds of years. They did it with courage and resolve. In the 20th and early 21st centuries, women have achieved success in many spheres previously reserved to or monopolised by men, but their contributions are still often undervalued and their potential not recognised enough. Only some 20 per cent of the world's mayors are women.

The 2018 World Mayor Project aims to encourage more women to consider a career in local government and stand for political office.

Please nominate
exceptional women
mayors for the 2018
World Mayor Prize
and honours.




Los Angeles, Zurich and Miami
have strongest purchasing power
June 2018: Los Angeles is ranked first in the purchasing power index due to a combination of high average earnings and relatively low prices. The same applies to Miami, while the Swiss cities of Zurich and Geneva are ranked in the top-5 because of high average earnings, which compensate high prices. Apart from Luxembourg no other European city makes the top-ten in the UBS purchasing power index. Munich is placed 11th, Frankfurt 12th, Berlin 15th and Vienna 16th. Due to relatively high prices, London is ranked below such cities as Dublin, Tokyo and Stockholm.


Rank
(Purchasing Power)

Cities

Rank
(Earnings)

Rank
(Prices)

1

Los Angeles

4

20

2

Zurich

2

1

3

Miami

8

25

4

Geneva

1

2

5

Luxembourg

3

15

6

Chicago

10

9

7

Toronto

11

29

8

Manama

35

39

9

Hong Kong

29

33

10

New York

7

5

11

Munich

12

23

12

Frankfurt

14

27

13

Sydney

16

11

14

Dubai

36

36

15

Berlin

18

30

16

Vienna

9

22

17

Dublin

19

17

18

Montreal

15

26

19

Doha

41

49

20

Tokyo

17

6

21

Auckland

25

13

22

Stockholm

13

14

23

London

24

8

24

Riyadh

39

60

25

Nicosia

34

38

26

Taipei

33

32

27

Oslo

6

3

28

Tel Aviv

32

19

29

Lyon

26

31

30

Copenhagen

5

4

31

Helsinki

20

10

32

Amsterdam

21

24

33

Paris

23

12

34

Barcelona

30

40

35

Rome

22

28

36

Madrid

31

34

37

Milan

27

7

38

Seoul

38

16

39

Santiago de Chile

45

48

40

São Paulo

43

52

41

Brussels

28

18

42

Ljubljana

37

43

43

Johannesburg

51

53

44

Tallinn

42

41

45

Hanoi

65

71

46

Rio de Janeiro

50

56

47

Warsaw

46

63

48

Lisbon

40

42

49

Kuala Lumpur

56

59

50

Bangkok

61

55

51

Panama City

48

21

52

Vilnius

53

57

53

Athens

44

37

54

Prague

47

50

55

Lima

59

61

56

Sofia

64

70

57

Bogotá

68

65

58

Bratislava

54

44

59

Moscow

63

54

60

Manila

69

74

61

Shanghai

58

47

62

Beijing

62

46

63

Budapest

57

64

64

Riga

60

58

65

Buenos Aires

52

45

66

Istanbul

67

67

67

Bucharest

55

66

68

St Petersburg

66

51

69

Zagreb

49

35

70

Mexico City

72

69

71

Mumbai

76

72

72

Nairobi

70

68

73

New Delhi

75

73

74

Kiev

73

75

75

Jakarta

74

62

76

Cairo

77

77

77

Lagos

71

76
Data source: UBS Prices and Earnings Survey 2018