FRONT PAGE
About us





ON OTHER PAGES
Corrupt US mayors
Mass shootings in the USA
US mayors to protect DREAMers
America's undocumented immigrants pay billions in taxes
US mayors reject Trumpcare
After Charlottesville, US mayors unite against far right
US mayors defy Trump over Paris Accord
US sanctuary cities
World Mayors and politics
Illegal immigrants
Racial profiling

The largest cities and their mayors (2017)
The largest cities with women mayors (2017)
Voter turnout - an international comparison

Belgian Mayors (2016)
British Mayors (2017)
Canadian Mayors (2016)
French Mayors (2016)
German mayors (2017)
Italian mayors (2016)
Japanese mayors (2017)
Polish mayors (2016)
Spanish mayors (2016)
US mayors (2017)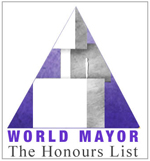 WORLD MAYOR
PRIZE 2018
Nominate exceptional women mayors for the World Mayor Prize

The 2018 World Mayor Project is dedicated to women in local government. It features the achievements of women mayors from across the world and will honour the best of them.

Please nominate your candidate now

Women have fought prejudice and struggled for equal rights and opportunities for hundreds of years. They did it with courage and resolve. In the 20th and early 21st centuries, women have achieved success in many spheres previously reserved to or monopolised by men, but their contributions are still often undervalued and their potential not recognised enough. Only some 20 per cent of the world's mayors are women.

The 2018 World Mayor Project aims to encourage more women to consider a career in local government and stand for political office.

Please nominate
exceptional women
mayors for the 2018
World Mayor Prize
and honours.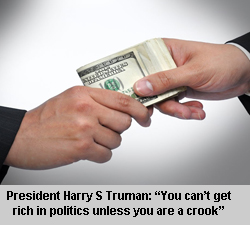 Corrupt US mayors pose a
threat to decency in society
Research by City Mayors*
March 2018: The preamble to the City Mayors' Code of Ethics states that honest local government is the foundation of any nation that strives to provide its citizens with happiness, security and prosperity. It continues to say that corruption and misconduct by local government officials threaten fundamental decency in a society. America's Federal Bureau of Investigation (FBI), which warns that public corruption poses a fundamental threat to national security and the US way of life, has over the past four decades brought to justice hundreds of elected officials, who used their positions to enrich themselves. Among those convicted are leaders of some of the largest US cities, including Detroit, New Orleans or Baltimore, but also many mayors from small-town America.

Nashville (TN) Mayor Megan Barry resigned on 6 March 2018 after pleading guilty to theft. Court documents revealed that the Mayor had committed felony theft – theft of property of more than US$10,000. She was sentenced to serve three years probation and has also agreed to reimburse the City of Nashville $11,000. Earlier, Nashville City Hall's former Head of Security, Rob Forrest, pleaded guilty to theft of property over $10,000. According to CNN, he agreed to serve three years supervised probation and to repay the city of Nashville $45,000. In January Mayor Barry admitted to an affair with Rob Forrest. According to Nashville's District Attorney, the Mayor spent over $10,000 of city funds on Rob Forrest. Allegedly, Rob Forrest earned more than $170,000 in overtime pay while serving as Megan Barry's bodyguard.


Also in March 2018, Allentown (PA) Mayor Ed Pawlowski was found guilty of 47 counts of rigging city contracts. During the trial, the jury heard that the Mayor gave city contracts to law firms and businesses that gave him money for campaigns for governor and US Senate. He retaliated against companies that refused to play along or didn't give sufficiently, according to prosecutors. The Mayor, who was re-elected to a fourth term in November 2017 despite the indictment hanging over him, claimed he was not aware campaign staffers and city employees were involved in an alleged pay-to-play scheme for kickbacks and campaign contributions.

The title of the most corrupt US mayor in recent years must go to Detroit's Kwame Kilpatrick, who took office in 2002, promising to revitalise the city. Instead he used his position to steal from the citizens he had promised to serve. FBI Special Agent Robert Beckman, who investigated the mayor and his corrupt regime for eight years, said that criminal activity was a way of life for him. "He constantly used the power of his office to look for new opportunities to make money illegally."

In July 2013, Kwame Kilpatrick was given a 28-year prison sentence for racketeering, extortion, bribery and fraud. In its submission the FBI said that Kilpatrick and his associates established a 'pay to play' system that made breaking the law standard operating procedure. "Kilpatrick extorted city vendors, rigged bids, and took bribes. He used funds from non-profit civic organisations to line his pockets and those of his family. And he was unabashed about it."

Trenton's (NJ) former mayor Tony Mack received a 58-months prison sentence in May 2014 after being convicted of extortion and bribery. Together with his brother Ralphiel, the former mayor operated a scheme of accepting bribes in exchange for assisting local businesses. A member of the US Attorney's office told the court that within 10 weeks of moving into City Hall, the mayor started to sell influence. "Instead of providing transparent government to the citizens of Trenton, Tony Mack and his brother allowed themselves to succumb to self-interest and greed."

Ray Nagin, who served as Mayor of New Orleans from 2002 to 2010, came to national and international prominence in 2005 in the aftermath of Hurricane Katrina, which destroyed large parts of the city. In 2009, three years after being re-elected to a second term, allegations began to emerge of the mayor using his office to obtain benefits from local companies supplying the city. In February 2014, a court convicted Ray Nagin of bribery and extortion. The court was told that the mayor took more than $500,000 n payouts from businessmen in exchange for millions of dollars' worth of city contracts.

The former mayor's sentencing brought to a close a sordid chapter in New Orleans' history in which the man charged with leading a city out of crisis instead chose to enrich himself, his family and friends. Despite New Orleans' long history of political corruption, Nagin was the first mayor to be criminally charged for corruption in office.


List of US mayors who used their office
to enrich themselves and their associates

| | | | | |
| --- | --- | --- | --- | --- |
| Mayor | City, state (population) | Indictments | Sentence | Year of sentence |
| Megan Barry | Nashville, TN, (684,000) | Theft of municipal funds | 3 year felony probation plus reimbursement of misappropriated funds | 2018 |
| Robert Meyer | New Roads, LA (4,600) | Abuse of office | 1 year felony probation and US$10,000 fine | 2018 |
| Ed Pawlowski | Allenton, PA (120,000) | Conspiracy, bribery, attempted extortion | Found guilty, March 2018, awaiting sentence | 2018 |
| Joey Torres | Paterson, NJ (147,000) | Corruption involving family members | 5 years prison | 2017 |
| Luis Aguinaga | South El Monte, CA (21,000) | Bribery and corruption | 1 year prison | 2017 |
| Ken Harycki | Stillwater, MN (19,000) | Conspiracy to defraud US government | 1 year prison | 2017 |
| Tommy Nelson | New Roads, LA (4,600) | Conspiracy and fraud | Found guilty in 2011, 10 year-prison sentence confirmed in 2016 | 2016 |
| Lucie Tondreau | North Miami, FL (62,000) | Mortgage fraud | 65 months prison | 2015 |
| Octavio Garcia Von Borstel | Nogales, AZ (21,000) | Fraud, theft, bribery and money laundering | Three and a half years prison | 2014 |
| George Grace | St Gabriel, LA (7,200) | Racketeering, corruption | Initially sentenced to 22 years in prison; reduced to 20 years in 2014 | 2014 |
| Tony Mack | Trenton, NJ (84,500) | Corruption | 58 months prison | 2014 |
| Ray Nagin | New Orleans, LA (369,250) | Corruption | 10 years prison | 2014 |
| Patrick Cannon | Charlotte, NC (793,000) | Theft and bribery | 44 months prison | 2014 |
| Omar Leonel Vela | Progreso, TX (5,700) | Bribery and corruption | 10 years prison | 2014 |
| Bob Filner | San Diego, CA (1.3 million) | False imprisonment and battery | Three months house arrest; partial loss of mayoral pension | 2013 |
| John Bencivengo | Hamilton, NJ (88,400) | Corruption, bribery | Sentenced to 38 months in prison | 2013 |
| Kwame Kilpatrick | Detroit, MI (701,500) | Racketeering, extortion, mail fraud | 28 years prison | 2013 |
| Patricia Christensen | Port St Lucie, FL (185,000) | Theft of campaign funds | Guilty plea agreement; probationary sentence | 2011 |
| George Pabey | East Chicago, IN (28,000) | Conspiracy and theft of government funds | 5 years prison | 2011 |
| Dennis P. Elwell | Secaucus, NJ (18,350) | Bribery | Prison | 2011 |
| Eddie Price | Mandeville, LA (12,400) | Tax evasion, corruption | 64 months prison | 2010 |
| Larry Kangford | Birmingham, AL (212,000) | Bribery, fraud | 15 years prison | 2010 |
| Peter Cammarano | Hoboken, NJ (52,000) | Extortion | 24 months prison | 2009 |
| Sheila Ann Dixon | Baltimore, MD (621,000) | Embezzlement | Loss of pension | 2009 |
| Sharpe James | Newark, NJ (277,000) | Fraud | 27 months prison | 2008 |
| Samuel Rivera | Passaic, NJ (70,200) | Attempted extortion | 21 months prison | 2008 |
| Emmanuel Onunwor | East Cleveland, OH (17,800) | Corruption and tax evasion | 9 years prison | 2005 |
| Anthony Russo | Hoboken, NJ (52,000) | Public corruption | 30 months prison | 2004 |
| Joseph Peter Ganim | Bridgeport. CN (146,400) | Kickbacks | Prison | 2003 |
| Vincent Albert Cianci | Providence, RI (178,400) | Racketeering | 5 years prison | 2002 |
| Betty Loren-Maltese | Cicero, IL (84,000) | Insurance fraud | 8 years prison | 2002 |
| Milon Milan | Camden, NJ (77,300) | Corruption | 7 years prison | 2000 |
| Raúl L. Martínez | Hialeah, FL (231,900) | Extortion and racketeering | Jury deadlocked | 1996 |
| Walter Tucker | Compton, CA (97,600) | Extortion and tax evasion | 27 months prison | 1996 |
| Charles Paniki | Chicago Heights, IL (30,400) | Bribery | 10 years prison | 1993 |
| Gerald McCann | Jersey City, NJ (254,400) | Fraud | 2 years prison | 1992 |
| Alex Daoud | Miami Beach, FL (90,600) | Bribery | 18 months prison | 1991 |
| Michael J. Matthews | Atlantic City, NJ (39,500) | Bribery | 15 years prison | 1984 |
| Edward McIntyre | Augusta, GA (194,300) | Extortion | Prison | 1984 |
| Angelo Joseph Errichetti | Camden, NJ (77,300) | Bribery | 3 years prison | 1981 |
| William Somers | Atlantic City, NJ (39,500) | Extortion | n/a | 1972 |
| Thomas Whelan | Jersey City, NJ (254,400) | Conspiracy and extortion | 15 years prison | 1971 |
| Hugh Joseph Addonizio | Newark, NJ (277,000) | Bribery | Prison | 1970 |


Other cases of mayors arrested, indicted
and / or convicted for offences while in office:
• Mayor of West New York, NJ, arrested for computer hacking (2012)
• Mayor of Walnut Grove, Mississippi, for witness tampering (2012)
• Mayor of Upland, CA, convicted of accepting bribes (2012)
• Mayor of Nogales, Arizona, charged with bribery, theft and fraud (2012)
• Mayor of Cedarville, Arkansas, convicted of theft (2012)
• Mayor of Vicksburg, Mississippi, convicted of bribery (2013)
• Mayor of Junction City, Kansas, convicted of bribery (2012)
• Mayor of Melissa, Texas, indicted on bribery (2012)
• Mayor of Barceloneta, Puerto Rico, arrested for bribery (2012)
• Mayor of Rio Grande, Puerto Rico, indicted on bribery and extortion (2014)
• Mayor of St Gabriel, LA, indicted on racketeering (2010)
• Mayor of Ball, LA, convicted of hurricane disaster fraud (2011)
• Mayor of Sweetwater, Florida, convicted of corruption (2014)
• Mayor of South Pittsburg, TN, convicted of running illegal gambling business
• Mayor of Grandview, Missouri, convicted of charity fraud (2014)
• Mayor of Cudahy, CA, pleads guilty to extortion and bribery (2012)
• Mayor of Port Allen, LA, convicted of racketeering (2012)
• Mayor of Kinloch, Missouri, convicted for fraud and embezzlement (2011)
• Mayor of Mandeville, LA, convicted for tax evasion (2010)
• Mayor of Pineville, Kentucky, pleaded guilty to vote buying (2009)
• Mayor of Niagara Falls, NY, pleaded guilty to fraud (2010)
• Mayor of Hamilton, NJ, charged with attempted extortion (2012)
• Mayor of New Roads, LA, indicted on racketeering (2010)

*City Mayors used source material supplied by the US Federal Bureau of Investigation (FBI) and local media reports

© Copyright: City Mayors. All rights reserved