FRONT PAGE
About us





METRO NEWS
• Worldwide
• Elections
• North America
• Latin America
• Europe
• Asia
• Africa


New York charities
question order that forces
homeless into shelters
New York City, 6 January 2016: An executive order that requires city authorities in New York State to take homeless people into shelters at sub-zero temperatures has surprisingly not been universally welcomed by homeless organisations. They believe forcing destitute people could lead to their criminalisation. "Homeless people across the US have reported that theft, violence and the temptation to use illegal drugs present in shelters keep them away from the facilities." Other organisations, such as the New York Civil Liberties Union, question whether it is right to force people against their will into shelters. "The notion of rounding up people because they are homeless and it's cold out is very alarming and incompatible with sound policy, not to mention dignity and respect," a spokesman for the organisation said.

New York Governor Andrew Cuomo, who issued the order on Sunday, said he would defend the measure in court if necessary. In a radio interview the Governor said he was not going to argue an individual's right to freeze to death. "I want to argue an individual's human right to housing and services and shelter. The days when we're going to argue civil rights for people to sleep on the street, we learned that lesson the hard way, and let's not go backward."

The order mirrors a policy already in place in New York City. Under the city's Code Blue policy, homeless people that are deemed to be a danger to themselves or others, or mentally unwell, can be forced by police into a hospital or shelter. But it is doubtful whether authorities in smaller cities have the expertise and resources to take proper care of vulnerable homeless people. Care for the Homeless, a charity based in New York City, said in a statement that it was important that the executive order was applied in a helpful, compassionate way. "Social workers should accompany police when possible, or go out and do their own patrols, looking for homeless people."

A spokesman for Governor Cuomo confirmed yesterday that the state government would help local authorities if they lacked the necessary resources.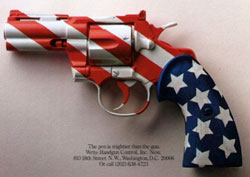 US mayor compares
urban gun violence
to international terrorism
Washington DC, 17 November 2015: After a meeting with US Attorney General Loretta Lynch, Philadelphia's Mayor Michael Nutter called the daily gun violence in American cities 'domestic terrorism' and compared it to the attacks on Paris three days earlier. The meeting, which was also attended by the mayors from Washington DC, Baltimore, New Orleans and Gary, was scheduled to discuss ways to remove from guns from city streets. After the meeting, Mayor Nutter said in an interview with AP journalists that gun violence in American cities was no different from international terrorism.

"Domestic terrorism is international terrorism," the Mayor said. "There is really no level of distinction between the violence that goes on, on the streets of America on a daily basis and the episodic acts of international terrorism that also take place - primarily in cities."

"Citizens around the world feel unsafe because of international terrorists. Those same feelings exist for many in US communities," Nutter said. "These criminals are terrorizing our citizens and that same level of fear of violence, the death of citizens, the destruction of property, are the same. In many cities across the US on a weekend, you could very well have six, eight, 10 people shot," Michael Nutter is quoted by AP.

Michael Nutter added that his colleagues, who attended the meeting, all agreed that America must address urban gun violence with the same sense of urgency and priority given to global terrorism. Philadelphia has had more than 240 homicides this year. Baltimore hit the 300-mark for the first time since 1999.

US cities with the highest number of gun homicides (2012)
Chicago: 444
Detroit: 333
Philadelphia: 277
Baltimore: 183
Memphis: 126
Oakland:108
New Orleans: 107
(Source: FBI)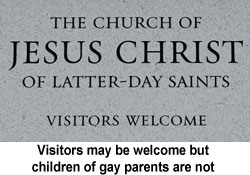 Salt Lake City's mayor-elect
accuses Mormon Church of
banning children of gay parents
Salt Lake City, 9 November 2015: In the same week as Salt Lake City elected a lesbian mayor, the Church of Jesus Christ of Latter-day Saints (the Mormon Church), which is headquartered in Utah's state capital, labelled gay marriage as apostasy. The Mormon Church's new policy, which deems homosexual parents to be apostates - people, who have renounced their faith - bans children of gay parents from blessings and baptism until their 18th birthday. If the children then wanted to be baptised they would have to disavow gay marriage, in essence be required to choose between the Mormon Church and their gay parents. Salt Lake City's mayor-elect, Jackie Biskupski, who has an adopted son, accused the Church of labelling children unworthy.

In a highly personal statement Ms Biskupski said that as a mother of a young son, who will grow up in Salt Lake City, I want him to feel welcome wherever he goes. "I expect him to be judged on his character not his mother's sexual orientation."

In a very tight contest, Jackie Biskupski defeated the incumbent mayor Ralph Becker by 52 to 48 per cent of the vote. While the certified final results will not be published until 17 November, it is unlikely that the unofficial outcome will be reversed. However, Mayor Becker has let it be known that he will not concede defeat until the official verdict has been announced.

Salt Lake City's mayor-elect became involved in politics when, in 1995, the city's school district and the Utah State legislature tried to close down a gay/straight student social club. In 1998, she was elected Utah's first openly gay legislator.

In the meantime, other major US cities which also held mayoral elections last week included Houston, Philadelphia, San Francisco, Indianapolis, Columbus and Charlotte.

In San Francisco, incumbent mayor Ed Lee easily won a second term while in Philadelphia Democrat Jim Kenney was elected with 84 per cent of the vote. He will succeed term-limited Mayor Michael Nutter.

The mayoral election in Houston did not produce a decisive result. The 12-December run off will be a contest between Sylvester Turner and Bill King. One of the victor's first tasks will be to placate Houston's large gay community after voters rejected an equal rights ordinance, which would have outlawed discrimination based on things like race, sexual orientation or gender identity. Opponents of the measure argued that it would have 'allowed men into women's toilets'!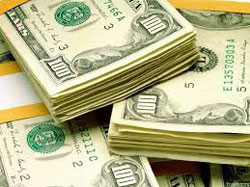 US city treasurers happier
than for many years but
revenue growth is slowing
Washington DC, 6 October 2015: As the fiscal conditions of US cities continue to improve, America's municipal treasurers are more optimistic than ever. However, a survey by the Nation League of Cities, also found that the gains achieved since 2013 have not be substantial enough to restore the revenue declines following the 2007/08 recession. "When compared to the 1990 and 2001 recessions, it is clear that the fiscal impacts of the recession are much more substantial, both in terms of depth and duration," the survey explains. Despite three consecutive years of growth, city budgets are still feeling the effects of the recession and revenue bases are still below pre-recession levels.

The capacity of city budgets remains weakened coming out of the 2007/08 recession. As a result, evidence suggests that cities are more fiscally conservative than in recent years and are cautiously preparing for the next economic downturn.

The study by the National League of Cities concludes that city financial conditions have proven remarkably resilient over the past three decades, but longer-term fiscal sustainability will depend not only on cities' ability to balance their budgets annually, but also to manage infrastructure and employee-related costs and volatilities such as gas and oil prices, inflation and state aid.

Key findings from the study US City Fiscal Conditions 2015
• General Fund revenues (non-earmarked revenue) registered their first post-recession gains in 2013, with consecutive but slower growth since. Revenues increased 1.3 per cent in 2014 and are anticipated to grow 0.31 per cent in 2015. Expenditures increased 1.5 per cent in 2014, with continued growth anticipated into 2015.

• Property tax revenues increased a sizable 2.4 per cent in 2014, with growth of 1.2 per cent expected in 2015.

• Growth in sales tax revenues reached a post-recession high of 6.2 per cent in 2012, registered 5.9 per cent growth in 2013, 3.1 per cent in 2014, and is expected to grow 2.3 per cent in 2015.

• Income tax revenues have been the most volatile tax source during the recovery period. Growth reached a post-recession high in 2012, with a 4.4 per cent increase over 2011. Cities experienced 3.6 per cent year-over-year growth of income taxes in 2013, followed by a dip of -1.7 per cent in 2014, and an anticipated return to growth in 2015 with 3.6 per cent gains.

• Ending balances (financial reserves) are anticipated to reach a 30-year high in 2015, budgeted at 25.2 per cent of General Fund expenditures. Ending balances reached a post-recession low in 2010 at 16.5 per cent of expenditures, but have grown consistently, standing at 22.8 per cent in 2014.

• Infrastructure needs (48 per cent), pensions (38 per cent) and health care benefits (36 per cent) are factors that are most constraining city budgets in 2015. Those having the most positive influences are the value of the city tax base (70 per cent), health of the local economy (63 per cent) and gas and oil prices (24 per cent).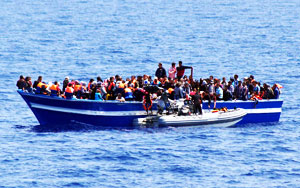 US mayors tell President
they are ready to welcome
thousands of Syrian refugees
Washington, 28 September 2015: In a letter to US President Barack Obama, mayors from some of America's largest cities, including New York, Los Angeles and Chicago, have said that they would welcome even more Syrian refugees than the government had proposed. Earlier this month, the President announced that the US would be accepting some 10,000 refugees from Syria and provide more than US$400 million in humanitarian aid. In the letter, which was signed by mayors Eric Garcetti of Los Angeles, Bill de Blasio of New York City, Rahm Emanuel of Chicago, Stephanie Rawlings-Blake of Baltimore and 14 others, the mayors said that Syrian families would be welcome to make their cities their new home and start new lives.

The mayors, who are all members of Cities United for Immigration Action (CUIA), commended the US President for his decision to open America's doors to at least 10,000 Syrian refugees displaced by civil war. "Your announcement is a vital initial step to honoring America's commitment to support those fleeing oppression."

The mayors stressed in their letter that they have experienced first-hand the myriad ways in which immigrants and refugees make American communities stronger economically, socially and culturally. "We will welcome the Syrian families to make homes and new lives in our cities."

"Our cities have been transformed by the skills and the spirit of those who come to us from around the world. The drive and enterprise of immigrants and refugees have helped build our economies, enliven our arts and culture and enrich our neighborhoods," the mayors concluded.

Signatories of the letter to President Obama:
Ed Pawlowski, Mayor of Allentown, PA
Stephanie Rawlings-Blake, Mayor of Baltimore, MD
Martin J. Walsh, Mayor of Boston, MA
James Diossa, Mayor of Central Falls, RI
Mark Kleinschmidt, Mayor of Chapel Hill, NC
Rahm Emanuel, Mayor of Chicago, IL
Edward Terry, Mayor of Clarkston, GA
Nan Whaley, Mayor of Dayton, OH
Domenick Stampone, Mayor of Haledon, NJ
Pedro E. Segarra, Mayor of Hartford, CT
Eric Garcetti, Mayor of Los Angeles, CA
Betsy Hodges, Mayor of Minneapolis, MN
Bill de Blasio, Mayor of New York City, NY
Jose Torres, Mayor of Paterson, NJ
William Peduto, Mayor of Pittsburgh, PA
Javier Gonzales, Mayor of Santa Fe, NM
Francis G. Slay, Mayor of St. Louis, MO
Stephanie A. Miner, Mayor of Syracuse, NY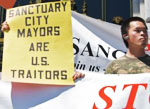 Louisiana governor
proposes jail for mayors
of sanctuary cities
Los Angeles, 17 September 2015: After Donald Trump announced that one of his first acts as US president would be to order the building of a wall the length of the US-Mexican border, other Republican contenders for the US presidency have been falling over each other to prove that they would have the toughest policies on illegal immigration. The latest Republican hopeful trying to out-tough his fellow competitors was Louisiana Governor Bobby Jindal. In yesterday's (17 September) 'undercard' TV debate he suggested that mayors and councillors of sanctuary cities should be criminalised and sent to prison.

The Governor, who has on previous occasions taken a softer line on immigration and even suggested that there should be some form of amnesty for undocumented immigrants, told the TV audience that the US needed to secure its borders and then put an end to sanctuary cities. "I think we need to criminalise and jail those mayors and councilmen as accessories for the crimes committed by people that shouldn't be here in the first place."

According to Wikipedia, Sanctuary City is a term that is applied by some to cities in the United States or Canada that have policies designed to not prosecute illegal aliens. These practices can be by law (de jure) or they can be by habit (de facto). The term generally applies to cities that do not allow municipal funds or resources to be used to enforce federal immigration laws, usually by not allowing police or municipal employees to inquire about an individual's immigration status. The designation has no legal meaning.

Last month Governor Jindal described the New Orleans Police Department (NOPD) and City Hall officials as 'partners in crime with illegal aliens" after the police said it was drawing up rules that would bar officers from co-operating with any aspect of federal immigration enforcement. A NOPD spokesman said that the force already did not target immigrants or assisted with deportations. Under a federal consent decree that New Orleans Mayor Mitch Landrieu signed with the US Justice Department in 2012, police officers are forbidden to question victims of and witnesses to crime about their immigration status.

Governor Jindal now proposes to charge local officials as "accessories" to crimes committed by undocumented immigrants who remained in the country unlawfully because of sanctuary policies. "These sanctuary city policies make New Orleans' officials partners in crime with illegal aliens who commit crimes in New Orleans," Jindal said in a statement to The New Orleans Advocate.