FRONT PAGE
About us


ON OTHER PAGES
The largest cities and their mayors (2017)
The largest cities with women mayors (2017)
Voter turnout - an international comparison
Belgian Mayors (2016)
British Mayors (2017)
Canadian Mayors (2016)
French Mayors (2016)
German mayors (2017)
Italian mayors (2017)
Japanese mayors (2017)
Polish mayors (2017)
Spanish mayors (2016)
US mayors (2017)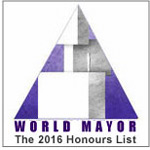 The 2016 World
Mayor Honours


1 Bart Somers, Mechelen, Belgium

2 Wolfgang G Müller, Lahr, Germany

3 Georgios Kaminis, Athens, Greece

4 Guisi Nicolini, Lampedusa, Italy

5 Richard Arnold, Schwäbisch Gmünd,
Germany

6 Mirjam van 't Veld, Amstelveen Netherlands

7 Spiros Galinos, Lesbos, Greece

8 Pavel Adamowicz, Gdansk, Poland

9 Damien Carême, Grande-Synthe, France

10 Henriette Reker, Cologne, Germany

Enquiries:
worldmayor@gmail.com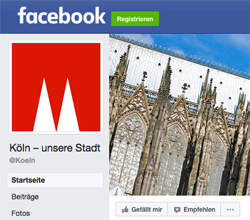 German cities on social media:
Usage, ranking and followers
September 2017: The use of social media by German cities has become increasingly popular during the past ten years. The cities' town halls, their marketing and tourism offices use Facebook, Twitter and other platforms to inform residents, promote tourism and investment as well as provide visitors with details of cultural and sporting events. Hamburg and Dresden were one of the first major German cities to open Twitter accounts in 2007. By 2009, cities like Munich, Bremen, Nürnberg and Münster had all signed up to the 140-character social media service. However, during the past five years, Facebook has replaced Twitter as the most popular social media platform among towns and cities in Germany.


Years German cities
joined Twitter:
In 2007: Hamburg, Dresden, Magdeburg
In 2008: Freiburg,
In 2009: Bremen, Duisburg, Frankfurt, Halle, Leipzig, Mainz, Munich, Münster, Nürnberg, Wiesbaden, Hamm, Kassel, Mülheim/Ruhr, Osnabrück, Aachen, Berlin, Bielefeld, Bonn
In 2010: Düsseldorf, Gelsenkirchen, Karlsruhe, Kiel, Krefeld, Mannheim, Mönchengladbach, Stuttgart, Hagen, Heidelberg, Herne, Ingolstadt
In 2011: Chemnitz, Essen, Darmstadt, Potsdam
In 2012: Ulm
In 2013: Cologne, Rostock, Augsburg, Bochum
In 2014: Hannover
Berlin's principal Facebook page, with more than 1.5 million followers, is the most popular social media account run by a German city. Hamburg and Cologne rank second and third, with 726,000 and 551,000 followers respectively. Hamburg has the most popular Twitter page, with some 215,000 'friends', followed by Munich and Frankfurt.

Per capita, Cologne has more Facebook followers than any other German city. Berlin and Hamburg rank second and third. Cologne's number of Facebook followers amounts to more than 50 per cent of its population – although, of course, not all social media followers are residents. Invariably, popular tourist destinations like Berlin, Hamburg or Munich attract a considerable number of followers from across Germany and indeed the world. Cities with ratios above 20 per cent include, in addition to Cologne, Berlin and Hamburg as well as Munich, Frankfurt and Dresden but also smaller cities like Ulm, Karlsruhe and Mainz.

Most cities use their social media pages to supply municipal announcements, list events and market tourist attractions as well as business opportunities. In August / September 2017, Berlin promoted the city's Banksy exhibition, the blind football European championship and an international beer festival. Frankfurt's Facebook page provided extensive information for the 70,000 people who were forced to leave their homes while a WWII bomb was being defused on 3 September 2017. Hamburg's summer festivals included a medieval jousting contest and a plastic duck race on the Alster, the city-centre lake.

German cities on Facebook and Twitter

| | | | | | |
| --- | --- | --- | --- | --- | --- |
| Facebook ranking of German cities | City | Followers on Facebook | Followers on Twitter | Population | Facebook followers as percentage of population |
| 1 | Berlin | 1,583,895 | 23,000 | 3,422,000 | 46% |
| 2 | Hamburg | 726,388 | 215,000 | 1,746,000 | 42% |
| 3 | Cologne | 550,968 | 8,431 | 1,034,000 | 53% |
| 4 | Munich | 487,259 | 191,000 | 1,408,000 | 35% |
| 5 | Frankfurt | 195,557 | 185,000 | 701,000 | 28% |
| 6 | Dresden | 132,602 | 5,791 | 531,000 | 25% |
| 7 | Dortmund | 79,951 | 78,700 | 576,000 | 14% |
| 8 | Stuttgart | 75,696 | 17,200 | 604,000 | 13% |
| 9 | Karlsruhe | 70,717 | 5,846 | 295,000 | 24% |
| 10 | Rostock | 57,955 | 1,203 | 206,000 | 28% |
| 11 | Bremen | 53,420 | 42,200 | 549,000 | 10% |
| 12 | Wuppertal | 52,679 | n/a | 343,000 | 15% |
| 13 | Düsseldorf | 51,417 | 48,300 | 599,000 | 9% |
| 14 | Mainz | 46,830 | 7,695 | 210,000 | 22% |
| 15 | Saarbrücken | 43,521 | n/a | 178,000 | 24% |
| 16 | Ulm | 42,443 | 2,661 | 123,000 | 35% |
| 17 | Kassel | 39,266 | 6,047 | 198,000 | 20% |
| 18 | Bonn | 38,459 | 9,359 | 311,000 | 12% |
| 19 | Bielefeld | 30,285 | 4,251 | 329,000 | 9% |
| 20 | Mannheim | 29,430 | 1,196 | 297,000 | 10% |
| 21 | Braunschweig | 26,932 | 455 | 251,000 | 11% |
| 22 | Freiburg | 24,911 | 9,700 | 226,000 | 11% |
| 23 | Aachen | 23,696 | 8,888 | 246,000 | 10% |
| 24 | Bochum | 21,996 | 5,251 | 362,000 | 6% |
| 25 | Hannover | 21,875 | 10,800 | 518,000 | 4% |
| 26 | Osnabrück | 18,785 | 7,576 | 162,000 | 12% |
| 27 | Ingolstadt | 18,523 | 2,744 | 132,000 | 14% |
| 28 | Essen | 17,195 | 8,146 | 575,000 | 3% |
| 29 | Nürnberg | 16,274 | 78,900 | 499,000 | 3% |
| 30 | Leipzig | 14,285 | 54,100 | 532,000 | 3% |
| 31 | Duisburg | 13,884 | 10,100 | 487,000 | 3% |
| 32 | Magdeburg | 13,173 | 6,645 | 236,000 | 6% |
| 33 | Wiesbaden | 13,000 | 4,663 | 276,000 | 5% |
| 34 | Augsburg | 11,980 | 2,581 | 277,000 | 4% |
| 35 | Erfurt | 11,575 | n/a | 210,000 | 5% |
| 36 | Oldenburg | 10,750 | n/a | 164,000 | 7% |
| 37 | Münster | 10,723 | 702 | 300,000 | 4% |
| 38 | Kiel | 10,163 | 4,016 | 246,000 | 4% |
| 39 | Hamm | 9,358 | n/a | 179,000 | 5% |
| 40 | Halle | 9,313 | 4,117 | 237,000 | 4% |
| 41 | Gelsenkirchen | 8,886 | 2,419 | 258,000 | 3% |
| 42 | Mönchengladbach | 8,524 | 1,326 | 257,000 | 3% |
| 43 | Heidelberg | 7,794 | 6,354 | 156,000 | 5% |
| 44 | Solingen | 7,432 | n/a | 159,000 | 5% |
| 45 | Hagen | 7,368 | 1,869 | 189,000 | 4% |
| 46 | Mülheim/Ruhr | 7,144 | 3,020 | 169,000 | 4% |
| 47 | Chemnitz | 4,741 | 3,317 | 249,000 | 2% |
| 48 | Herne | 4,450 | 1,997 | 156,000 | 3% |
| 49 | Oberhausen | 4,374 | n/a | 211,000 | 2% |
| 50 | Darmstadt | 4,234 | 3,247 | 155,000 | 3% |
| 51 | Leverkusen | 4,183 | n/a | 165,000 | 3% |
| 52 | Krefeld | 3,602 | 1,012 | 225,000 | 2% |
| 53 | Potsdam | 3,324 | 3,092 | 168,000 | 2% |
| 54 | Lübeck | 2,080 | n/a | 216,000 | 1% |
Note: The research was carried out in late August / early September 2017
Selections of topics covered
by German cities on Facebook
(August / September 2017)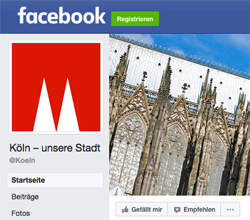 COLOGNE
• Online games with a twist of Cologne
• Bicycles repaired free of charge
• New owners sought for abandoned dogs
• Camescom 2017 opens in Cologne
• Church service for Cologne football club (FC Köln) in the cathedral
• Preview of German soundtrack congress 'See the Sound'
• Photo competition – Cologne our city
• Job offers at Eurowings airline
• 55 burglaries while property owners were on holiday
• FC Köln loses its opening game of the 2017/18 football season
• How to register for postal voting for the September general elections
• Review of Cologne's best flea markets
• Review of public day time parties
• Review of of Cologne's Asian restaurants
• Jobs in Cologne hospitals
• Information on mobile speed cameras – where and when
• Cologne's best coffee and cake shops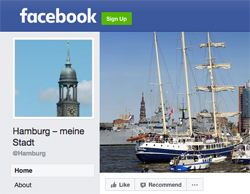 HAMBURG
• Racing plastic ducks on the Alster
• Jousting in Öjendorfer Park
• Four-day festival on Hamburg's city centre lake, the Alster
• World finals of Beach Volleyball Finals
• Queen Mary 2 docks in Hamburg
• Café for cat lovers
• The Economist magazine ranks Hamburg as the 10th most liveable city in the world
• International one-day cycle race, Cyclassics
• Preview of Kinky Boots, the musical
• Four Siberian tiger cubs born in Hamburg zoo
• IRONMAN heat takes place in Hamburg
• TASTE – art festival
• Extreme Sailing Series takes place in Hamburg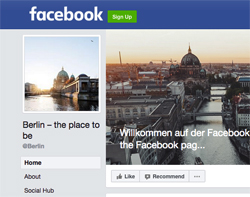 BERLIN
• Banksy exhibition
• Weekends in Berlin
• For one night, Berlin's museums stay open all night
• Europe's leading youth orchestras play in Berlin
• Blind Football European Championship kicks off in Berlin
• Review of Berlin's bathing and boating lakes
• 21st international beer festival
• Pandas in Berlin's zoo
• Wedding venues after Germany legalised same-sex marriage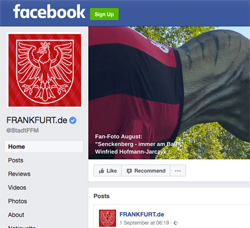 FRANKFURT
• More than 70,000 people evacuated to defuse WWII bomb
• Frankfurt helps Houston, Texas, after Hurricane Harvey
• Former Wimbledon champion Boris Becker appointed head of German men's tennis in Frankfurt
• Chinese graffiti artists from Frankfurt's partner city Guangzhou paint spray in Frankfurt
• Festival of Afro-Caribbean culture
• Frankfurt volunteers
• Exhibition: Children of the Stone Age
• Frankfurt's public libraries re-open after a summer break
• Public picnic at the open-air cinema
• For security reasons, Frankfurt bans cars from annual street festival

© Copyright: City Mayors. All rights reserved