The best Mayors for Stronger | Fairer | Greener cities. Elect your candidate for the 20/21 World Mayor Prize and Honours. The Prize has been awarded since 2004.

FRONT PAGE
About us


ON OTHER PAGES
Mayors COVID-19
Mayors in Europe: Politics & Powers (2019)
World's capital cities and their mayors (2020)
Salaries of British mayors
Salaries of French mayors
Salaries of German mayors
Salaries of Japanese mayors
African American Mayors (2020)
Belgian Mayors (2019)
British Mayors (2020)
Canadian Mayors (2019)
French Mayors (2020)
German mayors (2019)
Indian mayors (2020)
Italian mayors (2019)
Japanese mayors (2020)
Polish mayors (2020)
Spanish mayors (2020)
Turkish mayors (2019)
US mayors (2020)
Women in US local government
World Mayors and politics
Voter turnout - an international comparison
Largest cities in the world and their mayors (2017)
Largest cities with women mayors (2017)
Capital cities and their mayors (2017)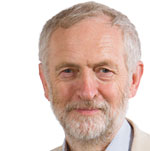 New Labour Party leader
proposes stronger local councils
and a 'National Education Service'

15 September 2015: Following a campaign, which shattered all known rules of British politics, the socialist Jeremy Corbyn has won the leadership of the UK Labour Party with 59 per cent of party members' votes on an anti-austerity platform. Some of Corbyn's policy ideas which have attracted the most media attention include abolishing the British royal family, handing the Falkland Islands back to Argentina, uniting Ireland and leaving NATO, as well as scrapping the UK's nuclear deterrent. However, he has pledged to unite his beleaguered party and asked other factions to respect his historic landslide victory. Corbyn has since announced a new top team and given some clues to his likely urban policy.

Ahead of his election, Corbyn, a London Borough councillor in the 1970s and 80s, published a mini-manifesto of his local government policies, which included:

• More powers and resources for councils and local authority consortia to invest in infrastructure schemes
• No pre-condition of elected 'metro mayors' for any devolution
• More power for local councils to raise own finances, particularly to build new council housing, but with national equalisation between richer and poorer areas
• A new land value tax to replace council tax and business rates
• A 'National Education Service', modelled on the National Health Service, to reverse the Conservatives' academies (charter schools) programme and bring all schools back under local education authority control

Other known Corbyn policies include opposing the UK government's flagship High Speed Rail (HS2) project and phasing out private schools. While many eyebrows were also raised by Corbyn's choice of Shadow Chancellor (finance minister) John McDonnell, a stalwart of Labour's hard left as chair of finance at the Greater London Council under Ken Livingstone (later London mayor 2000-08), the majority of his picks for Labour's Shadow Cabinet were women.

Shadowing the UK government's Department of Communities and Local Government Secretary is Jon Trickett, a former close adviser to former Labour leaders Gordon Brown and Ed Miliband and Leader of Leeds City Council during the 1980s. Joining him as Shadow Housing Minister is John Healey, a rare veteran minister among Corbyn's top team having served as a DCLG minister throughout Gordon Brown's premiership and as Treasury minister under Tony Blair also. Despite criticism of the new Shadow Cabinet as 'London-centric', reflecting Corbyn's own North London constituency, Trickett, Healey and new Shadow Education Secretary Lucy Powell (also a key Miliband lieutenant) all represent Northern constituencies in the UK Parliament.

The hitherto largely unknown Corbyn, a former public service union official and 'new urban left' London local councillor during the 1970s and 80s, entered the UK Parliament in 1983, alongside future prime ministers Tony Blair and Gordon Brown. Both Blair and Brown have both cautioned that a Corbyn-led Labour Party risks alienating voters and could even face "annihilation" as a result, while party grandees Lord Mandelson and Alastair Campbell have both unsuccessfully attempted to wrest the initiative in favour of Corbyn's leadership rivals.

Alongside national leadership elections, Labour members and registered supporters in London were also asked to select their candidate for the 2016 London mayoral elections, which will elect the successor to retiring mayor Boris Johnson. Following an exhaustive ballot, former transport minister and shadow minister for London Sadiq Khan was selected as Labour's official candidate for the May 2016 race, which will likely see him square off against Conservative and fellow London MP Zac Goldsmith. Khan defeated five rivals for the nomination, securing 58.9 per cent of the vote in the fifth round against his nearest challenger, former Olympics Minister and Culture Secretary Tessa Jowell.


---

Labour's leadership front-runner
forces party to re-think urban policies
26 August 2015: Jeremy Corbyn, a surprise entrant to the race to become the leader of the British Labour Party, who standing on policies in the vein of Greece's Syriza and Spain's Podemos has caught the UK's public imagination and triggered a likely rethink on its cities policy. So-called 'Corbyn-mania' has had the effect of tapping into a public mood against harsh austerity UK government policies and rejecting 'politics as usual', catching the political and media establishment on the hop. The contest to lead the UK's opposition to David Cameron's Conservative government will conclude in mid September.

The hitherto largely unknown Corbyn, a former public service union official and 'new urban left' London local councillor during the 1970s and 80s, entered the UK Parliament in 1983, alongside future prime ministers Tony Blair and Gordon Brown. Both Blair and Brown have both cautioned that a Corbyn-led Labour Party risks alienating voters and could even face "annihilation" as a result, while party grandees Lord Mandelson and Alastair Campbell have both unsuccessfully attempted to wrest the initiative in favour of Corbyn's rivals.

What had threatened to be a dull and predictable contest to replace the lacklustre Ed Miliband, who led his party to defeat in the UK's May general election, has been enlivened by the presence of the one-time 'rank outsider' taking on former government ministers Andy Burnham and Yvette Cooper, who both vied for coronation as unifying frontrunners following's Labour's defeat and Cameron's surprise parliamentary majority.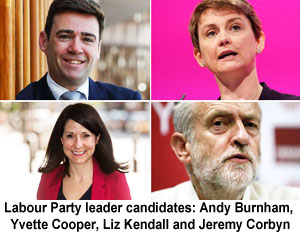 Corbyn was only able to enter the race at the 11th hour thanks to garnering the nominations of other MPs (including those with no intention to vote for him), in particular London MPs Sadiq Khan and David Lammy, both hopefuls for the party ticket for next May's London mayoral election who had hoped to court the capital's left.

The emergence of Corbyn as the race's surprise frontrunner has caused rival candidates to abruptly shift their own policy platforms to the left, particularly around devolution and cities policy. Following Labour's timid approach to decentralization to English cities ahead of the May general election under Miliband, support for the Conservatives' proposed legislation to provide for elected 'metro mayors' and 'devolution deals' for metropolitan areas had gained traction as drawing a line under the party's perceived lack of radicalism. The Burnham, Cooper and Kendall camps all previously endorsed UK Chancellor (finance minister) George Osborne's city devolution plans (given further impetus by former Goldman Sachs chief economist and urban devolution advocate Jim O'Neill, a UK Treasury minister since the election) to varying extents.

However, Corbyn has since signalled that as Labour leader he would not support the government's so-called 'Northern Powerhouse' plans to rebalance the UK economy away from London and instead called for the "reindustrialisation" of the North of England and replacing the current Local Enterprise Partnerships (public-private sector committees with no legal powers) with stronger economic development structures as part of a robust anti-austerity platform. Corbyn said the Treasury plans, which had drawn intellectual cover from most of the UK's local government think tanks and policy elite, were a "cruel deception" and should instead focus on investment in housing, public transport and the arts.

Ballot papers for the party leadership contest, which will be selected for the first time by a French-style online primary system (rather than the previous 'electoral college' consisting of trade union affiliates, parliamentarians and party members), were issued this week, with the result announced at a special conference on September 12. Corbyn has received the highest number of local party endorsements with 152, while Burnham and Cooper obtained 111 and 109 respectively, with 'Blairite' Liz Kendall on just 21. Corbyn is also backed by most of Labour's trade union affiliates, including the public service Unite, Unison and Transport Salaried Staff's Association.

However, any eventual victory by Corbyn, chair of the UK's Stop the War Coalition, may be short-lived as he has pledged to reintroduce annual re-elections for the party's leadership, as well as the previous parliamentary ballots for the party's shadow cabinet. In 2016 the party faces difficult elections to the Scottish Parliament, where the separatist Scottish National government remains popular following a spectacular rout of all but one of the once-dominant Labour's seats in the May election, and London, where two-term mayor Boris Johnson (now a parliamentarian and party leadership hopeful himself) is standing down. Former Labour mayor of London Ken Livingstone is enthusiastically backing long-time ally Corbyn for the national leadership, as well as Sadiq Khan for the mayoral ticket (rather than Diane Abbott, who has attempted to ride 'Corbyn-mania' for her own benefit). Livingstone's former chief of staff Simon Fletcher is now the lynch-pin of the Corbyn campaign.

As well as vocal critics of Corbyn's occasional and tacit support for regimes in Iran, Russia and Venezuela, a number of English city leaders, most notably Manchester's Sir Richard Leese, have accused the usurper of failing to understand what "Labour in the North is doing" by its working with the Conservative government on devolution. Readers of City Mayors may also recall 2004 World Mayor prize runner-up Mexico City's Andrés Manuel López Obrador ('AMLO'), who later went on to be narrowly defeated in Mexico's 2006 presidential elections by Felipe Calderón and for whom Corbyn attended an 'alternative inauguration' as 'legitimate president'.