ENVIRONMENT

Germany's greenest cities
By City Mayors Research*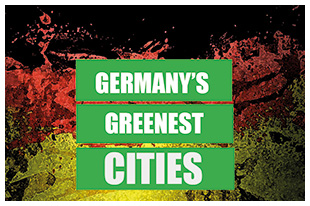 ON THIS PAGE: Green spaces dominate German cities | Table: Germany's greenest cities | Research methodology

ON OTHER PAGES: American cities save money by replacing obsolete urban infrastructure with green spaces

WORLD MAYOR 2023: The 2023 World Mayor Prize is dedicated to Friendship between Cities. The Honours will be awarded to mayors and cities that have made outstanding contributions to friendship, partnership and cooperation between towns and cities at home and across borders. PLEASE ELECT YOUR CANDIDATES




Green spaces dominate
Germany's largest cities
June 2022: Almost 70 per cent of the land areas of Germany's largest cities are devoted to parks, woodlands, fields and private gardens. With green spaces making up 86 per cent of its urban area, Siegen, in North-Rhine Westphalia, is the 'greenest' German city. Ludwigshafen, home to BASF, the world's largest chemical company, is the least green of Germany's 79 Großstädte, cities with more than 100,000 inhabitants. There are 17 cities where green spaces make up 80 per cent or more of their land areas. The list of 17 includes university cities like Aachen, Freiburg, Saarbrücken and Münster. The German capital Berlin is placed 63rd in the overall table, while Hamburg, Munich and Cologne are ranked 39th, 74th and 65th respectively.

With an aera of 3.7 square kilometres, Munich's Englischer Garten is Germany's largest city park. Berlin's Tiergarten, Europe's largest wildlife park, ranks second.

The land area of all of Germany's largest 79 cities totals, cities with more than 100,000 residents, 13,564 square kilometres, equivalent to the size of Montenegro, while their green spaces amount to 9,457 sq km, an area roughly the size of Cyprus. Green spaces include parks, woodland and agricultural land within city borders and also private gardens.


Germany's greenest cities


Rank

City
Population

Total area
in sq km (1)

Green spaces
in sq km (2)

Green spaces
(% of total area)

1

Siegen
103,000

115

99

86%

2

Göttingen
117,000

117

99

85%

3

Bergisch Gladbach
112,000

83

70

84%

4

Salzgitter
104,000

224

188

84%

5

Pforzheim
126,000

98

82

83%

6

Aachen
249,000

161

133

82%

7

Hildesheim
102,000

93

76

82%

8

Freiburg
231,000

153

125

82%

9

Hagen
189,000

160

130

81%

10

Saarbrücken
179,000

167

136

81%

11

Bielefeld
333,000

258

209

81%

12

Münster
316,000

303

245

81%

13

Paderborn
152,000

179

143

80%

14

Hamm
179,000

226

181

80%

15

Jena
111,000

114

91

80%

16

Remscheid
111,000

75

60

80%

17

Reutlingen
116,000

87

69

80%

18

Trier
112,000

117

92

79%

19

Wolfsburg
124,000

204

161

79%

20

Rostock
209,000

181

143

79%

21

Chemnitz
244,000

221

174

79%

22

Solingen
159,000

90

71

79%

23

Lübeck
216,000

214

167

78%

24

Wiesbaden
279,000

204

159

78%

25

Wuppertal
355,000

168

130

78%

26

Ulm
126,000

119

92

77%

27

Kassel
201,000

107

81

75%

28

Braunschweig
249,000

192

144

75%

29

Mönchengladbach
260,000

170

125

74%

30

Oldenburg
170,000

103

76

74%

31

Bottrop
117,000

101

74

73%

32

Koblenz
113,000

105

76

73%

33

Mülheim/Ruhr
171,000

91

66

73%

34

Bonn
331,000

141

102

72%

35

Darmstadt
159,000

122

88

72%

36

Heidelberg
159,000

109

79

72%

37

Ingolstadt
137,000

133

95

72%

38

Augsburg
296,000

147

105

72%

39

Hamburg
1,851,000

755

539

71%

40

Kiel
247,000

119

85

71%

41

Heilbronn
127,000

100

71

71%

42

Reckinghausen
111,000

66

47

71%

43

Dortmund
588,000

281

199

71%

44

Osnabrück
164,000

120

85

71%

45

Stuttgart
630,000

207

145

70%

46

Bochum
365,000

146

101

69%

47

Dresden
556,000

328

228

69%

48

Würzburg
127,000

88

61

69%

49

Potsdam
182,000

188

130

69%

50

Krefeld
227,000

138

95

69%

51

Bremen
567,000

325

222

68%

52

Essen
582,000

210

143

68%

53

Moers
104,000

68

45

66%

54

Hannover
534,000

204

133

65%

55

Offenbach
131,000

45

29

65%

56

Karlsruhe
308,000

173

111

64%

57

Gelsenkirchen
259,000

105

67

64%

58

Mainz
217,000

98

62

64%

59

Leverkusen
164,000

79

50

64%

60

Bremerhaven
114,000

94

58

62%

61

Neuss
153,000

100

61

61%

62

Erlangen
112,000

77

46

60%

63

Berlin
3,664,000

892

526

59%

64

Oberhausen
210,000

77

45

59%

65

Cologne
1,083,000

405

237

58%

66

Herne
157,000

51

30

58%

67

Frankfurt/Main
764,000

248

144

58%

68

Duisburg
496,000

233

132

57%

69

Düsseldorf
620,000

217

123

57%

70

Magdeburg
236,000

201

109

54%

71

Erfurt
214,000

269

143

53%

72

Regensburg
152,000

81

43

53%

73

Fürth
128,000

63

33

52%

74

Munich
1,488,000

310

155

50%

75

Halle
238,000

135

66

49%

76

Nürnberg
515,000

186

89

48%

77

Mannheim
310,000

145

64

44%

78

Leipzig
597,000

297

126

42%

79

Ludwigshafen
173,000

78

27

35%

TOTAL / GERMAN AVERAGE

13,564
sq kms

9,457
sq kms

69%

Sources and research methodology:
(1) The research used the size of urban areas provided by municipal websites as well as relevant Wikipedia pages.

(2) The green spaces research was carried out the Berliner Morgenpost using 185 satellite images.

(3) The population figures date from 2020.


© Copyright: All content of the City Mayors and World Mayor websites are protected by worldwide copyright. Please contact the editor if you wish to use any material from the City Mayors, World Mayor or Women Mayors websites.