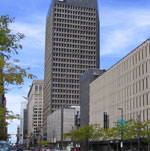 The Cleveland Trust Company building considered the "ugliest building in town"




FRONT PAGE
SiteSearch
About us
Directories
Events

Preserving modernist buildings
Gentrification of US cities
USA Census 2010
Revitalizing US cities
Key to rightsizing cities
Rightsizing US cities
USA: Livable communities
Urban ecological footprint
Demolition - New Orleans
Urban sprawl - USA
US infrastructure problems
Cycling in US cities


City Mayors reports news from towns and cities around the world. Worldwide | Elections | North America | Latin America | Europe | Asia | Africa |




Mayors from The Americas, Europe. Asia, Australia and Africa are competing for the annual World Mayor Award. More




City Mayors ranks the world's largest as well as richest cities and urban areas. It also ranks the cities in individual countries, and provides a list of the capital cities of some 200 sovereign countries. More




City Mayors reports political events, analyses the issues and depicts the main players. More




City Mayors describes and explains the structures and workings of local government in Europe, The Americas, Asia, Australia and Africa. More




City Mayors profiles city leaders from around the world and questions them about their achievements, policies and aims. More




City Mayors deals with economic and investment issues affecting towns and cities. More




City Mayors reports on how business developments impact on cities and examines cooperation between cities and the private sector. More




City Mayors describes and explains financial issues affecting local government. More




City Mayors lists and features urban events, conferences and conventions aimed at urban decision makers and those with an interst in cities worldwide. More




City Mayors reports urban environmental developments and examines the challenges faced by cities worldwide. More




City Mayors reports on and discusses urban development issues in developed and developing countries. More




City Mayors reports on developments in urban society and behaviour and reviews relevant research. More




City Mayors deals with urban transport issues in developed and developing countries and features the world's greatest metro systems. More




City Mayors examines education issues and policies affecting children and adults in urban areas. More




City Mayors investigates health issues affecting urban areas with an emphasis on health in cities in developing countries. More




City Mayors examines the importance of urban tourism to city economies. More




City Mayors examines the contributions history and culture make to urban society and environment. More




City Mayors describes the history, architecture and politics of the greatest city halls in the world. More




City Mayors invites readers to write short stories about people in cities around the world. More




City Mayors questions those who govern the world's cities and talks to men and women who contribute to urban society and environment. More




City Mayors profiles national and international organisations representing cities as well as those dealing with urban issues. More




City Mayors reports on major national and international sporting events and their impact on cities. More




City Mayors lists cities and city organisations, profiles individual mayors and provides information on hundreds of urban events. More


US debates the preservation
of recent modernist buildings
By Tony Favro, USA Editor
17 October, 2007: The baby boom in the United States began in 1946 and lasted until around 1960. Four million children were born each year during this period, more than double the number of the previous two decades. One way the US government responded to rapid post-World War II population growth was by offering low-interest, federally-guaranteed home mortgages.

Add your comment and observations

During the 1950s, 15.1 million new single-family homes were built. This affordable housing for returning war veterans and young workers helped fuel the nation's industrial expansion. The less of their incomes American families paid for shelter, the more they could use to purchase the products manufactured by burgeoning factories, which in turn created more jobs and more economic expansion.

Low-cost government financing for post-war residential development did not come without restrictions. Developers had to follow strict design guidelines to qualify their projects for federal mortgage loans. Rather than the dense, mixed-use neighborhoods of the pre-war years, priority was now given to low-density, car-oriented development, where single-family homes were separated from shops and services. Function and price trumped beauty and style. The frequent result was sprawling subdivisions of nearly-identical, "cookie-cutter" houses along wide, treeless and sidewalk-free streets.

The National Historic Preservation Act was created in 1966 to help local governments save pre-World War II neighborhoods and architecturally or historically significant "landmark" buildings that were threatened by sprawl. A structure had to be at least 50 years old to be eligible for landmark status.

Now post-war development has reached the age of 50, and US mayors and preservationists are questioning what is truly "historic."

The issue has policy implications. When a building receives historic status, it gains legal protection from demolition and major exterior alterations. It also becomes eligible for federal and state grants and tax credits. These funds can be an important driver of community redevelopment and renewal.

Several cities such as Los Angeles, Chicago and Arlington (Texas) are conducting surveys of buildings constructed in the past 50 years to determine what is worth preserving. The process utilized by the Landmark Society of Western New York is a model of how rigorous surveys are being managed. The Landmark Society is based in Monroe County, New York, one of the fastest-growing counties in the country during the 1960s.

The Landmark Society is working closely with local architects and contractors to identify and catalogue resources from the recent past that are eligible for historic designation and protection. "It's an objective process," says Executive Director Joanne Arany. "We follow the guidelines of the US Department of the Interior to identify distinct styles and distinct architects."

Preservationists want to protect not only homes, but also strip shopping malls, offices, and public buildings from the 1950s. Built in the modernist style, these structures are generally boxy and lack ornamentation and endearing details like columns and arches.

Boston's City Hall, for example, is perhaps the most controversial building in the city, loved by architects and reviled by the public. Architecture critic Edwin Heathcote calls it "a landmark example of modernism" and advocates saving the building. Boston Mayor Thomas Menino prefers moving municipal offices to another location and selling the site to developers who could raze it.

For many, the modernist era was an unfortunate period in American history. Modernism symbolizes the proclivity to centralized land use planning – called "urban renewal" -- that characterized American politics in the 1950s and 60s. Throughout the 50s and 60s, healthy urban neighborhoods were destroyed and replaced by large modernist buildings. Rather than forming part of the urban fabric, modernist structures stood aloof like individual sculptures.

Middle class residents of urban neighborhoods displaced by these buildings followed federal subsidies to suburban residential subdivisions; poor and minority residents, ineligible for federal mortgages because of their low incomes and the racist policies of the time, were forced into urban slums. The result was the radical polarization of the American landscape into sharp divisions between urban and suburban; black and white; rich and poor.

Some see irony in attempting to save buildings that may represent all that is now considered bad in American urban planning. Newspapers in many US cities routinely run articles about "how wonderful downtown used to be" before the homes and shops were supplanted by highways, oversized buildings, and parking lots. Moreover, preservation battles often assume a populist versus elitist posture.

When former Dallas Mayor Laura Miller proposed demolishing the modernist Stadler Hilton hotel she had strong public support, but backed down in the face of opposition by small but powerful advocacy groups. Ironically, these same groups- arbiters of pedestrian-friendly architectural design and "smart growth" planning - would never allow a building like the Stadler to be built in downtown Dallas today.

Joanne Arany suggests that the irony is misplaced: "Our job as preservationists is to recognize and preserve resources that are currently undervalued." If an appreciation of the past and a preservation ethic had been stronger 50 years ago, she observes, perhaps the US could have avoided the worst excesses of sprawl and urban renewal.

This conviction, however, does not make the job easier for preservationists in our current era in which modernist buildings often fail to capture the public's imagination and many remember with nostalgia the landscapes these buildings replaced.

Like Boston's City Hall and Dallas' Stadler Hilton, the Cleveland Trust Company in Cleveland, Ohio is popularly considered the "ugliest building in town." Cleveland Trust was designed by Marcel Breuer according to standards that are now discredited. Local political leaders voted to knock down the vacant 29-story tower for new government offices. But demolition of the monolithic, precast-concrete-clad structure is staunchly opposed by activist groups which otherwise make their livings advocating for human-scale design.

Like many modernist buildings, Cleveland Trust contains asbestos – widely used as insulation in the 1950s and 60s – and thus fuels a related debate. Should scarce historic preservation tax credits and grants be used for environmental remediation, or are these financial incentives more wisely applied to uncontaminated buildings of earlier eras?

The debate will only grow in America. As Richard Moe, president of the National Trust for Historic Preservation, told the Chicago Tribune: "The simple fact, although it's sometimes hard to grasp, is that modernism is becoming historic. It's a tough fight, and it's happening in every part of the country."


---
Comment & Debate
City Mayors is inviting its readers to engage in a debate on the issues raised in the article on this page. Please post your comments below. Your comments should deal with the topics of this article and must be legal and ethical. You may also reply to and/or challenge comments of other readers. While we endeavour to publish all relevant comments, we reserve the right to edit them and to reject unsuitable contributions.
Please add your comment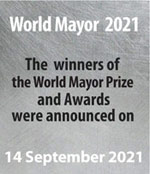 The best Mayors for Stronger | Fairer | Greener cities. Elect your candidate for the 20/21 World Mayor Prize and Honours. The Prize has been awarded since 2004.