Mayors' Institute on City Design
1620 Eye Street, NW
3rd Floor
Washington DC
20006-4005
USA
Tel: +1 202.463.1390
Fax: +1 202.463.1392
Email:
micdinfo@micd.org
Internet:
www.archfoundation.org/
micd



FRONT PAGE
SiteSearch
About us
Directories



International
United Cities
Sister Cities International
Glocal
Mayors for Peace

The Americas
Canadian Municipalities
Association of Mexican cities
Conference of Black Mayors
National Urban League
National League of Cities
US Conference of Mayors
Mayors' Institute on City Design
ICLEI

Europe
Austrian Cities Association
French Association of Mayors
German Cities Association
UK LGA

Asia & Australia
Australia ALGA

Africa
Africa MDP




City Mayors reports news from towns and cities around the world. Worldwide | Elections | North America | Latin America | Europe | Asia | Africa | Events |




Mayors from The Americas, Europe. Asia, Australia and Africa are competing for the annual World Mayor Award. More




City Mayors ranks the world's largest as well as richest cities and urban areas. It also ranks the cities in individual countries, and provides a list of the capital cities of some 200 sovereign countries. More




City Mayors lists and features urban events, conferences and conventions aimed at urban decision makers and those with an interst in cities worldwide. More




City Mayors reports political events, analyses the issues and depicts the main players. More




City Mayors describes and explains the structures and workings of local government in Europe, The Americas, Asia, Australia and Africa. More




City Mayors profiles city leaders from around the world and questions them about their achievements, policies and aims. More




City Mayors deals with economic and investment issues affecting towns and cities. More




City Mayors reports on how business developments impact on cities and examines cooperation between cities and the private sector. More




City Mayors describes and explains financial issues affecting local government. More




City Mayors reports urban environmental developments and examines the challenges faced by cities worldwide. More




City Mayors reports on and discusses urban development issues in developed and developing countries. More




City Mayors reports on developments in urban society and behaviour and reviews relevant research. More




City Mayors deals with urban transport issues in developed and developing countries and features the world's greatest metro systems. More




City Mayors examines education issues and policies affecting children and adults in urban areas. More




City Mayors investigates health issues affecting urban areas with an emphasis on health in cities in developing countries. More




City Mayors examines the contributions history and culture make to urban society and environment. More




City Mayors describes the history, architecture and politics of the greatest city halls in the world. More




City Mayors invites readers to write short stories about people in cities around the world. More




City Mayors questions those who govern the world's cities and talks to men and women who contribute to urban society and environment. More




City Mayors profiles national and international organisations representing cities as well as those dealing with urban issues. More




City Mayors reports on major national and international sporting events and their impact on cities. More




City Mayors lists cities and city organisations, profiles individual mayors and provides information on hundreds of urban events. More


US forum dedicated to
improving urban design
12 October 2003: The Washington-based Mayors' Institute on City Design (MICD) is a program dedicated to improving the design of, and livability in, America's cities through the efforts of their chief elected leaders, their mayors. The program is an initiative of the National Endowment for the Arts (NEA), established in 1986 and now administered by the American Architectural Foundation (AAF) in partnership with the NEA and the US Conference of Mayors.

The Institute hosts a series of symposiums, each lasting two-and-a-half days, on city design organized around presentations and roundtable discussions. Participation is limited to fewer than 20 persons, half mayors and half a resource team made up of outstanding urban design and development professionals. At each meeting, participants discuss specific problems facing cities during a series of roundtable discussions. Participating mayors present design issues currently facing their cities such as waterfront redevelopment, downtown revitalization and new public buildings such as sports or arts facilities. Following each presentation, mayors and designers identify issues, offer suggestions, and discuss alternative paths towards a solution. The interchange sparks lively debate, opens new perspectives, and generates creative ideas. Members of the resource team also make presentations on the role of their profession in the process of city design, illustrated by outstanding examples and best practices.

During the Institute's 15-year history, more than 500 mayors and 400 design professionals have participated. Mayors who have attended credit the experience as transforming the way they look at their cities. One alumnus, Mayor William A. Johnson of Rochester, NY, states: "In more than 33 years of professional experience, no program or learning experience has been more beneficial to me than this one." The Institute also been recognized with a number of awards, including a Presidential Award for Design Excellence in 2000, a Progressive Architecture award from Architecture magazine in 1997, and an Institute Honor Award from the American Institute of Architects in 1992.

The Mayors' Institute on City Design is a leadership initiative of the National Endowment for the Arts (NEA) which provides core funding. Program oversight is provided by the NEA in partnership with the US Conference of Mayors. Since 1998, the program has been administered by the American Architectural Foundation (AAF). Through a cooperative agreement with the NEA, the AAF maintains the Institute's National Office and directs two institute sessions per year. Previous co-operators have been the University of Virginia (1986 to 1995), and the Harvard University Graduate School of Design (1995 to 1998). Four additional Institute sessions each year are sponsored by the Institute's university partners, schools of architecture and planning around the country, with funding and oversight from the AAF and the MICD National Office.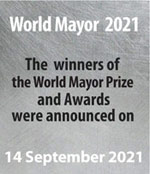 The best Mayors for Stronger | Fairer | Greener cities. Elect your candidate for the 20/21 World Mayor Prize and Honours. The Prize has been awarded since 2004