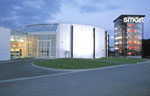 The Smart plant in Hambach, eastern France

Smart GmbH
Leibnizstraße 2
71032 Böblingen
Germany
Tel: +49 7031 90 76 200
Internet: www.smart.com

ÖKO-TREND
Institut für Umweltforschung und -beratung
Technologiezentrum W-tec
Müngstener Str. 10
42285 Wuppertal
Germany
Tel: +49 202 247 17 30
Fax: +49 202 247 17 31
E-Mail:
info@oeko-trend.de
Internet:
www.oeko-trend.de



FRONT PAGE
SiteSearch
About us
Directories

Hydrogen buses
Traffic congestion in the US
Emergency call systems
ICLEI Energy Services
Urban pollution


City Mayors reports news from towns and cities around the world. Worldwide | Elections | North America | Latin America | Europe | Asia | Africa | Events |




Mayors from The Americas, Europe. Asia, Australia and Africa are competing for the annual World Mayor Award. More




City Mayors ranks the world's largest as well as richest cities and urban areas. It also ranks the cities in individual countries, and provides a list of the capital cities of some 200 sovereign countries. More




City Mayors reports political events, analyses the issues and depicts the main players. More




City Mayors describes and explains the structures and workings of local government in Europe, The Americas, Asia, Australia and Africa. More




City Mayors profiles city leaders from around the world and questions them about their achievements, policies and aims. More




City Mayors deals with economic and investment issues affecting towns and cities. More




City Mayors reports on how business developments impact on cities and examines cooperation between cities and the private sector. More




City Mayors describes and explains financial issues affecting local government. More




City Mayors lists and features urban events, conferences and conventions aimed at urban decision makers and those with an interst in cities worldwide. More




City Mayors reports urban environmental developments and examines the challenges faced by cities worldwide. More




City Mayors reports on and discusses urban development issues in developed and developing countries. More




City Mayors reports on developments in urban society and behaviour and reviews relevant research. More




City Mayors deals with urban transport issues in developed and developing countries and features the world's greatest metro systems. More




City Mayors examines education issues and policies affecting children and adults in urban areas. More




City Mayors investigates health issues affecting urban areas with an emphasis on health in cities in developing countries. More




City Mayors examines the importance of urban tourism to city economies. More




City Mayors examines the contributions history and culture make to urban society and environment. More




City Mayors describes the history, architecture and politics of the greatest city halls in the world. More




City Mayors invites readers to write short stories about people in cities around the world. More




City Mayors questions those who govern the world's cities and talks to men and women who contribute to urban society and environment. More




City Mayors profiles national and international organisations representing cities as well as those dealing with urban issues. More




City Mayors reports on major national and international sporting events and their impact on cities. More




City Mayors lists cities and city organisations, profiles individual mayors and provides information on hundreds of urban events. More



This is an archived article published in October 2003
Smart cars achieve top
ratings in ecology survey

The Smart product range has notched up a significant success. After assessing more than 1,000 production cars, the environmental institute Öko-Trend, based in Wuppertal (Germany), ranked the Smart city-coupé and Smart roadster among the ten most environmental-friendly cars in Germany in 2003. The Smart city-coupé took third place in the overall Öko-Trend car ecology ranking 2003, and the newly-launched Smart roadster came sixth. Volkswagen's Lupo 3L TDI was rated the most ecological car in Germany, followed by the Audi A2 1.2 TDI.

For Smart, the individual ratings in the sub-categories were particularly encouraging. The Smart cabrio and Smart roadster came first and second respectively in the 'cabriolet' segment, ahead of the Volkswagen New Beetle Cabrio. Furthermore, the Smart roadster-coupé came top in the 'coupé' category and the Smart city-coupé came second in the 'minicar' segment.

Öko-Trend told City Mayors that the Smart roadster combined the pleasure of open-top driving with extremely good environment-friendly characteristics. The car was praised for its low emission engine and low weight. The environmentally friendly production of this model earned the roadster additional points. "The relatively new Smart manufacturing plant in Hambach, eastern France, was designed to make car production as ecologically sound as possible," the report's authors said.

Since 1997 the Öko-Trend Institute has drawn up rankings to provide guidance to ecology minded car buyers. The analysis considers the preservation of resources in the production process, procurement and logistics. Fuel consumption and pollutant emissions are given a special weighting. Recycling and environmental management aspects are also considered in the assessment.

Smart President Andreas Renschler told City Mayors that achieving such a good result with Smart's whole current product range was a sensational success for the company. "Smart has attached great importance to environmental friendliness in all developments, production facilities and vehicle concepts since the company and the brand were founded. I am pleased that we have received such a fantastic acknowledgement of our efforts from an independent organisation," Mr Renschler added.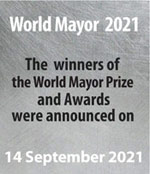 The best Mayors for Stronger | Fairer | Greener cities. Elect your candidate for the 20/21 World Mayor Prize and Honours. The Prize has been awarded since 2004