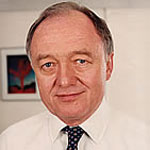 London Mayor Ken Livingstone will contest the 2004 London election for Labour. In 2000, he stood as an independent.




FRONT PAGE
SiteSearch
About us
Directories

English local elections 2014
London elections 2012
London elections 2008
British Mayors
Parish councils England
UK elections 2009
British local elections 2007
English local elections 2006
UK 2005 election - results
London government
City of London Corporation
Mayor of London
London Mayor could be disciplined
London congestion charge
UK local government


City Mayors reports news from towns and cities around the world. Worldwide | Elections | North America | Latin America | Europe | Asia | Africa | Events |




Mayors from The Americas, Europe. Asia, Australia and Africa are competing for the annual World Mayor Award. More




City Mayors ranks the world's largest as well as richest cities and urban areas. It also ranks the cities in individual countries, and provides a list of the capital cities of some 200 sovereign countries. More




City Mayors lists and features urban events, conferences and conventions aimed at urban decision makers and those with an interst in cities worldwide. More




City Mayors reports political events, analyses the issues and depicts the main players. More




City Mayors describes and explains the structures and workings of local government in Europe, The Americas, Asia, Australia and Africa. More




City Mayors profiles city leaders from around the world and questions them about their achievements, policies and aims. More




City Mayors deals with economic and investment issues affecting towns and cities. More




City Mayors reports on how business developments impact on cities and examines cooperation between cities and the private sector. More




City Mayors describes and explains financial issues affecting local government. More




City Mayors reports urban environmental developments and examines the challenges faced by cities worldwide. More




City Mayors reports on and discusses urban development issues in developed and developing countries. More




City Mayors reports on developments in urban society and behaviour and reviews relevant research. More




City Mayors deals with urban transport issues in developed and developing countries and features the world's greatest metro systems. More




City Mayors examines education issues and policies affecting children and adults in urban areas. More




City Mayors investigates health issues affecting urban areas with an emphasis on health in cities in developing countries. More




City Mayors examines the contributions history and culture make to urban society and environment. More




City Mayors describes the history, architecture and politics of the greatest city halls in the world. More




City Mayors examines the importance of urban tourism to city economies. More




City Mayors invites readers to write short stories about people in cities around the world. More




City Mayors questions those who govern the world's cities and talks to men and women who contribute to urban society and environment. More




City Mayors profiles national and international organisations representing cities as well as those dealing with urban issues. More




City Mayors reports on major national and international sporting events and their impact on cities. More




City Mayors lists cities and city organisations, profiles individual mayors and provides information on hundreds of urban events. More



This is an archived article published in February 2004
Small relief for Labour as
Livingstone wins in London

15 February 2004: After a humiliating day in the local elections in England and Wales, where they became the first party in government nationally to come third in the number of votes cast, Ken Livingstone provided some relief for the Labour Party as he retained his London mayoral seat.

His overall percentage of the vote after first and second preferences were counted was 35.7 per cent, while his Conservative rival Steve Norris got 28.2 per cent, with Liberal Simon Hughes third on 16.8 per cent

The nature of the elections on 10 June 2004 was underlined by the success of single issue protest parties. The anti-Iraq-War coalition, Respect, polled 6.2 per cent and the United Kingdom Independence Party, opposed to the UK's membership of the European Community, got six per cent. The far right British National Party edged the Greens by three per cent to 2.9.

Of some significance is the outcome of the London Assembly elections which took place in parallel to the mayoral election. The Conservatives are now the largest party, having held on to their total of nine seats, including taking the seat of Lord Toby Harris, the outgoing Leader of the Labour Group on the Assembly and the Chairman of the Metropolitan Police Authority. Labour lost a total of two seats, down to seven. The Liberal Democrats have five and the Greens and the UK Independence Party have two each.

In spite of Mr Livingstone polling 11 per cent more in the mayoral race than his party did in the Assembly, this will restrict his freedom of movement. The Assembly's role is to monitor the mayor's proposals and the new make-up may cause the mayor difficulties. Full results


The London Mayor's decision to rejoin
Labour set to become election issue
The race for London's mayor for the four years from 10 June 2004 has opened with the selection of Ken Livingstone as the official Labour Party candidate.

The Greater London Authority, with its elected Mayor and Assembly, dates only from May 2000, when the Labour government gave English cities the option to choose directly elected mayors, as part of a more general policy of regional devolution that included a Parliament for Scotland and an Assembly for Wales.

The first London mayoral election in 2000 was won by Mr Livingstone, who was previously leader of the Greater London Council (GLC) and, after the Council's forced close down by the then Conservative government, sat as a Labour Member of Parliament.

In early 2000, in a disputed internal Labour selection process, Ken Livingstone was beaten by Labour's preferred candidate, Frank Dobson, and responded by standing as an independent. He won subsequently the mayoral election in May 2000, and was promptly expelled from the Labour Party for five years, with Prime Minister Tony Blair predicting that his tenure would be "a disaster for London".

In spite of those developments and his opposition to the Government on issues such as the war in Iraq - he called George Bush 'the greatest threat to life on this planet that we've most probably ever seen' - university top-up fees, and the safety of the MMR triple vaccine, in late 2003 he was seen as the only candidate who stands a chance of winning for Labour in the 2004 London election.

In an interview, Tony Blair admitted that he now thought Ken Livingstone had been a success as Mayor of London. The scene was thus set for the Mayor's return to the Labour fold. What remains unclear is how Londoners will react to Ken Livingstone the Labour candidate as distinct from Ken the Independent. So far, the Mayor has been unable to explain convincingly why he has been so keen to rejoin a party many of whose policies he strongly opposed.

Because of his high profile, the London election looks set to revolve around his record and his decision to rejoin the Labour Party.

Since his readmission, however, a thaw in his relations with Blair's government seems to be in progress. They may allow Mr Livingstone to use his Transport Commissioner Bob Kiley's preferred method for funding London Underground and issue hundreds of millions of pounds' worth of bonds to finance major rail improvements in the British capital. In the mean time, on the other hand, the Government has succeeded in establishing the Public Private Partnership (PPP) for London Underground on which it had insisted. Under PPP, tracks and stations are operated by private companies, while the trains are run by publicly owned London Underground.

Ken Livingstone's best-known innovation was the £5 congestion charge for drivers entering central London, which enjoys wide support. It has been applauded by the Prime Minister, and has reduced traffic by some 10-15 per cent, with profits from the scheme being ploughed back into public transport. The London Mayor has also improved the quality of London's most used form of public transport - the bus. Transport for London (TfL) told City Mayors that 10 per cent more people are using the bus as part of an integrated transport policy since 2000. Each weekday, 2,500 London buses carry 5.4 million passengers on over 700 different routes.

Since 2000, police numbers in the capital have also increased. The Mayor's most recent tax proposals would fund further increases to 30,000 over the next two years.

Ken Livingstone's Conservative opponent, Steve Norris, opposes the congestion charge, claiming it cost £250 million to put in place and is already damaging the capital's retail business because 38 per cent fewer motorists drive in. Steve Norris is the only candidate of a major political party to call for scrapping the charge. The other two principal mayoral candidates, Simon Hughes, from the Liberal Democrats, and Darren Johnson, from the Green Party, largely support the Mayor's transport policies.

The only parties in 2000 who gained seats in the Greater London Assembly were Labour (30.3%), Conservatives (29.0%), Liberal Democrats (14.8%), and the Greens (11.1%).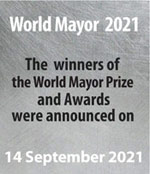 • Poverty is a crime against humanity
• Support mayors who fight poverty
• Nominate the best for the 2020 World Mayor Prize