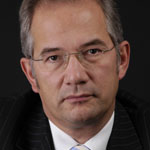 Karl-Heinz Merfeld, General Manager of the Cologne Tourist Board


Köln Tourismus GmbH
Overseas Marketing
Unter Fettenhennen 19
50667 Köln
Germany
Tel.: +49 (0)221 / 221 - 22008
Fax: +49 (0)221 / 221 - 23311
Internet:
www.koelntourismus.de
www.wjt2005.de




FRONT PAGE
SiteSearch
About us
Directories

Cologne Mayor
Cologne City Hall
Cologne's China marketing
German World Cup cities
German World Cup stadiums
The 2006 Football World Cup
Civic tourism
How London won the 2012 Olympics


City Mayors reports news from towns and cities around the world. Worldwide | Elections | North America | Latin America | Europe | Asia | Africa | Events |




Mayors from The Americas, Europe. Asia, Australia and Africa are competing for the annual World Mayor Award. More




City Mayors ranks the world's largest as well as richest cities and urban areas. It also ranks the cities in individual countries, and provides a list of the capital cities of some 200 sovereign countries. More




City Mayors reports political events, analyses the issues and depicts the main players. More




City Mayors describes and explains the structures and workings of local government in Europe, The Americas, Asia, Australia and Africa. More




City Mayors profiles city leaders from around the world and questions them about their achievements, policies and aims. More




City Mayors deals with economic and investment issues affecting towns and cities. More




City Mayors reports on how business developments impact on cities and examines cooperation between cities and the private sector. More




City Mayors describes and explains financial issues affecting local government. More




City Mayors lists and features urban events, conferences and conventions aimed at urban decision makers and those with an interst in cities worldwide. More




City Mayors reports urban environmental developments and examines the challenges faced by cities worldwide. More




City Mayors reports on and discusses urban development issues in developed and developing countries. More




City Mayors reports on developments in urban society and behaviour and reviews relevant research. More




City Mayors deals with urban transport issues in developed and developing countries and features the world's greatest metro systems. More




City Mayors examines education issues and policies affecting children and adults in urban areas. More




City Mayors investigates health issues affecting urban areas with an emphasis on health in cities in developing countries. More




City Mayors examines the importance of urban tourism to city economies. More




City Mayors examines the contributions history and culture make to urban society and environment. More




City Mayors describes the history, architecture and politics of the greatest city halls in the world. More




City Mayors invites readers to write short stories about people in cities around the world. More




City Mayors questions those who govern the world's cities and talks to men and women who contribute to urban society and environment. More




City Mayors profiles national and international organisations representing cities as well as those dealing with urban issues. More




City Mayors reports on major national and international sporting events and their impact on cities. More




City Mayors lists cities and city organisations, profiles individual mayors and provides information on hundreds of urban events. More


For one month Cologne will be home
from home for Brazilian football fans
An interview with Karl-Heinz Merfeld, Head of Cologne Tourism
15 January 2006: From 9 June to 9 July this year, Germany will host the 2006 Football World Cup, which will be staged in 12 German cities. The country's Rhine metropolis Cologne, where five World Cup games are scheduled to be played, will welcome teams from Angola, Portugal, the Czech Republic, Ghana, Sweden, England, Togo and France as well as two teams that made it into the second round of the competition. City Mayors' European Editor, Gregor Gosciniak, interviewed Karl-Heinz Merfeld, Chief Executive Officer of the Cologne Tourist Board, about his expectations and how Cologne marketed itself among Brazilian football fans.

City Mayors: Mr Merfeld, what benefits are you expecting from the World Cup for Germany?

Merfeld: The FIFA Football World Cup 2006 is not only expected to become a fantastic party and public relations event within the host cities, it is also expected to help the German economy out of its recent depression. The German Chamber of Commerce is very optimistic that the event will have a positive impact on economic growth in Germany.

According to a study recently published by the German Chamber of Commerce, the World Cup will create some 60,000 new jobs and give a real boost to Germany's economic growth. Out of all these jobs created, every third one is expected to be permanent.

The World Cup will be the world's most popular TV event and represents a globally known brand. The tournament is expected to open doors to even more international markets for the host country, which important for a country where many industries are highly dependent on exports.

The study was based on a survey of about 20,000 companies which found that most of the jobs will be created in the areas of hospitality management, advertising, professional security and short-term employment services - especially in gastronomy.

Small businesses are expecting a revenue increase of 2.2 billion euro during the course of the World Cup. Besides this, the host cities, the federal states and the federal government are keen to present Germany as an interesting, friendly, open, colourful country, which is a great host for visitors in general as well as an outstanding tourist and business destination. The City of Cologne will certainly benefit from these developments.

City Mayors: How exactly will the City of Cologne benefit?

Merfeld: In the short term, our city's economy will directly benefit from fans and visitors spending money in hotels, shops, restaurants and bars as well as on transport. This will produce an estimated additional income for Cologne's local economy of some 10 million euro.In the long term, Cologne will benefit from an improved reputation of being an international city of sport and events.

The World Cup represents fantastic public relations opportunity for our city. Tour operators, travel agencies and the whole tourism industry in Cologne and the region will benefit. In addition, the City of Cologne and the German Government are investing millions on public transport, improvement of roads and other ares of infrastructures. Cologne's sports infrastructure is being improved greatly - not only for our guests but also for residents. All of these measures will contribute to the success of the games as well as having long-lasting economic benefit.

City Mayors: How many fans and visitors are you expecting?

Merfeld: The games and the public festivals planned alongside the games will bring millions of guests to Germany and its host cities. Cologne is expecting about 500,000 additional visitors, including at least 4,000 guests from Brazil who will stay in our City throughout the whole tournament.

Of course, the number of visitors will depend on the games played: Angola versus Portugal will certainly not attract as many visitors as Sweden versus England, but each of the four matches played during the first round in Cologne will include one top European team.

This is important for us because Cologne can be reached easily from all European countries by car, rail or air. In addition to foreign fans, we are also expecting thousands of German football lovers from neighbouring cities such as Bonn and Düsseldorf to watch the games at one of the four huge public viewing screens in the city centre. The local people, of course, will not stay at home but join the football parties as well. And our 4,000 guests from Brazil will certainly contribute to an outstanding atmosphere. We are expecting Samba on the Rhine River!

City Mayors: Even though the Brazilian Team will not play in Cologne, the city was able to attract nearly all the fans from Brazil to stay within its city limits during the whole tournament. What caused the Brazilians to choose Cologne as their official host city?

Merfeld: Very early in 2004 we learned that a Brazilian Tour Operator would be allowed to sell a travel packages to Germany, including tickets to the games. We learned that this tour operator is the official partner of the Brazilian Football Association and we contacted them. During a large-scale site inspection throughout Germany last year the operator visited all the big German cities, including Cologne, to see which city would be a suitable destination for the fans from their country. My staff and I worked hard to convince the Brazilians of the clear benefits and advantages that Cologne could offer as a host city.

City Mayors: So from a tour operator's viewpoint, what are the benefits of Cologne?

Mr. Merfeld: Quite a few. For World Cup visitors, Cologne offers one very special advantage. Thanks to its central location, the cathedral city can be reached quickly and cost-effectively. This is made possible by the various low-cost airlines that serve Cologne/Bonn Airport. Furthermore, Cologne central station is one of the most important continental rail junctions. Cologne's excellent traffic connections also mean that the Brazilian fans and other visitors to the cathedral city can enjoy more World Cup matches than practically anywhere else in Germany.

Anyone who stays in Cologne, including the Brazilians, will be able to see not only the five matches staged in Cologne, but also have the opportunity of seeing games in other cities without excessive travel expenditure. In an hour by train from Cologne you can reach the World Cup cities of Frankfurt, Gelsenkirchen and Dortmund, where other first round, eighth-finals, quarter-finals as well as one semi-final will be played. Hamburg (first round and quarter-finals), Munich (first and eighth-finals, semi-final) and Berlin (first round, quarter-finals and final) can be reached with the low-cost airlines. This makes Cologne the ideal base.

Apart from this, Cologne has enough hotels of all categories to accommodate everyone. The Cologne Tourist Board has also guaranteed some additional services for the guests from Brazil. Restaurants and bars will provide Portuguese menus, information staff will be trained in Portuguese, all Brazilian guests will be provided with a leaflet including information about Portuguese-speaking pharmacy staff, doctors and so on. The tour operator expects us to provide an infrastructure that matches their guests – and we are working hard to do so.

Together with our Brazilian partner we organised a huge road show that took us into five Brazilian cities in September 2005. We met more than 1,000 Brazilian tour operators and media representatives. The road show was supported by Deputy Mayor Angela Spizig, who joined me and my Overseas Marketing Manager during the trip. We also attended the biggest tourism fair in South America - the ABAV in Rio de Janeiro in November 2005.

City Mayors: Why do you set such a great store on the fans from Brazil?

Merfeld: Three main reasons: To start with, the Brazilian team and the Brazilian fans do attract lots of media attention. So Cologne will certainly play a major role when it comes to broadcasts during the games. This, of course, is great for the reputation of our city and will help to transmit a positive image all over the world.

Because the fans from Brazil are coming from far away, they will stay much longer than, for example, most Europeans. They also support one of the best teams in the world which, we hope, will be one of the finalists – so the fans will stay as well, benefiting the economy. And then there is another important point: Brazil has a fast growing economy.

Since the overall economic situation in Brazil is improving and getting more stable, the number of Brazilians travelling to Europe is growing. Within Europe, Germany is already the third most popular destination for Brazilians. Before our efforts regarding the World Cup started in Brazil, the City of Cologne did not really play any role in the Brazilian travel market.

Today, every Brazilian tour operator and travel journalist knows Cologne – and talks about it as well. So we have made not only a first but also a second step towards a sustainable development within the Brazilian and Southern American tourist market. This, by the way, also opens doors to relationships and investment in other branches. After all, I believe our reaching out to Brazil is a good example of how cities and their tourism can obtain sustainable benefit from big events like the World Cup.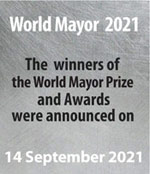 • Poverty is a crime against humanity
• Support mayors who fight poverty
• Nominate the best for the 2020 World Mayor Prize