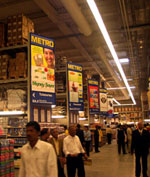 German cash & carry retailer Metro AG opened a number of stores in India and other Asian countries

Metro AG
Metro-Straße 1
40235 Düsseldorf
Germany
Tel: +49 211 6886-0
Email:
kontakt@metro.de
Internet:
www.metrogroup.de



FRONT PAGE
SiteSearch
About us
Directories

Chinese local government
Cologne's China Offensive
Historic cities in China
Nanjing architecture
South Korean Intelligent Cities
Big-box retailers
World's top shopping streets
Business stress worldwide


City Mayors reports news from towns and cities around the world. Worldwide | Elections | North America | Latin America | Europe | Asia | Africa | Events |




Mayors from The Americas, Europe. Asia, Australia and Africa are competing for the annual World Mayor Award. More




City Mayors ranks the world's largest as well as richest cities and urban areas. It also ranks the cities in individual countries, and provides a list of the capital cities of some 200 sovereign countries. More




City Mayors lists and features urban events, conferences and conventions aimed at urban decision makers and those with an interst in cities worldwide. More




City Mayors reports political events, analyses the issues and depicts the main players. More




City Mayors describes and explains the structures and workings of local government in Europe, The Americas, Asia, Australia and Africa. More




City Mayors profiles city leaders from around the world and questions them about their achievements, policies and aims. More




City Mayors deals with economic and investment issues affecting towns and cities. More




City Mayors reports on how business developments impact on cities and examines cooperation between cities and the private sector. More




City Mayors describes and explains financial issues affecting local government. More




City Mayors reports urban environmental developments and examines the challenges faced by cities worldwide. More




City Mayors reports on and discusses urban development issues in developed and developing countries. More




City Mayors reports on developments in urban society and behaviour and reviews relevant research. More




City Mayors deals with urban transport issues in developed and developing countries and features the world's greatest metro systems. More




City Mayors examines education issues and policies affecting children and adults in urban areas. More




City Mayors investigates health issues affecting urban areas with an emphasis on health in cities in developing countries. More




City Mayors examines the contributions history and culture make to urban society and environment. More




City Mayors describes the history, architecture and politics of the greatest city halls in the world. More




City Mayors invites readers to write short stories about people in cities around the world. More




City Mayors questions those who govern the world's cities and talks to men and women who contribute to urban society and environment. More




City Mayors profiles national and international organisations representing cities as well as those dealing with urban issues. More




City Mayors reports on major national and international sporting events and their impact on cities. More




City Mayors lists cities and city organisations, profiles individual mayors and provides information on hundreds of urban events. More


This archived article was published in October 2004
Foreign retail chains plan to open
stores in China's second-tier cities
A report by China Daily, with research by Tann vom Hove
October 2004: With the full opening-up of China's retail sector approaching, the world's leading retail chain have started fighting for market share in the country's second-tier cities. US-headquartered Wal-Mart, the world's biggest chain retailing operator signed a contract on 19 September 2004 with Yuxi, a city in Yunnan Province for land transfer, where Wal-Mart is to set up a supermarket in 2005.

Earlier, the US retailing conglomerate inked a similar agreement with Taiyuan, capital city of Central China's Shanxi Province. The moves show that Wal-Mart has begun penetration into second-tier cities. Reliable sources say that the US-based giant is currently involved in negotiations with 10 such cities.

However in comments made to China Daily, Wal-Mart expressed caution and declined to comment on the two contracts. "Full liberalization of the market will only be realized in three months, so it is not timely for us to say anything about it," said John Xu, director of external affairs for Wal-Mart China.

Other foreign retailers, including France's Carrefour, Metro AG of Germany and Thailand-based Lotus, are intending to test the waters in the second-tier cities.

Yu Shuhua, vice-director of Zhongshang Commercial Economy Research Centre, says that foreign retailers' decisions to expand to second-tier cities was partly based on their studies of first-tier cities, where the commercial market is now tending to saturation after a decade's development.

"Meanwhile, operation costs, involving land and labour, are comparatively low in the second-tier cities," Yu said.

In line with China's commitments to the World Trade Organization (WTO), the country will fully liberalize its retail market to foreign investors from 11 December 2004. So far, foreign retail enterprises are only allowed to extend their businesses to the municipalities, capital cities of provinces and autonomous regions and special economic zones.

Wang Yao, deputy secretary-general of the China General Chamber of Commerce, says loosening territorial limitations may further stimulate current serious competition in retail markets.

"Foreign retailers will possibly change the face of the sector in China and domestic retailers will be up against more challenges," said Mr Wang.

Statistics from the Ministry of Commerce show that, by the end of June, Carrefour had opened 50 outlets in China, with sales volume amounting to 7.761 billion yuan (US$935.06 million) during the first half of this year, ranking top among foreign retailers in China.

Wal-Mart has set up 39 chain stores in China and its sales volume reached 3.723 billion yuan (US$448.55 million) from January to June.

Wang said that the situation may change, as Carrefour's rapid expansion, to some extent, was based on illegal approval from some local governments, who advanced the market liberalization timetable because of local interest.

"When the territorial restrictions are lifted, foreign retailing operators will compete in a fair arena, hence results are deemed to reflect the retailers' actual strength," Wang said.

But Chinese commercial enterprises are, apparently, not too worried about the new round of competition in second-tier cities.

"We have prepared for several years for the full opening of the market and we have our own advantages in terms of understanding the local market and existing business networks," said Zhang Hongwei, chairman of the board of Orient Home, one of China's leading chains of home furnishing retailers.