Computer-generated image of the new Incheon International Airport




FRONT PAGE
SiteSearch
About us
Directories

South Korean Intelligent Cities
Linear cities
Japan post-tsunami development
Green mega cities
Seoul development
Cities' future
Issues facing megacities
S Korea - local government
St Etienne: Cité du Design
India's rapid urbanization
India needs new cities
Urban development in Asia
Urbanisation - threats and benefits
India's pavement dwellers under threat
Sustainable communities
Brasilia, Capital of Brazil
US built environment in 2030
New Urbanism
Slow Cities
The world's costliest cities
The world's most liveable cities
The world's largest cities
Urban slums


City Mayors reports news from towns and cities around the world. Worldwide | Elections | North America | Latin America | Europe | Asia | Africa | Events |




Mayors from The Americas, Europe. Asia, Australia and Africa are competing for the annual World Mayor Award. More




City Mayors ranks the world's largest as well as richest cities and urban areas. It also ranks the cities in individual countries, and provides a list of the capital cities of some 200 sovereign countries. More




City Mayors reports political events, analyses the issues and depicts the main players. More




City Mayors describes and explains the structures and workings of local government in Europe, The Americas, Asia, Australia and Africa. More




City Mayors profiles city leaders from around the world and questions them about their achievements, policies and aims. More




City Mayors deals with economic and investment issues affecting towns and cities. More




City Mayors reports on how business developments impact on cities and examines cooperation between cities and the private sector. More




City Mayors describes and explains financial issues affecting local government. More




City Mayors lists and features urban events, conferences and conventions aimed at urban decision makers and those with an interst in cities worldwide. More




City Mayors reports urban environmental developments and examines the challenges faced by cities worldwide. More




City Mayors reports on and discusses urban development issues in developed and developing countries. More




City Mayors reports on developments in urban society and behaviour and reviews relevant research. More




City Mayors deals with urban transport issues in developed and developing countries and features the world's greatest metro systems. More




City Mayors examines education issues and policies affecting children and adults in urban areas. More




City Mayors investigates health issues affecting urban areas with an emphasis on health in cities in developing countries. More




City Mayors examines the contributions history and culture make to urban society and environment. More




City Mayors examines the importance of urban tourism to city economies. More




City Mayors describes the history, architecture and politics of the greatest city halls in the world. More




City Mayors invites readers to write short stories about people in cities around the world. More




City Mayors questions those who govern the world's cities and talks to men and women who contribute to urban society and environment. More




City Mayors profiles national and international organisations representing cities as well as those dealing with urban issues. More




City Mayors reports on major national and international sporting events and their impact on cities. More




City Mayors lists cities and city organisations, profiles individual mayors and provides information on hundreds of urban events. More


South Korea is planning and building
high-tech cities to remain competitive
By Seo Jee-yeon, Korea Times
21 November 2004: South Korea is expected to have more globally competitive cities like Seoul in 10 years as three free economic zones (FEZs) nationwide are developing into international cities. "Free economic zones were launched as part of South Korea's survival strategies to cope with rising competition with other countries in the global economy,'' Lee Hwan-Kyun, CEO of the Incheon Free Economic Zone Authority (IFEZA) told The Korea Times.

With neighbouring China growing fast as a global manufacturing hub, South Korea, the world's 12th largest economy and Asia's third largest, has encountered limits in its manufacturing-driven economic growth.

"FEZs, which will be featured with globally competitive businesses and living conditions, have tasks to develop the nation's knowledge-based new growth engines, replacing manufacturing businesses, mainly by attracting foreign direct investment (FDI),'' Lee said.

Developing FEZs in Incheon, Gwangyang and Busan-Jinhae is also one of the South Korea's key strategies to prepare for the era of Northeast Asia, including Korea, Japan and China. The region has been emerging as a global economic powerhouse with a population of 1.5 billion, four times the population of Europe, accounting for nearly 20 per cent of global gross domestic production.

In a different aspect, the completion of the FEZ project also means South Korea will have more international cities nationwide.

Songdo City under construction in the Incheon FEZ is a model case for building a global city.

"Songdo is aimed at becoming a corporate hub in the Incheon FEZ, a bilingual English-Korean city where international schools and hospitals for foreigners are located and where international companies can obtain relief from Korean taxes and bureaucracy,'' Mr Lee said.

FDI will play a key role in realizing the project. For instance, US-based Gale, partnered with local steel maker POSCO, is in charge of developing Songdo City by 2020.

The other two FEZs are also driving up to attract FDI to transform cities in their zone into globally competitive ones for international businesses.

"To ensure the success of FEZs, what is more important than FDI attraction, is to pull off negative factors that are deeply rooted in Korea, including excessive regulations, soaring labor costs, labor strikes, political instability, expensive land prices, higher tax rates and anti-business sentiment,'' Lee said.

Lee advised the central government to provide the IFEZA with full support to the construction of infrastructure in the FEZ and to boldly ease regulations in areas related to living conditions such as educational and medical institutions. He said without world-class international schools and hospitals, foreigners would not invest in the IFEZ and other FEZs.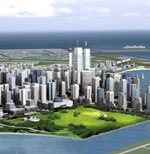 Computer-generated image of Songdo Intelligent City


Introducing Songdo Intelligent City
Songdo Intelligent City will be developed as a centre for Asia-Pacific multinational headquarters, global business, and a high value-added knowledge-based industrial complex. The British construction firm AMEC has signed a memorandum of understanding with the City of Incheon to build a Second Airport Bridge that will link Songdo Intelligent City and Incheon International Airport (IIA). The Second Airport Bridge will be completed by 2008.

The US-based Gale Company (leading developer and marketing agent) reached a real estate joint venture agreement with POSCO Engineering & Construction (construction manager),the second largest steel manufacturer in the world in March 2003, to develop Songdo Intelligent City as one of the world's largest urban centres to be built from the ground up.

The new partnership, called NSC, will be responsible for developing 1,364 acres of reclaimed land on the waterfront at a cost of more than US$12.7 billion. Songdo Intelligent City will be developed over an eight-year period. In the first phase, an international convention centre and 60-story world trade centre, 60 other office buildings, deluxe hotels, shopping malls, and golf course will be built by 2008. Currently under construction, 'Techno Park' will be completed by 2004 and the Korean Institute of Technology along with other research centres and venture start-ups will begin moving there in 2003. A Knowledge and Information Industrial Complex (2.65), and Bio Complex will also be built by 2008. U.S.-based VaxGen, a company noted for its AIDS vaccine, signed a contract in February 2002 with Korea Tobacco and Gingseng Corp. and Nexol Biotech (also of Korea) to set up a domestic joint venture named Celltrion that started construction for a research and development centre and manufacturing facilities in May 2002.

The area surrounding IIA were designated a customs free zone in October 2003 and efforts are under way to encourage global logistics firm investments including express cargo. Sufficient runway capacity will pave the way for a high-value-added air logistics base where high-end parts air-freighted from production centres in neighbouring countries can be assembled. The freight terminal will be expanded from the current 132,000 to 429,000 square meters by 2020.