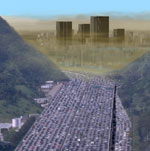 Different visions of transport in cities of the future




FRONT PAGE
SiteSearch
About us
Directories
Events

Issues facing megacities
America's megaregions
Linear cities
Green mega cities
India's rapid urbanization
Dharavi: Slum or model village
Personal rapid transit
Urbanisation 2008 to 2030
2012 Olympics: East London
Government & urbanisation
Cities' future
Cities and Planet Earth
Cities in the 21st century
Coastal floods threaten cities
World's most polluted places
Cities and biodiversity
India's urban time bomb
India needs new cities
Megacities - Africa
Megacities - Mumbai
The world's costliest cities
The world's most liveable cities
The world's largest cities
Urban slums


City Mayors reports news from towns and cities around the world. Worldwide | Elections | North America | Latin America | Europe | Asia | Africa | Events |




Mayors from The Americas, Europe. Asia, Australia and Africa are competing for the annual World Mayor Award. More




City Mayors ranks the world's largest as well as richest cities and urban areas. It also ranks the cities in individual countries, and provides a list of the capital cities of some 200 sovereign countries. More




City Mayors reports political events, analyses the issues and depicts the main players. More




City Mayors describes and explains the structures and workings of local government in Europe, The Americas, Asia, Australia and Africa. More




City Mayors profiles city leaders from around the world and questions them about their achievements, policies and aims. More




City Mayors deals with economic and investment issues affecting towns and cities. More




City Mayors reports on how business developments impact on cities and examines cooperation between cities and the private sector. More




City Mayors describes and explains financial issues affecting local government. More




City Mayors lists and features urban events, conferences and conventions aimed at urban decision makers and those with an interst in cities worldwide. More




City Mayors reports urban environmental developments and examines the challenges faced by cities worldwide. More




City Mayors reports on and discusses urban development issues in developed and developing countries. More




City Mayors reports on developments in urban society and behaviour and reviews relevant research. More




City Mayors deals with urban transport issues in developed and developing countries and features the world's greatest metro systems. More




City Mayors examines education issues and policies affecting children and adults in urban areas. More




City Mayors investigates health issues affecting urban areas with an emphasis on health in cities in developing countries. More




City Mayors examines the contributions history and culture make to urban society and environment. More




City Mayors examines the importance of urban tourism to city economies. More




City Mayors describes the history, architecture and politics of the greatest city halls in the world. More




City Mayors invites readers to write short stories about people in cities around the world. More




City Mayors questions those who govern the world's cities and talks to men and women who contribute to urban society and environment. More




City Mayors profiles national and international organisations representing cities as well as those dealing with urban issues. More




City Mayors reports on major national and international sporting events and their impact on cities. More




City Mayors lists cities and city organisations, profiles individual mayors and provides information on hundreds of urban events. More


Solving transport issues has
highest priority for megacities
A report by Siemens AG*
16 May 2007: Environmental issues play a central role in urban planning. However, in emerging megacities, infrastructure growth often takes precedence over the environment. This is just one of the key findings of a survey of 522 decision makers from 25 megacities. Solving transportation issues has the highest priority in the cities surveyed, and air pollution is seen as the main environmental issue.

The research project was conducted by the two research institutes GlobeScan and MRC McLean Hazel and supported by Siemens. Experts presented the results of the research in a press conference at the World Economic Forum in Davos for the first time. Survey respondents believe that the private sector should play a major role in city infrastructures like energy, water, transportation and health care: more than 70 per cent of them believe that public private partnerships are a promising approach.

Respondents see the enormous strain on the environment caused by the huge increase in the number of automobiles worldwide as a major urban issue. Air pollution and traffic are the most frequently named environmental challenges for megacities. In Shanghai alone, the number of cars and trucks is expected to quadruple by 2020. When push comes to shove, however, infrastructure growth takes precedence over the environment: 55 per cent of the respondents from emerging countries said they would sacrifice environmental protection for growth, as opposed to only 14 per cent of the respondents from industrialized countries. "If cities manage to harmonize economic attractiveness, clean environment and quality of life for their citizens, then they will drive growth in their region and be positioned for global competition," said Dr. Klaus Kleinfeld, President and CEO of Siemens AG, in Davos.

Still, the environment weighs heavily in solving the traffic problem. According to estimates from the World Health Organization (WHO), air pollution kills approximately 130,000 urbanites a year in industrializing countries. That's why 71 per cent of the traffic experts believe that cities will focus on building out mass transportation systems in the coming years. Only 29 per cent believe that automobile traffic will be given priority. A well functioning transportation system also determines a city's economic attractiveness. 27 per cent of the respondents named transportation as the main driver of their city's competitiveness, by far more than the second driver, safety and security, which was named by only nine per cent of the respondents. "Solving the transportation problem will be the foremost challenge for decision makers and the primary focus of municipal investment over the next five to ten years," said Doug Miller, President of GlobeScan.

The environment also plays a major role in the area of energy issues. 48 per cent of the energy experts said that they intended to focus on promoting sources of renewable energy in the next years. "In most countries, alternative energy contributes less than ten per cent to the total energy mix," said George Hazel, Managing Director of MRC McLean Hazel. Today, for example, the UK generates 39 per cent of its energy with gas, 35 per cent with coal, and 20 per cent with nuclear – renewable energy provides only four per cent of the total demand. "Considering the interviews, however, alternative sources of energy will have a bright future in megacities," he continued. By 2010, the UK wants to cover ten per cent of its electricity needs with renewable energy sources. Siemens Wind Power is currently building with Burbo Banks its first offshore wind park in Great Britain. Another project is the onshore wind park in Whitelee, which when completed will be the largest wind park in Europe. Kleinfeld: "Such projects deliver clean energy and will be increasingly more important in the future. We expect that by 2020 there will be 700 million tons fewer CO2 emissions due to the expansion of wind power."

To meet growing demand for mobility, power, energy and water in the long term, megacities must not only build out their infrastructures and use them more efficiently; they must also proactively manage demand. For instance, worldwide power consumption is expected to double between 2002 and 2030, especially due to the increased demand in rapidly growing countries like China and India. "Demand management is an approach that respondents do not appreciate enough yet," said Hazel.

The London toll system is an example of successful traffic management. Motorists pay an automatically charged fee in the city center area. Since its introduction in 2003, traffic jams have been reduced by 26 per cent on average, total traffic volume in the charging zones has decreased by 21 per cent, and delays have been shortened from 2.3 to 1.8 minutes per kilometer.

However, city government experts are aware of the fact that efficiency must be improved significantly. Eight out of ten respondents expect IT solutions to be implemented that make their work more efficient and transparent. Denmark offers a good example in this regard: electronic purchasing systems help the Danish government save taxpayers US$188 million annually. More than half of the specialists surveyed consider improving city management more important than boosting city spending, which was named by only twelve per cent. More and more, city officials are evolving from administrators of public institutions to active, efficiency-oriented managers of municipal services. "The more efficiently cities are managed, the better they can contribute to the well-being and quality of life of their citizens," said Kleinfeld.

The survey also investigated how privatization can contribute to solving the problems of urbanization. Over 70 per cent of the respondents are interested in public private partnerships (PPP). Surprisingly more than 60 per cent of the respondents expect greater efficiency to result from private sector involvement. "Issues related only to financing are secondary to governance," said Miller. Bangalore International Airport is an example of a successful public private partnership; it's India's first airport project that is co-financed by the private sector.

*Survey methodology
About the survey method used for the Megacity Report: The results of the survey reflect the opinions of a total of 522 respondents from 25 major metropolitan areas in Africa, Asia, the Americas and Europe. Respondents include selected political leaders, city government employees, urban planners, representatives of infrastructure providers, construction companies, financiers and opinion leaders, such as academics, NGO representatives and journalists. During October and November 2006, the respondents were asked what impact they expect rapid urbanization to have and how they intend to harmonize economic attractiveness, quality of life and environmental protection.
To view a summary of the Megacity Report and photographs of megacities, go to www.siemens.com/presse/megacities.