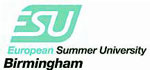 More information about the European Summer University:
www.birmingham.gov.uk
/esu.bcc





FRONT PAGE
Site Search
About us | Quiénes somos |
A propos de nous | Über uns |
Mayor Monitor
Directories
Events
Debate



US education 2042
US mayors and schools
US public school integration
US military schools
Denver's pre-k programme
Banned books in US schools
Social services in US schools
World education
Mayors take over US city schools
Green schools


City Mayors reports news from towns and cities around the world. Worldwide | Elections | North America | Latin America | Europe | Asia | Africa | Events |




Mayors from The Americas, Europe. Asia, Australia and Africa are competing for the annual World Mayor Award. More




City Mayors ranks the world's largest as well as richest cities and urban areas. It also ranks the cities in individual countries, and provides a list of the capital cities of some 200 sovereign countries. More




City Mayors reports political events, analyses the issues and depicts the main players. More




City Mayors describes and explains the structures and workings of local government in Europe, The Americas, Asia, Australia and Africa. More




City Mayors profiles city leaders from around the world and questions them about their achievements, policies and aims. More




City Mayors deals with economic and investment issues affecting towns and cities. More




City Mayors reports on how business developments impact on cities and examines cooperation between cities and the private sector. More




City Mayors describes and explains financial issues affecting local government. More




City Mayors lists and features urban events, conferences and conventions aimed at urban decision makers and those with an interst in cities worldwide. More




City Mayors reports urban environmental developments and examines the challenges faced by cities worldwide. More




City Mayors reports on and discusses urban development issues in developed and developing countries. More




City Mayors reports on developments in urban society and behaviour and reviews relevant research. More




City Mayors deals with urban transport issues in developed and developing countries and features the world's greatest metro systems. More




City Mayors examines education issues and policies affecting children and adults in urban areas. More




City Mayors investigates health issues affecting urban areas with an emphasis on health in cities in developing countries. More




City Mayors examines the importance of urban tourism to city economies. More




City Mayors examines the contributions history and culture make to urban society and environment. More




City Mayors describes the history, architecture and politics of the greatest city halls in the world. More




City Mayors invites readers to write short stories about people in cities around the world. More




City Mayors questions those who govern the world's cities and talks to men and women who contribute to urban society and environment. More




City Mayors profiles national and international organisations representing cities as well as those dealing with urban issues. More




City Mayors reports on major national and international sporting events and their impact on cities. More




City Mayors lists cities and city organisations, profiles individual mayors and provides information on hundreds of urban events. More



The European Summer University caters
for the requirements of local government
By Gregor Gosciniak
27 April 2005: The European Summer University (ESU) held annually in Birmingham, England's second largest city, is a three-week programme, which offers, in addition to intensive English-language courses, specialist classes in a variety of urban subjects. Students have the option of two or three-week combined study programmes.

Weekday mornings are dedicated to English-language learning. The ESU offers five levels of skill, ranging from intermediate to advanced. Professional, qualified and experienced teachers (all native speakers) hold the language courses. In the afternoons, students are able to attend a variety of specialist courses including:

-The Global Environment - urban challenges and local solutions
-The Entrepreneurial Economy
-Europe and the Wider World
-Culture, Creativity and City-making
-Making Sense of the Media
-The Intercultural City: Identity and Difference
-Unravelling the Mysteries of European Funding
-Urban Planning and Regeneration
-Additional English

The specialist courses take place at various locations in and around the city centre, including the Universities of Aston, Birmingham and Central England. Seminar discussions are combined with workshops and site visits. ESU participants have the option to attend official plenary sessions of Birmingham City Council. These sessions are topical public debates where participants can share their views with members of the public and guest speakers from politics, industry, education and the arts.

To round of the programme, the ESU organises social events for all participants. These include visits to places of interest in Birmingham and surrounding areas, for example a trip to Stratford-upon-Avon, the birthplace of William Shakespeare. Other social activities involve an evening at a typical English club on Broad Street as well as visits to theatre and concerts. The program ends with a farewell party in Birmingham's City Hall.

During the five years since the ESU has been held, it has attracted many people of different nationalities, backgrounds and age groups. The ESU has been attended by mayors, regional politicians and local councillors from cities across Europe.

No specific qualifications are required and there is no upper age limit, but participants have to be at least eighteen years old. After finishing the ESU course, participants receive a certificate of completion from the Universities of Aston, Birmingham and Central England as well as from Birmingham City Council. They also receive a certificate from the Brasshouse Language Institute.

A two-week course at the ESU costs £590 (€855) including ensuite facilities (£510 (€740) if shared facilities are chosen). The three-week course costs £810 (€1,175) including ensuite facilities or £690 (€1,000) with shared facilities. These prices include the specialist courses, the English courses, the plenary session and the social programme. In many European countries the ESU fees are tax deductible.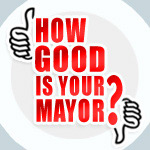 Mayor Monitor allows you to rate the performance of your mayor More


How good is
your mayor?
City Mayors provides Mayor Monitor (MM) to allow residents and non-residents to rate the performance of mayors from across the world as well as highlight their 'best' and 'worst' decisions. Mayor Monitor uses the widely understood one-to-ten rating system, where '1' signifies an extremely poor performance and '10' 'an outstanding one. In addition to rating mayors' performances, citizens are invited to highlight the best and worst decisions by city leaders.

Over time, Mayor Monitor will provide a valuable track record of mayors' successes and failures as well as their popularity among residents and a wider public. The results will be published on the City Mayors website and updated monthly.

Please rate your mayor now.

The ratings will become a contributory factor of World Mayor 2010.