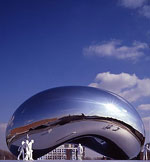 Cloud Gate by British artist Anish Kapoor on Chicago's Millennium Park




FRONT PAGE
SiteSearch
About us
Directories

City brand Chicago
Risks to US cities
Toronto's Rouge Park
Urban energy saving (USA)
SF looks to Chicago for inspiration
Greenest US cities
Great Lakes water agreement
Great Lakes initiative
US cities to go green
Green mayors
New Urbanism
US built environment in 2030
Slow Cities
Urban pollution
Mayor of Chicago
2006 Pritzker Prize
Sex and marriage in Chicago
UK parks


City Mayors reports news from towns and cities around the world. Worldwide | Elections | North America | Latin America | Europe | Asia | Africa | Events |




Mayors from The Americas, Europe. Asia, Australia and Africa are competing for the annual World Mayor Award. More




City Mayors ranks the world's largest as well as richest cities and urban areas. It also ranks the cities in individual countries, and provides a list of the capital cities of some 200 sovereign countries. More




City Mayors reports political events, analyses the issues and depicts the main players. More




City Mayors describes and explains the structures and workings of local government in Europe, The Americas, Asia, Australia and Africa. More




City Mayors profiles city leaders from around the world and questions them about their achievements, policies and aims. More




City Mayors deals with economic and investment issues affecting towns and cities. More




City Mayors reports on how business developments impact on cities and examines cooperation between cities and the private sector. More




City Mayors describes and explains financial issues affecting local government. More




City Mayors lists and features urban events, conferences and conventions aimed at urban decision makers and those with an interst in cities worldwide. More




City Mayors reports urban environmental developments and examines the challenges faced by cities worldwide. More




City Mayors reports on and discusses urban development issues in developed and developing countries. More




City Mayors reports on developments in urban society and behaviour and reviews relevant research. More




City Mayors deals with urban transport issues in developed and developing countries and features the world's greatest metro systems. More




City Mayors examines education issues and policies affecting children and adults in urban areas. More




City Mayors investigates health issues affecting urban areas with an emphasis on health in cities in developing countries. More




City Mayors examines the importance of urban tourism to city economies. More




City Mayors examines the contributions history and culture make to urban society and environment. More




City Mayors describes the history, architecture and politics of the greatest city halls in the world. More




City Mayors invites readers to write short stories about people in cities around the world. More




City Mayors questions those who govern the world's cities and talks to men and women who contribute to urban society and environment. More




City Mayors profiles national and international organisations representing cities as well as those dealing with urban issues. More




City Mayors reports on major national and international sporting events and their impact on cities. More




City Mayors lists cities and city organisations, profiles individual mayors and provides information on hundreds of urban events. More



A people's park of international
importance in downtown Chicago
By Renato Pesci, Built Environment Editor

17 July 2004: Millennium Park, Chicago's newest park was first conceived in 1997 with the original mission of creating new parkland in Grant Park to transform the unsightly railroad tracks and parking lots that had long dotted the lake front in prime real estate in downtown Chicago. The park was officially opened on 16 July 2004.

The Millennium Park project has become one of the most important millennium projects in the world. With an unprecedented combination of architecture, monumental sculpture and landscape design, the 24.5 acre Millennium Park includes the artistry of an unprecedented collection of world-renowned artists, architects, planners, landscape architects and designers including Frank Gehry, Anish Kapoor, Jaume Plensa and Kathryn Gustafson.

Millennium Park was described by Chicago Mayor Richard Daley as the crowning achievement of the vision set forth by the original founders of Chicago in 1837. "The city's motto, 'Urbs In Horto' or 'City in a Garden' has never rung truer. Today's Millennium Park marks the Millennium for the ages and leaves Chicago with a marvelous venue to be enjoyed and cherished for generations to come," the Mayor said.

The Millennium Park's most remarkable features include the Jay Pritzker Pavillion by the Canadian-born architect Frank Gehry, the Crown Fountain by the Spanish sculptor Jaume Plensa and the Kappor Sculpture by the British artist Anish Kapoor.

Jay Pritzker Pavilion
Frank Gehry-designed Jay Pritzker Pavilion, the most sophisticated outdoor concert venue of its kind in the United States visible from Michigan Avenue and beyond. The pavilion stands 120-feet high, with a billowing 'headdress' of stainless steel ribbons that frame the proscenium opening, connecting to an overhead trellis of crisscrossing steel pipes that define the lawn seating area. The Pavilion has 4,000 fixed seats and capacity for an additional 7,000 people on the lawn.

The Pavilion is named in memory of Chicago business leader Jay Pritzker, who with his wife Cindy, established the Pritzker Architecture Prize in 1979. Ten years later, Frank Gehry was the 1989 Pritzker Prize Laureate.

Crown Fountain
Designed by Spanish sculptor Jaume Plensa, the Crown Fountain features two 50-foot high glass block towers at each end of a shallow reflecting pool. The towers are activated with changing video images and lights, and water cascades from the top of each.

Anchoring the southwest corner of Millennium Park at Michigan Avenue and Monroe Streets, the Crown Fountain is a major addition to the Chicago's world-renowned public art collection. Inspired by the people of Chicago whose faces appear on the glass towers' changing video images, this site-specific work creates both a unique meeting point and a dynamic space for silent reflection. Utilizing water, light, and glass, Plensa has created a bold statement that is sure to stimulate passers-by and invite them to enter and experience Millennium Park.

Kapoor Sculpture on SBC Plaza
A major feature of Millennium Park is the 110-ton elliptical sculpture Cloud Gate designed by the British artist Anish Kapoor, one of the most prolific and respected sculptors in the world.

The sculpture is forged of a seamless series of highly-polished stainless steel plates that create an elliptically-arched, highly reflective work with Chicago's skyline and Millennium Park itself as a dramatic backdrop. Visitors will be able to fully experience the majestic nature of the work by literally walking through and around, as it was designed for public interaction. Inspired by liquid mercury, the sculpture is among the largest in the world, measuring 66-feet long by 33-feet high.







Crown Fountain by Spanish sculptor Jaume Plensa in Chicago's Milennium Park


Introducing
Jaume Plensa
Spanish sculptor Jaume Plensa. born 1955 in Barcelona, is at the forefront of the contemporary art scene, having lived and worked in Berlin, Brussels, England and France since 1980. Currently dividing his time between residences in Barcelona and Paris, Jaume Plensa was chosen to create the new site-specific work in Chicago's Millennium Park, Crown Fountain.

Located near street-level along Chicago's bustling Michigan Avenue, Plensa's monumental, interactive Crown Fountain at Millennium Park is composed of two, fifty-foot-high illuminated glass block towers united by a black granite pool measuring 232-feet long by 48-feet wide. The Crown Fountain is a major addition to Chicago's world-renowned public art collection, reflecting the artist's desire to meld the various elements from our shared universe, including water, light, nature and dreams. The fountain's interactive nature is derived from an ever-changing, year-round exhibition of lights, electronic images and cascading water.

Plensa's numerous outdoor projects and commissions for public spaces are located in Barcelona, Lleida, Girona, Torrelavega and Tenerife (Spain); Auch and St. Denis (France); Tokyo, Hamamatsu, Tachikawa, Mion Nakasato and Fukuroi (Japan); Yorkshire and Baltic-Gateshead (England); Jerusalem (Israel); Pistoia (Italy); Kimpo (Korea); Neanderthal and Brandenburg (Germany); Vallorbe (Switzerland); Gloucester, Jacksonville and Washington (USA); and, Toronto (Canada), among others.

Since 1996, Plensa has also applied his artistic vision to stage and costume design for some of the world's most important operatic productions, including Falla's Atlantida in Granada, Spain; S. Sebastian by Debussy in Rome; The Damnation of Faust by Berlioz in Salzburg Festpiele; and, Mozart's The Magic Flute for the Ruhr Triennale.