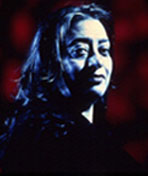 Zaha Hadid, winner of the 2004 Pritzker Architecture Prize

ZAHA HADID ARCHITECTS
Studio 9
10 Bowling Green Lane,
London EC1R OBQ
United Kingdom
Tel: +44 20 7253 5147
Fax: +44 7251 8322
Internet:
www.zaha-hadid.com

The Hyatt Foundation
8802 Ashcroft Avenue
Los Angeles
CA 90048-2402
USA
Tel: +1 310 273 8696
Internet: www.pritzkerprize.com



FRONT PAGE
SiteSearch
About us
Directories

2006 Pritzker Prize
2005 Pritzker Prize
Brasilia, Capital of Brazil
City Halls
New Urbanism
Chicago's new Millennium Park
Nanjing architecture
UK parks


City Mayors reports news from towns and cities around the world. Worldwide | Elections | North America | Latin America | Europe | Asia | Africa | Events |




Mayors from The Americas, Europe. Asia, Australia and Africa are competing for the annual World Mayor Award. More




City Mayors ranks the world's largest as well as richest cities and urban areas. It also ranks the cities in individual countries, and provides a list of the capital cities of some 200 sovereign countries. More




City Mayors reports political events, analyses the issues and depicts the main players. More




City Mayors describes and explains the structures and workings of local government in Europe, The Americas, Asia, Australia and Africa. More




City Mayors profiles city leaders from around the world and questions them about their achievements, policies and aims. More




City Mayors deals with economic and investment issues affecting towns and cities. More




City Mayors reports on how business developments impact on cities and examines cooperation between cities and the private sector. More




City Mayors describes and explains financial issues affecting local government. More




City Mayors lists and features urban events, conferences and conventions aimed at urban decision makers and those with an interst in cities worldwide. More




City Mayors reports urban environmental developments and examines the challenges faced by cities worldwide. More




City Mayors reports on and discusses urban development issues in developed and developing countries. More




City Mayors reports on developments in urban society and behaviour and reviews relevant research. More




City Mayors deals with urban transport issues in developed and developing countries and features the world's greatest metro systems. More




City Mayors examines education issues and policies affecting children and adults in urban areas. More




City Mayors investigates health issues affecting urban areas with an emphasis on health in cities in developing countries. More




City Mayors examines the importance of urban tourism to city economies. More




City Mayors examines the contributions history and culture make to urban society and environment. More




City Mayors describes the history, architecture and politics of the greatest city halls in the world. More




City Mayors invites readers to write short stories about people in cities around the world. More




City Mayors questions those who govern the world's cities and talks to men and women who contribute to urban society and environment. More




City Mayors profiles national and international organisations representing cities as well as those dealing with urban issues. More




City Mayors reports on major national and international sporting events and their impact on cities. More




City Mayors lists cities and city organisations, profiles individual mayors and provides information on hundreds of urban events. More



Zaha Hadid becomes the first woman to
receive the Pritzker Architecture Prize
By Renato Pesci, Built Environment Editor
28 March 2004: Zaha Hadid, an Iraqi-born British citizen, has been chosen as the 2004 Laureate of the Pritzker Architecture Prize marking the first time a woman has been named for this 26-year-old award. Hadid, who is 53, has completed one project in the United States, the Richard and Lois Rosenthal Center for Contemporary Art in Cincinnati, Ohio; and is currently developing another to co-exist with a Frank Lloyd Wright structure, the Price Tower Arts Center in Bartlesville, Oklahoma.

2005 Pritzker Prize | 2006 Pritzker Prize |

Her other completed projects in Europe include a fire station for the Vitra Furniture Company in Weil am Rhein, southern Germany; an exhibition building to mark the 1999 garden festival in the same city; a car park and terminus Hoenheim North, a 'park and ride' and tramway on the outskirts of Strasbourg, eastern France; and a ski jump situated on the Bergisel Mountain overlooking Innsbruck, Austria.

She has numerous other projects in various stages of development including a building for BMW in Leipzig, and a Science Center in Wolfsburg, both in Germany; a National Center of Contemporary Arts in Rome; a Master Plan for Bilbao, Spain; a Guggenheim Museum for Taichung, Taiwan; a high speed train station outside Naples; and a new public archive, library and sports centre in Montpellier, France.

In announcing the jury's choice, Thomas J Pritzker, president of The Hyatt Foundation, said: "It is gratifying to us as sponsors of the prize to see our very independent jury honor a woman for the first time. Although her body of work is relatively small, she has achieved great acclaim and her energy and ideas show even greater promise for the future."

Pritzker Architecture Prize jury chairman, Lord Rothschild, commented: "At the same time as her theoretical and academic work, as a practising architect, Zaha Hadid has been unswerving in her commitment to modernism. Always inventive, she's moved away from existing typology, from high tech, and has shifted the geometry of buildings."

Continuing, Lord Rothschild said: "In her fourth year at the Architectural Association in London, as a student of Rem Koolhaas (himself a recent recipient of the Pritzker Prize) her graduation project was called Malevich's Tectonik. She placed a hotel on the Hungerford Bridge on the River Thames, drawing from suprematist forms to meet the demands of the programme and the site. It's a happy coincidence therefore that this year's prize ceremony should be taking place in St Petersburg, Russia, where Malevich lived and worked, a city of extraordinary beauty and originality."

The formal ceremony for what has come to be known throughout the world as architecture's highest honour will be held on 31 May 2004 in St Petersburg. At that time, a $100,000 grant and a bronze medallion will be bestowed in the State Hermitage Museum followed by a reception and dinner in the Grand Peterhof Palace. The prize presentation ceremony moves to different locations around the world each year, paying homage to historic and contemporary architecture.

Juror Frank Gehry, who is also the 1989 Pritzker Laureate, said: "The 2004 laureate is probably one of the youngest laureates and has one of the clearest architectural trajectories we've seen in many years. Each project unfolds with new excitement and innovation." A new juror this year, journalist Karen Stein who is editorial director of Phaidon Press, commented: "Over the past 25 years, Zaha Hadid has built a career on defying convention—conventional ideas of architectural space, of practice, of representation and of construction."

The purpose of the Pritzker Architecture Prize is to honour annually a living architect whose built work demonstrates a combination of those qualities of talent, vision and commitment, which has produced consistent and significant contributions to humanity and the built environment through the art of architecture. The prize was established in 1979 by The Hyatt Foundation.

Ms Hadid is the third architect from the United Kingdom to be awarded the Pritzker Prize: the late James Stirling was chosen in 1981, and in 1999 Lord (then Sir Norman) Foster. Philip Johnson was the first Pritzker Laureate in 1979. The late Luis Barragán of Mexico was named in 1980. Kevin Roche in 1982, Ieoh Ming Pei in 1983, and Richard Meier in 1984. Hans Hollein of Austria was the 1985 Laureate. Gottfried Böhm of Germany received the prize in 1986. Kenzo Tange was the first Japanese architect to receive the prize in 1987; Fumihiko Maki was the second from Japan in 1993; and Tadao Ando the third in 1995. Robert Venturi received the honour in 1991, and Alvaro Siza of Portugal in 1992. Christian de Portzamparc of France was elected Pritzker Laureate in 1994. The late Gordon Bunshaft of the United States and Oscar Niemeyer of Brazil, were named in 1988. Frank Gehry was the recipient in 1989, the late Aldo Rossi of Italy in 1990. In 1996, Rafael Moneo of Spain was the Laureate; in 1997 Sverre Fehn of Norway; in 1998 Renzo Piano of Italy, and in 2000, Rem Koolhaas of the Netherlands. In 2001, two architects from Switzerland received the honour: Jacques Herzog and Pierre de Meuron. Australian Glenn Murcutt won the prize in 2002. Danish architect Jørn Utzon was chosen in 2003.

The field of architecture was chosen by the Pritzker family because of their keen interest in building due to their involvement with developing the Hyatt Hotels around the world; also because architecture was a creative endeavour not included in the Nobel Prizes. The procedures were modelled after the Nobels, with the final selection being made by the international jury with all deliberations and voting in secret. Nominations are continuous from year to year with hundreds of nominees from countries all around the world being considered each year.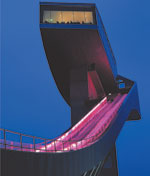 Bergisel ski jump overlooking Innsbruck, Austria

Introducing Zaha Hadid
Born in Baghdad, Iraq, in 1950, Zaha Hadid studied architecture at the Architectural Association in London from 1972 and was awarded the Diploma Prize in 1977. She then became a partner of the Office for Metropolitan Architecture (OMA), taught at the AA with OMA collaborators Rem Koolhaas and Elia Zenghelis, and later led her own studio at the AA until 1987.

More recently, she held the Kenzo Tange Chair at the Graduate School of Design, Harvard University; the Sullivan Chair at the University of Illinois, School of Architecture in Chicago; and has held guest professorships at the Hochschule für Bildende Künste in Hamburg, the Knolton School of Architecture, Ohio, and the Masters Studio at Columbia University, New York. In addition, she was made an Honorary Member of the American Academy of Arts and Letters, a Fellow of the American Institute of Architecture and a Commander of the British Empire, 2002. She is currently Professor at the University of Applied Arts in Vienna, Austria, and is the Eero Saarinen Visiting Professor of Architectural Design for the Spring Semester 2004 at Yale University, New Haven, Connecticut.

Hadid has become known as an architect who consistently pushes the boundaries of architecture and urban design. Her work experiments with new spatial concepts intensifying existing urban landscapes in the pursuit of a visionary aesthetic that encompasses all fields of design, ranging from urban scale through to products, interiors and furniture. Best known for her seminal built works, her central concerns involve a simultaneous engagement in practice, teaching and research.

Zaha Hadid's built work has won her much academic and public acclaim. Her best known projects to date are the Vitra Fire Station and the LFone pavilion in Weil am Rhein, Germany (1993/1999), the Mind Zone at the Millennium Dome, Greenwich, London, UK (1999), a Tram Station and Car Park in Strasbourg, France (2001), a Ski Jump in Innsbruck, Austria (2002) and the Contemporary Arts Centre, Cincinnati, US (2003). She has also completed furniture and interiors: Bitar, London (1985); Moonsoon Restaurant, Sapporo (1990); Z-Play (2002) and Z-Scape (2000) furniture manufactured by Sawaya and Moroni; and the Tea and Coffee Towers for Alessi (2003). Her temporary structures include: Folly in Osaka (1990); Music Video Pavilion in Groningen, Netherlands (1990); a Pavilion for Blueprint Magazine at Interbuild, Birmingham (1995); the installation Meshworks at the Villa Medici, Rome, Italy (2000) the summer pavilion for the Serpentine Gallery, London, UK (2000); and the R. Lopez de Heredia Vina Tondonia Pavilion, Barcelona, Spain (2001). Zaha Hadid has also worked on a number of stage sets: Pet Shop Boys World Tour (1999/2000); Metapolis, for Charleroi Dance production company, Belgium (2000); and Beat Furrer's opera, Desire, commissioned by the Steirischer Herbst, Graz (2003), and an Ice and Snow Installation in Lapland.

Zaha Hadid's office is working on a variety of projects: the Contemporary Arts Centre "MAXXI" in Rome, Italy; the Ordrupgaard Museum extension in Copenhagen, Denmark; a Guggenheim Museum in Taichung; a Science Centre in Wolfsburg, Germany; a Maritime Ferry Terminal in Salerno, Italy; a High Speed Train Station in Napoli-Afragola, Italy; a public square and cinema complex in Barcelona, Spain; a masterplan for Singapore's Science Hub; a masterplan for Bilbao's Zorrozaurre district, Spain; a masterplan for Beijing's Soho City, China; the interior design for "Hotel Puerta America" in Madrid, Spain; a Central Plant Building for BMW in Leipzig, Germany; a social housing project 'Spittelau Viaduct' in Vienna, Austria; a major bridge structure in Abu Dhabi; the Maggie's Centre in Kirkcaldy, Scotland; an extension of the Price Tower Arts Centre in Bartlesville, USA; the Opera House in Guangzhou, China; and a new archive, library, and sports center in Montpellier, France.