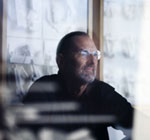 Thom Mayne, founder of Morphosis and winner of the 2005 Pritzker Prize

The Hyatt Foundation
8802 Ashcroft Avenue
Los Angeles
CA 90048-2402
USA
Tel: +1 310 273 8696
Internet: www.pritzkerprize.com



FRONT PAGE
SiteSearch
About us
Directories

2005 Pritzker Prize
2004 Pritzker Prize
Brasilia, Capital of Brazil
City Halls
New Urbanism
Chicago's new Millennium Park
Nanjing architecture
UK parks


City Mayors reports news from towns and cities around the world. Worldwide | Americas | Europe | Asia | Africa




City Mayors reports news from towns and cities around the world. Worldwide | Elections | North America | Latin America | Europe | Asia | Africa | Events |




Mayors from The Americas, Europe. Asia, Australia and Africa are competing for the annual World Mayor Award. More




City Mayors ranks the world's largest as well as richest cities and urban areas. It also ranks the cities in individual countries, and provides a list of the capital cities of some 200 sovereign countries. More




City Mayors reports political events, analyses the issues and depicts the main players. More




City Mayors describes and explains the structures and workings of local government in Europe, The Americas, Asia, Australia and Africa. More




City Mayors profiles city leaders from around the world and questions them about their achievements, policies and aims. More




City Mayors deals with economic and investment issues affecting towns and cities. More




City Mayors reports on how business developments impact on cities and examines cooperation between cities and the private sector. More




City Mayors describes and explains financial issues affecting local government. More




City Mayors lists and features urban events, conferences and conventions aimed at urban decision makers and those with an interst in cities worldwide. More




City Mayors reports urban environmental developments and examines the challenges faced by cities worldwide. More




City Mayors reports on and discusses urban development issues in developed and developing countries. More




City Mayors reports on developments in urban society and behaviour and reviews relevant research. More




City Mayors deals with urban transport issues in developed and developing countries and features the world's greatest metro systems. More




City Mayors examines education issues and policies affecting children and adults in urban areas. More




City Mayors investigates health issues affecting urban areas with an emphasis on health in cities in developing countries. More




City Mayors examines the importance of urban tourism to city economies. More




City Mayors examines the contributions history and culture make to urban society and environment. More




City Mayors describes the history, architecture and politics of the greatest city halls in the world. More




City Mayors invites readers to write short stories about people in cities around the world. More




City Mayors questions those who govern the world's cities and talks to men and women who contribute to urban society and environment. More




City Mayors profiles national and international organisations representing cities as well as those dealing with urban issues. More




City Mayors reports on major national and international sporting events and their impact on cities. More




City Mayors lists cities and city organisations, profiles individual mayors and provides information on hundreds of urban events. More



Architect of hard-edged designs
awarded the 2005 Pritzker Prize
By Renato Pesci, Built Environment Editor
22 March 2005: Thom Mayne, the Californian architect known for his uncompromising designs, has been awarded the 2005 Pritzker Prize, the world's most prestigious architectural award. Mr Mayne founded his firm Morphosis in 1972 to surpass the bounds of traditional forms and materials, while also working to carve out a territory beyond the limits of modernism and postmodernism. When told the news, he said his first reaction was shock. "When you run a cultural and artistic practice, as we do, instead of just a business, you never know where it's going to lead." The prize carries with it a $100,000 grant.

2004 Pritzker Prize | 2006 Pritzker Prize |

The Pritzker Architecture Prize was established by The Hyatt Foundation in 1979 to honour annually a living architect whose built work demonstrates a combination of those qualities of talent, vision, and commitment, which has produced consistent and significant contributions to humanity and the built environment through the art of architecture. It has often been described as the Nobel prize of architecture.

The prize takes its name from the Pritzker family, whose international business interests are headquartered in Chicago. They have long been known for their support of educational, social welfare, scientific, medical and cultural activities. Jay A Pritzker, who founded the prize with his wife, Cindy, died in 1999. His eldest son, Thomas J Pritzker has become president of The Hyatt Foundation. In 2004, Chicago celebrated the opening of Millennium Park, in which a music pavilion designed by Pritzker Laureate Frank Gehry was dedicated and named after the founder of the prize.

The field of architecture was chosen by the Pritzker family because of their keen interest in building due to their involvement with developing the Hyatt Hotels around the world; also because architecture was a creative endeavour not included in the Nobel Prizes. The procedures were modelled after the Nobels, with the final selection being made by the international jury with all deliberations and voting in secret.

Nominations are accepted from all nations; from government officials, writers, critics, academicians, fellow architects, architectural societies, or industrialists, virtually anyone who might have an interest in advancing great architecture. The prize is awarded irrespective of nationality, race, creed, or ideology.

Mayne's most recent built works to capture major media attention include the Caltrans District 7 Headquarters and the Science Education Resource Center/Science Center School, both completed in 2004 in Los Angeles.

Two major competitions in New York City were also recently awarded to Thom Mayne's firm: the New Academic Building for The Cooper Union for the Advancement of Science and Art; and the NYC2012 Olympic Village, a project in association with NYC's bid for the 2012 Olympics.

Mayne's most recent commission, granted in March 2005 as the result of a winning competition design is for the new Alaska State Capitol building to be constructed in Juneau, Alaska. On the world stage, he has the Hypo Alpe-Adria Center in Klagenfurt, Austria; the ASE Design Center in Taipei, Taiwan; the Sun Tower in Seoul, South Korea; and a Social Housing project slated for completion next year in Madrid, Spain.

Throughout his career, Mayne has remained active in the academic world. He currently holds a tenured professorship at the University of California in Los Angeles and is a founder of the influential and progressive Southern California Institute of Architecture. He has been a visiting professor and/or lecturer at institutions and universities around the world.

In announcing the jury's choice, Thomas J Pritzker, president of The Hyatt Foundation, said when this prize was founded in 1979, Thom Mayne had just received his Master of Architecture degree from Harvard the year before. "The intervening years have seen 28 Laureates chosen. Thom Mayne is the twenty-ninth, and only the eighth American to be so honoured," he added.

Lord Palumbo, in his first year as Pritzker Jury Chairman, spoke of the jury's choice: "Every now and then an architect appears on the international scene, who teaches us to look at the art of architecture with fresh eyes, and whose work marks him out as a man apart in the originality and exuberance of its vocabulary, the richness and diversity of its palette, the risks undertaken with confidence and brio, the seamless fusion of art and technology."

American Frank Gehry, in his capacity as Pritzker Juror, said that he was thrilled that the new laureate hailed from my part of the world. "I've known him for a long time, watched him grow into a mature and, I like to say, 'authentic' architect. He continues to explore and search for new ways to make buildings useable and exciting," Frank Gehry explained.

Morphosis is now home to forty architects and designers, and Thom Mayne is firmly committed to the practice of architecture as a collective enterprise. He said that an architect operated more as a director does than as a painter or a sculptor. "Architects have to focus the energy of a large group of people on a common obsession. The architect has to know a little bit about everything. It is a generalist discipline not a discipline for the specialist." Not surprisingly, the products of Morphosis range from designs for watches and teapots to homes to large-scale civic buildings and other urban design and planning schemes that aim to reshape entire cities.