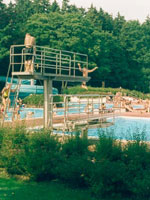 Parkland setting of open air swimming pool in Pausa, eastern Germany www.stadt-pausa.de




FRONT PAGE
SiteSearch
About us
Directories

Toronto's Rouge Park
London City Hall
UK light rail schemes
Demolition of English homes
New Urbanism
Urban pollution
Les Halles, Paris
Slow Cities
UK local government
Mayor of London
NE England rejects assembly
Chicago's new Millennium Park
Melbourne park wins award


City Mayors reports news from towns and cities around the world. Worldwide | Elections | North America | Latin America | Europe | Asia | Africa | Events |




Mayors from The Americas, Europe. Asia, Australia and Africa are competing for the annual World Mayor Award. More




City Mayors ranks the world's largest as well as richest cities and urban areas. It also ranks the cities in individual countries, and provides a list of the capital cities of some 200 sovereign countries. More




City Mayors reports political events, analyses the issues and depicts the main players. More




City Mayors describes and explains the structures and workings of local government in Europe, The Americas, Asia, Australia and Africa. More




City Mayors profiles city leaders from around the world and questions them about their achievements, policies and aims. More




City Mayors deals with economic and investment issues affecting towns and cities. More




City Mayors reports on how business developments impact on cities and examines cooperation between cities and the private sector. More




City Mayors describes and explains financial issues affecting local government. More




City Mayors lists and features urban events, conferences and conventions aimed at urban decision makers and those with an interst in cities worldwide. More




City Mayors reports urban environmental developments and examines the challenges faced by cities worldwide. More




City Mayors reports on and discusses urban development issues in developed and developing countries. More




City Mayors reports on developments in urban society and behaviour and reviews relevant research. More




City Mayors deals with urban transport issues in developed and developing countries and features the world's greatest metro systems. More




City Mayors examines education issues and policies affecting children and adults in urban areas. More




City Mayors investigates health issues affecting urban areas with an emphasis on health in cities in developing countries. More




City Mayors examines the importance of urban tourism to city economies. More




City Mayors examines the contributions history and culture make to urban society and environment. More




City Mayors describes the history, architecture and politics of the greatest city halls in the world. More




City Mayors invites readers to write short stories about people in cities around the world. More




City Mayors questions those who govern the world's cities and talks to men and women who contribute to urban society and environment. More




City Mayors profiles national and international organisations representing cities as well as those dealing with urban issues. More




City Mayors reports on major national and international sporting events and their impact on cities. More




City Mayors lists cities and city organisations, profiles individual mayors and provides information on hundreds of urban events. More



British cities urged to look abroad
for ideas on more attractive parks
In 1843, England invented the public park. But now British cities look to other countries to improve the quality of their parks and public gardens. That's the conclusion of a report published in July 2004 by the London-based organisation CABE (Commission for Architecture and the Built Environment). CABE is funded by the Office of the UK Deputy Prime Minister.

The report 'Is the Grass Greener…? - Learning from international innovations in green space management' demonstrates how 11 cities from Melbourne and Minneapolis, to Curitiba in Brazil are improving their residents' health, wealth and quality of life by investing in parks. In contrast, an estimated £1.3bn has been wiped off spending on UK parks since 1979.

The cities were chosen for the study because they have faced – and overcome – many of the difficulties that still seem insurmountable to English city administrations. For example, Melbourne, Australia, was recently judged by the Economist Intelligence Unit to be the best city in the world to live. CABE's new research shows that achieving this quality of life is no accident. Every commercial, domestic and industrial property in Melbourne pays a 'parks charge' to guarantee an income for green space. Melbourne has a well-managed, integrated network of parks and open space, including shared use trails and marine parks.

The report claims that the quality of parks in the UK cannot be blamed just on a lack of funding, as even cities with modest resources have been successful. The amount of green space available to residents of Curitaba in Brazil, fell to one square metre per person following huge population growth in the 1970s. In response, the city swiftly put four per cent of their budget into implementing green space policy. Curitiba is now recognised internationally as a model of urban management.

The Urban Green Spaces Task Force revealed the uncoordinated management and erosion of skills that has led to long-term neglect of England's parks. Urging local authorities to learn from the visionary management of cities like Tokyo, Wellington and Zurich, CABE calls on ordinary people, local and national politicians, local authorities and businesses to sign up to the new Manifesto for Better Public Spaces and pledge support for improving Britain's city parks, squares and open spaces.

Julia Thrift, Director of CABE Space told City Mayors that England once had the best parks in the world, but nowadays many were run down. "Our research shows that countries around the world have transformed their parks by having a clear vision and strong local leadership. As a result, they've overcome many of the problems we now face and have created cities full of beautiful parks, cities where people really want to live. There's a lot we can learn from abroad," Ms Thrift concluded.

According to the report, securing the support of key politicians and identifying a local 'parks champion' is essential for English park managers. In Curitiba, their success in providing and maintaining urban parks and open space has stemmed from the political determination of successive mayors. CABE's report argues for the inclusion in England's new local government structures of at least one cabinet member with direct responsibility for parks and open spaces as a minimum starting point.

The vital need to invest in skills is also a key message in the report. Well-trained staff, who know how to combine political, economic, organisational and design skills are crucial. In Wellington, New Zealand, an in-house apprentice scheme reaps benefits in training and staff loyalty. The transformation of parks in England will require a similar investment in staff, to rebuild skills that have been lost over the past decades.

The report states that local authorities serious about improving their parks must think strategically. In Sweden, Malmo's Green Plan provides guidelines for future needs of urban green space. In England, councils should write green space strategies that include a clear vision. CABE Space has recently published 'Green Space Strategies: A good Practice Guide' that steers councils through the process.

The CABE report concludes that many English cities lack a clear vision for their parks, or the local political will to create successful green spaces. What the report does not deal with is usage of parks and the need to promote parks among the urban public.