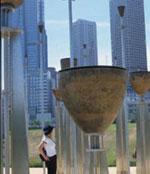 The Federation Bells in Birrarung Marr, Melbourne's newest park




FRONT PAGE
SiteSearch
About us
Directories


Birrarung Marr Park, Melbourne
Toronto's Rouge Park
Tsunamis
Australian cities underfunded
Chicago's new Millennium Park
New Urbanism
Les Halles, Paris
Slow Cities
Urban pollution
2005 Pritzker Prize
UK parks
New capital for South Korea




City Mayors reports news from towns and cities around the world. Worldwide | Elections | North America | Latin America | Europe | Asia | Africa | Events |




Mayors from The Americas, Europe. Asia, Australia and Africa are competing for the annual World Mayor Award. More




City Mayors ranks the world's largest as well as richest cities and urban areas. It also ranks the cities in individual countries, and provides a list of the capital cities of some 200 sovereign countries. More




City Mayors reports political events, analyses the issues and depicts the main players. More




City Mayors describes and explains the structures and workings of local government in Europe, The Americas, Asia, Australia and Africa. More




City Mayors profiles city leaders from around the world and questions them about their achievements, policies and aims. More




City Mayors deals with economic and investment issues affecting towns and cities. More




City Mayors reports on how business developments impact on cities and examines cooperation between cities and the private sector. More




City Mayors describes and explains financial issues affecting local government. More




City Mayors lists and features urban events, conferences and conventions aimed at urban decision makers and those with an interst in cities worldwide. More




City Mayors reports urban environmental developments and examines the challenges faced by cities worldwide. More




City Mayors reports on and discusses urban development issues in developed and developing countries. More




City Mayors reports on developments in urban society and behaviour and reviews relevant research. More




City Mayors deals with urban transport issues in developed and developing countries and features the world's greatest metro systems. More




City Mayors examines education issues and policies affecting children and adults in urban areas. More




City Mayors investigates health issues affecting urban areas with an emphasis on health in cities in developing countries. More




City Mayors examines the importance of urban tourism to city economies. More




City Mayors examines the contributions history and culture make to urban society and environment. More




City Mayors describes the history, architecture and politics of the greatest city halls in the world. More




City Mayors invites readers to write short stories about people in cities around the world. More




City Mayors questions those who govern the world's cities and talks to men and women who contribute to urban society and environment. More




City Mayors profiles national and international organisations representing cities as well as those dealing with urban issues. More




City Mayors reports on major national and international sporting events and their impact on cities. More




City Mayors lists cities and city organisations, profiles individual mayors and provides information on hundreds of urban events. More



Melbourne's newest park
wins urban design award
By Renato Pesci, Built Environment Editor
The Royal Australia Institute of Architects (RAIA) conferred the 2004 Walter Burley Griffin Award to Melbourne's newest park, Birrarung Marr. Birrarung Marr was the city's first new major parkland in more than 100 years when it opened in January 2002. 'Birrarung' means 'river of mists' in the Woiwurrung language of the Wurundjeri people who originally inhabited the area, while 'Marr' equates with the side of the river.

Located in the heart of Melbourne, the park sits next to Federation Square on the north bank of the Yarra River. It provides a link between the Central Business District and the Melbourne Park sporting precinct and contributes to a continuous green belt of parkland around the city.

It brings the focus back towards the river and has become a space in which people can relax or take part in a variety of activities against a unique and creative backdrop of native flora.

The judged described Birrarung Marr as a stunning example of a 21st century park. The eight-hectare park is the most significant addition to Melbourne's inner urban parklands network in more than 100 years.

The design was influenced by the site's natural and industrial heritage and created as an urban space that embraces public activity as a crucial part of the landscape.

Birrarung Marr's design was also framed around views to Melbourne landmarks, reinforcing the park's identity as an integral element of the city rather than a retreat from it.

The pedestrian bridge, the shell grit-paved south swale and the Federation Bells add to the rich sensory environment, which promotes the park as a place for casual enjoyment as well as a distinctive setting for public events.

Birrarung Marr was opened nearly three years ago, but mature trees, including 36 heritage-listed elms, make it feel like it has been there for much longer.

The park was created with help from the State Government to remove the 56 rail lines that crossed the area. Thirteen rail lines remain on the park's northern side.

Birrarung Marr is a vital link in the chain of parks through the city centre that stretches from the Carlton Gardens, the Fitzroy and Treasury Gardens, Yarra Park and across the Yarra River to the Alexandra Gardens, Kings Domain, the Royal Botanic Gardens and the Shrine Reserve.