Bert Sperling, Founder and President of Sperling BestPlaces.




FRONT PAGE
SiteSearch
About us
Directories

2009 homelessnees in US cities
US urban inequality
US metro economies 2006
Greenest US cities
Homeless in US cities
New York's hidden poverty
US built environment in 2030
US migration
New Urbanism
Slow Cities
Urban pollution
Safest US cities
Most literate US cities
Sex in the City of Chicago
Teen student behaviour
Most expensive world cities
Best world cities to live in
NYC fights noise pollution


City Mayors reports news from towns and cities around the world. Worldwide | Elections | North America | Latin America | Europe | Asia | Africa | Events |




Mayors from The Americas, Europe. Asia, Australia and Africa are competing for the annual World Mayor Award. More




City Mayors ranks the world's largest as well as richest cities and urban areas. It also ranks the cities in individual countries, and provides a list of the capital cities of some 200 sovereign countries. More




City Mayors lists and features urban events, conferences and conventions aimed at urban decision makers and those with an interst in cities worldwide. More




City Mayors reports political events, analyses the issues and depicts the main players. More




City Mayors describes and explains the structures and workings of local government in Europe, The Americas, Asia, Australia and Africa. More




City Mayors profiles city leaders from around the world and questions them about their achievements, policies and aims. More




City Mayors deals with economic and investment issues affecting towns and cities. More




City Mayors reports on how business developments impact on cities and examines cooperation between cities and the private sector. More




City Mayors describes and explains financial issues affecting local government. More




City Mayors reports urban environmental developments and examines the challenges faced by cities worldwide. More




City Mayors reports on and discusses urban development issues in developed and developing countries. More




City Mayors reports on developments in urban society and behaviour and reviews relevant research. More




City Mayors deals with urban transport issues in developed and developing countries and features the world's greatest metro systems. More




City Mayors examines education issues and policies affecting children and adults in urban areas. More




City Mayors investigates health issues affecting urban areas with an emphasis on health in cities in developing countries. More




City Mayors examines the contributions history and culture make to urban society and environment. More




City Mayors describes the history, architecture and politics of the greatest city halls in the world. More




City Mayors invites readers to write short stories about people in cities around the world. More




City Mayors questions those who govern the world's cities and talks to men and women who contribute to urban society and environment. More




City Mayors profiles national and international organisations representing cities as well as those dealing with urban issues. More




City Mayors reports on major national and international sporting events and their impact on cities. More




City Mayors lists cities and city organisations, profiles individual mayors and provides information on hundreds of urban events. More


Tacoma named as the
most stressful US city
10 January 2004: Between international terrorism and a struggling economy, today's US citizens are faced with more stress than ever, claims a study released in January 2004. In this study, Portland-based Sperling's BestPlaces have identified the most and least stressful US cities.

The 'Sperling Stress Index' is composed of nine different factors which are associated with stress: unemployment rate, divorce rate, travel-to-work time, violent and property crime rates, suicide rate, alcohol consumption, self-reported 'poor mental health' and number of cloudy days.

Main findings
Tacoma, Washington, a city of some 195,000 people and situated 50 kilometres south of Seattle, ranks as the most stressful city of the 100 largest metro areas. Galveston, Texas, earns the dubious honour in the mid-size category, and Yuba City, California, is the most stressful among the smallest metro areas.

On the brighter side, New York State capital Albany is the least stressful large metro area, while Provo, Utah, anchors the top spot among the mid-size cities. Among the smallest metro areas, Bismarck, North Dakota, is number one in a low-stress environment.

Bert Sperling, President of Sperling's Best Places, said that most of the top-ten stress cities were grappling with high unemployment. "It affects the entire community, whether one personally has a job or not. Rising unemployment has been tied to increased crime, and declining tax revenues force reductions in social services that affect young and old alike," Mr Sperling said.

Las Vegas has a robust economy, but had the highest percentage of divorced residents and the highest rate of suicides. And despite Miami's number two stress ranking, they maintained a positive mental attitude, with one of the lowest rates in residents reporting poor mental health.

Among the low-stress cities, there appears a common theme of state capitals and institutions of higher learning. "Government and universities provide a solid economic base to smaller cities, lessening the stress caused by economic cycles," Bert Sperling added

There appears to be something special about Honolulu. Researchers found that they had a unique attitude that allowed them to be less affected by the stresses of today's busy lifestyle. A recent Sperling's BestPlaces study on the Best Cities for Sleep found Honolulu residents reporting the highest scores for restful and relaxing sleep. In this study, Honolulu also reported the lowest number of days that they felt anxious, tense, stressed or depressed.

An interesting footnote to this study was the discovery of a strong correlation between the rates of suicide and divorce. In the great majority of the cities BestPlaces investigated, those areas with a high percentage of divorced residents were matched with a high suicide rate. And the opposite was true as well - places with few divorces also had few suicides.

Top five most stressful cities
Tacoma, Washington
Tacoma residents contend with one of the highest divorce rates in the country as well as one of the highest unemployment rates. It's cloudy in Tacoma much of the time, and the suicide and property crime rates are high. On a brighter note, Tacomans can feel safe from bodily harm thanks to the low violent crime rate.

Miami, Florida
The study reports that Miami has the highest violent crime rate as well as one of the highest property crime rates. Making Miami even more stressful is the long commuting time, a high unemployment rate, and a high rate of divorce. Despite these factors, Miami residents manage to maintain a positive mental attitude.

New Orleans, Louisiana
New Orleans has a high violent crime rate and a high unemployment rate. The city also reports a significant number of suicides and divorces.

Las Vegas, Nevada
The turbulent lifestyle of Las Vegas produces some extremely stressful conditions-- the highest suicide and divorce rates in the study, as well as a great deal of alcohol use. Unfortunately, the greatest number of sunny days per year doesn't seem to translate to overall happiness - residents of Las Vegas have a great number of days experiencing poor mental health.

New York City, New York
Beginning and ending their days with the longest commuting journey in the country, the hustle and bustle of the Big Apple can really stress people out. Unemployment is high and so is violent crime, which may explain why New Yorkers spend many of their days experiencing stress, depression, and problems with emotions. But New Yorkers are not quitters - the suicide and divorce rates are some of the lowest.

Top five least stressful cities
Albany-Schenectady-Troy, New York and
Harrisburg-Lebanon-Carlisle, Pennsylvania
These hardworking state capitals and their surrounding areas boast two of the lowest unemployment rates in the country. In fact, both areas score well in many categories - low divorce rates, short average commuting times, a low overall crime rate, and low rates of suicide. One downside to these north-eastern cities is their often-cloudy skies and dreary winters

Orange County, California
Orange County reports little crime, low unemployment, and plenty of sunshine. Commuting can take awhile, but Orange County residents seem to be able to handle it. And their suicide rate is one of the lowest.

Nassau-Suffolk, New York
Although residents of Nassau and Suffolk counties have a very long commuting journey, the area has the lowest violent and property crime rates in the country. The divorce and suicide rates are also among the lowest in the country, indicating a safe and stable place to live.

Minneapolis-St. Paul, Minnesota
The Twin Cities of Minneapolis and St Paul have a low unemployment rate and a low violent crime rate. Despite many cloudy days, the suicide rate is low and the stress scores are generally favourable across the board.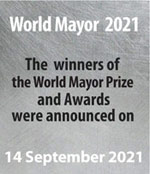 The best Mayors for Stronger | Fairer | Greener cities. Elect your candidate for the 20/21 World Mayor Prize and Honours. The Prize has been awarded since 2004.