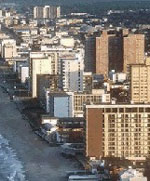 The FBI's crime report for 2003 named Virginia Beach as the safest big US city

Introducing Virginia Beach
Virginia Beach, where English colonists first settled in 1607, has been a popular resort destination since 1880s. Railroad service to the beach began in 1883, transporting visitors from Norfolk to the ocean beach. In 1888, the modernized Princess Anne Hotel was described in a local newspaper as a magnificent hotel, with electric lights, bath houses with a veranda, and a good ballroom. Holidaymakers and tourists are still a vital part of life in Virginia Beach, even after 120 years!

Since the merger of Princess Anne County and the resort town of Virginia Beach in 1963, the City of Virginia Beach has enjoyed a steady rate of growth in population as well as visitors. The 2000 Census indicates a Virginia Beach population of 425,257.



FRONT PAGE
SiteSearch
About us
Directories
Events

US mayors fight against guns
American domestic migration
Vision for metro America
English-only US cities
US poverty 2011
US urban inequality
US prison closures - Cities
US metro 2010
Youth curfews in US cities
America's children of prisoners
US mayors silent on racial profiling
US gun contol in tatters
Security cameras in US cities
US affordable housing crisis
Urban crime 2007
Poverty in US cities
2009 homelessnees in US cities
New York's hidden poverty
US population reaches 300m
$1.4 billion for US homeless
US migration
Sex in the City of Chicago
Most literate US cities
Most stressful US cities
New Urbanism


City Mayors reports news from towns and cities around the world. Worldwide | Elections | North America | Latin America | Europe | Asia | Africa | Events |




Mayors from The Americas, Europe. Asia, Australia and Africa are competing for the annual World Mayor Award. More




City Mayors ranks the world's largest as well as richest cities and urban areas. It also ranks the cities in individual countries, and provides a list of the capital cities of some 200 sovereign countries. More




City Mayors reports political events, analyses the issues and depicts the main players. More




City Mayors describes and explains the structures and workings of local government in Europe, The Americas, Asia, Australia and Africa. More




City Mayors profiles city leaders from around the world and questions them about their achievements, policies and aims. More




City Mayors deals with economic and investment issues affecting towns and cities. More




City Mayors reports on how business developments impact on cities and examines cooperation between cities and the private sector. More




City Mayors describes and explains financial issues affecting local government. More




City Mayors lists and features urban events, conferences and conventions aimed at urban decision makers and those with an interst in cities worldwide. More




City Mayors reports urban environmental developments and examines the challenges faced by cities worldwide. More




City Mayors reports on and discusses urban development issues in developed and developing countries. More




City Mayors reports on developments in urban society and behaviour and reviews relevant research. More




City Mayors deals with urban transport issues in developed and developing countries and features the world's greatest metro systems. More




City Mayors examines education issues and policies affecting children and adults in urban areas. More




City Mayors investigates health issues affecting urban areas with an emphasis on health in cities in developing countries. More




City Mayors examines the importance of urban tourism to city economies. More




City Mayors examines the contributions history and culture make to urban society and environment. More




City Mayors describes the history, architecture and politics of the greatest city halls in the world. More




City Mayors invites readers to write short stories about people in cities around the world. More




City Mayors questions those who govern the world's cities and talks to men and women who contribute to urban society and environment. More




City Mayors profiles national and international organisations representing cities as well as those dealing with urban issues. More




City Mayors reports on major national and international sporting events and their impact on cities. More




City Mayors lists cities and city organisations, profiles individual mayors and provides information on hundreds of urban events. More


This archived article was published 9 June 2004
Safest US cities:
Virginia Beach named
the safest big US city
America has become a less violent society, with big cities seeing an above average fall in reported violent crime. The FBI's crime report for 2003 shows that across the US violent crime fell by 1.3 per cent. In cities with populations above one million the fall was 6.5 per cent, while in cities with populations of 250,000 to one million people the reduction in violent crime in 2003 amounted to more than 4.8 per cent.

On a regional basis, in the Midwest the fall in violent crime was greatest (-7.0 per cent), while violent crime level in the West fell by only 1.2 per cent. The respective figures for the Northeast and the South are -3.2 per cent and -2.7 per cent.

Property crimes remained more or less static. Nationally, the number of reported property, including burglary, larceny and car theft, fell by an insignificant 0.1 per cent. In cities with populations of more than one million property crime decreased by 0.8 per cent, while cities with populations of less than 100,000 saw property related offences all rise. The largest increase, according to the FBI report, was in communities with populations of fewer than 10,000 people. Property crime increased in the South and West but fell in the Northeast and Midwest.

New York City recorded more violent crimes than any other US city, but it is actually one of the safest big cities in the country. City Mayors used data from the FBI and the US Census Bureau to devise league tables of America's safest big cities. (The tables include data for the 50 largest US cities. However, there are no figures for Indianapolis and Washington DC.) According to City Mayors' calculations, Virginia Beach is the country's safest big city with 224 reported violent crimes per 100,000 citizens. Atlanta, the most dangerous big city in the US, is credited with 2,065 violent crimes per 100,000 people. Detroit, Miami, Las Vegas and Baltimore complete the top five of most violent big cities. New York City recorded 750 violent crimes per 100,000 during 2003.

In 2003, more people were murdered in Chicago than in any other US city. However, based on a ratio of murders per population, the Illinois city is only in tenth place. City Mayors calculated that people in New Orleans are more likely to be murdered than in any other big US city. Per 100,000 citizens, New Orleans recorded 57 reported murders. The figure for second-placed Baltimore was 41 murders per 100,000. San Jose, Colorado Springs, Mesa, El Paso, Austin and Honolulu all have fewer than five murders per 100,000 people.

All violent crime: The safest big US cities
(Total number of reported violent crimes and violent crimes per 100,000 citizens)

Rank

City

Population

Total no
of violent crimes

Crimes per 100,000 citizens

1

Virginia Beach

425,257

951

224

2

San Jose

894,943

3,407

381

3

Colorado Springs

360,890

1,741

482

4

Austin

656,562

3,180

484

5

Mesa

396,375

2,360

595

6

San Diego

1,223,400

7,431

607

7

El Paso

563,662

3,523

625

8

San Antonio

1,144,646

7,337

641

9

Denver

554,636

3,594

648

10

Wichita

344,284

2,247

653

11

Omaha

390,007

2,662

683

12

Honolulu

371,657

2,621

705

13

Seattle

563,374

3,980

706

14

Fort Worth

534,694

3,808

712

15

San Francisco

776,733

5,794

746

16

New York City

8,008,278

60,045

750

17

Phoenix

1,321,045

9,963

754

18

Long Beach

461,522

3,628

786

19

Fresno

427,652

3,542

828

20

Portland

529,121

4,463

843

21

Sacramento

407,018

3,463

851

22

Columbus

711,470

6,324

889

23

Milwaukee

596,974

5,398

904

24

Jacksonville

735,617

6,821

927

25

Oklahoma City

506,132

4,751

939

26

Tucson

486,699

4,760

978

27

Albuquerque

448,607

4,490

1,001

28

New Orleans

484,674

4,870

1,005

29

Tulsa

393,049

4,365

1,111

30

Minneapolis

382,618

4,563

1,193

31

Boston

589,141

7,212

1,224

32

Houston

1,953,631

24,266

1,242

33

Cleveland

478,403

6,273

1,311

34

Chicago

2,896,016

38,282

1,322

35

Los Angeles

3,694,820

49,337

1,335

36

Charlotte

540,828

7,260

1,342

37

Philadelphia

1,517,550

20,968

1,382

38

Kansas City

441,545

6,233

1,412

39

Oakland

399,484

5,722

1,432

40

Dallas

1,188,580

17,091

1,438

41

Nashville

569,891

8,381

1,471

42

Memphis

650,100

10,423

1,603

43

St. Louis

348,189

6,398

1,838

44

Baltimore

651,154

12,370

1,900

45

Las Vegas

478,434

9,305

1,945

46

Miami

362,470

7,231

1,995

47

Detroit

951,270

19,090

2,007

48

Atlanta

416,474

8,600

2,065
Murder: The safest big US cities
(Total number murders and murders per 100,000 citizens)
| | | | | |
| --- | --- | --- | --- | --- |
| Rank | City | Population | Total number of murders | Murders per 100,000 citizens |
| 1 | San Jose | 894,943 | 29 | 3 |
| 2 | Colorado Springs | 360,890 | 12 | 3 |
| 3 | Mesa | 396,375 | 14 | 4 |
| 4 | El Paso | 563,662 | 21 | 4 |
| 5 | Honolulu | 371,657 | 15 | 4 |
| 6 | Austin | 656,562 | 27 | 4 |
| 7 | Portland | 529,121 | 27 | 5 |
| 8 | Wichita | 344,284 | 18 | 5 |
| 9 | San Diego | 1,223,400 | 65 | 5 |
| 10 | Virginia Beach | 425,257 | 24 | 6 |
| 11 | Seattle | 563,374 | 34 | 6 |
| 12 | Boston | 589,141 | 39 | 7 |
| 13 | San Antonio | 1,144,646 | 85 | 7 |
| 14 | New York City | 8,008,278 | 597 | 7 |
| 15 | Fresno | 427,652 | 37 | 9 |
| 16 | San Francisco | 776,733 | 69 | 9 |
| 17 | Omaha | 390,007 | 35 | 9 |
| 18 | Tucson | 486,699 | 49 | 10 |
| 19 | Sacramento | 407,018 | 43 | 11 |
| 20 | Long Beach | 461,522 | 49 | 11 |
| 21 | Fort Worth | 534,694 | 57 | 11 |
| 22 | Denver | 554,636 | 63 | 11 |
| 23 | Albuquerque | 448,607 | 51 | 11 |
| 24 | Minneapolis | 382,618 | 46 | 12 |
| 25 | Charlotte | 540,828 | 66 | 12 |
| 26 | Jacksonville | 735,617 | 92 | 13 |
| 27 | Nashville | 569,891 | 72 | 13 |
| 28 | Los Angeles | 3,694,820 | 514 | 14 |
| 29 | Houston | 1,953,631 | 278 | 14 |
| 30 | Cleveland | 478,403 | 73 | 15 |
| 31 | Columbus | 711,470 | 109 | 15 |
| 32 | Tulsa | 393,049 | 61 | 16 |
| 33 | Phoenix | 1,321,045 | 241 | 18 |
| 34 | Milwaukee | 596,974 | 109 | 18 |
| 35 | Kansas City | 441,545 | 82 | 19 |
| 36 | Dallas | 1,188,580 | 226 | 19 |
| 37 | Memphis | 650,100 | 126 | 19 |
| 38 | Miami | 362,470 | 74 | 20 |
| 39 | Chicago | 2,896,016 | 598 | 21 |
| 40 | St. Louis | 348,189 | 73 | 21 |
| 41 | Oklahoma City | 506,132 | 109 | 22 |
| 42 | Philadelphia | 1,517,550 | 348 | 23 |
| 43 | Oakland | 399,484 | 109 | 27 |
| 44 | Las Vegas | 478,434 | 144 | 30 |
| 45 | Atlanta | 416,474 | 149 | 36 |
| 46 | Detroit | 951,270 | 366 | 38 |
| 47 | Baltimore | 651,154 | 270 | 41 |
| 48 | New Orleans | 484,674 | 274 | 57 |