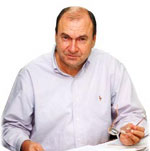 Cesa Maia, former Mayor of Rio de Janeiro





FRONT PAGE
Site Search
About us | Quiénes somos |
A propos de nous | Über uns |
Mayor Monitor
Directories
Events
Debate




Brazilian Mayors
World Mayor
World index of mayors
Mayors from The Americas

Mayors from Latin America (Former mayors in italics)
| Bogota | Buenos Aires | Caracas (Barreto) | Caracas (Ledezma) | Chacao | Curitiba | Florencio Varela | Guatemala City | Guayaquil | Guaymas | Havana | Hermosillo | Ciudad Juárez | Manuas | Matamoros | Mexico City | Montevideo | Nuevo Laredo | Porto Alegre | Puente Alto | Quito | Rio de Janeiro | Sao Paulo | Tlajomulco de Zuñiga | Villa Nueva |

Participatory budgeting
Direct democracy




City Mayors reports news from towns and cities around the world. Worldwide | Elections | North America | Latin America | Europe | Asia | Africa |




City Mayors ranks the world's largest, best as well as richest cities and urban areas. It also ranks the cities in individual countries, and provides a list of the capital cities of some 200 sovereign countries. More




City Mayors profiles city leaders from around the world. More




City Mayors describes the history, architecture and politics of the greatest city halls in the world. More




Mayors from The Americas, Europe. Asia, Australia and Africa compete for the World Mayor Award. More




Use Mayor Monitor to rate the performance of mayors from across the world More




In your opinion: Praise Criticise. Write




City Mayors reports political events, analyses the issues and depicts the main players. More




City Mayors describes and explains the structures and workings of local government in Europe, The Americas, Asia, Australia and Africa. More




City Mayors deals with economic and investment issues affecting towns and cities. More




City Mayors describes and explains financial issues affecting local government. More




City Mayors reports urban environmental developments and examines the challenges faced by cities worldwide. More




City Mayors reports on and discusses urban development issues in developed and developing countries. More




City Mayors reports on developments in urban society and behaviour and reviews relevant research. More




City Mayors invites readers to write about the people in their cities. More




City Mayors examines city brands and marketing. More




City Mayors lists and features urban events, conferences and conventions aimed at urban decision makers and those with an interst in cities worldwide. More




City Mayors deals with urban transport issues in developed and developing countries and features the world's greatest metro systems. More




City Mayors examines education issues and policies affecting children and adults in urban areas. More




City Mayors investigates health issues affecting urban areas with an emphasis on health in cities in developing countries. More




City Mayors reports on how business developments impact on cities and examines cooperation between cities and the private sector. More




City Mayors examines the contributions history and culture make to urban society and environment. More




City Mayors examines the importance of urban tourism to city economies. More




City Mayors questions those who govern the world's cities and talks to men and women who contribute to urban society and environment. More




City Mayors profiles national and international organisations representing cities as well as those dealing with urban issues. More




City Mayors reports on major national and international sporting events and their impact on cities. More




City Mayors lists cities and city organisations, profiles individual mayors and provides information on hundreds of urban events. More



Cesar Maia
former Mayor of Rio de Janeiro
By Andrew Stevens
14 January 2010: Twice nominated for World Mayor, the former first citizen of Rio de Janeiro Cesar Maia certainly cuts an unusual profile in Brazilian politics having made something of a political journey from Marxism to the populist centre-right over the course of his political career. However, Maia's three terms as mayor of the country's most famous city means he cannot be lightly dismissed and could potentially serve again in another elected role.

Update: Maia has been replaced as mayor by Eduardo Paes at the end of 2008.

A native of Rio born Copacabana in 1945, Maia served briefly in the military under conscription, before studying mining engineering. Like many other politically active members of his generation, Maia was forced to leave Brazil in exile during the 1960s on account of his membership of the Brazilian Communist Party. Exiled in Chile, he obtained a degree in economics, but the 1973 coup in that country saw him return to his native land. After becoming Professor of Macroeconomics at the Fluminense Federal University in the neighbouring city of Niterói, Maia became active in the Democratic Labour Party (PDT), founded by left populist the late Leonel Brizola. Maia supported Brizola's campaign to become Governor of Rio de Janeiro state in 1983, as Brazil was emerging from the military-led regime towards full democracy, and was rewarded with the position of Treasury Secretary for the state. Maia then served two terms in the Brazilian Congress on behalf of the party, only to join the centrist Party of the Brazilian Democratic Movement (PMDB) in 1991. One year later, he beat his former party's candidate in the race for Mayor of Rio de Janeiro on behalf of the PMDB.

His first term of office proved problematic, with charges that his administration was obsessed with gimmicks constantly levelled against him. He announced his decision to stand down at the next elections in 1996 and anointed Luiz Paulo Conde as his successor for the PMDB mayoral ticket. After an unsuccessful bid for the state governorship in 1998, Maia announced his intention to seek the mayoralty in 2000. However, the PMDB refused to shift their support from the incumbent Conde and Maia then defected once more to the right-leaning Party of the Liberal Front (PFL, now Democrats), under whose banner he won his second term as Mayor in 2000. In 2004, he was convincingly re-elected for a third term on the first round.

Maia's critics argued that his first term was concerned with superficial improvements to a problematic metropolis that shares world famous lush beaches and lavish entertainment with absolute poverty and dire life chances for many. The Mayor has also come under fire for declaring his candidacy for the 2006 presidential elections during the last set of mayoral elections, arguing that he can double up as Rio's Mayor and his party's standard-bearer in the national poll. His second and third terms as Mayor have seen him preside over a number of eye-catching initiatives that have often backfired. For instance, to tackle the city's worsening housing shortage, he was reported to have proposed dousing the streets at night with toxic solution to keep away street sleepers and even allowing the military to play a role in trying to re-establish law and order in the crime-ridden favelas. Furthermore, Maia's political opponents accuse him of manufacturing incidents and security threats during the election campaign as acts of "political terrorism". The Mayor is also a firm believer in de facto constitutional independence for Rio, supporting the idea of allowing the city to exist as a separate state within Brazil's federal system.

Maia's more recent stints as Mayor have been characterised by some progress in his social programmes, possibly learning the lessons of his first term, and his attempts to reposition Brazil's former capital as a major international city. Unsuccessfully vying for candidate status for the 2012 Olympic Games, Maia did secure the 2007 Pan-American Games for the city. Most recently, it has been the city administration's policy of abolishing speed limits in high crime areas in a bid to thwart car-jackings that has caught the world's attention. Maia has also attracted praise for his social programmes 'Fevela-Bairro' ("from slum to neighbourhood") and 'Remedio em Casa', which allows patients to receive prescription medicines by post. The Mayor also created Rio's Municipal Network of Theatres, Latin America's largest. However, at the current time it is his eye on the presidency that garners most headlines for the Mayor, even though his party has traditionally backed its partners in opposition nationally, the Brazilian Social Democratic Party (PSDB). One of the leading contenders for the PSDB candidacy is Sao Paulo Mayor Jose Serra. Coincidentally, Maia's son Rodrigo currently serves in the Brazilian Congress where he leads the PFL group in the Chamber of Deputies.