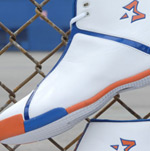 Starbury 'kicks' sell for less than $15




FRONT PAGE
SiteSearch
About us
Directories

Low-cost clothing to curb inner city violence
Vision for metro America
US urban inequality
2009 homelessnees in US cities
Youth curfews in US cities
America's children of prisoners
US cities and the Iraq war
US poverty underestimated
Black American men
Maras gangs
Los Angeles migration
US migration
US population reaches 300m
$1.4 billion for US homeless
Poverty in US cities
Nonprofits versus US cities
New York's hidden poverty
NYC mayor's welfare policies
Homeless in US cities
USA: Demolition as planning tool


City Mayors reports news from towns and cities around the world. Worldwide | Elections | North America | Latin America | Europe | Asia | Africa | Events |




Mayors from The Americas, Europe. Asia, Australia and Africa are competing for the annual World Mayor Award. More




City Mayors ranks the world's largest as well as richest cities and urban areas. It also ranks the cities in individual countries, and provides a list of the capital cities of some 200 sovereign countries. More




City Mayors reports political events, analyses the issues and depicts the main players. More




City Mayors describes and explains the structures and workings of local government in Europe, The Americas, Asia, Australia and Africa. More




City Mayors profiles city leaders from around the world and questions them about their achievements, policies and aims. More




City Mayors deals with economic and investment issues affecting towns and cities. More




City Mayors reports on how business developments impact on cities and examines cooperation between cities and the private sector. More




City Mayors describes and explains financial issues affecting local government. More




City Mayors lists and features urban events, conferences and conventions aimed at urban decision makers and those with an interst in cities worldwide. More




City Mayors reports urban environmental developments and examines the challenges faced by cities worldwide. More




City Mayors reports on and discusses urban development issues in developed and developing countries. More




City Mayors reports on developments in urban society and behaviour and reviews relevant research. More




City Mayors deals with urban transport issues in developed and developing countries and features the world's greatest metro systems. More




City Mayors examines education issues and policies affecting children and adults in urban areas. More




City Mayors investigates health issues affecting urban areas with an emphasis on health in cities in developing countries. More




City Mayors examines the importance of urban tourism to city economies. More




City Mayors examines the contributions history and culture make to urban society and environment. More




City Mayors describes the history, architecture and politics of the greatest city halls in the world. More




City Mayors invites readers to write short stories about people in cities around the world. More




City Mayors questions those who govern the world's cities and talks to men and women who contribute to urban society and environment. More




City Mayors profiles national and international organisations representing cities as well as those dealing with urban issues. More




City Mayors reports on major national and international sporting events and their impact on cities. More




City Mayors lists cities and city organisations, profiles individual mayors and provides information on hundreds of urban events. More


Basketball star unveils low-cost clothing
range to curb violence in US inner cities
By Tony Favro, USA Editor
17 December 2006: In September 2006, professional basketball star Stephon Marbury of the New York Knicks announced that he was producing a line of inexpensive athletic clothes and shoes. The Starbury-brand items retail for less than US$15, far less than the $150 to $300 for name brands of sportswear such as Nike or Adidas. One of the reasons Marbury gave for entering the apparel business was to "keep kids a little safer." Marbury reasoned that children wearing low-priced jackets and sports shoes would be less likely to become crime victims.

In American inner cities, where residents are predominantly poor and Black or Latino, youth are beaten, robbed, and even killed for their fancy sports apparel. Atlanta police report an average of 12 violent muggings for sportswear per month since 1990. Over the same period, Chicago police report about 50 violent acts involving jackets and coats with sports-team logos and about two dozen involving expensive athletic shoes each month.

When Stephon Marbury unveiled his low-price clothing, he referred to a 15-year-old girl from Minneapolis, Minnesota who was murdered for the expensive jersey on her back. Such murders of children have become commonplace in American inner cities, as designer sports clothing has become popular among violent street gangs. Clothing with logos was involved in some way in virtually all of the more than 4500 juvenile gang killings in the US over the past five years.

In 2005 – in an effort to reduce gang violence -- Mayor Ron Gonzales of San Jose, California asked merchants to stop selling sportswear with the numbers 13 and 14. The number 13 is a symbol of San Jose's Surenos gang; 14 is used by the Nortenos gang. Public school districts in Colorado Springs, Colorado, Portland, Oregon, and several other US cities have banned clothes with logos of any kind, except school logos, in response to violence committed against their students.

Global streets
In 1962, the same year that Dr. Martin Luther King, Jr. was arrested and jailed in Albany, Georgia for his nonviolent protests against the racial and economic segregation of Black Americans, a man named Phil Knight started a sport shoe company called Nike.

By the early-1980s, Knight realized that he didn't have to manufacture the products he sold. He could have them made by subcontractors in third-world countries for a fraction of what it costs to produce them in the United States. He did this, and Nike's profits soared.

It set a new standard for manufacturing. Companies that were traditionally expected to have a 100 per cent markup between the cost of factory production and the retail price could now get a markup of 400 per cent. Wall Street loved this idea, and demanded the same from other manufacturers. As a result, jobs began to leave the US in droves. The more jobs a company exported, the more its stock went up. As Phil Knight said, "There is no value in making things anymore… value is added by marketing."

Phil Knight used his enormous profits to advertise like no other company had ever done before. While similar companies were spending tens of millions of dollars on advertising each year, Nike spent hundreds of millions.

Nike hired basketball superstar Michael Jordan and other prominent athletes to advertise its products. The company sponsored high-profile extreme sporting events, and opened Niketown stores – all of which worshipped the Nike logo, the "swoosh", as both art and heroic symbol. Phil Knight turned Nike's "Just Do It" motto into an attitude, a lifestyle that every young person had to have. In other words, he created a superbrand. It's the idea that image is everything.

In a 1967 critique of American-style capitalism, Martin Luther King, Jr. issued a prescient warning against "individual capitalists of the West investing huge sums of money in Asia, Africa, and South America only to take profits with no concern for social betterment."

By the 1990s, the reliance of American brands on third-world sweatshop manufacturers drained American inner cities of hundreds of thousands of entry-level jobs that traditionally were filled by the poor. In the eyes of corporate America, Main Street no longer had value compared to Wall Street.

And, all too often, an inner city youth with a self-image or self-esteem problem would kill for a brand name coat or a pair of athletic shoes.

Public policy
Global capitalism, as Dr. King knew, is not the inevitable result of an invisible economic hand. In 1983, US President Ronald Reagan began to alter the fundamental policies that shaped the US economy. US anti-trust laws were rapidly dismantled. Tax laws were changed to give favorable treatment to foreign profits. Laws to restrict the powers of organized labor were passed. Since the US economy was so dominant, the policy changes also restructured the global economy.

The consequences have been profound, particularly for American inner cities. A 2005 article in the Washington Post showed how the premier US basketball league - the National Basketball Association, or NBA - is not about basketball anymore. The NBA makes its money, not from basketball, but from selling products – from its brand, its image. Today, it's the tough, macho, 'bad guy' image that sells products. And so you have kids walking around American inner cities with baggy clothes made in Bangladesh doing little more with their lives than acting tough.

In 2005, a 15-year-old Rochester, New York boy was murdered for his coat. After the funeral, Rochester mayor Bill Johnson publicly reflected on the relationship between global brands and the condition of American inner cities: "It makes sense when you think about it. If companies are going to ship thousands of jobs overseas, they have to take people out of play. Poor and poorly-educated young people can't be walking around looking for jobs. That might cause them to think instead of react and start a new social movement for jobs and opportunity like in the 1960s. Instead, not only do people buy companies' clothes, but they also advertise them by wearing the company logo on those clothes, which keeps the cycle of branding going."

Public space
This social alienation, rooted in racial and economic segregation, is the sine qua non of sportswear marketing in America. The most successful brands of sports apparel are popular among both urban and suburban young people, Black, white, and Latino.

Poor inner city Black and Latino youth can acquire status, and the feelings that go with it, by wearing the symbols of a prohibitively expensive suburban lifestyle. Middle- and upper-class suburban white kids can wear the same 'ghetto chic' fashions to express their disdain for mass culture.

At a time in America when public schools (and the communities that provide their students) are highly segregated by income and race, and government funding is being reduced for parks and libraries – traditional public spaces where people from all walks of life can mingle – brand-name clothing is increasingly the only common thread shared by urban and suburban youth.

It's a thread of imagery, attitude, and illusion. Behind the illusion is the reality, or betrayal, of the American city in the form of high prices, job loss, and the resulting social isolation, and violence.

What is being betrayed, ultimately, is no less than the central promises of American global capitalism: the promises of increased connectivity, interactivity, prosperity, and freedom.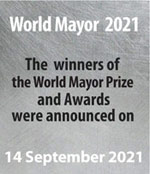 • Poverty is a crime against humanity
• Support mayors who fight poverty
• Nominate the best for the 2020 World Mayor Prize