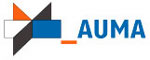 AUMA
Association of the German Trade Fair Industry
Littenstraße 9
10179 Berlin
Germany
Tel: +49 30 24 00 0-0
Fax: +49 30 24 00 0-263
Email: info@auma.de
Internet:
www.auma-messen.de




FRONT PAGE
SiteSearch
About us
Directories

Best European business cities
Real estate Europe
German local elections 2009
German population
German business cities
German business locations
Best business locations
Cologne's China Offensive


City Mayors reports news from towns and cities around the world. Worldwide | Elections | North America | Latin America | Europe | Asia | Africa | Events |




Mayors from The Americas, Europe. Asia, Australia and Africa are competing for the annual World Mayor Award. More




City Mayors ranks the world's largest as well as richest cities and urban areas. It also ranks the cities in individual countries, and provides a list of the capital cities of some 200 sovereign countries. More




City Mayors lists and features urban events, conferences and conventions aimed at urban decision makers and those with an interst in cities worldwide. More




City Mayors reports political events, analyses the issues and depicts the main players. More




City Mayors describes and explains the structures and workings of local government in Europe, The Americas, Asia, Australia and Africa. More




City Mayors profiles city leaders from around the world and questions them about their achievements, policies and aims. More




City Mayors deals with economic and investment issues affecting towns and cities. More




City Mayors reports on how business developments impact on cities and examines cooperation between cities and the private sector. More




City Mayors describes and explains financial issues affecting local government. More




City Mayors reports urban environmental developments and examines the challenges faced by cities worldwide. More




City Mayors reports on and discusses urban development issues in developed and developing countries. More




City Mayors reports on developments in urban society and behaviour and reviews relevant research. More




City Mayors deals with urban transport issues in developed and developing countries and features the world's greatest metro systems. More




City Mayors examines education issues and policies affecting children and adults in urban areas. More




City Mayors investigates health issues affecting urban areas with an emphasis on health in cities in developing countries. More




City Mayors examines the contributions history and culture make to urban society and environment. More




City Mayors describes the history, architecture and politics of the greatest city halls in the world. More




City Mayors invites readers to write short stories about people in cities around the world. More




City Mayors questions those who govern the world's cities and talks to men and women who contribute to urban society and environment. More




City Mayors profiles national and international organisations representing cities as well as those dealing with urban issues. More




City Mayors reports on major national and international sporting events and their impact on cities. More




City Mayors lists cities and city organisations, profiles individual mayors and provides information on hundreds of urban events. More


This is an archived article, originally published in 2003
German cities dominate the
international trade fair market
A report by Deutsche Welle

11 November 2003: Despite its economic crisis, Germany has maintained its position as the world's premier trade fair location. Though attendance is down, events like the Hanover technology fair CeBit and the Frankfurt Book Fair are still pushing full steam ahead.

A report by the official German broadcaster Deutsche Welle says that Germany was a country of trade fairs. "It's a tradition that has spanned more than 800 years. And there are signs of it everywhere. At the train stations and airports in most major cities here, signs guide visitors to the nearest trade fair centre."

With cities like Frankfurt and Leipzig serving as major crossroads to other business centres in Europe, German trade fair organisers have successfully cashed in on the country's central location. The expansion of the trades and also the economic miracle, that occurred after the second world war all contributed to Germany's establishment as the global leader in trade fairs.

Today, cities like Frankfurt, Düsseldorf, Hanover, Munich, Cologne, Berlin, Nuremberg, Stuttgart, Essen, Leipzig and Hamburg host the world's leading trade fairs in an astonishing number of industrial and service sectors.

In fact, two-thirds of the leading international fairs are hosted in Germany. In Cologne, the international food industry gathers each year for the Anuga fair, bicycle manufacturers converge on Ifma and photo and imaging companies display their latest wares at Photokino. In Berlin, the tourism industry swaps shop secrets at the ITB fair and consumer electronics-makers swap gizmos and cut deals at the IFA, the world's biggest event of its kind. Frankfurt is home to the world's largest publishing industry event, the Frankfurt Book Fair.

Other cities have established themselves in the niche fair market. Each year Düsseldorf plays host to companies engaged in all things nautical, with the successful International Boat Show; the Igedo fashion trade fair, which brings together Germany's leading designers; as well as the Medica, the world's largest medical industry convention. Stuttgart and Essen also host numerous trade fairs. Unforgettable, of course, is the International Toy Fair in Nuremberg, a city long associated with the holiday season because of its famous annual Christmas market.

Together, Germany's 140 nationwide trade fairs and exhibitions attract 160,000 exhibitors, who rent a total of 6.5 million square meters of floorspace. They also draw between nine and ten million visitors, according to the Berlin-based Association of the German Trade Fair Industry (AUMA).This is almost a quarter of the entire European market. The European Association of Trade Fairs (Emeca) estimates that, Europe-wide, 1,000 trade fairs are held each year, drawing about 40 million visitors.

Among them is Frankfurt's International Motor Show, which has an enormous influence on the auto market. On average, about one million visitors stroll through the stands of the fair's 1,100 exhibitors. Berlin's tourism fair, ITB, meanwhile, drew 10,000 exhibitors in 2002 and 122,000 visitors. Hanover's CeBit IT fair drew a massive 673,000 visitors to its 400,000 square metres of exhibition space in 2002.

The fairs also draw scores of visitors from other countries. For the first time ever, according to AUMA, in 2002 at least 20 per cent of all visitors to German trade fairs were foreigners, mostly from other European countries. They come to Germany because massive trade fairs are fewer and far between in other parts of Europe and overseas.

But some cities do compete successfully against the German market. Milan is well known for its fashion trade fair and for its metals industry fair, EMO, which is hosted alternating years by the Italian industrial centre and Hanover. A number of successful specialist fairs are also held in Birmingham, England, and Barcelona. Paris is renowned for its Prêt-a-porter fashion shows as well as the International Air and Space Show. Automobile fairs in Detroit, Geneva and Tokyo are also international draws. But even industrial giants like the United States and Japan have few trade fairs that serve as international magnets like those in Germany, a shortcoming shared by European capitals like London, Rome, Madrid, Moscow, Vienna and Brussels.

Still, in the time of one of the worst economic crises Germany has experienced since the second world war, the trade fair industry isn't without its problems. In 2002, the number of people who visited CeBit, the world's largest computer fair, dropped by 20 per cent. Berlin suspended its Internet World fair after the number of exhibitors in 2002 fell by 30 per cent. The city also cancelled its 2002 Auto Fair AAA after failing to attract enough car-makers.

Most fairs managed considerably better. Overall in Germany, the number of exhibitors at major trade fairs fell by two per cent and the number of visitors by five per cent, according to AUMA statistics. The worst may be yet to come. A recent survey by pollster Emnid found that 23 per cent of 500 German companies that currently exhibit are considering plans to reduce their trade fair presence. Only 12 per cent of the companies polled said they planned to increase their trade fair activities.

Still, there have been some success stories in the midst of the slumbering economy. Berlin's recent Venus fair for the adult entertainment industry attracted 300 exhibitors from 21 countries making it 'not only the most lucrative, but also the most international erotic fair in the world', the Financial Times Deutschland recently reported.