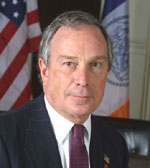 New York Mayor Michael Bloomberg explains the City's 2005 budget

Mayor Michael R. Bloomberg
City Hall
New York
NY 10007
USA
Tel: +1 212 788 9600
Fax: +1 212 788 2460
Internet: www.nyc.gov
Email: nyc.gov/html/mail/
html/mayor.html



FRONT PAGE
SiteSearch
About us
Directories


NYC prepares for future
NYC budget
Local government finance - USA
US municipal bonds
US community grant eliminated
Large US cities hardest hit by recession
NYC fights noise pollution
US metro agenda
US cities on the internet
Urban poverty in the US
US cities in fiscal crisis
US Conference of Mayors
National League of Cities




City Mayors reports news from towns and cities around the world. Worldwide | Elections | North America | Latin America | Europe | Asia | Africa | Events |




Mayors from The Americas, Europe. Asia, Australia and Africa are competing for the annual World Mayor Award. More




City Mayors ranks the world's largest as well as richest cities and urban areas. It also ranks the cities in individual countries, and provides a list of the capital cities of some 200 sovereign countries. More




City Mayors lists and features urban events, conferences and conventions aimed at urban decision makers and those with an interst in cities worldwide. More




City Mayors reports political events, analyses the issues and depicts the main players. More




City Mayors describes and explains the structures and workings of local government in Europe, The Americas, Asia, Australia and Africa. More




City Mayors profiles city leaders from around the world and questions them about their achievements, policies and aims. More




City Mayors deals with economic and investment issues affecting towns and cities. More




City Mayors reports on how business developments impact on cities and examines cooperation between cities and the private sector. More




City Mayors describes and explains financial issues affecting local government. More




City Mayors reports urban environmental developments and examines the challenges faced by cities worldwide. More




City Mayors reports on and discusses urban development issues in developed and developing countries. More




City Mayors reports on developments in urban society and behaviour and reviews relevant research. More




City Mayors deals with urban transport issues in developed and developing countries and features the world's greatest metro systems. More




City Mayors examines education issues and policies affecting children and adults in urban areas. More




City Mayors investigates health issues affecting urban areas with an emphasis on health in cities in developing countries. More




City Mayors examines the contributions history and culture make to urban society and environment. More




City Mayors describes the history, architecture and politics of the greatest city halls in the world. More




City Mayors invites readers to write short stories about people in cities around the world. More




City Mayors questions those who govern the world's cities and talks to men and women who contribute to urban society and environment. More




City Mayors profiles national and international organisations representing cities as well as those dealing with urban issues. More




City Mayors reports on major national and international sporting events and their impact on cities. More




City Mayors lists cities and city organisations, profiles individual mayors and provides information on hundreds of urban events. More


This is an archived article, published in April 2004
Despite economic growth New York's
spending is still outpacing tax income
By Josh Fecht, US Editor

When in April 2004 New York City Mayor Michael Bloomberg presented his US$46.9 billion budget for the financial year (FY) 2005, he told his audience that the City's economy continued to strengthen, revenues from economically sensitive taxes, such as personal income and property taxes, were rising and the City's fiscal prudence was paying dividends. "But unfortunately, spiralling non-discretionary spending is dampening the City's recovery and creating significant problems for the financial year 2006," he also warned.

With the strengthening economy, tax revenue projections for FY 2004 have increased by $791 million based upon strong collections of personal income and real property transaction taxes and other economically sensitive taxes. However, expenses for FY 2004 have increased by $800 million.

After having announced that the 2005 budget was finally balanced, Mayor Bloomberg said that although the budget was balanced, realistically and responsibly, New York faced significant and troubling gaps which demand that the City had to continued to restrain spending wherever and whenever possible. "And we must set our priorities based on need, not political expedience," Mayor Bloomberg added. "New Yorkers have managed this fiscal crisis with fortitude and compassion, and our sacrifices are starting to pay off. New York's economy is growing: employment is rising and commercial vacancy is falling. Unfortunately the growth of fixed costs and non-discretionary spending is outpacing revenues and creating serious budget challenges in the near future. Now is the time to address the escalating increases in pensions, Medicaid and other fixed costs before they overwhelm our City's operating budget."

Mayor Bloomberg admitted that New Yorkers had made painful sacrifices over the last two and a half years and their commitment to the City had been instrumental in its recovery and growth. "Crime continues to fall; welfare rolls are near all time lows; parks are clean. Private sector employment has grown by 16,000 jobs over the last year and international tourists are returning to New York in numbers not seen since before 11 September 2001 (9/11). The forecast for Wall Street profits for the calendar year 2004 has been increased to $16.4 billion from $12.3 billion," Mayor Bloomberg stressed.

The City has reduced the rate of growth in City spending on agency operations, but non-discretionary expenses are increasing at an explosive rate. Fixed costs are growing almost six times as fast as the projected revenue growth. Debt service, pensions, fringe benefits and Medicaid expenses increase by over $2.3 billion from 2004 to 2005, while Agency expenses increase by only $293 million. Immediate economic growth will not solve this problem. If tax revenues increased at their fastest rate ever, the budget gap in 2006 would be reduced by only $1 billion. In addition, unfunded mandates by the City Council are putting additional pressure on the budget. The lead bill passed by the Council over the Mayor's veto will cost the City $315 million over four years (not including liability costs) and require the hiring or redeployment of 389 city personnel.

Despite the City's budget problems New York must continue to invest in the City's infrastructure and long-term growth. The Mayor said that his administration was using targeted investment of City funds to create jobs, housing and economic growth in all five boroughs. Specific investment projects include one billion dollars for the modernisation of New York's 911 emergency response system, $71 million to improve the infrastructure of Brooklyn Navy Yard and $200 million to redevelop the Manhattan Passenger Ship Terminal for cruise lines. The City will also spend $475 million to modernize the Harlem Hospital and the Jacobi Medical Center.