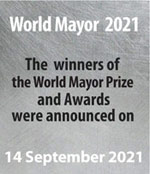 • Poverty is a crime against humanity
• Support mayors who fight poverty
• Nominate the best for World Mayor 2020

SiteSearch
About us
Mayor Monitor
Directories
Events
Debate


Use Mayor Monitor to rate the performance of mayors from across the world More




City Mayors reports news from towns and cities around the world. Worldwide | Elections | North America | Latin America | Europe | Asia | Africa |




In your opinion: Praise Criticise Write




City Mayors profiles city leaders from around the world and questions them about their achievements, policies and aims. More




Mayors from The Americas, Europe. Asia, Australia and Africa are competing for the annual World Mayor Award. More




City Mayors ranks the world's largest as well as richest cities and urban areas. It also ranks the cities in individual countries, and provides a list of the capital cities of some 200 sovereign countries. More




City Mayors reports political events, analyses the issues and depicts the main players. More




City Mayors describes and explains the structures and workings of local government in Europe, The Americas, Asia, Australia and Africa. More




City Mayors deals with economic and investment issues affecting towns and cities. More




City Mayors reports on how business developments impact on cities and examines cooperation between cities and the private sector. More




City Mayors describes and explains financial issues affecting local government. More




City Mayors lists and features urban events, conferences and conventions aimed at urban decision makers and those with an interst in cities worldwide. More




City Mayors reports urban environmental developments and examines the challenges faced by cities worldwide. More




City Mayors reports on and discusses urban development issues in developed and developing countries. More




City Mayors reports on developments in urban society and behaviour and reviews relevant research. More




City Mayors deals with urban transport issues in developed and developing countries and features the world's greatest metro systems. More




City Mayors examines education issues and policies affecting children and adults in urban areas. More




City Mayors investigates health issues affecting urban areas with an emphasis on health in cities in developing countries. More




City Mayors examines the contributions history and culture make to urban society and environment. More




City Mayors examines the importance of urban tourism to city economies. More




City Mayors describes the history, architecture and politics of the greatest city halls in the world. More




City Mayors invites readers to write short stories about people in cities around the world. More




City Mayors questions those who govern the world's cities and talks to men and women who contribute to urban society and environment. More




City Mayors profiles national and international organisations representing cities as well as those dealing with urban issues. More




City Mayors reports on major national and international sporting events and their impact on cities. More




City Mayors lists cities and city organisations, profiles individual mayors and provides information on hundreds of urban events. More


In your opinion
Best cities in the world

We invite our readers to debate the issues and personalities discussed in articles published by City Mayors. We also welcome suggestions on how our coverage of cities and their people could be improved and extended. Praise us. Criticise us. Write for us.

Below we publish a cross-sections of recent comments by City Mayors readers. If you wish to join our worldwide dialogue on urban affairs, then please post your views, comments or suggestions using the form at the bottom of this page.

Topics debated on other pages: Richest cities | Most expensive cities | Best cities in the world | Urban poor and crime | Illegal immigrants in the US | Homelessness in the US | Great Lakes | Wasteful urban development | India's urban development | Coastal flooding | Cycling in US cities | Mayor of Chacao | Mayor of Denver | Mayor of Detroit | Mayor of Porto Alegre | NEW TOPIC |


Best cities in the world
From Ash, New Delhi, India
Rating Bangalore as best city in India just blew away the credibility of the survey for me. The infrastructure there is a wreck with some roads in the midst of craters. The politicians have publicly made fun of themselves and frankly I cannot even go on about it. There are way better cities in India. (Posted 19 August 2008)

From Peter, Stuttgart, Germany
So in your eyes dirty, ugly and poor Berlin has a higher quality of life than the rich, high-tech garden city Stuttgart, which, with its suburbs, is home to 2.7 Millions of people? (Posted 19 August 2008)

From Babatunde, Lagos, Nigeria
My comment has to do with the ranking of Lagos lower than Kinshasa, I find this rather unacceptable, I have travelled to quite a few cities in the world and seen what obtains, I don't think a city on the verge of precipice and subsumed in highest level of inflation like the capital of Zimbabwe is fit to occupy a place higher than Lagos in the ranking of safest cities. Thanks. (Posted 19 August 2008)

From Marcia P.H., Seattle, USA
I have lived in three of these cities: Boston, Seattle and Washington, DC. I would definitely put Seattle above Washington, DC. I would even rank it above Boston but not by much. In Seattle the people are friendlier and the weather has less extreme temperatures, although there is a long, grey drizzly winter. I found Washington, DC friendly but maybe too southern for me. There was widespread, although not universal, hypocrisy. There were hidden agendas that I never figured out. It is, however, the most beautiful city in the US, I think. (Posted 19 August 2008).

From Ayako, Tokyo, Japan
I don't think Tokyo deserves to be ranked the best city in Japan. (Posted 19 August 2008)

From Kirk, Atlanta, USA
I think the survey should take a look at Dallas, Texas, USA. I believe it is one of the best cities in the world in terms of business and logistics. You can connect to any where int he world from Dallas and it has a very business friendly culture. (Posted 19 August 2008)

From Dejan A., Calgary, Canada
Calgary is a really nice city to visit, but if you stay in the city for longer it seems that business is more important then anything else. (Posted 19 August 2008)

From P Hain, London, UK:
I think it is quite obvious that that best cities to live in are also the most boring cities in the world. London and New York are the most fun-filled cities in the world you just have to accept the risk to live there. (Posted 9 July 2008)

From Roger & Vera Gregory, Lethbridge, Alberta, Canada:
I am surprised (and disappointed) that you do not include EDINBURGH, the charming Scottish city known as "the Venice of the North" (despite its lack of waterways!) Other unlisted but attractive cities (which I have visited) are Bratislava, Slovakia and, in the Middle East/Africa group, Libreville, Gabon and Manama (Bahrain). Thanks for this survey - excellent work! (Posted 9 July 2008)

From D W, Gdynia, Poland
Well, I am really not surprised to see German and Swiss cities scoring that high - if you have ever been there, you know the reason why. When I was in Munich and Frankfurt, I wasn't scared at all to go outside at night; I felt safe and sound thanks to many police patrols and simply the atmosphere of the city. On the other hand, I'm rather stunned to see Birmingham 'safer' than London - it's London where I'd better spend nights at, not Birmingham (truly saying, I was afraid of going to the centre of Birmingham alone, while in London I wasn't). I'm also pretty surprised to see Warsaw on the list, and not Cracow or some city in the north of the country (for instance Gdansk, Sopot, Szczecin) - in my opinion Warsaw is one of the worst cities in Poland, not safe at all and repulsive. It's also extremely ugly when it comes to attractiveness. The only good side of our capital? Lots of shops and places to work. And maybe the big park in the middle of the city. (Posted 9 July 2008)



---
Praise. Criticise. Write.
We invite our readers to comment on the issues and personalities discussed in articles published by City Mayors. But we welcome even more suggestions on how our coverage of cities and their people could be improved and extended. Praise us. Criticise us. Write for us. Please post your text below. While we endeavour to publish all relevant comments, we reserve the right to edit them and to reject unsuitable contributions.
Please add your contribution
You may also introduce a new topic for debate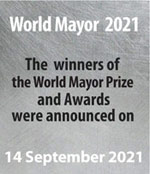 The best Mayors for Stronger | Fairer | Greener cities. Elect your candidate for the 20/21 World Mayor Prize and Honours. The Prize has been awarded since 2004.