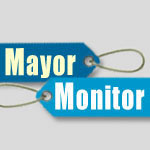 The Mayor Monitor ratings will become a contributory factor of World Mayor 2012




FRONT PAGE
Site Search
About us


Worldwide | Elections | North America | Latin America | Europe | Asia | Africa |


























Mayor Monitor
Praise. Criticise. Write.
City Mayors invites its readers to evaluate the perofmance of mayors from across the world. Please comment on their achievements while in office and/or describe their failures. You may also rate their overall performance by awarding him or her marks out of ten. '1' signifies an extremely poor performance, while '10' would rate his or her performance as outstanding. Evaluation form

Over time, Mayor Monitor will provide a valuable track record of mayors' successes and failures as well as their popularity among residents and a wider public. The results will be published on the City Mayors website and updated regularly.

Recent comments:
• Mayors from the US & Canada
• Mayors from Latin America
• Mayors from Europe
• Mayors from Asia & Australasia

In order to eliminate multiple submissions and/or fraudulent as well as organised rating by political friends and foes of the mayor, all submissions are processed manually and, if deemed questionable, cross-checked. Thank you for participating.

How good is your mayor?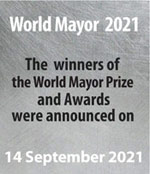 The best Mayors for Stronger | Fairer | Greener cities. Elect your candidate for the 20/21 World Mayor Prize and Honours. The Prize has been awarded since 2004