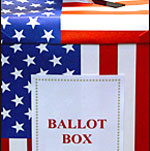 On 3 November 2009 mayoral elections were held in many major US cities





FRONT PAGE
Site Search
About us | Quiénes somos |
A propos de nous | Über uns |
Mayor Monitor
Directories
Events
Debate



US mayors
US elections 2010: Results
US politcs and consumerism
US elections 2009: Results
US elections 08: Factors
US elections 08: Urban issues
Power relations in US cities


City Mayors reports news from towns and cities around the world. Worldwide | Elections | North America | Latin America | Europe | Asia | Africa | Events |




Mayors from The Americas, Europe. Asia, Australia and Africa are competing for the annual World Mayor Award. More




City Mayors ranks the world's largest as well as richest cities and urban areas. It also ranks the cities in individual countries, and provides a list of the capital cities of some 200 sovereign countries. More




City Mayors reports political events, analyses the issues and depicts the main players. More




City Mayors describes and explains the structures and workings of local government in Europe, The Americas, Asia, Australia and Africa. More




City Mayors profiles city leaders from around the world and questions them about their achievements, policies and aims. More




City Mayors deals with economic and investment issues affecting towns and cities. More




City Mayors reports on how business developments impact on cities and examines cooperation between cities and the private sector. More




City Mayors describes and explains financial issues affecting local government. More




City Mayors lists and features urban events, conferences and conventions aimed at urban decision makers and those with an interst in cities worldwide. More




City Mayors reports urban environmental developments and examines the challenges faced by cities worldwide. More




City Mayors reports on and discusses urban development issues in developed and developing countries. More




City Mayors reports on developments in urban society and behaviour and reviews relevant research. More




City Mayors deals with urban transport issues in developed and developing countries and features the world's greatest metro systems. More




City Mayors examines education issues and policies affecting children and adults in urban areas. More




City Mayors investigates health issues affecting urban areas with an emphasis on health in cities in developing countries. More




City Mayors examines the importance of urban tourism to city economies. More




City Mayors examines the contributions history and culture make to urban society and environment. More




City Mayors describes the history, architecture and politics of the greatest city halls in the world. More




City Mayors invites readers to write short stories about people in cities around the world. More




City Mayors questions those who govern the world's cities and talks to men and women who contribute to urban society and environment. More




City Mayors profiles national and international organisations representing cities as well as those dealing with urban issues. More




City Mayors reports on major national and international sporting events and their impact on cities. More




City Mayors lists cities and city organisations, profiles individual mayors and provides information on hundreds of urban events. More


High profile incumbents prevail
in American mayoral elections
4 November 2009: The big story of this year's US mayoral elections is the narrow victory of Michael Bloomberg in the New York City race, who obtained a previously impossible third term by only four per cent over Democrat challenger William Thompson. Incumbents also triumphed in Boston, Detroit, Minneapolis, Pittsburgh, St Paul and Rochester, while second-round ballots will need to be held in Atlanta and Houston.
Election results for selected cities
City

Winner
(Inc) denotes incumbent


Winning result
in %

Albany NY
Gerald Jennings (Inc)

63

Allentown PA
Ed Pawlowski (Inc)

74

Annapolis MD
Joshua Cohen.
Asheville NC
Terry Bellamy (Inc)

79

Atlanta GA
Kasim Reed.

n/a

Atlantic City NJ
Lorenzo Langford (Inc)

59

Auburn WA
Peter Lewis (Inc)

59

Baldwin Park CA
Manuel Lozano (Inc)

58

Boston MA
Thomas Menino (Inc)

57

Bowie MD
Frederick Robinson (Inc)

n/a

Bristol CT
Arthur Ward (Inc)

58

Brockton MA
Linda Balzotti.

n/a

Broomfield CO
Patrick Quinn (Inc)

71

Camden NJ
Dana Redd.

83

Cape Coral FL
John Sullivan.

63

Cedar Falls IA
Jon Crews (Inc)

69

Cedar Rapids IA
Ron Corbett.

62

Chapel Hill NC
Mark Kleinschmidt.

49

Charlotte NC
Anthony Foxx.

51

Cincinnati OH
Mark Mallory (Inc)

54

Cleveland OH
Frank Jackson (Inc)

77

Concord NC
Scott Padgett (Inc)

72

Danbury CT
Mark Boughton (Inc)

n/a

Dayton OH
Gary Leitzell.

52

Detroit MI
David Bing (Inc)

58

Durham NC
William Bell (Inc)

77

East Hartford CT
Melody Currey (Inc)

n/a

Edison NJ
Antonia Ricigliano.

58

El Monte CA
Andre Quintero.

67

Erie PA
Joseph Sinnott (Inc)

n/a

Fayetteville NC
Anthony Chavonne (Inc)

67

Fort Myers FL
Randall Henderson

n/a

Gaithersburg MD
Sidney Katz (Inc)

n/a

Garfield Heights OH
Vic Collova.

54

Greensboro NC
Bill Knight.

n/a

Hamden CT
Scottt Jackson.

54

Hawthorne CA
Larry Guidi (Inc)

51

Hialeah FL
Julio Robaina (Inc)

93

Houston TX
Annise Parker

n/a

Kannapolis NC
Robert Misenheimer (Inc)

71

Kent WA
Suzette Cooke (Inc)

69

Lansing MI
Virg Bernero (Inc)

63

Lawrence MA
William Lantigua.

53

Lewiston ME
Laurent Gilbert (Inc)

54

Loveland CO
Cecil Gutierrez.

36

Manchester NH
Ted Gatsas.

57

Marietta GA
Raymond Stevens Tumlin

80

Meriden CT
Michael Rohde.

67

Methuen MA
William Manzi, (Inc)

53

Miami FL
Tomás Regalado.

72

Miami Beach FL
Matti Bower (Inc)

77

Middletown CT
Sebastian Giuliano (Inc)

53

Milford CT
James Richetelli (Inc)

60

Minneapolis MN
R.T. Rybak (Inc)

70

New Britain CT
Timothy Stewart (Inc)

n/a

New Haven CT
John DeStefano (Inc)

74

New York City NY
Michael Bloomberg (Inc)

51

Newark CA
David Smith (Inc)

96

Newton MA
Setti Warren.

51

North Olmsted OH
Kevin Kennedy.

54

Norwalk CT
Richard Moccia (Inc)

61

Norwich CT
Peter Nystrom.

n/a

Palmdale CA
James Ledford (Inc)

79

Parsippany-Troy Hills NJ
Jamie Barberio.

52

Pittsburgh PA
Luke Ravenstahl (Inc)

55

Plainfield NJ
Sharon Robinson-Briggs (Inc)

66

Provo UT
John Curtis.

n/a

Quincy MA
Thomas Koch (Inc)

54

Riverside CA
Ronald Loveridge (Inc)

69

Rochester NY
Robert Duffy (Inc)

100

Rockville MD
Phyllis Marcuccio.

n/a

San Bruno CA
Jim Ruane.

74

San Ramon CA
Abram Wilson (Inc)

96

Sandy City UT
Thomas Dolan (Inc)

57

Santa Barbara CA
Helene Schneider.

46

Seattle WA
Mike McGinn

51

Shelton CT
Mark Lauretti (Inc)

55

Southfield MI
Brenda Lawrence (Inc)

78

Springfield MA
Domenic Sarno (Inc)

n/a

St. Paul MN
Chris Coleman (Inc)

69

St. Petersburg FL
Bill Foster.

52

Stamford CT
Michael Pavia.

55

Stratford CT
John Harkins.

65

Syracuse NY
Stephanie Miner.

50

Tacoma WA
Marilyn Strickland

51

Toledo OH
Mike Bell.

52

Torrington CT
Ryan Bingham (Inc)

75

Vancouver WA
Tim Leavitt.

53

Wallingford CT
William Dickinson (Inc)

100

Waterbury CT
Michael Jarjura (Inc)

70

West Hartford CT
Scott Slifka (Inc)

n/a

West Haven CT
John Picard (Inc)

64

West Valley City UT
Mike Winder.

76

Westlake OH
Dennis Clough (Inc)

100

Westminster CO
Nancy McNally (Inc)

100

Wheat Ridge CO
Jerry DiTullio (Inc)

65

White Plains NY
Adam Bradley.

100

Winston-Salem NC
James Allen Joines (Inc)

100

Woburn MA
Scott Galvin.

54

Worcester MA
Joseph O'Brien.

50

York PA
Kim Bracey.

n/a

Youngstown OH
Jay Williams (Inc)

98

Yuma AZ
Alan Krieger.

57
Source: US Conference of Mayors

Despite spending an unprecedented $100m of his own considerable fortune on getting re-elected, Bloomberg scored only 51 per cent of the vote, a disappointing result considering his lead in polls and still high approval ratings after eight years in office. However, the latest rating of Mayor Monitor only awards Bloomberg 5.89 points out of ten.

The independent mayor's narrow victory indeed suggests some disenchantment with his having the city council rescind its term limits to allow him to run a third time. The mayor said he would take on board a number of concerns, which emerged during the campaign. Thompson, the city's comptroller, polled substantially better than Bloomberg's 2005 Democratic challenger Fernando Ferrer, scoring 46 per cent of ballots cast. However, a number of Democrats in the city have accused Obama and his aides of not doing enough to get their man elected, claiming Bloomberg's winning margin could have been squeezed even further had the president actively campaigned rather than deliver a non-endorsement. At a Democrat fundraiser in the city held one day before polling, Vice President Joe Biden was equally non-committal towards the Thompson campaign.

The off-year nature of this year's elections and the overwhelming tendency for Democrats to poll well in urban areas meant any meaningful assessment of Barack Obama's first year in office was hard to come by. Republican victories in the New Jersey and Virginia gubernatorial races supplied a convenient 'bad evening for Obama' narrative for most of the world's media, though some crumbs of comfort were obtained by Democrat wins in congressional by-elections in California and New York.

In the last such off-year elections in 2007, Gavin Newsom won a second term as mayor of San Francisco and while not on any ballots this year, the term-limited mayor's name was heard throughout the final days of the races owing to his departure from the California governor's election next year. That November Pittsburgh's Luke Ravenstahl won his first election to succeed Bob O'Connor, who left office after being diagnosed with a rare terminal illness. In the 2009 election proper, Ravenstahl beat his two independent opponents to receive a full term in office with 55 per cent of the vote, though he now has to contend with a serious pensions deficit in the city hall coffers. Off-years can throw up some important races however, such as that of Louisiana governor Bobby Jindal, who two years on now occupies a national role in the GOP's political fortunes.

In spite of a predicted close race, Boston's Thomas Menino coasted to a fifth term of office, with 57 per cent of the vote compared to city council president Michael Flaherty's 43 per cent. While Menino's governing style and politics might not be to all residents' tastes, his re-election confirms the impregnable status of incumbency in Boston's mayoralty as no sitting mayor has lost an election in 60 years.

Detroit's Dave Bing was elected to his first full term of office, having won the city's special election to replace the ousted Kwame Kilpatrick in May. The former pro-basketball player beat three-time challenger Tom Barrow 56-41 per cent. The elections ushered in a new leadership to the rest of the city council, which has been beset by a number of governance challenges in recent years, suggesting a public appetite for change.

Mike McGinn, a former leader of America's oldest environmental organisation the Sierra Club, is the new Mayor of Seattle. The results of the election remained in the balance for several days. At some stage during the count, less than 500 votes separated the two candidates. At the end, McGinn won the election by some 5,000 votes out of more than 190,000 ballots cast.

In St Paul Chris Coleman was elected to a second term. Coleman, a DFL-er, ousted party rival Randy Kelly in 2005, the latter having endorsed George W. Bush's 2004 campaign. Elsewhere in the Twin Cities, Minneapolis mayor RT Rybak won a third term, obtaining almost three times as many first preferences as his 10 challengers combined. The election was the first in the city to be held using the proportional instant run-off voting (IRV) method, with voters in St Paul also voting to adopt it for future elections in a separate ballot on the issue. However, voters defeated a proposal to implement Rybak's longstanding aim to amend the city charter to pass the powers of the city's Board of Estimate and Taxation to the city council.

Voters in Atlanta sent the prospect of the city's first white mayor in over a generation to a December run-off, between the frontrunner city councilmember Mary Norwood and state senator Kassim Reed. A similar outcome was generated in Houston, where city officials Annise Parker and Gene Locke failed to win sufficient votes to prevent a run-off. A victory for Parker would make Houston the biggest US city with an openly gay mayor. Among the smaller races, Dayton's Rhine McLin was defeated in her attempt to gain a third term.

While most mayoral races tend to reflect the Democrats' urban base, in Florida the Republicans scored victories in St Petersburg and Miami, where Tomás Regalado triumphed in the race to replace his former foe Manny Diaz. Voters in Charlotte however chose Democrat Anthony Foxx over Republican councilmember John Lassister in the battle to replace seven term Republican mayor Pat McCrory, who failed to win last year's election for governor.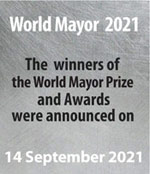 The best Mayors for Stronger | Fairer | Greener cities. Elect your candidate for the 20/21 World Mayor Prize and Honours. The Prize has been awarded since 2004