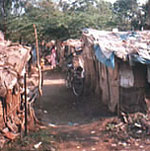 Rural slum village in India




FRONT PAGE
SiteSearch
About us
Directories

Urban poor
Urbanisation 2008 to 2030
Government & urbanisation
Urban population growth
Cities in the 21st century
Cities and Planet Earth
Cities' future
2009 homelessnees in US cities
Urban crime 2007
Age-friendly cities
Funding cities
Megacities - Africa
Forced evictions in Africa
Zimbabwe forced evictions
Megacities - Mumbai
Dharavi: Slum or model village
Urbanisation - threats and benefits
New Paris underclass
Urban development in Asia
Urbanisation - China
Urban Africa

The world's largest urban areas
The world's fastest growing urban areas
Urban slums


City Mayors reports news from towns and cities around the world. Worldwide | Elections | North America | Latin America | Europe | Asia | Africa | Events |




Mayors from The Americas, Europe. Asia, Australia and Africa are competing for the annual World Mayor Award. More




City Mayors ranks the world's largest as well as richest cities and urban areas. It also ranks the cities in individual countries, and provides a list of the capital cities of some 200 sovereign countries. More




City Mayors reports political events, analyses the issues and depicts the main players. More




City Mayors describes and explains the structures and workings of local government in Europe, The Americas, Asia, Australia and Africa. More




City Mayors profiles city leaders from around the world and questions them about their achievements, policies and aims. More




City Mayors deals with economic and investment issues affecting towns and cities. More




City Mayors reports on how business developments impact on cities and examines cooperation between cities and the private sector. More




City Mayors describes and explains financial issues affecting local government. More




City Mayors lists and features urban events, conferences and conventions aimed at urban decision makers and those with an interst in cities worldwide. More




City Mayors reports urban environmental developments and examines the challenges faced by cities worldwide. More




City Mayors reports on and discusses urban development issues in developed and developing countries. More




City Mayors reports on developments in urban society and behaviour and reviews relevant research. More




City Mayors deals with urban transport issues in developed and developing countries and features the world's greatest metro systems. More




City Mayors examines education issues and policies affecting children and adults in urban areas. More




City Mayors investigates health issues affecting urban areas with an emphasis on health in cities in developing countries. More




City Mayors examines the importance of urban tourism to city economies. More




City Mayors examines the contributions history and culture make to urban society and environment. More




City Mayors describes the history, architecture and politics of the greatest city halls in the world. More




City Mayors invites readers to write short stories about people in cities around the world. More




City Mayors questions those who govern the world's cities and talks to men and women who contribute to urban society and environment. More




City Mayors profiles national and international organisations representing cities as well as those dealing with urban issues. More




City Mayors reports on major national and international sporting events and their impact on cities. More




City Mayors lists cities and city organisations, profiles individual mayors and provides information on hundreds of urban events. More


Urban poor worse off than rural poor
but good policies can reduce slums
A report by UN-Habitat with additional reporting
by Lisa Schlein (VoA) and Sven Krüger (City Mayors)
18 June 2006: The world's urban poor are worse off than their rural relatives, According to a report by UN-Habitat, the UN's human settlement programme, it is a myth that urban populations are healthier, more literate or more prosperous than people living in the countryside. The report provides concrete data that shows that the world's one billion slum dwellers are more likely to die earlier, experience more hunger and disease, attain less education and have fewer chances of employment than those urban residents that do not reside in a slum. But the report also cites examples of how good housing and employment policies can prevent slums from growing.

Launched at the 2006 World Urban Forum in Vancouver, the report "State of the World's Cities Report 2006/7" explains that the urban poor suffered from an urban penalty: Slum dwellers in developing countries are as badly off if not worse off than their rural relatives.

"For a long time, we suspected that the optimistic picture of cities did not reflect the reality on the ground," said Mrs. Anna Tibaijuka, UN-Habitat's Executive Director. "This report provides concrete evidence that there are two cities within one city – one part of the urban population that has all the benefits of urban living, and the other part, the slums and squatter settlements, where the poor often live under worse conditions than their rural relatives. It is time that donor agencies and national governments recognized the urban penalty and specifically targeted additional resources to improve the living conditions of slum dwellers. "

Eduardo Moreno, one of the co-authors of the report added that the research showed that slum dwellers, who represent today one out of three of the total inhabitants in urban areas in the developing world will die earlier than the rest of the population of the city. "They do not have the same opportunities in terms of education, access to health. They have less possibility of getting a job and they are suffering from many illnesses," he warned.

The report shows similarities between slums and rural areas in health, education, employment and mortality. It shows how in countries such as Bangladesh, Ethiopia, Haiti and India, child malnutrition in slums is comparable to that of rural areas. In many Sub-Saharan African cities, children living in slums are more likely to die from water-borne and respiratory illnesses than rural children. Women living in slums are also more likely to contract HIV/AIDS than their rural counterparts.

For example, in Ethiopia, child malnutrition in slums and rural areas is 47 per cent and 49 per cent respectively, compared with 27 per cent in non-slum urban areas. In Brazil and Cote d'Ivoire, child malnutrition is three to four times higher in slums than in non slum-areas. In most Sub-Saharan African countries, HIV prevalence is higher in urban areas than in rural areas; in Kenya, Tanzania and Zambia HIV prevalence among urban populations is almost twice that of rural populations. In all countries, women and slum dwellers are disproportionately affected, reflecting a general trend in the region.

The report also debunks some commonly-held beliefs about people living in slums. Contrary to popular perception, young adults living in slums are more likely to have a child, be married or head a household than their counterparts living in non-slum areas.

The report comes at a time when the world is entering a historic urban transition; in 2007, for the first time in history, the world's urban population will exceed the rural population. Most of the world's urban growth – 95 per cent – in the next two decades will be absorbed by cities of the developing world, which are least equipped to deal with rapid urbanization. The majority of migrants will be moving to small towns and cities of less than one million inhabitants. Already, more than half of the world's urban population lives in cities of fewer than 500,000 inhabitants, and almost one-fifth lives in cities of between 1 and 5 million inhabitants.

As cities grow, so do their slum populations. In many Sub-Saharan African cities, the slum population accounts for over 70 per cent of the urban population. Slums in Southern Asia, Western Asia and Sub-Saharan Africa are growing as fast as the urban population in general. Annual slum and urban growth rates are highest in Sub-Saharan Africa, 4.53 per cent and 4.58 per cent, respectively, nearly twice those of Southern Asia, where slum and urban growth rates are 2.2 per cent and 2.89 per cent, respectively. Northern Africa is the only region in the developing world where slum growth rates have declined significantly, largely due to the efforts of individual governments to upgrade slums or prevent their formation. Globally, the slum population is set to grow at the rate of 27 million per year in the period 2000-2020.

Another co-author of the report, Nefise Bazoglu, explained that people did not have to live in urban squalor. "Countries such as Egypt, Thailand and Tunisia have managed to reduce slum growth in the last 15 years and have made considerable investments in improving slums."

"Go to a slum area and then sort out the land ownership issue and bring water and sanitation and provide services, technical assistance for building sturdy houses because most of these houses are prone to disasters-floods," said Bazoglu. "You must have read in media that the first victims of floods or fires or whatever they are, are slums."

The report notes countries do not have to be wealthy to get rid of their slums. It says some low- or middle-income countries, such as Brazil, Colombia, Philippines, Indonesia, South Africa and Sri Lanka, have managed to prevent slums from growing and even reduced them through good housing and employment policies.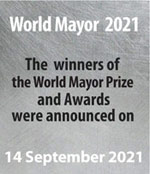 • Poverty is a crime against humanity
• Support mayors who fight poverty
• Nominate the best for the 2020 World Mayor Prize