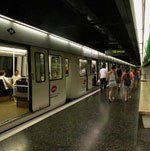 The Barcelona Metro is on track to becoming one of the most sophisticated and user-friendly in the world.




FRONT PAGE
Site Search
About us



Barcelona Metro
Berlin U-Bahn
Guangzhou Metro
Guatemala City TransMetro
London Transport
London Underground
Madrid Metro
Mexico City Metrobus
New York City Subway
Paris Métro
Sao Paulo Metro
Seoul Metro
Singapore Metro
Tokyo Metro
Bus Rapid Transport Latin America
Bus Rapid Transport India
Trams in Europe


Worldwide | Elections | North America | Latin America | Europe | Asia | Africa |


























Barcelona Metro: On track to become
the world's most user-friendly subway
By Gregory Qushair
16 February 2006: In the 81 years since its opening, the Barcelona Metro has grown to a network of six lines, spanning 86 kilometers and serving 123 stations. Backed by enormous investment and vision on the part of its parent company, Ferrocarils Metropolitans de Barcelona (FCMB), the city transit authority (Transports Metropolitans de Barcelona, TMB) and the Catalan government, the system is poised for impressive growth. Various extensions and state of the art upgrades will provide Barcelona residents with one of the most expansive and sophisticated metros in the world by the end of this decade.

History | Today's Metro | Tomorrow's Metro |

History
Faced with crowding population and outward urban expansion, the post-industrial revolution Barcelona of the late 19th and early 20th centuries drastically needed public transit. The city initially found relief in a fleet of street trams that entered operation in 1872. However, the trams were limited by increasingly dense traffic and the convoluted street layout of the city's Gothic Quarter. In 1907, after an exhaustive study commissioned by the city on traffic conditions and transport options, the urban planners Pau Muller and Gonçal Zaragoza recommended the construction of an underground metro system. Although the project had been approved within a few years, construction did not begin until 1922. On 30 December 1924, the Catalan capital finally inaugurated its first underground route—line I of the Gran Metropolitano, from Plaça Lesseps to Plaça Catalunya.

Construction of the second line of the Gran Metro, from Aragó in the central Eixample Dreta neighborhood to the central post office near the port, was complicated by several factors—not least of which were an abundance of subterranean water and a city council ruling that prohibited diverting traffic for construction under Via Laietana, one of the city's busiest streets. Nonetheless, line II entered into service in 1926 with two new stations, Urquinaona and Jaime I, as well as a connection to line I at Aragó. The then lines I and II correspond to segments of today's lines 3 (L3) and 4 (L4), respectively.

If the Gran Metro was the solution to city crowding and limited tram service, then a separate project by a separate company—the FC Metropolità Transversal—would prove to be the answer to linking Barcelona's four widely dispersed private rail networks, each of which originated from a different station in the city. In 1910, an engineer by the name of Ferran Reyes i Garrado began a project that provided the city with a central train hub. Construction of the more than 7 km FC Metropolità began in 1923 and was marred by setbacks. The first 4 km stretch, which included nine stations (Bordeta, Mercat Nou, Sants, Hostafrancs, Espanya, Rocafort, Urgell, Universitat and Catalunya)—a sizeable segment of today's line 1 (L1)—was finally inaugurated amid much fanfare in 1926. The system underwent further expansion in the early 1930's to include the Arc de Trimof and Marina stations. Daily ridership peaked at about 60,000 by 1936.

The Spanish Civil War, which lasted from 1936-1939, brought subway construction and service to a halt; trains and stations were often used as shelters by civilians fleeing aerial bombardment. In the decade after the war, the two systems underwent minor changes, primarily station or track upgrades. By the mid-1940's, the Gran Metropolitan had not expanded beyond the two-lines and nine stations built from 1921-1934 (Lesseps, Fontana, Diagonal, Aragon, Cataluña, Liceo, Urquinaona, Jaime I and Correos). Annual ridership for the Gran Metro, however, had rocketed to 37 million by 1947—meaning that over 100,000 people were riding the system each day.

The 1950's witnessed considerable amplification of the Transversal from Marina to Clot (1951) and from Clot to Sagrera (1953), as well as a new line, from Clot to Navas. The several existing metro and rail corporations of that time underwent a complicated series of name-changes, mergers and, most importantly, city acquisitions. In 1951, newly elected mayor Antoni Simarro i Puig decided that Barcelona itself should take over the private companies handling the city's public transit, a move partly brought on by a polemical strike by tram workers earlier that year. His plan to bring metro construction and services under the auspices of the city council was approved in late 1952, as a part of a greater plan to improve the city's public transportation service. Construction of line 5 (L5) began in the late 1950's. By 1960, the two largest metro companies, Gran Metropolitano de Barcelona (GMB) and Ferrocarril Metropolitano de Barcelona (FMB), merged into Ferrocarril Metropolità de Barcelona (FCMB).

One of the first milestones towards a true metro network came in 1956 with the construction of a passenger thoroughfare at the Cataluña station, connecting the Gran Metro and Transversal. The link allowed passengers to transfer between the two metros and led to a single tariff plan for both systems. Growth of the underground system paralleled the slow demise of the city's once vast network of trams.

In 1969, Tranvías de Barcelona changed its name to Transportes de Barcelona, additional name and administrative changes would follow. In the same year, line 5 was from Diagonal to Collblanc was also opened. By 1971, the last of the city's trams had disappeared. The 1970's marked the opening of L4, which engulfed the original line II, as well as extensions of L1 and L5. The 1980's saw extension of the L5 from Sant Ildefons to Cornellà Centre (1983) as well as L3 northwest to Montbau. In 1995, TMB inaugurated line 2, from the Paral.lel station in the Poble Sec neighborhood, to La Sagrada Familia. Within two years, the line was extended further north to the station of La Pau.

In 2001, city, county, state and national transit bodies agreed on an integrated tariff system, allowing free transfers between metro, bus, FGC trains, local RENFE trains and future tram lines for multi-trip pass holders. That same year, L3 was extended to Canyelles in the northwest. Line 11, a five station stretch from Trinitat Nova to Can Cuiàs, opened in 2003 and is characterized by driverless operation.

TMB made numerous station upgrades in 2005, emphasizing security, cleanliness, and accessibility. In May 2005, several new trains were also acquired to replace older carriages from line 5 and amplify service for lines 2, 3 and 5. Most lines now run at a rush-hour frequency of roughly three minutes. The new trains are quieter, more energy efficient, have improved suspension and are equipped with rider amenities such as video screens. In all, 39 trains will have been purchased between 2005 and 2007.

Last year the TMB also signed an agreement with local mobile phone service providers to enable mobile phone use on central portions of lines 1, 3 and 5, with the ultimate aim of providing coverage over the entire system.

Today's Metro
The Barcelona Metro currently comprises six lines (Lines 1, 2, 3, 4, 5 and 11), 123 stations and 29 interchanges that cover a total distance of more than 86 kilometers. In addition to these lines, operated by FCMB, the city is served by large underground portions of the suburban train network run by the Catalan Government Railway System (FGC). For clarity, these segments are designated within city limits as Lines 6, 7 and 8 of the Barcelona Metro on city transport maps. Within city limits riders can transfer free of charge between the two independent systems, which are linked at the interchange stations of Plaça Catalunya, Plaça Espanya and Diagonal. TMB has slated 86 million euro for further upgrades in 2006.

All metro operations, as well as rider and TMB staff safety, are monitored from a sophisticated central command station. The command team has dedicated radio and video communications with station staff, and monitors all stations and trains with 24 hour video surveillance using over 1,600 cameras.

Passengers can buy single trips (1.15 euro) as well as daily (5.00 euro), ten-trip (6.65 euro) or various monthly passes, which include free transfers. Metro passes can be purchased at all stations at automated dispensers or at customer service booths, as well at some news kiosks and online at the TMB website.

Metro stations occasionally hold events, and the TMB has recently organized a Music in the Metro series with scheduled live performers. Service is also extended for certain holidays, such as all night service during New Year's Eve or the city's annual festival of La Mercé.

Tomorrow's Metro
In 2001, the Barcelona Metropolitan Transport Authority (ATM) laid out its plans (Pla Director d'Infraestructures 2001-2010) for expanding and upgrading city transit service over the following decade. The flagship of the PDI is the new line 9 (L9). Currently under construction, it will be the longest and most advanced metro line operating in Europe upon its planned inauguration in 2009.

In designing L9, the TMB sought to create a seamless link from the airport in the southeast, through underserved neighborhoods in the east, and finally into northern suburbs such as Badalona. The L9 will also connect to the future TGV/metro hub being constructed at the Sagrera station, and is expected to transport 90 million passengers annually. Line 9 will comprise 46 stations serviced by a long central line that branches north and south at both ends. The line is being constructed at extra low depths, and in some points above street level, as not to interfere with existing underground lines. The TMB has used the world's largest Earth pressure balance shield borer, featuring a drill diameter of 12 m, to create portions of the path of L9. City residents and visitors can now witness the Herculean construction efforts underway at future L9 stations throughout the city, where high-speed elevators will shuttle metro passengers to and from train platforms.

The system is slated for several other expansions, including lengthening of line 1 at both ends, extension of line 5 to the Vall d'Hebron Hospital, and extension of line 2 from St. Antoni to the fledgling business district of Zona Franca. By 2010, the Barcelona Metro will include seven lines servicing 150 stations (not counting the FGC), and will span over 120 km. The TMB has also planned upgrades for carriages and stations, including driverless operation for all lines and total accessibility for all passengers at all stations.

The Barcelona Metro has been serving city residents for more than eight decades and is on track to becoming one of the most sophisticated and user-friendly in the world.