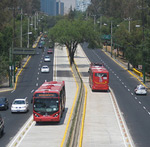 Mexico City's Metrobus travels in dedicated lanes at high speeds...




FRONT PAGE
Site Search
About us



Barcelona Metro
Berlin U-Bahn
Guangzhou Metro
Guatemala City TransMetro
London Transport
London Underground
Madrid Metro
Mexico City Metrobus
New York City Subway
Paris Métro
Sao Paulo Metro
Seoul Metro
Singapore Metro
Tokyo Metro
Bus Rapid Transport Latin America
Bus Rapid Transport India
Trams in Europe
Mexican Mayors


Worldwide | Elections | North America | Latin America | Europe | Asia | Africa |


























Mexico City's Metrobus system
perfect for cash-strapped cities
By Adriana Maciel, Mexico Editor
17 December 2009: A prestigious award has been conferred on Mexico City's Metrobus new public transport system for its significant contribution to improving both air quality and generally making life easier for hard-pressed citizens. Bus journey times have been halved and carbon dioxide greenhouse gas emissions have been reduced by 80,000 tons a year.

The 2009 Roy Family Award for Environmental Partnership by The John F. Kennedy School of Government at Harvard University was bestowed on the city's Metrobus System. The award recognises outstanding projects from the public-private sectors which display new and creative approaches to improving both the environment and the quality of life.

Harvard considered Metrobus to represent one of the highest levels of environmental leadership and set an outstanding example to public, private and non-governmental organisations all over the world. Mayor Marcello Ebrard said the award was a "great encouragement" which fully endorsed the enormous transport project.

Metrobus, a Bus Rapid Transit (BRT) system, was a cooperative effort by the World Resources Institute Center for Sustainable Transport (EMBARQ), the Mexican NGO CEIBA, Mexico City's municipal government, the World Bank, and the Shell, Caterpillar and Hewlett foundations.

Inaugurated in June 2005, Metrobus is founded on high technology and top quality vehicles that make urban mobility easier. The system is characterised by speed, security, comfort, and efficiency. Its success is based upon the integration of a superior infrastructure, with frequent and rapid operations. It has a completely automated 'intelligent card' fares system and central control for bus location and programming.

Buses run under strict security and function controls. Drivers are highly qualified. The system operates under Euro III and IV technology, and the use of ultra low sulphur enables pollution compliance with the highest and most rigorous norms. The result is a dramatic improvement in air quality in this vast city.

Seven authorised transport companies, or concessions to render services, own the bus fleet and are responsible for its operation and high standards of maintenance. Two private trusts administer the revenue while two companies assume responsibility for revenue collection and such things as installing, operating and maintaining the system, including card vending machines, turnstiles, and surveillance equipment. Metrobus controls and administers the overall service.

The approximate cost of an intelligent card is US$1.15. A single journey costs around US$0.38. Cards are rechargeable. The service is free for those aged 70 and over, for children under five, and the disabled.

It is the first transport system in Mexico City to have proper facilities for the disabled. Metrobus stations and buses meet the highest international norms for disabled access. Among them are facilities in stations that provide courtesy doors, ramps, pedestrian audio-traffic signals, tactile guides for the blind and poorly sighted, as well as Braille panels. In buses there are allotted spaces with safety-belts for wheelchairs, acoustic alarms, bright handrails and 'door closing' illuminated announcements.

The Metrobus infrastructure consists of bordered lanes and bordered stations with elevated platforms. At present there are two lines. Line 1 (Insurgentes Corridor) runs from the north of the city to the south along Insurgentes Avenue, the longest of the city's arteries. There are two terminals and 34 stations along 19.6 kilometres, making 265,000 journeys a day through four of the city's districts. Line 1 was later extended to include 10 more stations and two further terminals along 8.5 kilometres with 60,000 journeys per day serving three districts. Line 2 runs from the city's east to the west. It has two terminals and 34 stations along 20 kilometres serving five districts. Both lines replaced 15 collective transport routes which had been made up of ancient, polluting microbuses that had caused incessant traffic jams and environmental damage.

The implementation of the Metrobus System has resulted in significant improvements in the quality of life for commuters and the population as a whole. There is now both security and speed. Exclusive lanes and non-stopping between stations have reduced time spent on journeys by 40 per cent. The new system was adopted as an alternative to a Metro, which would have required costly infrastructure involving enormous structural alterations. Furthermore, a typical Metro line costs twenty times that of a Metrobus system.

Mayor Ebrard recently announced the building of two additional Metrobus lines. Construction work on Line 3, with 31 stations, will start in January 2010 and will extend 16 kilometres from the city's north-west to central-south. Work on Line 4, from west to south, is due to start in the second half of 2010. It will be 27 kilometres long with 40 stations.