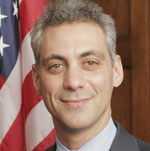 Rahm Israel Emanuel, Mayor of Chicago since May 2011





FRONT PAGE
Site Search
About us | Quiénes somos |
A propos de nous | Über uns |
Mayor Monitor
Directories
Events
Debate




US Mayors
US 2013 mayoral elections
World Mayor
World index of mayors
Mayors from Africa
Mayors from Asia & Australia
Mayors from The Americas
Mayors from Europe
Mayors and political parties
World's largest cities
and their mayors 2011
Elected US mayors
City brand Chicago

Mayors from Canada and the US (Former mayors in italics)
| Akron | Albuquerque | Atlanta (Franklin) | Atlanta (Reed) | Baltimore | Boston | Calgary | Chicago Emanuel | Chicago Daley | Columbus | Dayton | Denver | Detroit (Bing) | Detroit (Kilpatrick) | Edmonton | Harrisburg | Honolulu | Houston (Parker) | Houston (White) | London (Ontario) | Los Angeles | Louisville | Memphis | Miami | Minneapolis | Mississauga | News Orleans (Landrieu) | New Orleans (Nagin) | Newark | New York | Oakland | Oklahoma City | Phoenix | Philiadelphia | Pittsburgh | Pomona | Portland (Adams) | Portland (Potter) | Providence | Salt Lake City (Anderson) | Salt Lake City (Becker) | San Francisco | Seattle (McGinn) | Seattle (Nickels) | South Bay | Southfield | Stamford | Surrey BC | Toronto | Trenton | Tulsa | Washington DC | Winnipeg |




City Mayors reports news from towns and cities around the world. Worldwide | Elections | North America | Latin America | Europe | Asia | Africa | Events |




Mayors from The Americas, Europe. Asia, Australia and Africa are competing for the annual World Mayor Award. More




City Mayors ranks the world's largest as well as richest cities and urban areas. It also ranks the cities in individual countries, and provides a list of the capital cities of some 200 sovereign countries. More




City Mayors reports political events, analyses the issues and depicts the main players. More




City Mayors describes and explains the structures and workings of local government in Europe, The Americas, Asia, Australia and Africa. More




City Mayors profiles city leaders from around the world and questions them about their achievements, policies and aims. More




City Mayors deals with economic and investment issues affecting towns and cities. More




City Mayors reports on how business developments impact on cities and examines cooperation between cities and the private sector. More




City Mayors describes and explains financial issues affecting local government. More




City Mayors lists and features urban events, conferences and conventions aimed at urban decision makers and those with an interst in cities worldwide. More




City Mayors reports urban environmental developments and examines the challenges faced by cities worldwide. More




City Mayors reports on and discusses urban development issues in developed and developing countries. More




City Mayors reports on developments in urban society and behaviour and reviews relevant research. More




City Mayors deals with urban transport issues in developed and developing countries and features the world's greatest metro systems. More




City Mayors examines education issues and policies affecting children and adults in urban areas. More




City Mayors investigates health issues affecting urban areas with an emphasis on health in cities in developing countries. More




City Mayors examines the contributions history and culture make to urban society and environment. More




City Mayors examines the importance of urban tourism to city economies. More




City Mayors describes the history, architecture and politics of the greatest city halls in the world. More




City Mayors invites readers to write short stories about people in cities around the world. More




City Mayors questions those who govern the world's cities and talks to men and women who contribute to urban society and environment. More




City Mayors profiles national and international organisations representing cities as well as those dealing with urban issues. More




City Mayors reports on major national and international sporting events and their impact on cities. More




City Mayors lists cities and city organisations, profiles individual mayors and provides information on hundreds of urban events. More


Chicago Mayor
Rahm Emanuel
By Robert O'Connor
17 May 2011: Rahm Israel Emanuel, Chicago's new mayor, has inherited a city that has undergone major changes during the 22-year reign of former mayor Richard M Daley. Daley has been a controversial, passionate and iron-fisted mayor who has succeeded in making Chicago greener, more tourist-friendly and gay tolerant. While Emanuel is Richard Daley's chosen successor, has the new mayor got what it takes to live up to his mentor?

Update 7 April 2015: Mayor Emanuel wins second term.

Rahm Emanuel used the months between his election on 22 February 2011 and his inauguration on 16 May to outline some of his policy priorities. He promised to deal with crime, especially crime among young people. He also promised to expand after-school programs and gun-control measures. Chicago had a restrictive handgun ban until last year, when a landmark Supreme Court case (McDonald v. Chicago) struck it down. Despite the ban, dozens of people, many of them children, died every year in the city due to gun violence.

Emanuel has also said he wanted to improve the city's music scene. Specifically he has said he wanted a music district in a place like Uptown, similar to the Theatre district in the Loop. Chicago's theatre scene is among the best in the nation, but live music is hard to come by. In 2008, the city council passed a restrictive ordinance that made live music in small venues extremely difficult.

But Emanuel's most immediate problem is going to be city finances. Chicago facing a budget deficit of more than $500 million. Emanuel promised during the election campaign to cut the budget by $75 million and re-examine the budget top-to-bottom.

Mayor Emanuel was born and raised in Chicago along with his brothers Ezekiel, a bioethicist and Ari, a well-known Hollywood agent. Growing up, he took ballet lessons at the Evanston School of Ballet while attending New Trier High School in Winnetka, a northern suburb of Chicago. Rahm won a scholarship to the Joffrey Ballet, but chose to attend college instead.

Emanuel attended Sarah Lawrence College in Yonkers, New York, where he earned a B. A. in Liberal Arts. In 1980 he made his first steps into politics by joining the campaign of David Robinson. Robinson was running for Illinois' 20th Congressional seat - which is now gone, but used to cover cities like Springfield and Quincy - against incumbent Paul Findley. Other staffers on that campaign included David Wilhelm, who eventually managed Bill Clinton's run for President in 1992, and Forrest Claypool the future CEO of Chicago Public Schools. After redistricting, Findley lost re-election in 1982 to future Senator Dick Durbin.

Rahm's next campaign was in 1984 when he worked for Congressman Paul Simon's campaign for Senate. Simon's campaign co-chair was David Axelrod, who had just left the Chicago Tribune as a political reporter. Simon won an upset victory against three-term incumbent Charles Percy.

Axelrod would work for Simon's unsuccessful campaign for President in 1988.

Emanuel and Axelrod would work together again on Richard M. Daley's victorious 1989 campaign for mayor of Chicago. Daley had run for mayor in 1983, but came in third in the Democratic primary to incumbent Jane Byrne and victor Harold Washington.

Emanuel directed the finance committee of Bill Clinton's campaign for President in 1992. Emanuel insisted that then-Governor Clinton set aside time for fundraising nationally while delay campaigning in New Hampshire. Clinton's primary opponent, Paul Tsongas won New Hampshire, but later withdrew due to a lack of funds.

After Clinton won the White House, Emanuel served as a senior advisor to the President from 1993 to 1998. He was a leading strategist in the unsuccessful push to institute universal healthcare, something he would try again 16 years later. He also directed the Rose Garden signing ceremony of the Oslo Accords, down to the handshake between Yitzhak Rabin and Yasser Arafat.

In 1998, Emanuel left the White House and joined the investment banking firm Wasserstein Perella. He became managing director at the firm's Chicago office in 1999 and according to Congressional disclosures, made $16.2 million in his first two and a half years as a banker. He was appointed to the board of directors of the Federal Home Loan Mortgage Corporation ('Freddie Mac') by President Clinton in 2000.

In 2002, Emanuel decided to re-enter politics, but this time as a candidate. He ran for Congress in Illinois' fifth district, representing northern Chicago. The incumbent, Rod Blagojevich, had decided not to run for re-election, but instead to run (successfully) for Governor of Illinois. David Axelrod had helped Blagojevich win the seat in 1996 and each time afterwards, but advised him not to run for Governor.

Emanuel ran for Congress against State Representative Nancy Kaszak, who had lost to Blagojevich in the Democratic primary in 1996. Paul Moskal, the president of the Polish American Congress, endorsed Kaszak, and in his endorsement called Emanuel a "millionaire carpetbagger" and accused him of having dual citizenship with Israel and having served in the Israeli Army. Emanuel was a civilian volunteer for the IDF during the 1991 Gulf War, repairing truck brakes. Kaszak denounced Moskal's remarks as "anti-Semitic." She would ultimately lose to Emanuel in the primary and Emanuel won the general election.

While in Congress, Emanuel set his sights on the Democrats taking back the house in 2006, becoming the chair of the Democratic Congressional Campaign Committee in 2005. That same year, Howard Dean became the chair of the Democratic National Committee. Emanuel wasn't on the best of terms with Dean, both for his more progressive policies and his "50 state strategy" of putting resources everywhere. Emanuel favoured putting money in swing districts instead. When the Democrats won back both houses of Congress in 2006, supporters of Emanuel and Dean took credit.

Emanuel stayed out of the Presidential election due to his close ties to both Hilary Clinton and Barack Obama. However, with Obama's victory in the primaries imminent, he endorsed Obama on June 4, 2008.

In 2008, Axelrod became Barack Obama's political strategist during his run for President. Axelrod is credited with incorporating web 2.0 tools into the campaign that built an elaborate volunteer network with most of the donations to the campaign coming from small (less than $100) donors.

Two days after Obama won the Presidency, he appointed Emanuel as his incoming Chief of Staff, which Emanuel served in from 2009 to the end of 2010. He was one of the people from the White House urging Congress to pass Health Care Reform. However, Obama succeeded where Clinton failed and reform passed in March 2010 after eight months of debate.

However, Emanuel's style alienated many of Obama's progressive allies. When progressives criticized the Obama White House both during and after the health care debate, they singled out Emanuel as emblematic of many of their issues. Emanuel brushed off their critiques, in one instance calling them "fucking retarded."

In the 2010 mid-term elections, Democrats lost the House and almost lost the Senate. Several Democrats, including Sen. Blanche Lincoln of Arkansas and Sen. Arlen Spector of Pennsylvania faced primary challenges from progressives. Emanuel was especially critical of Democrats who supported these challengers, insisting that incumbents should be supported.

When that election was over, Emanuel stepped down as Chief of Staff, planning to move back to Chicago. Obama replaced him with William Daley, Richard Daley's younger brother. When Emanuel left, rumors immediately began flying about whether Emanuel would run for Mayor, since Daley had already announced he would not seek another term.

Emanuel ran, and was endorsed by Daley, as well as the Chicago Tribune and the Chicago Sun-Times. An Illinois court removed Emanuel's name from the ballot because of what they said was inadequate residency requirements. Emanuel appealed to the Supreme Court of Illinois, which unanimously overturned the ruling and put Emanuel's name back on.

Emanuel's opponents in the race for mayor included Gery Chico, Daley's former Chief of Staff and Carol Mosley-Braun, a former U. S. Senator. Emanuel's endorsement by Daley, his high name recognition and gaffes by Mosley-Braun gave him victory.