Richard M Daley, former Mayor of Chicago





FRONT PAGE
Site Search
About us | Quiénes somos |
A propos de nous | Über uns |
Mayor Monitor
Directories
Events
Debate




US Mayors
World Mayor
World index of mayors
Mayors from Africa
Mayors from Asia & Australia
Mayors from The Americas
Mayors from Europe
Mayors and political parties
World's largest cities
and their mayors 2011
Elected US mayors
City brand Chicago

Mayors from Canada and the US (Former mayors in italics)
| Akron | Albuquerque | Atlanta (Franklin) | Atlanta (Reed) | Baltimore | Boston | Calgary | Chicago Emanuel | Chicago Daley | Columbus | Dayton | Denver | Detroit (Bing) | Detroit (Kilpatrick) | Edmonton | Harrisburg | Honolulu | Houston (Parker) | Houston (White) | London (Ontario) | Los Angeles | Louisville | Memphis | Miami | Minneapolis | Mississauga | News Orleans (Landrieu) | New Orleans (Nagin) | Newark | New York | Oakland | Oklahoma City | Phoenix | Philiadelphia | Pittsburgh | Pomona | Portland (Adams) | Portland (Potter) | Providence | Salt Lake City (Anderson) | Salt Lake City (Becker) | San Francisco | Seattle (McGinn) | Seattle (Nickels) | South Bay | Southfield | Stamford | Surrey BC | Toronto | Trenton | Tulsa | Washington DC | Winnipeg |




City Mayors reports news from towns and cities around the world. Worldwide | Elections | North America | Latin America | Europe | Asia | Africa | Events |




Mayors from The Americas, Europe. Asia, Australia and Africa are competing for the annual World Mayor Award. More




City Mayors ranks the world's largest as well as richest cities and urban areas. It also ranks the cities in individual countries, and provides a list of the capital cities of some 200 sovereign countries. More




City Mayors reports political events, analyses the issues and depicts the main players. More




City Mayors describes and explains the structures and workings of local government in Europe, The Americas, Asia, Australia and Africa. More




City Mayors profiles city leaders from around the world and questions them about their achievements, policies and aims. More




City Mayors deals with economic and investment issues affecting towns and cities. More




City Mayors reports on how business developments impact on cities and examines cooperation between cities and the private sector. More




City Mayors describes and explains financial issues affecting local government. More




City Mayors lists and features urban events, conferences and conventions aimed at urban decision makers and those with an interst in cities worldwide. More




City Mayors reports urban environmental developments and examines the challenges faced by cities worldwide. More




City Mayors reports on and discusses urban development issues in developed and developing countries. More




City Mayors reports on developments in urban society and behaviour and reviews relevant research. More




City Mayors deals with urban transport issues in developed and developing countries and features the world's greatest metro systems. More




City Mayors examines education issues and policies affecting children and adults in urban areas. More




City Mayors investigates health issues affecting urban areas with an emphasis on health in cities in developing countries. More




City Mayors examines the contributions history and culture make to urban society and environment. More




City Mayors examines the importance of urban tourism to city economies. More




City Mayors describes the history, architecture and politics of the greatest city halls in the world. More




City Mayors invites readers to write short stories about people in cities around the world. More




City Mayors questions those who govern the world's cities and talks to men and women who contribute to urban society and environment. More




City Mayors profiles national and international organisations representing cities as well as those dealing with urban issues. More




City Mayors reports on major national and international sporting events and their impact on cities. More




City Mayors lists cities and city organisations, profiles individual mayors and provides information on hundreds of urban events. More


Richard M Daley
former Mayor of Chicago
By Andrew Stevens, Deputy Editor
13 December 2006: Richard M. Daley was first elected Mayor of Chicago in 1989 and hails from one of America's best-known political families. Though credited as one of America's best mayors by Time Magazine in 2005, his role in a city hall corruption scandal and illegal demolition of a city airport has engendered disdain among some. On 27 February 2007, Mayor Daley was re-elected for a 6th term by more than 70 per cent of voters.

Update May 2011: Richard Daley handed over the mayorship of Chicago to Rahm Emanuel

The Daley family is legendary in US politics, the city equivalent of the Bush and Kennedy clans. Daley's father, Richard J. Daley, was Mayor of Chicago between 1955 and 1976 and was dubbed "the last of the big city bosses". Only 13 years separate the two Daley administrations, the duration characterised by single term or acting mayors. Of Daley Sr's other six children, William M. Daley was US Secretary of Commerce in Bill Clinton's second administration, while John P. Daley is a member of the Cook County Board of Commissioners.

Richard M. Daley was born in Chicago in 1942 He was schooled at the De La Salle Academy and graduated from De Paul University with undergraduate and law degrees. In 1972 he was elected to the Illinois Senate, being re-elected in 1976. In 1980 he was elected State's Attorney of Cook County, re-elected in 1984 and 1988. During this time he campaigned for harsher laws on narcotics use and the overhaul of the state's rape laws in order to secure more convictions.

He also contested the Chicago mayoral primary in 1983, coming third against incumbent Jane Byrne and Congressman Harold Washington, who later took the mayoralty from Byrne in the general election. Byrne and Washington were respectively the first female and Afro-American mayors of the city. Eugene Sawyer, who had been appointed by the city council to replace Washington on his death in 1987, lost the resulting primary election to Daley and two others, with Daley emerging as mayor in the 1989 poll. Daley was then re-elected in 1991, 1995, 1999 and 2003.

In 1995, Daley assumed control of Chicago's public schools system from the elected school board. School standards are said to have risen under the reforms instituted by Daley and education has also been expanded for early years pupils. A year later he headed the US Conference of Mayors.

In 1997, Daley was named Municipal Leader of the Year by American City and County magazine; a Public Official of the Year by Governing magazine; and Politician of the Year by Library Journal. Other policies of note include massive and sustained investment in the public realm and the promotion of a more diverse city workforce as well as increasing resources against sexual harassment and hate crimes.

However, the anxieties over Daley's recent record include the alleged cover-up of his knowledge of the events that led up to the 'Hired Trucking Scandal' which saw private firms billed for work that was never undertaken. The demolition of the Meigs Field airport, which Daley ordered be carried out under cover of darkness and did not inform the Federal Aviation Administration (for which the city was fined $33,000), angered many, not least the owners of planes parked at the airport. In spite of these, Daley was rated one of America's best mayors by Time Magazine in its 2005 feature.

The city operates with the strong mayor and council model, with a city council that is comparatively large by US standards (50 members, known as Aldermen) elected from single wards every four years to scrutinise the mayor, pass the budget and enact local ordinances. As America's third largest city (previously second), Chicago holds great significance for the Democrats in presidential elections. The city in itself is a by-word for machine politics, having been dominated by the Democrats since the last Republican mayor was elected in 1927, not to mention the centrality of the Daley family in its political history. Daley Sr's vote-gathering in the 1960 presidential election of John F. Kennedy, not to mention his leadership style and patronage for Democrat activists with city hall jobs, means his legacy as the big city boss of Chicago spanning two decades has frequently received critical assessment. Daley's numerous biographers paint conflicting images of his life and record, to some a racist bully, to others the saviour of the city against rust-belt decline.

Mayor Daley's re-election victory in February 2007 means that he will equal his father's length of office in December 2010. Mayor Daley is married to wife Maggie and they have three children (also one deceased).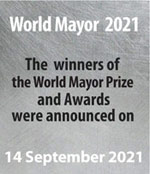 The best Mayors for Stronger | Fairer | Greener cities. Elect your candidate for the 20/21 World Mayor Prize and Honours. The Prize has been awarded since 2004