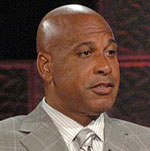 Douglas Palmer, Mayor of Trenton, New Jersey





FRONT PAGE
Site Search
About us | Quiénes somos |
A propos de nous | Über uns |
Mayor Monitor
Directories
Events
Debate




US Mayors
World Mayor
World index of mayors
Mayors from Africa
Mayors from Asia & Australia
Mayors from The Americas
Mayors from Europe
Mayors and political parties
World's largest cities
and their mayors 2011
Elected US mayors

Mayors from Canada and the US (Former mayors in italics)
| Akron | Albuquerque | Atlanta (Franklin) | Atlanta (Reed) | Baltimore | Boston | Calgary | Chicago Emanuel | Chicago Daley | Columbus | Dayton | Denver | Detroit (Bing) | Detroit (Kilpatrick) | Edmonton | Harrisburg | Honolulu | Houston (Parker) | Houston (White) | London (Ontario) | Los Angeles | Louisville | Memphis | Miami | Minneapolis | Mississauga | News Orleans (Landrieu) | New Orleans (Nagin) | Newark | New York | Oakland | Oklahoma City | Phoenix | Philiadelphia | Pittsburgh | Pomona | Portland (Adams) | Portland (Potter) | Providence | Salt Lake City (Anderson) | Salt Lake City (Becker) | San Francisco | Seattle (McGinn) | Seattle (Nickels) | South Bay | Southfield | Stamford | Surrey BC | Toronto | Trenton | Tulsa | Washington DC | Winnipeg |




City Mayors reports news from towns and cities around the world. Worldwide | Elections | North America | Latin America | Europe | Asia | Africa | Events |




Mayors from The Americas, Europe. Asia, Australia and Africa are competing for the annual World Mayor Award. More




City Mayors ranks the world's largest as well as richest cities and urban areas. It also ranks the cities in individual countries, and provides a list of the capital cities of some 200 sovereign countries. More




City Mayors reports political events, analyses the issues and depicts the main players. More




City Mayors describes and explains the structures and workings of local government in Europe, The Americas, Asia, Australia and Africa. More




City Mayors profiles city leaders from around the world and questions them about their achievements, policies and aims. More




City Mayors deals with economic and investment issues affecting towns and cities. More




City Mayors reports on how business developments impact on cities and examines cooperation between cities and the private sector. More




City Mayors describes and explains financial issues affecting local government. More




City Mayors lists and features urban events, conferences and conventions aimed at urban decision makers and those with an interst in cities worldwide. More




City Mayors reports urban environmental developments and examines the challenges faced by cities worldwide. More




City Mayors reports on and discusses urban development issues in developed and developing countries. More




City Mayors reports on developments in urban society and behaviour and reviews relevant research. More




City Mayors deals with urban transport issues in developed and developing countries and features the world's greatest metro systems. More




City Mayors examines education issues and policies affecting children and adults in urban areas. More




City Mayors investigates health issues affecting urban areas with an emphasis on health in cities in developing countries. More




City Mayors examines the contributions history and culture make to urban society and environment. More




City Mayors examines the importance of urban tourism to city economies. More




City Mayors describes the history, architecture and politics of the greatest city halls in the world. More




City Mayors invites readers to write short stories about people in cities around the world. More




City Mayors questions those who govern the world's cities and talks to men and women who contribute to urban society and environment. More




City Mayors profiles national and international organisations representing cities as well as those dealing with urban issues. More




City Mayors reports on major national and international sporting events and their impact on cities. More




City Mayors lists cities and city organisations, profiles individual mayors and provides information on hundreds of urban events. More


Douglas Palmer
Mayor of Trenton, New Jersey
By Andrew Stevens, Deputy Editor
2 March 2008: The New Jersey state capital's four term mayor is the current leader of the US Conference of Mayors and a noted anti-gun crime activist. Douglas Palmer's opponents however charge that the mayor has presided over economic and social stagnation and has to go, for which he looks to black leaders of the past for solace.

Douglas Palmer was born in Trenton and attended Trenton Public Schools. He then graduated from Bordentown Military Institute in Bordentown, New Jersey. He is a graduate of Virginia's private black college Hampton University, where he received a Bachelor of Science degree in Business Management in 1973.

The city of Trenton is the state capital of New Jersey, so named after William Trent, a 17th century Quaker immigrant from England and local landowner. It is part of the New Jersey component of the tri-state New York metro area and is situated on the Northeast Corridor of the Amtrak rail network which serves the BosWash agglomeration stretching from the nation's capital through New York to Boston. The city was also the scene of race riots in 1968, which though national in scope reflected a number of local factors such as urban decline and poor community relations. Palmer is the first African American mayor of the city, first elected in 1990 and re-elected four times since.

Palmer takes credit for the city's emergence as a regional transport hub, with an expanded station serving the Amtrak line. He has also placed the health of citizens as paramount, with a comprehensive childhood immunisation programme, important given the lack of affordable healthcare in the US. His anti-crime and anti-drugs initiatives have also earned him a national profile among city mayors. The city is also the first recipient of federal funding to establish long term drugs prevention.

The mayor's office website quotes Martin Luther King Jr as his ultimate inspiration: "The ultimate measure of a man is not where he stands in moments of comfort and convenience, but he stands at times of challenge and controversy." The words of the late Dr King might yet serve the mayor as wise counsel with the challenges that will follow his 2006 re-election.

Palmer is the subject of a recall campaign in 2008, which alleges he has presided over the city's economic demise through inept leadership. The campaign claims that the city is plagued by violent crime, poor educational achievement and economic stagnation.

The mayor claims that under his stewardship the city has seen vacant properties reduced from more than 8,000 to fewer than 2,500. However, the city has fared poorly under the recent sub-prime borrowing crisis, which has seen a rapid increase in foreclosures, which may go some way towards explaining the backlash against Palmer. Ironically Palmer has attracted some praise for his handling of the crisis, with other city mayors examining Trenton's response, which uses non-profit organisations to buy homes under threat and lease them back to homeowners on an interim basis, rather than face eviction from lenders.

Palmer is the current President of the US Conference of Mayors and a past president of the New Jersey Conference of Mayors and the National Conference of Democratic Mayors. He is also a member of the Mayors Against Illegal Guns coalition headed by New York's Michael Bloomberg and Boston's Thomas M. Menino. Mayor Palmer is married with a young daughter.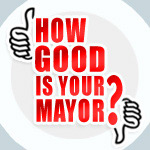 Mayor Monitor allows you to rate the performance of your mayor More


How good is
your mayor?
City Mayors provides Mayor Monitor (MM) to allow residents and non-residents to rate the performance of mayors from across the world as well as highlight their 'best' and 'worst' decisions. Mayor Monitor uses the widely understood one-to-ten rating system, where '1' signifies an extremely poor performance and '10' 'an outstanding one. In addition to rating mayors' performances, citizens are invited to highlight the best and worst decisions by city leaders.

Over time, Mayor Monitor will provide a valuable track record of mayors' successes and failures as well as their popularity among residents and a wider public. The results will be published on the City Mayors website and updated monthly.

Please rate your mayor now.

The ratings will become a contributory factor of World Mayor 2012.