Julian Castro, Mayor of San Antonio since June 2009




FRONT PAGE
About us




MAYORS OF THE MONTH
In 2015
Mayor of Seoul, South Korea (04/2015)
Mayor of Rotterdam, Netherlands (03/2015)
Mayor of Houston, USA, (02/2015)
Mayor of Pristina, Kosovo (01/2015)

In 2014
Mayor of Warsaw, Poland, (12/2014)
Governor of Tokyo, Japan, (11/2014)
Mayor of Wellington, New Zealand (10/2014)
Mayor of Sucre, Miranda, Venezuela (09/2014)
Mayor of Vienna, Austria (08/2014)
Mayor of Lampedusa (07/2014)
Mayor of Ghent, Belgium (06/2014)
Mayor of Montería, Colombia (05/2014)
Mayor of Liverpool, UK (04/2014)
Mayor of Pittsford Village, NY, USA (03/2014)
Mayor of Surabaya, Indonesia (02/2014)
Mayor of Santiago, Chile (01/2014)

In 2013
Mayor of Soda, India (12/2013)
Mayor of Zaragoza, Spain (11/2013)
Mayor of Marseille, France (10/2013)
Mayor of Schwäbisch Gmünd, Germany (09/2013)
Mayor of Detroit, USA (08/2013)
Mayor of Moore, USA (07/2013)
Mayor of Mexico City, Mexico (06/2013)
Mayor of Cape Town, South Africa (05/2013)
Mayor of Lima, Peru (04/2013)
Mayor of Salerno, Italy (03/2013)
Governor of Jakarta, Inbdonesia (02/2013)
Mayor of Rio de Janeiro, Brazil (01/2013)

In 2012
Mayor of Izmir, Turkey (12/2012)
Mayor of San Antonio, USA (11/2012)
Mayor of Thessaloniki, Greece (10/2012)
Mayor of London, UK (09/2012)
Mayor of New York, USA (08/2012)
Mayor of Bilbao, Spain (07/2012)
Mayor of Bogotá, Columbia (06/2012)
Mayor of Perth, Australia (05/2012)
Mayor of Mazatlán, Mexico (04/2012)
Mayor of Tel Aviv, Israel (03/2012)
Mayor of Surrey, Canada (02/2012)
Mayor of Osaka, Japan (01/2012)

In 2011
Mayor of Ljubljana, Slovenia (12/2011)


Local government in the US




Worldwide | Elections | North America | Latin America | Europe | Asia | Africa |






















Mayor of the Month for November 2012*
Julian Castro
Mayor of San Antonio, USA
By Brian Baker, Senior Correspondent
21 May 2013*: San Antonio mayor Julian Castro has come to national and international prominence after only three years in office. His national profile rose exponentially in September 2012 when he became the first Hispanic Democrat to give a keynote address at the Democratic Party's national convention, which re-nominated Barack Obama for the US presidency. Already, Mayor Castro's career trajectory is being compared to that of President Obama.

He was re-elected for a third consecutive two-year term on 11 May 2013. He has re-asserted his intention to seek a fourth term in 2015. If successful, he will have lead San Antonio for eight years. Castro would also leave office at an ideal moment to contest the 2018 Texas governorship or the 2020 US presidency.

The San Antonio Express described the seven per cent voter turnout in the May 2013 elections as 'abysmal.' Julian Castro won 67 per cent of the votes but did little campaigning as none of his six opponents made a serious attempt to win the mayoralty.

After the result was declared the mayor said "in this two years we will balance the US$ 2 billion budget and get priorities right." Those priorities will continue to focus on education and economic development.

Julian Castro, who is the youngest mayor of a US city with a population of more than one million, was well received by many politics watchers at the convention in Charlotte. The mayor, who has a twin brother Joaquin who is a member of the Texas legislature, told the convention that the Republicans were out of touch with reality and attacked Mitt Romney for his plans to cut education and health care budgets during a much more partisan address than that given by Obama at the 2004 convention.

He said that families pass on their dreams from generation to generation and pointedly said that his grandmother had not owned a house but had been able to rent one by cleaning the houses of other people. Mayor Castro described how "my grandmother spent her whole life working as a maid, a cook and a babysitter barely scraping by but working hard to give my mother, her only child, a chance in life, so that my mother could give me and my brother an even better one."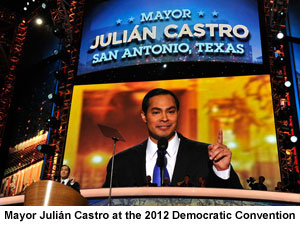 "America didn't become the land of opportunity by accident. My grandmother's generation believed that opportunity created today would lead to prosperity tomorrow. With hard work everybody ought to be able to get there. When l was at college and law school l couldn't help but think back to my classmates at Thomas Jefferson High School in San Antonio. They had the same talent, brains, dreams as those students my brother and l sat with at Sanford and Harvard. I realised the difference wasn't one of intelligence or drive. The difference was opportunity."

The brothers and their mother Rosie lived on the West Side of the city when they were growing up. The West side includes many predominantly Mexican American neighbourhoods and is physically close to the central quarters of San Antonio. Joaquin, who was first elected to the state legislature in 2003, was elected for the Democrats to the US Congress House of Representatives for District 20, which is in urban San Antonio, on 6th November 2012..

At the November 2012 elections the mayor asked San Antonio voters to pay higher sales taxes to enable him to fund quality pre-kindergarten full day places for most vulnerable four year olds in the city. The product of the one-eighth sales tax would allow class sizes of 20 and well-paid teachers for nearly 3,000 children from hard-pressed backgrounds each year. This proposal has generated public debate in the city and surrounding area and it is a cause Mayor Castro highlighted in his convention speech.

Although it was contentious and drew a high media and public profile the proposition was passed by voters with 54 per cent in favour. The additional tax on sales will cost households an average of $8 a year and generate $31 million for the new services. Work on setting up the classes has began immediately.

"We know that you can't be pro business unless you are also pro education. We opened Cafe College where students get help with everything from test preparation to financial aid paperwork. We know that pre kindergarten and student loans are not charity. We are investing in our young minds today to be competitive in the global economy tomorrow."

San Antonio is a challenging council environment for leaders. Mayoral elections are held every two years. The maximum period of office is eight years. Julian Castro was first elected in May 2009 with 56 per cent of the vote. In May 2011 he stood for re-election and achieved 82 per cent of the vote and continues to enjoy high approval ratings. Despite this he slipped to 67 per cent in May 2013 partly, perhaps, because he has been frequently out of the city since August 2012.

Julian Castro has strongly backed the North American Free Trade Area, which is increasingly controversial. San Antonio, often described as the hub of NAFTA, will host a 20th anniversary summit for NAFTA in November 2012. He experienced a rapid rise to international recognition after the Democratic Party announced he was to be the first Hispanic keynote speaker at their national convention.

The Spanish newspaper El Pais referred to Castro as a modern figure and one with serious prospects of becoming the first Hispanic president of the USA. They note that, if not Castro, it will be another Hispanic sooner rather than later. They liked his power to reach the public and said that his background was more representative of US society than that of Romney as a Mormon with banking arrangements in Switzerland and the Cayman Isles.

The New York Times said that he was a post-Hispanic Hispanic who was Latino American with the primary focus on the latter part of that identity. Univision, a US Hispanic broadcasting company, conducted an on-line poll in which 405 of respondents said they thought that Mayor Castro would eventually become US President.

International media may have been influenced in their assessments of the mayor by his linguistic portfolio. He can comprehend Spanish well but does not speak it fluently. At school he studied Japanese rather than Spanish.

Although his speech in Charlotte was very combative, his approach as mayor in San Antonio has been less so. He has been noted as a Democrat mayor who reaches out to Republicans in the city and in Bexar County.

The rise and rise of San Antonio up the population league table reflects the growth in the proportion of Hispanic people in the US population. In the 2010 census this had reached 16 per cent and is likely to be close to 20 per cent by the end of this decade. San Antonio, which contained 1.33 million people in 2010, will probably be the fifth largest city in the country by the 2020 presidential election. Julian Castro will be 46 then.

Meanwhile, the Democrats will be looking for a candidate for 2016 who can retain and build on the coalition of support which propelled Barack Obama to a second term. If he leads San Antonio well in the next three years Julian Castro might loom prominently in party strategists minds.

The broader approach, which the mayor has taken in the city is expressed through the San Antonio 2020 report which he conceived early in his first term. The city has part financed the actions necessary to implement SA2020 by approving a US$596 million bond, the largest in the city's history. San Antonio has the capacity to do that because, alone amongst the big US cities, it has retained a triple A rating from all credit agencies throughout the turbulence since 2008.

It includes the power for the city to raise sales taxes if necessary to maintain re-payments though officials say this will not be necessary.

In the introduction to SA2020 the mayor says "growing in to a world-class city, while holding on to what makes us special, will be our worthiest accomplishment in 2020."

SA2020 was initiated by Mayor Castro in his first term and involved extensive public participation. Three years on, the final report is a key lever in the progress of the city. SA2020 has its own web-site and staff and describes itself as having a mission to connect San Antonio citizens to opportunities that contribute to their aspirations for the city.

Castro himself sums up the San Antonio he has lived in for most of his life as "Big City ... Small Town." He reflects on what made him 'pine' to get back there when he was away at university and cites its "liveable environment and close knit family spirit."

"If we anchor the progress we've made so far the students and employers of tomorrow will strive to either stay here or get here as fast as they can because they can't find another place like San Antonio. A place where the opportunity of the big city is matched by the small town flavour of the culture we call our own."

Amongst the other ambitions, which Mayor Castro is pursuing as set out in SA2020 are a reduction in car use and a tripling of public transport use. On the latter, they are making progress. In 2011 San Antonio bus ridership was up by nine per cent.

The vision for a world-class city is backed by measured targets across the policy spectrum. By 2020 funding of the arts from all sources should be doubled as should be attendance and participation. One of the most difficult targets is in education, which seems to be Mayor Castro's passion. His administration has set itself to improve performance so much that by 2020 85 per cent of young people leaving school should be ready for college.

SA 2020 also includes a target of an average increase of one per cent annually in voter turn-out at elections during this decade. This is part of an attempt to lift civic participation rates generally.

Mayor Castro has set out to support the economic sectors in which the city region is traditionally strong whilst also attracting companies and new entrepreneurs from growing sectors like renewable energy. He wants to increase businesses and jobs in the downtown area of the city and these incentives have helped to stimulate plans for residential building there with 2,400 additional units set for construction in three years to late 2014.

Julian Castro was educated at Stanford University and Harvard Law School. His brother attended the same universities. He graduated from Stanford in 1996 with a BA in Communications and Political Science. He graduated from Harvard with a Juris Doctor in 2000. In the early 2000's Julian and Joaquin established a small civil litigation law practice in San Antonio.

The twin's mother Rosie stood unsuccessfully for City Council in 1971. Thirty years later, in May 2001, Julian became the youngest ever member of the city council at age 27 when he won an open seat with 61 per cent of the vote. He represented District 7, which included a large-part of the West side where he grew up. During four years on the city council, he opposed high-profile developments, which would have added to urban sprawl. In 2005 he first contested the mayoralty. He came top in the first round but was narrowly beaten by former Judge Phil Hardberger in the run-off.

The mayor has often praised the US affirmative action scheme. He referred to it in his convention speech and believes his own life was changed by it. He told the New York Times that "Joaquin and l got into Stanford because of affirmative action. I scored 1,210 on my SATs, which was lower than the median matriculating student. But l did fine in college and in law school. So did Joaquin."

Julian and Erica Lira Castro who is a teacher have a daughter who was born in 2009.

* The article was originally published in November 2012 but updated in May 2013.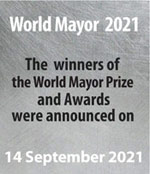 The best Mayors for Stronger | Fairer | Greener cities. Elect your candidate for the 20/21 World Mayor Prize and Honours. The Prize has been awarded since 2004