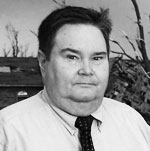 Glenn Lewis, Mayor of Moore, Oklahoma, USA




FRONT PAGE
About us




MAYORS OF THE MONTH
In 2015
Mayor of Seoul, South Korea (04/2015)
Mayor of Rotterdam, Netherlands (03/2015)
Mayor of Houston, USA, (02/2015)
Mayor of Pristina, Kosovo (01/2015)

In 2014
Mayor of Warsaw, Poland, (12/2014)
Governor of Tokyo, Japan, (11/2014)
Mayor of Wellington, New Zealand (10/2014)
Mayor of Sucre, Miranda, Venezuela (09/2014)
Mayor of Vienna, Austria (08/2014)
Mayor of Lampedusa (07/2014)
Mayor of Ghent, Belgium (06/2014)
Mayor of Montería, Colombia (05/2014)
Mayor of Liverpool, UK (04/2014)
Mayor of Pittsford Village, NY, USA (03/2014)
Mayor of Surabaya, Indonesia (02/2014)
Mayor of Santiago, Chile (01/2014)

In 2013
Mayor of Soda, India (12/2013)
Mayor of Zaragoza, Spain (11/2013)
Mayor of Marseille, France (10/2013)
Mayor of Schwäbisch Gmünd, Germany (09/2013)
Mayor of Detroit, USA (08/2013)
Mayor of Moore, USA (07/2013)
Mayor of Mexico City, Mexico (06/2013)
Mayor of Cape Town, South Africa (05/2013)
Mayor of Lima, Peru (04/2013)
Mayor of Salerno, Italy (03/2013)
Governor of Jakarta, Inbdonesia (02/2013)
Mayor of Rio de Janeiro, Brazil (01/2013)

In 2012
Mayor of Izmir, Turkey (12/2012)
Mayor of San Antonio, USA (11/2012)
Mayor of Thessaloniki, Greece (10/2012)
Mayor of London, UK (09/2012)
Mayor of New York, USA (08/2012)
Mayor of Bilbao, Spain (07/2012)
Mayor of Bogotá, Columbia (06/2012)
Mayor of Perth, Australia (05/2012)
Mayor of Mazatlán, Mexico (04/2012)
Mayor of Tel Aviv, Israel (03/2012)
Mayor of Surrey, Canada (02/2012)
Mayor of Osaka, Japan (01/2012)

In 2011
Mayor of Ljubljana, Slovenia (12/2011)


COUNTRY SECTIONS
Argentine Mayors
Belgian Mayors
Brazilian Mayors
British Mayors
Canadian Mayors
Chilean Mayors
Colombian Mayors
Czech Mayors
French Mayors
German Mayors
Italian Mayors
Japanese Mayors
Mexican Mayors
Spanish Mayors
US Mayors

Local government in the US




Worldwide | Elections | North America | Latin America | Europe | Asia | Africa |






















Mayor of the Month for July 2013
Glenn Lewis
Mayor of Moore, Oklahoma, USA
By Tony Favro, USA Editor
1 July 2013: Tornados, like lightning, alight in a hit-or-miss fashion, and not every community is touched more than once in an average person's lifetime. One city in the US that was devastated twice by tornadoes in recent years was Moore, Oklahoma (population 55,000). Hundreds of buildings were severely damaged or destroyed when some of the most powerful tornadoes ever recorded tore through Moore in 1999 and again on 20 May of this year. The most recent tornado killed 24 people, including 10 children. Glenn Lewis was the city's mayor during both disasters, and, both times, his leadership was widely praised as exemplary.

A narrow swath of land in Central Oklahoma roughly bisected by Interstate Highway 44 is known as "Tornado Alley". The US National Weather Service has recorded hundreds of tornadoes in the region over the past 120 years. In 2009, Popular Mechanics magazine named the corridor one of the eight most dangerous places to live on Earth because of the frequency and severity of tornado strikes. The magazine said that living in Tornado Alley is as hazardous as living next to an active volcano in Indonesia, in the extreme cold and isolation of deepest Siberia, or on the hurricane-prone island of Haiti.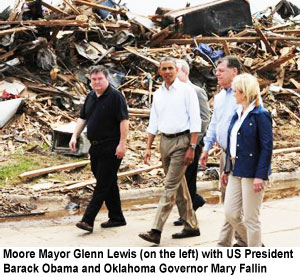 When President Barack Obama visited Moore after the May 2013 storms, he said that the federal government would support affected residents and businesses "every step of the way." At that point, rescue efforts were ending and Mayor Lewis was already taking the first steps toward recovery.

He hosted Community Assistance Meetings where people could get vital disaster information and assistance in one place directly from organizations such as the American Red Cross, US Small Business Association, and the Federal Emergency Management Agency. Mayor Lewis continues to convene these meetings so residents and service agencies can work together to define needs and the most appropriate responses.

Mayor Lewis instituted a 6:00 pm curfew to keep people safe and out of the way of recovery workers and equipment, and to prevent looting. He asked people to check on their neighbors and offer help. He realized that everyone is a leader who can make a difference.

Power outages left banks, gas stations, and food stores closed, Automated Teller Machines (ATMs) inoperable, and traffic lights out. The Mayor helped coordinate law enforcement and relief operations, so that people could travel safely and get needed medicines, money, and fuel.

He also attended to less visible but important details to help the recovery proceed as effectively as possible, including sheltering hundreds of pets that were set loose by the storms, expediting building permits to repair damaged structures or build new, and qualifying contractors so people don't get defrauded.

Mayor Lewis won his first nonpartisan election as the city's part-time mayor in 1994 and has served continually ever since. A professional jeweler, he lost his warehouse and factory in the May storm.

Despite his personal loss, Mayor Lewis conveys a sense of calm and order on television and radio. The connection to his constituents and their losses is clear, as is his matter-of-fact resiliency. "We've been through it before, and we'll get through it again," he told MSNBC, a reassurance he repeats in various ways to the media.

There is no doubt that Moore, Oklahoma and other communities affected by the tornadoes are strong. Mayor Glenn Lewis' leadership has demonstrated to his constituents and the wider world just how tough their communities' character can be.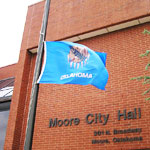 Moore City Hall with the Oklahoma flag flying at half mast


Tornadoes and
the City of Moore
A tornado, which has become known as the 2013 Moore tornado, struck the City of Moore, on the southern outskirts of Oklahoma City, mid-afternoon of 20 May. The tornado was part of a larger weather system, which had produced several other tornadoes over the previous two days. It stayed on the ground for 37 minutes and covered a path of 27 km. At its peak, the Moore tornado was more than two kilometers wide and travelled through a heavy populated part of Moore. According to Oklahoma Governor Mary Fallin, the tornado caused the death 24 people and injured 324 others.

Despite the 2013 tornado following almost the same track as an even deadlier one in 1999, very few homes in Moore and neither of the two stricken schools had purpose-built storm shelters.

The Oklahoma center of the US National Weather Service warned of severe weather on 20 May as early as 15 May. The most intense severe weather activity was expected across the southern Great Plains, specifically central Oklahoma, during the afternoon hours. The Storm Prediction Center issued a moderate risk of severe thunderstorms during the early morning hours of May 20 from southeastern Missouri to north-central Texas. A tornado watch was issued at 1:10 pm early that afternoon for the eastern two-thirds of Oklahoma, northwestern Arkansas and portions of north-central Texas. At 2:40 pm a tornado warning was issued for the storm as it approached the Oklahoma City metropolitan area. Fifteen minutes later the tornado touched down. A tornado emergency was declared for southern Oklahoma and the city of Moore. The tornado crossed mainly rural areas - some 80 horses were killed on a farm that took a direct hit - before it struck the residential areas of the town.

Among the hardest hit areas of Moore were the two public schools: Briarwood Elementary School and Plaza Towers Elementary School. At the latter school, 75 children and staff were present when the tornado struck. Seven children died at Plaza Towers Elementary School. Moore Medical Center was heavily damaged, but no injuries were caused. Staff had to relocate 30 patients to a hospital in Norman and another hospital. Part of Interstate 35 was shut down due to debris that had been thrown onto the freeway. On 21 May, Moore still did not have running water. There were more than 61,500 power outages related to the tornado. More than 100 people were rescued from the rubble on 20 May 20.

Moore, with a population of just over 55,000, was damaged by significant tornadoes in October 1998, May 1999, May 2003, May 2010 and again in May 2013. Moore is located in Tornado Alley, a colloquial term for the area of the United States where tornadoes are most frequent. About 20 tornadoes occurred in the immediate vicinity of Moore from 1890 to 2013. The deadliest one was in 1999.