Joko Widodo (Jokowi), Governor of Jakarts, Indonesia



FRONT PAGE
About us




MAYORS OF THE MONTH
In 2015
Mayor of Seoul, South Korea (04/2015)
Mayor of Rotterdam, Netherlands (03/2015)
Mayor of Houston, USA, (02/2015)
Mayor of Pristina, Kosovo (01/2015)

In 2014
Mayor of Warsaw, Poland, (12/2014)
Governor of Tokyo, Japan, (11/2014)
Mayor of Wellington, New Zealand (10/2014)
Mayor of Sucre, Miranda, Venezuela (09/2014)
Mayor of Vienna, Austria (08/2014)
Mayor of Lampedusa (07/2014)
Mayor of Ghent, Belgium (06/2014)
Mayor of Montería, Colombia (05/2014)
Mayor of Liverpool, UK (04/2014)
Mayor of Pittsford Village, NY, USA (03/2014)
Mayor of Surabaya, Indonesia (02/2014)
Mayor of Santiago, Chile (01/2014)

In 2013
Mayor of Soda, India (12/2013)
Mayor of Zaragoza, Spain (11/2013)
Mayor of Marseille, France (10/2013)
Mayor of Schwäbisch Gmünd, Germany (09/2013)
Mayor of Detroit, USA (08/2013)
Mayor of Moore, USA (07/2013)
Mayor of Mexico City, Mexico (06/2013)
Mayor of Cape Town, South Africa (05/2013)
Mayor of Lima, Peru (04/2013)
Mayor of Salerno, Italy (03/2013)
Governor of Jakarta, Inbdonesia (02/2013)
Mayor of Rio de Janeiro, Brazil (01/2013)

In 2012
Mayor of Izmir, Turkey (12/2012)
Mayor of San Antonio, USA (11/2012)
Mayor of Thessaloniki, Greece (10/2012)
Mayor of London, UK (09/2012)
Mayor of New York, USA (08/2012)
Mayor of Bilbao, Spain (07/2012)
Mayor of Bogotá, Columbia (06/2012)
Mayor of Perth, Australia (05/2012)
Mayor of Mazatlán, Mexico (04/2012)
Mayor of Tel Aviv, Israel (03/2012)
Mayor of Surrey, Canada (02/2012)
Mayor of Osaka, Japan (01/2012)

In 2011
Mayor of Ljubljana, Slovenia (12/2011)


COUNTRY SECTIONS
Argentine Mayors
Belgian Mayors
Brazilian Mayors
British Mayors
Canadian Mayors
Chilean Mayors
Colombian Mayors
Czech Mayors
French Mayors
German Mayors
Italian Mayors
Japanese Mayors
Mexican Mayors
Spanish Mayors
US Mayors

Local government in the US




Worldwide | Elections | North America | Latin America | Europe | Asia | Africa |






















Mayor of the Month for February 2013
Joko Widodo (Jokowi)
Governor of Jakarta
By Brian Baker, Senior Correspondent
1 February 2013: Joko Widodo, who was awarded third pace in the 2012 World Mayor Project, became the elected governor of Jakarta in October 2012 after serving as mayor of Surakarta (Solo) since 2005. During his time as Mayor of Surakarta, Joko Widodo (Jokowi) turned the crime-ridden city into a regional centre for arts and culture, which has started to attract international tourism. His campaign against corruption earned him the description of being the most honest politician in Indonesia. Joko Widodo's victory over Jakarta's incumbent governor Fauzi Bowo was largely due to his track record as mayor of his home town and his reputation for honesty and humility.

Update 23 July 2014: Joko Widodo has been elected President of Indonesia

There were two rounds of voting for the governor of Jakarta, which has a population of over 10 million people. Mr Widodo, started the campaign as an outsider but won the first round on 11 July 2012 comfortably with 43 per cent of votes. The incumbent, Fauzi Bowo, was a distant second with 32 per cent. In the run-off against Fauzi Bowo on 20 September 2012, the margin was once again comfortable with Joko Widodo winning by 54 per cent to 46 per cent.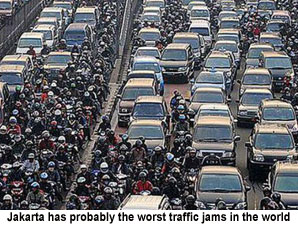 Joko Widodo was supported by the Indonesian Democratic Party – Struggle (PDI-P) and by the Great Indonesian Reform Movement Party. He is a Muslim. In order to give visible expression to his aim of overcoming ethnic tensions he chose the ethnic Chinese Christian Basuki Tjahaja Purnama as his running mate. This mirrored his approach in 2005 in Solo where his vice mayoral candidate was the Christian politician FX Hadi Radatmyo.

His backers said that support for the candidature of Mr Widodo or Jokowo as he is popularly known came from the wider population rather than the political class. The success of the Widodo/Purnama campaign was due to his ability to engage with people from all backgrounds in the sprawling metropolis and convince large numbers of residents that corruption would be effectively tackled.

Back in 2005, Widodo campaigned in Surakarta for a city of beauty without corruption. His objective was to revitalise the city as a clean, safe place to live and work. Early on, he sought to address the problems associated with street vendors in a way, which did not descend in to violence and conflict. In 2006 a new market place opened in Kithilan Semanggi and vendors were re-located away from Banjarsari Gardens. All were pleased and the day of the move was celebrated in carnival fashion by thousands of local workers and residents.

The re-location set the model for further street vendor re-locations and was an early indication of the style of the new mayor and his consensual approach to solving the problems in Surakarta. He said some years later that the move to Kithilan Semanggi was the first time he sensed that the population were with him in his efforts to make the city a better place for the people.

Widodo and Radatmyo would often cycle around the city to meet with local residents and businesses and this open approach generated a positive response. He also reformed the administrative structures of the city council and introduced many frameworks for urban development, which he had learnt about on his visits to Europe in his previous career in business.

Partly as a consequence of his initiatives on street trading, Mayor Widodo was able to restore the Surakarta's parks to a good condition and add more parkland. These actions proved especially popular with residents from all backgrounds. They were fed up with the parks being taken over by traders and other inappropriate users.

The mayor and his deputy branded Solo as representing the Spirit of Java and over the years this has been described as a successful move by many residents and outside observers. The branding was a part of the image of the city, which the mayor presented internationally and this led to major events taking place there. These included the 2007 and 2008 editions of the World Music Festival and the 2008 conference of the Organisation of World Heritage Cities. The 2007 Festival was held at Fort Vastenburg, which the mayor saved by cancelling plans for its demolition.

His emphasis on culture and creativity boosted local confidence and changed the image of the city in Indonesia and beyond from a place of strife, dirt and crime to one which was good to visit.

This style of leadership is now being put into action in Jakarta. But in an Asian mega-city, fifteen times larger than Surakarta, Governor Widodo knows the challenge is immense. The city has a budget of over 40 trillion RP (4.3 billionUS$) a year. The meg-city accounts for over 16 per cent of Indonesia's economic activity.

In March 2012, the PDP-P endorsed Joko Widodo as their candidate for Governor of Jakarta. In so doing, they recognised that, despite some disappointments, notably in measurable reductions in the poverty rate, the mayor's record in Solo had been impressive and gained him widespread popularity.

Since taking office in October 2012 Governor Widodo has tried to make an early impact on the major problems affecting the population and which have held back Jakarta's economic performance and caused it to be perceived unfavourably in comparison with other megacities in the region. His first 100 days in office proved eventful.

In January 2013, Governor Widodo announced that he was applying lessons he learnt in Surakarta and introducing a scheme of licensing street traders in the capital. Launching the scheme on January 13th 2013 Governor Widodo said it would not be funded from city budgets and that the changes would all be implemented within 12 months. The plan is to establish 23 sites across the city for street-side food vendors and to prevent informal street trading elsewhere. The first site was opened at Menteng in central Jakarta.

Governor Widodo says the reforms would bring some order to the informal sector and boost consumer confidence in the products whilst easing pedestrian and traffic flows in the city. He says that hawkers trading from the new zones will not be allowed to operate from the middle of the street which is commonplace in the city at present and contributes to Jakarta's infamous traffic jams.

As a man of business, the new Governor has already been able to work well with the businesses in the capital and is attracting private sponsors to his scheme. Free carts have been donated to those vendors who join the scheme. Vendors will not be allowed to sell their permits and stalls to other people.

Each of the 23 zones will be managed by the companies, which sponsor the scheme. An upper limit is chosen for each zone and once all the places are taken no new vendors will be allowed to trade in that zone. In addition to new free carts, vendors who join the official scheme will get a notarised business permit so will no longer be forced to operate outside the legal system.

The Governor has also focused more generally on the legal position affecting the poor people and the street traders and sought advice on changes necessary in parallel with the headline social and economic policies.

"It has always been our concern to give street vendors and poor people proper legal protection," he told the Jakarta Post in December 2012. His comments followed a meeting with Legal Aid Institute Leader Febi Yonesta.

She says her service needs a budget of 1.2 billion RP (125,000 $US) annually to provide adequate representation especially in criminal cases. The Governor has announced his proposed 2013 budget includes a 13.3 per cent increase.

More controversially, Governor Widodo announced initial approval in January 2013 for a plan to build several new elevated roads across the city. These will be toll roads and financed by borrowing against the future income stream. He says he has approved the extra road space for vehicles because Jakarta needs to supplement investment in a metro system and other public transport with more road connectivity if it is to transform into a modern city.

After criticism following the announcement of the approval, Governor Widodo insisted that this was not the final decision on the matter. The proposed scheme would be constructed from 2014 and carries an estimated price tag of 42 trillion Rp (4.31 billion US$) for the 67 kms of routes.

One critic, Yajat Suprigatna from Trisakti University, cited a 2011 by-law on spatial planning and argued it would be illegal to build toll roads before the mandates on public transport investment in that law were implemented.

However, funding for the planned expansion of the mass transit system is reliant on central government, so critics have said that Jakarta could end up with more roads and more car use if investment in metro railways is inadequate. In late January 2013 Widodo and central government were edging towards an agreement on a 49/51 per cent split of the cost of the first phase, which is priced at 16 trillion RP (1.65 billion US$).

Meanwhile, in an attempt to win more motorists to the existing bus rapid transit lines the Governor announced that his administration was partnering with a consortium of banks to introduce an e-ticketing scheme. Implementation is planned for all routes by May 2013.

This will be a small challenge compared to the technological innovations the Governor and his deputy have promised to use to improve access to healthcare and education in the city. Smart cards are set to be introduced into these crucial sectors to help the administration in implementing its aspirations for improvement.

Like many leaders across the world who have emerged since the mid 2000s Joko Widodo is concerned by the divisive trends in personal circumstances. Back in August 2012, between the two rounds of voting, he told the London-based Financial Times that "every month l see the gap between the 'haves and have-nots' is increasing."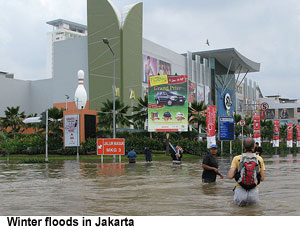 Flooding has long been a major problem in Jakarta, much of which is below sea level. The incidents have become more severe and frequent as a consequence of climate change generated increase in extreme weather patterns. The impact of heavy rains has been exacerbated by decades of under investment in drainage and the intense property development in some parts of the city.

New developments will soon be affected by policy changes. Urban Planner Elisa Sutanudjaja told the Jakarta Post in December 2012 that new buildings would be required to include rainwater catchment facilities. She said the administration was also going to insist on construction of percolation pits across the city. These would aid absorption where development had obstructed it and also had the objective of improvement in the quality of groundwater.

Governor Widodo said there would be 100,000 infiltration wells and that landlords who did not comply would be forced to close their buildings. He also announced plans to widen culverts and is continuing with an earlier policy of dredging the 13 rivers, which pass through Jakarta. He showed he has the sense of timing, which is important for politicians with this announcement two months after he took office.

A month later Jakarta experienced one of its worst ever flooding incidents which caused it to be put on state of emergency status from 17 to 27 2013.

Faced with severe disruption and loss of life, Indonesia's President Susilo Bambang Yudhoyono quickly announced he was supporting Governor Widodo's proposals and his government was providing 2 trillion Rp (208 million US$) for help with immediate problems and for flood mitigation measures. After meeting with the President in the midst of the crisis Jokoko was able to confirm that the government would support his plans to relocate riverside squatters and widen rivers to restore flow rates.

The schemes also include billions of Rp investment in long-term solutions including a tunnel under much of the city and new connectors between canals and rivers along with additional pumping capacity and new upstream reservoirs.

In his new role Jokoko must also deal with calls for the national Capital to be re-located away from the flooding risks. Delivering on the prevention measures may be critical in his term of office to the prospects of Jakarta retaining its capital city status in the long-term.

Joko Widodo was born in Surakarta in 1961 into fairly humble circumstances. His father was a jobbing carpenter living in poor housing on the river bank. He graduated in Engineering and Forestry from Gadjah Mada University in Yogyakarta in 1985.

Governor Widodo's business career began in the mid 1980's. He founded a furniture importing and exporting company which had its ups and downs but was successful overall and made him financially independent. He ran the business for 19 years. He became prominent and influential within the business community in his home town.

During his two terms as mayor - he and and his deputy won 91 per cent of the vote in 2010 - Jokowi applied reforms to the structures and cultures of the city administration which reflected his business experiences dealing with it and his understanding of public concerns. Many services were clustered into one-stop shops as has been introduced in other cities in Asia and Europe

He has also tried to improve service quality and public respect by sending managers and other staff on re-training courses designed to make them more responsive to people's needs. But he can be ruthless too in eliminating petty corruption.

He told the Jakarta Post in 2010 that "in Solo public officials involved in violations are dismissed. I've discharged several employees for failing to provide satisfactory service."

His wealth accumulated through business has allowed Jokoko to decline to draw his salary as a politician. This has boosted his popularity as has his decision to decline to take up entitlements to new official cars. He hopes this sends a good message to senior staff.

Before Joko Widodo had even won the election some were touting him for the 2014 presidential election in Indonesia. Perhaps this was a reflection of the reputation of the established national politicians.

He told the Financial Times that "Jakarta has many big problems. I must concentrate on our job here."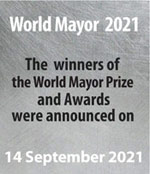 The best Mayors for Stronger | Fairer | Greener cities. Elect your candidate for the 20/21 World Mayor Prize and Honours. The Prize has been awarded since 2004